Hongmoon Adventure, Side Quest, Conquest Mission, Hongmoon Training Area and Dungeons are the best ways to become stronger in Blade & Soul Revolution.
HONGMOON ADVENTURE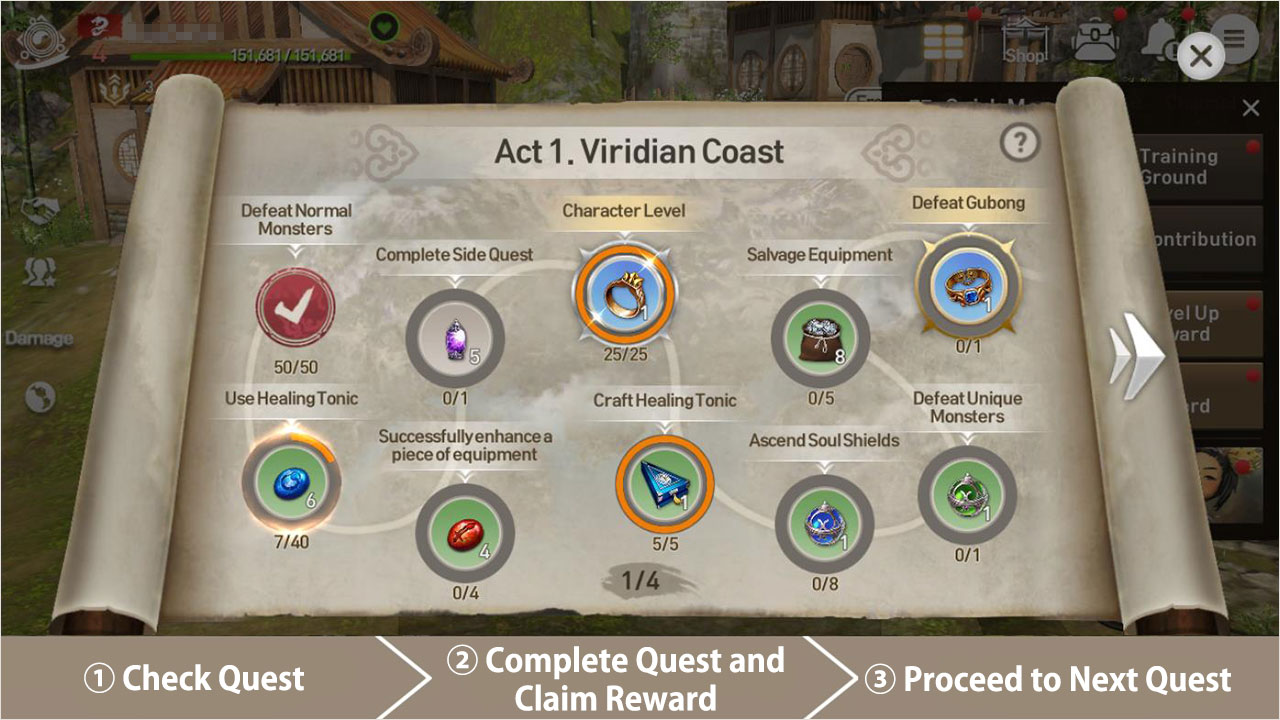 How to Proceed
1. Hongmoon Adventure consists of 4 Acts, and each Act has 10 quests.
2. Quests progress in sequential order from the top-left. You have to claim the first quest's reward to claim the next quest reward.
Hongmoon Adventure
Progressing through Hongmoon Adventure will organically teach you everything about the game while allowing your character to become stronger.
You'll also be rewarded with various items that will help in the early stages of gameplay.
Hongmoon Adventure starts from the top-left and progresses sequentially following the line.
How to Enter Hongmoon Adventure
1. Tap the Quick Menu icon to access various menus for Hongmoon Adventure.
2. After completing a quest, tap on the reward image to claim it. Claimed rewards are immediately sent to your Inventory.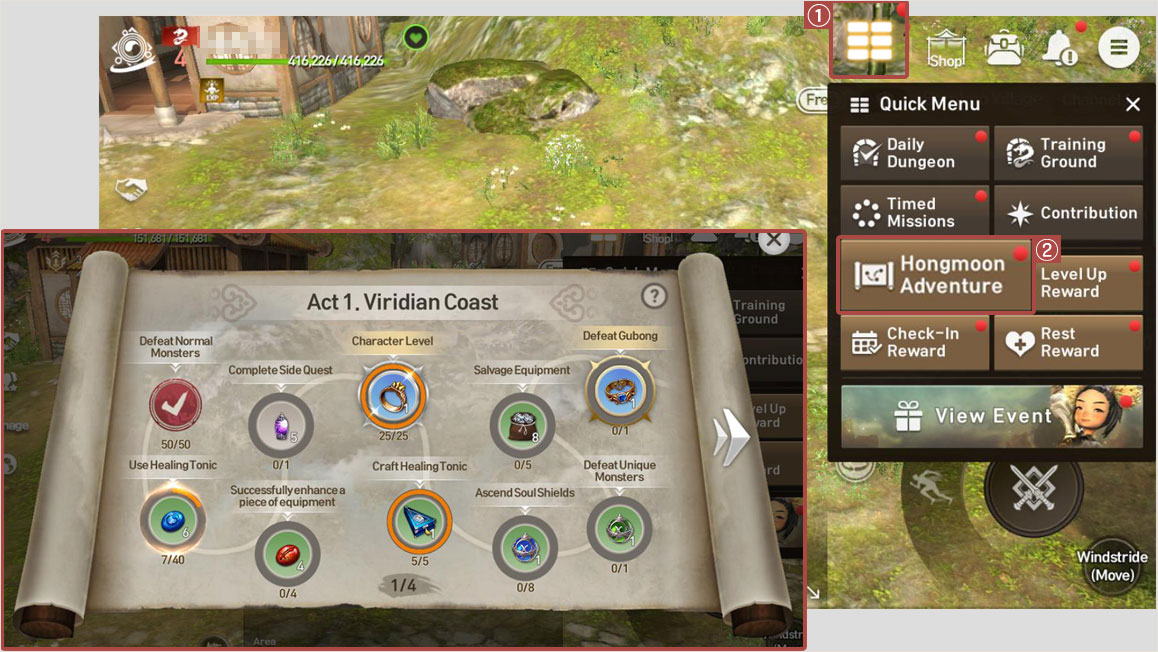 Hongmoon Adventure Rewards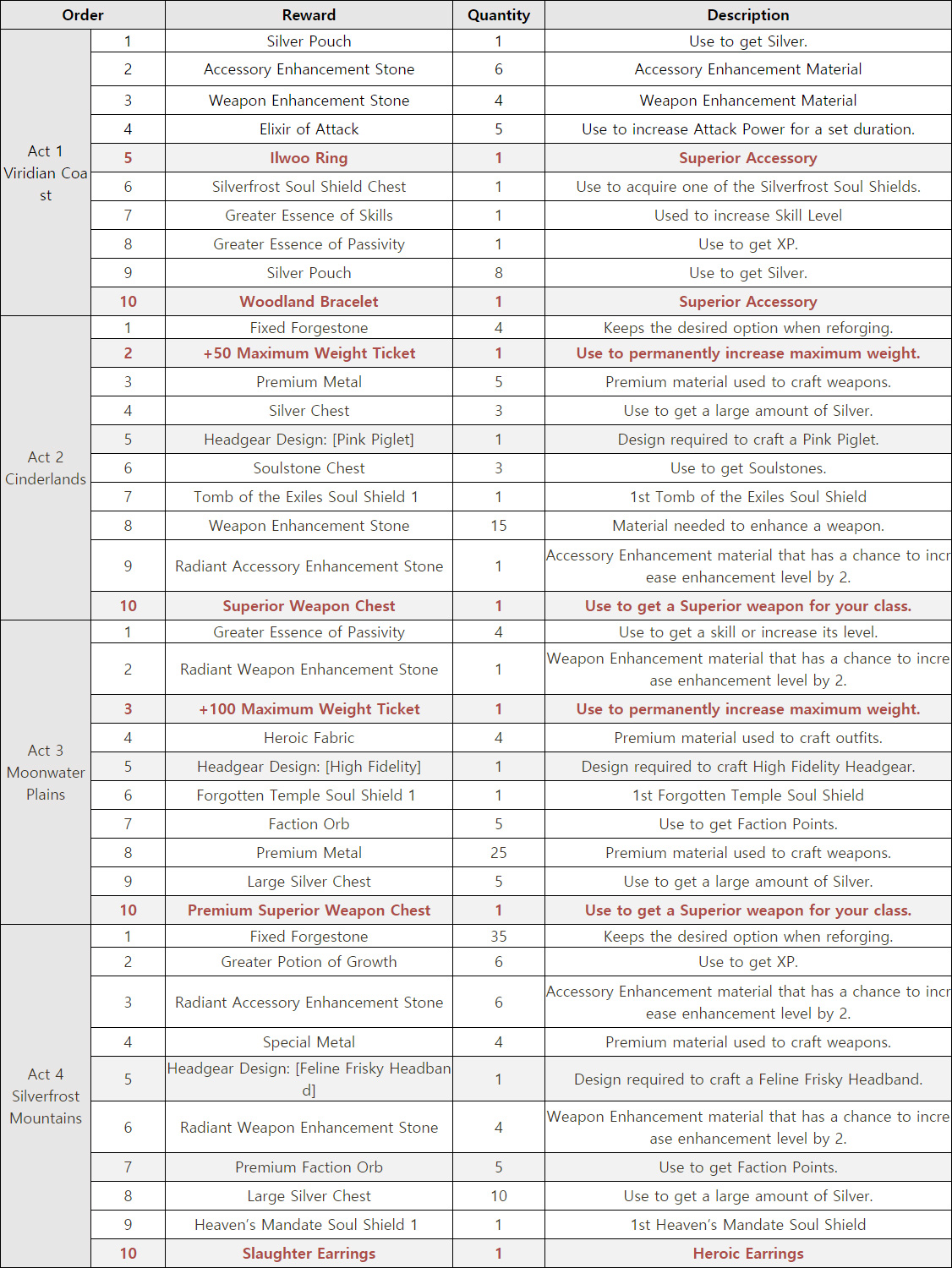 SIDE QUESTS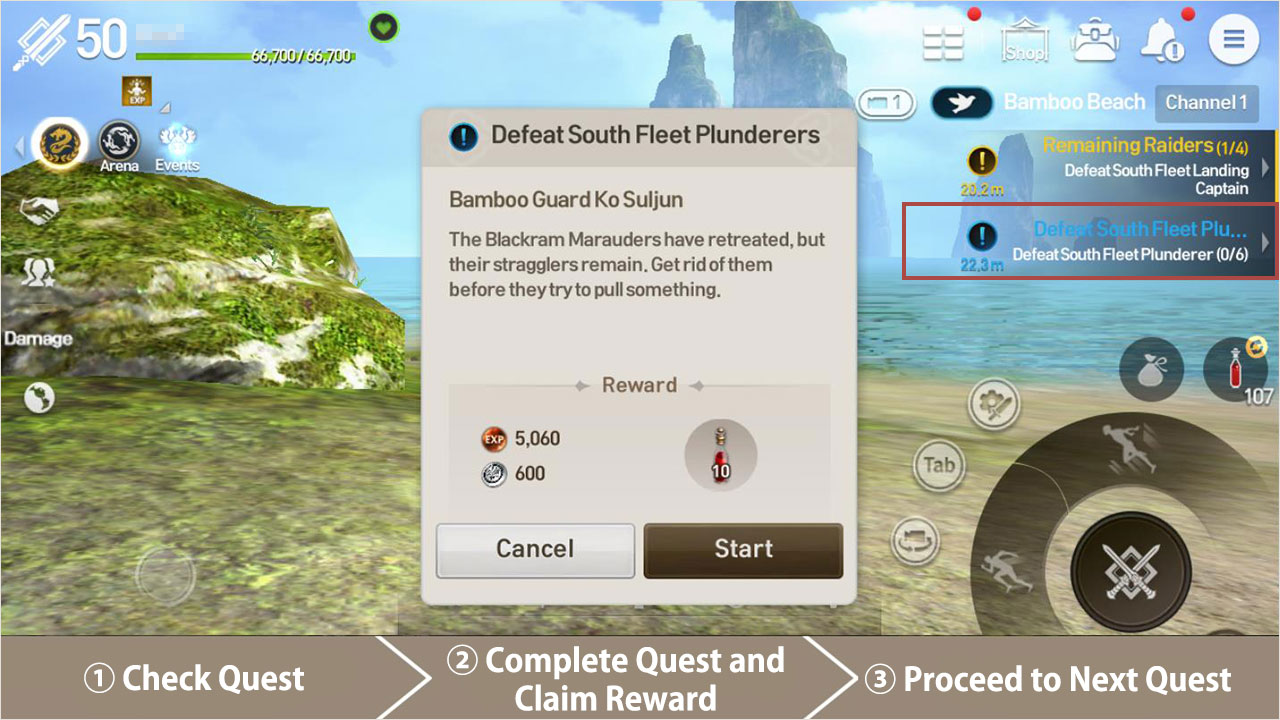 How to Proceed with Side Quests
1. Tap a blue Quest on the Main Screen, then tap [Start] to begin the quest.
2. After completing the quest, tap the side quest to claim your reward immediately.
Each area has exclusive side quests.
Side Quests
Get various items that aid in battle. Acquire Weapon Enhancement Stones, Accessory Enhancement Stones, and other items that make equipment more powerful. You can also get Healing Tonics, Dumplings, and more that are crucial for battle.
How to Start Side Quests
1. Navigate to [Challenge] -> [Quest] to view Side Quests.
2. You can view them by areas currently available.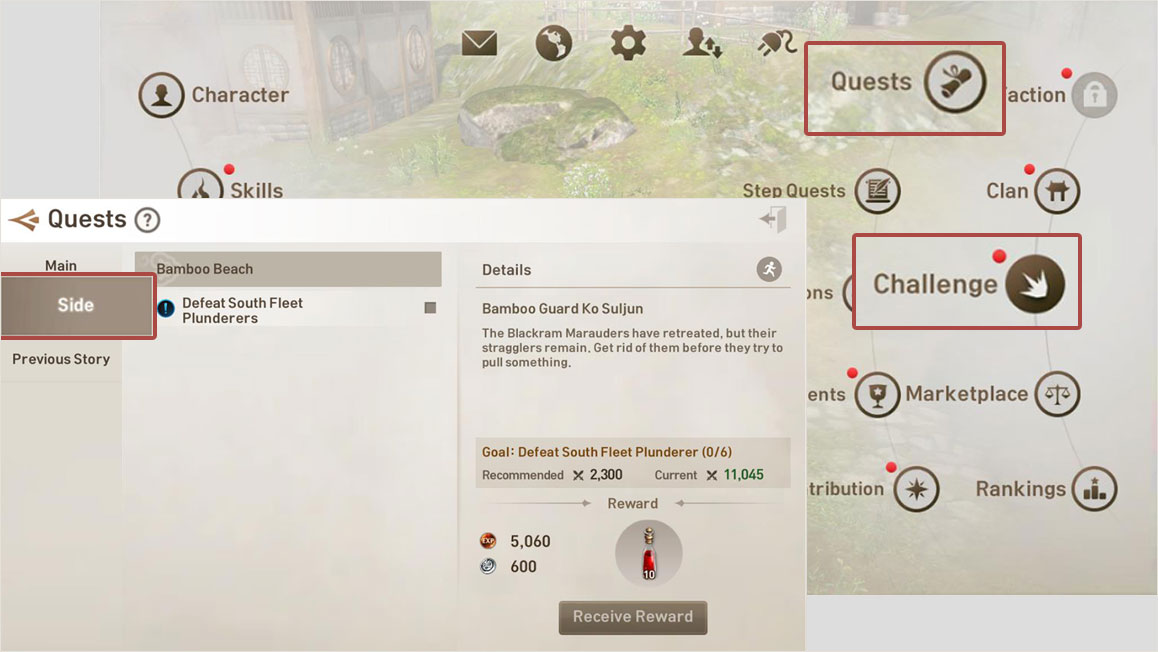 Side Quest Reward
More areas and their Side Quests become available as you progress through the Main Quests.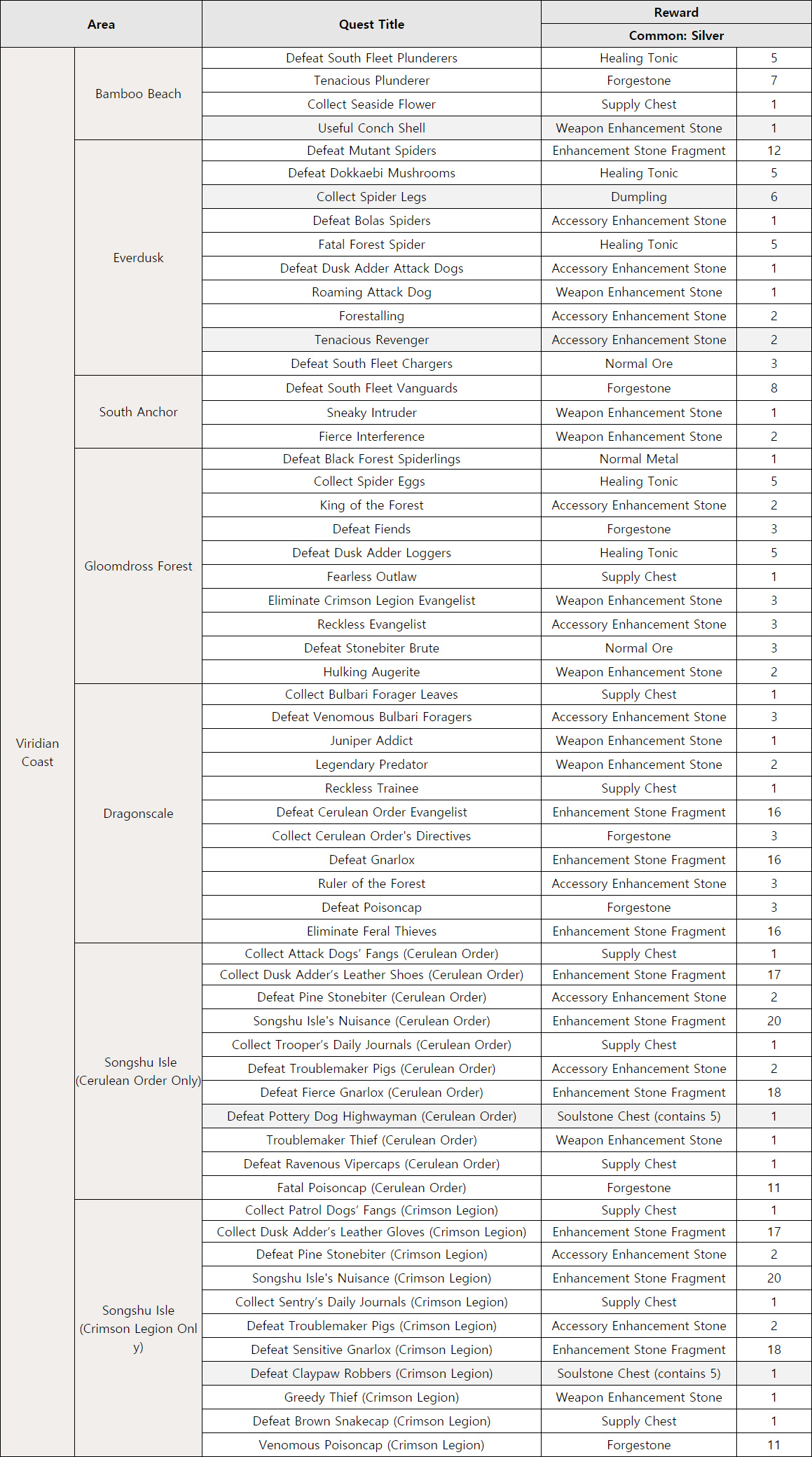 CONQUEST MISSION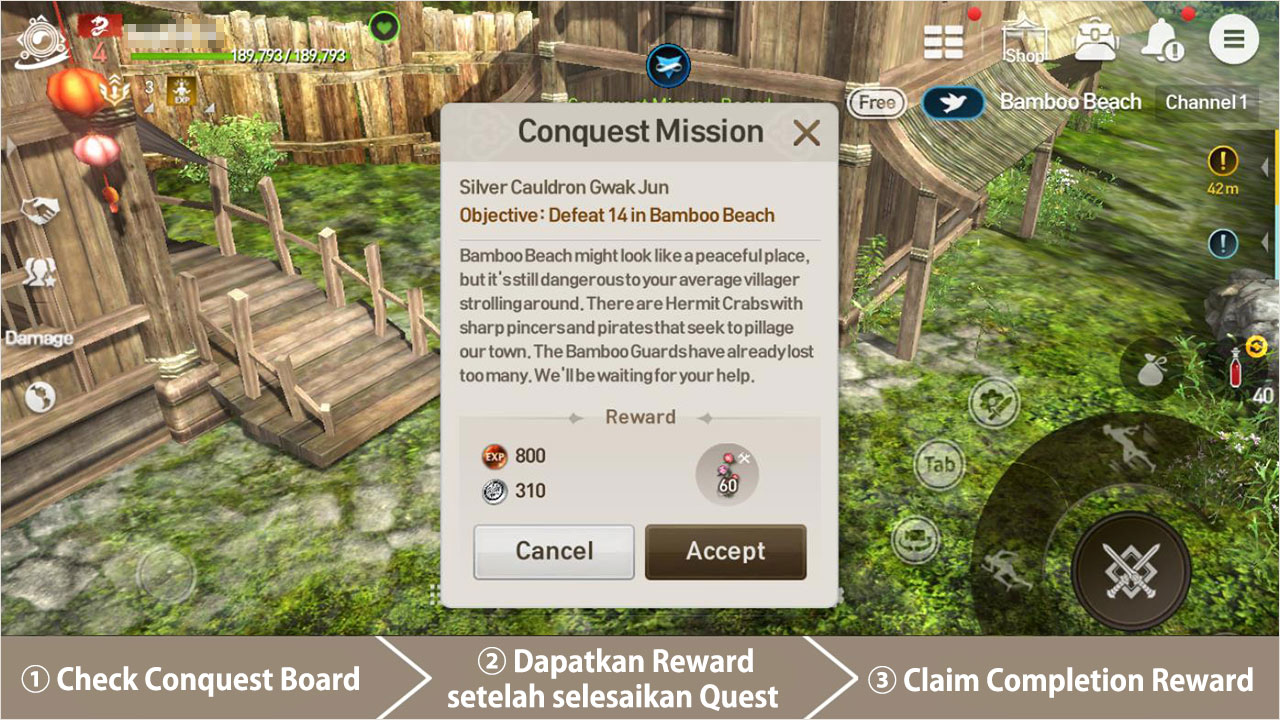 How to Proceed with Conquest Missions
1. You can check the Conquest Board in each area. Each mission must be accepted before you can progress through it.
2. Tap the Conquest Mission icon on the left to forfeit the mission or claim the reward.
Conquest Missions
There's no limit to how many times you can run Conquest Missions. You won't be able to proceed if you have 0 Stamina.
These missions help you gather essential items like Silver, Herbs, and Potions of Growth.
Battle Chests from certain War Zone Conquest Missions contain items such as Dungeon Tickets, Soulstone Chests, and equipment.
War Zones allow battles between characters from opposing factions. Keep this in mind when progressing through Conquest Missions.
How to Check the Conquest Board
1. View the location of the Conquest Board for each area in the Other menu of the map.
2. Approach the Conquest Board and tap the hand icon to proceed with the mission.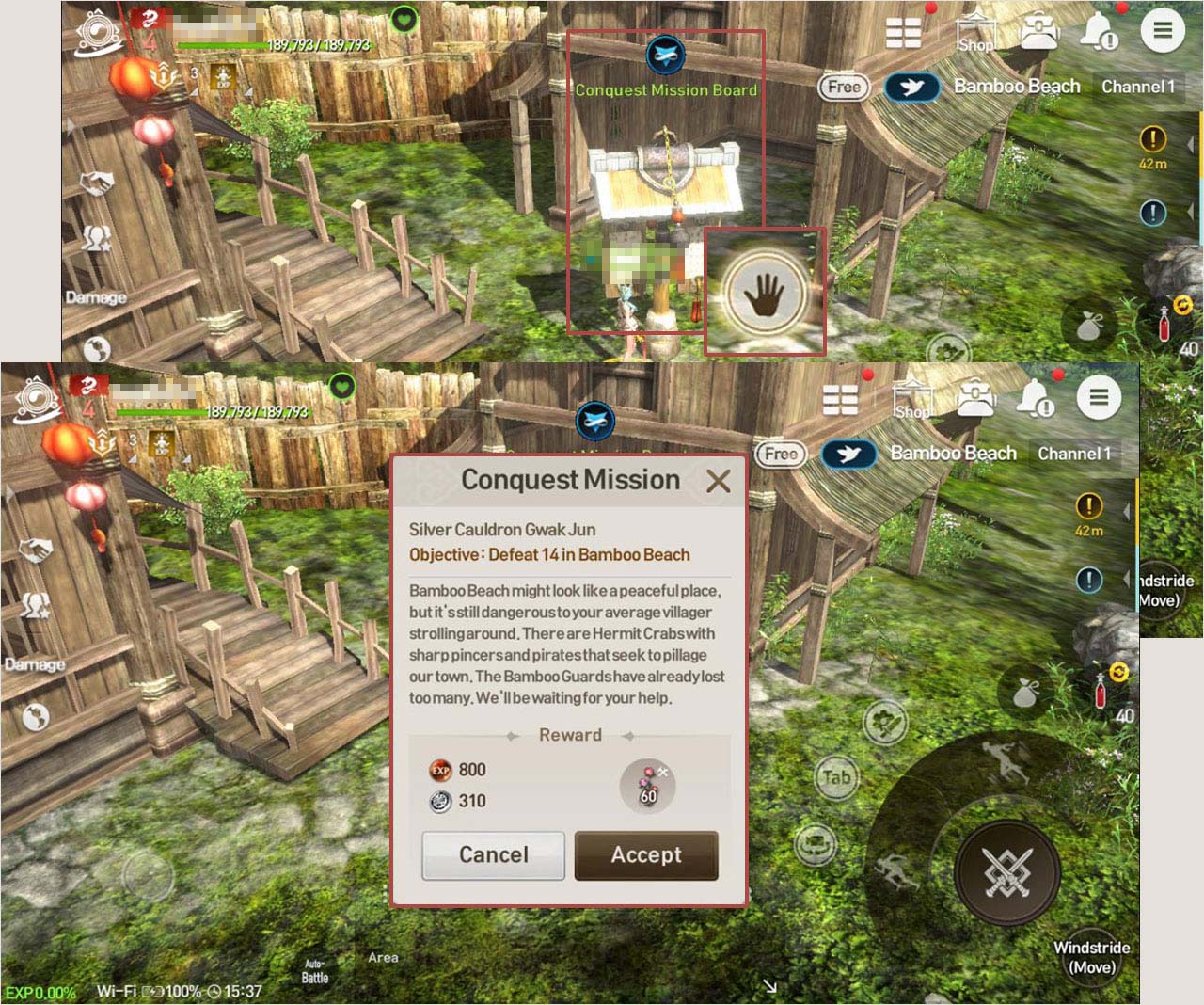 Conquest Missions can be accepted again after you've quit. Progress resets upon quitting.
Conquest Mission Rewards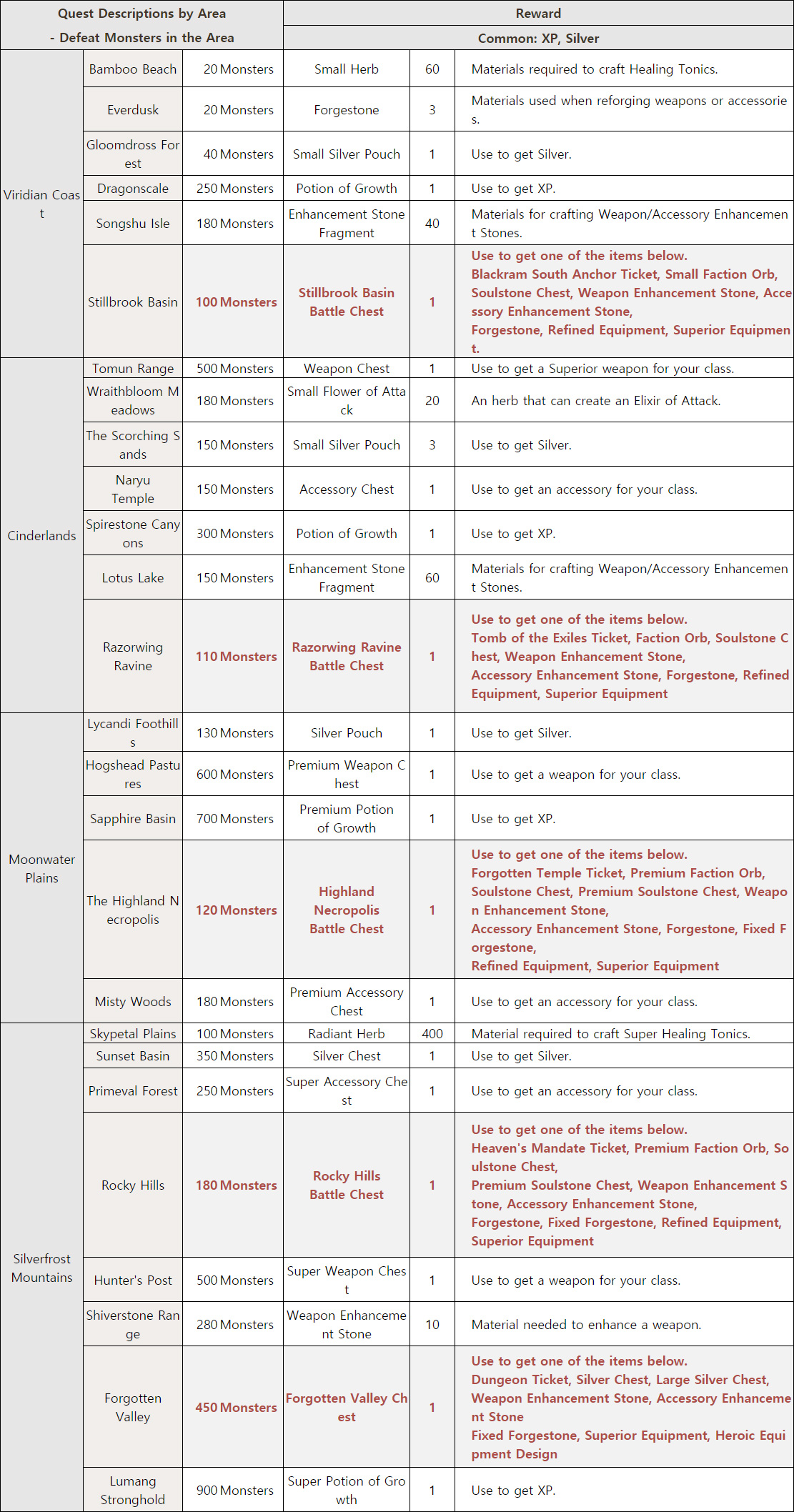 HONGMOON TRAINING AREA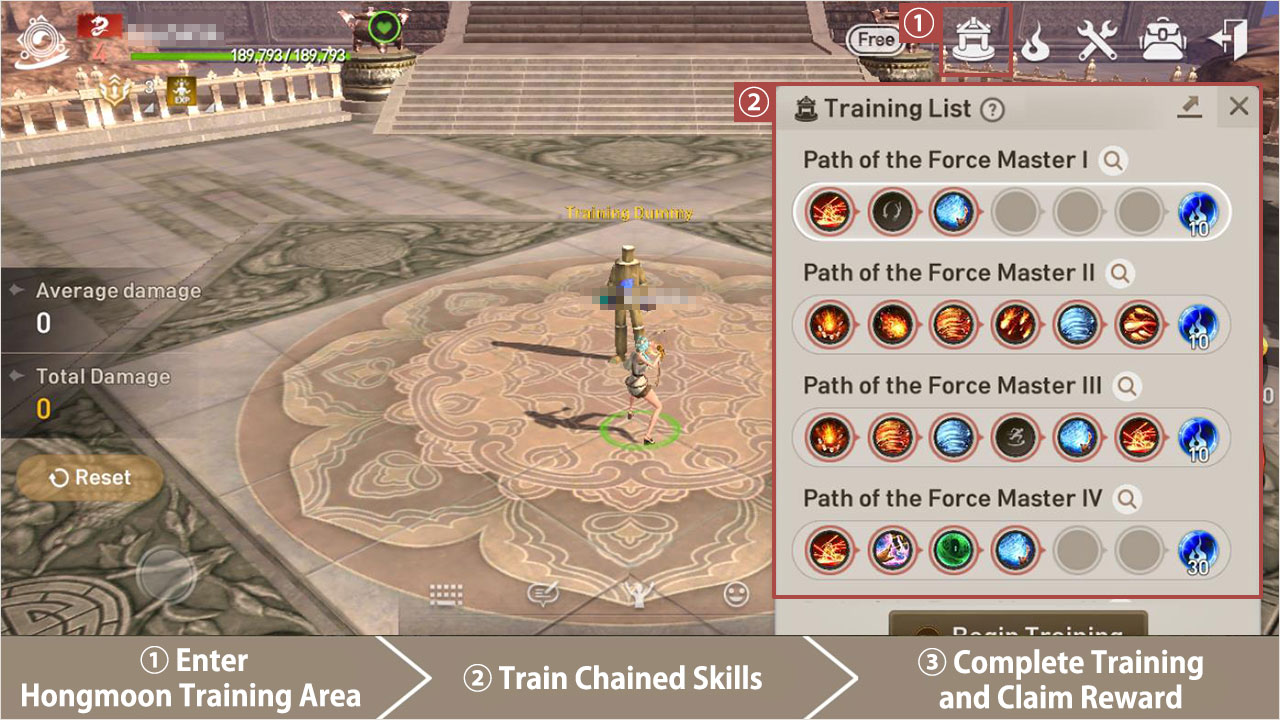 How to Proceed with Hongmoon Training Area
1. Tap Chained Skill in the Hongmoon Training Area, then claim the reward after completing the training for the first time.
2. You can always come back to train your Chained Skills even after you've finished training.
Hongmoon Training Area
Practice your Chained Skill timing and effectiveness at any time.
How to enter the Hongmoon Training Area
1. Tap [Hongmoon Training Area] in the [Battlefield] category of the menu to enter and freely practice your skills.
2. Tap the Skill List to practice Chained Skills.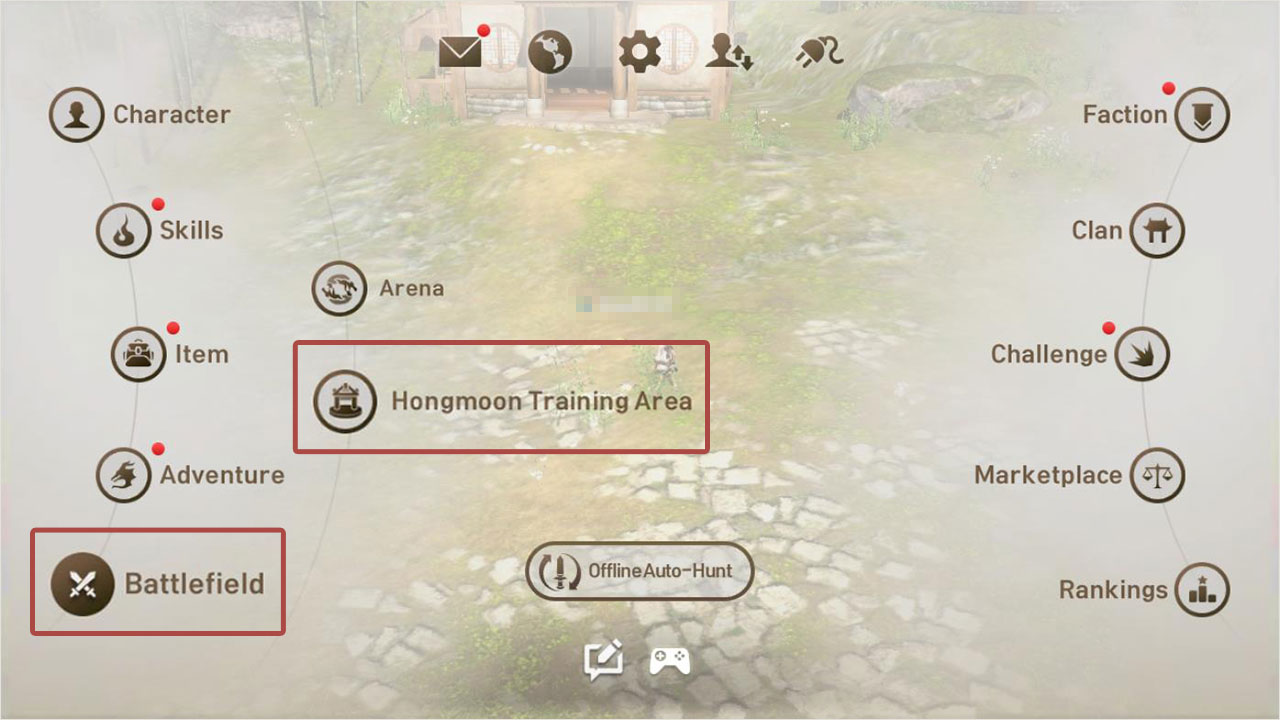 Hongmoon Training Area First-Time Completion Reward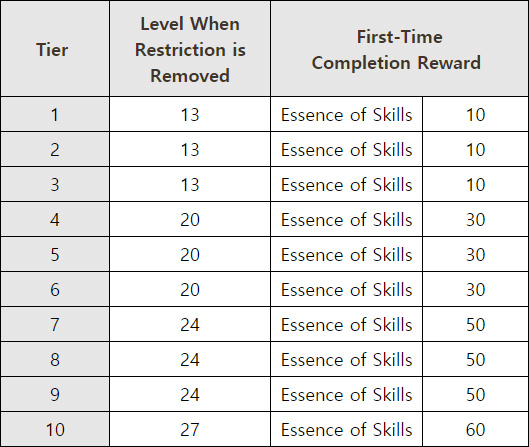 DUNGEONS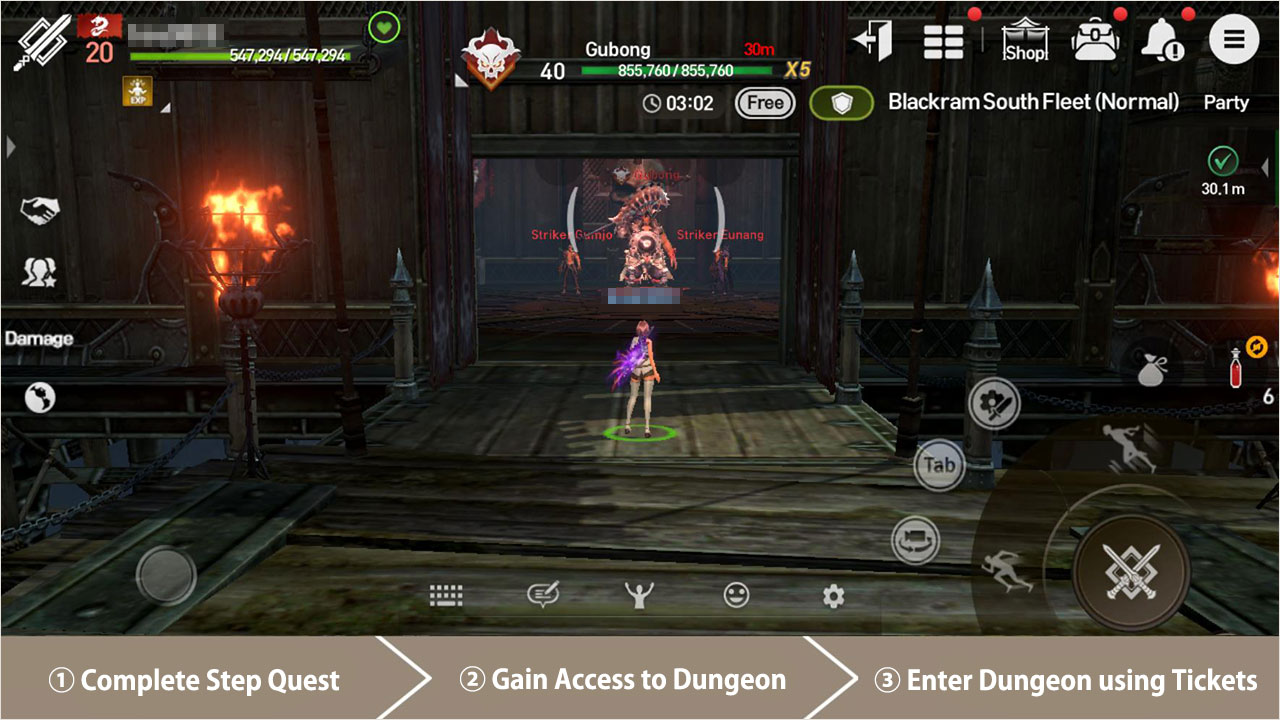 How to Proceed with Dungeons
1. The Step Quest will begin upon completing Act 1 of the Main Quest.
2. Complete the Step Quest to gain access to the area's Dungeon and Raid.
3. Use each dungeon's tickets you obtained by playing the game to enter.
Dungeons
Get Soul Shields, Weapons, Accessories, and other pieces of equipment and designs.
There are 4-Player Party Dungeons and 16-Player Raids, at Normal and Heroic difficulties.
Dungeons are more difficult than fighting monsters on the field. It's recommended that you form a party before you begin.
The Dungeon Boss becomes enraged after a set period.
How to Enter Dungeons
– Find the Dungeon Manager.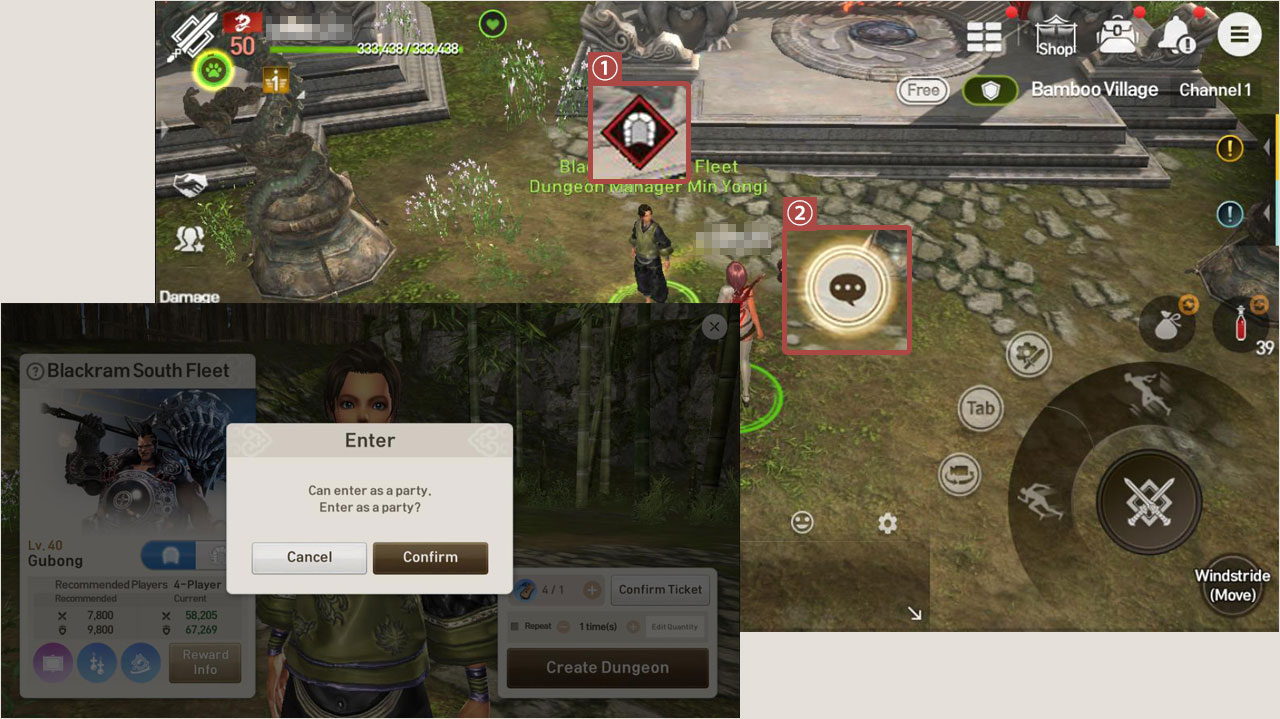 – Create Dungeon and Enter.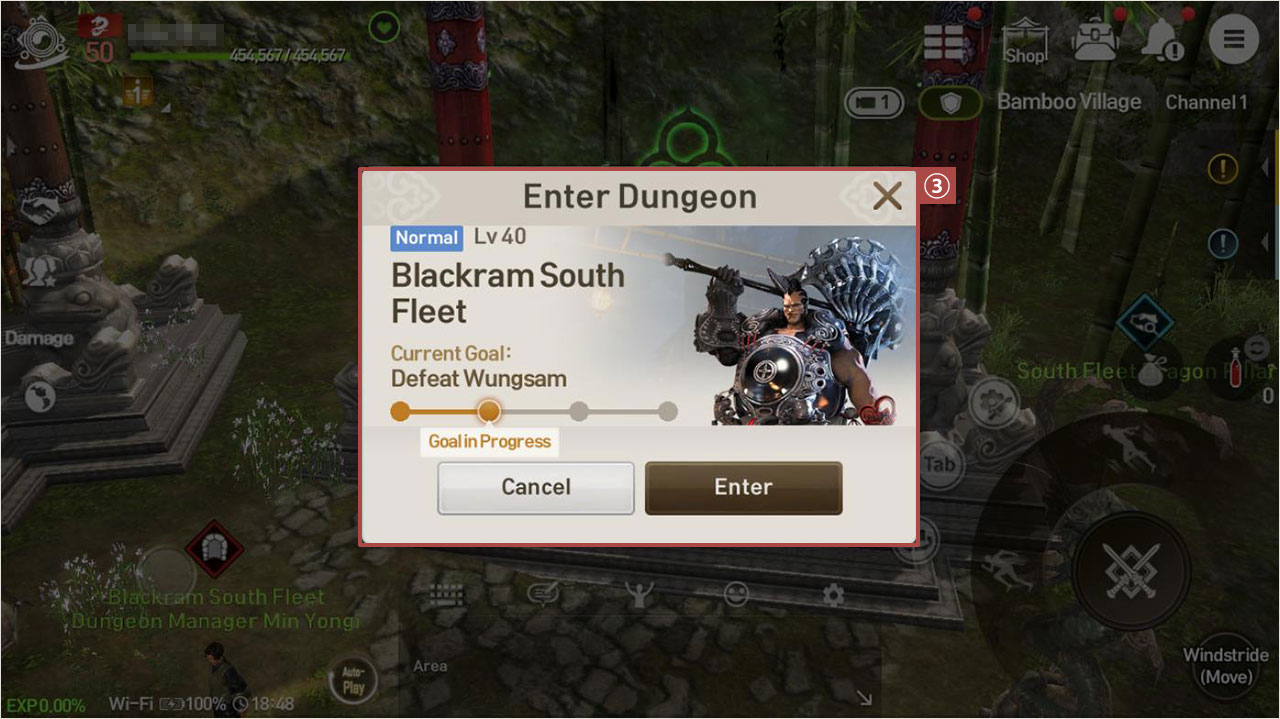 1. Each village has a Dungeon Manager who can create dungeons.
2. When a dungeon is created, you can use 1 ticket to enter.
Dungeon Info