Enhancement Stones can be used to enhance weapons and accessories in Blade & Soul Revolution. The base stats of enhanced equipment will increase, and Special Options will be activated.
Enhancement
Enhancement is a feature where Enhancement Stones can be used to increase the enhancement level of weapons and accessories.
Use the Fire Pits located in each village or purchase the Fire Pit item from the shop to access the enhancement menu.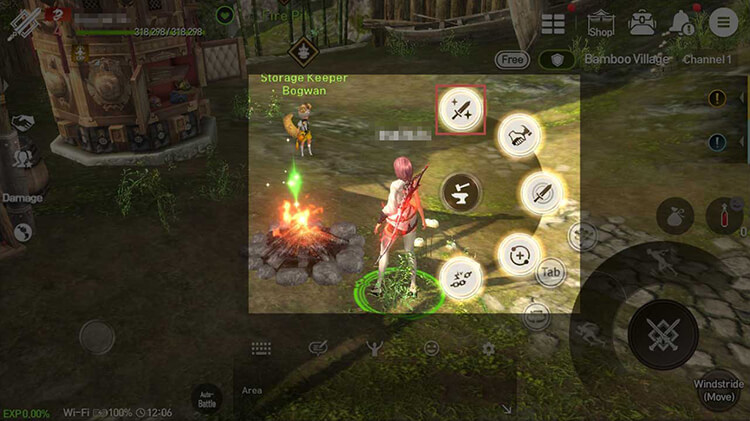 Enhancement is 100% successful up to level 5. Levels 6 and higher have different success rates.
Durability degrades little by little every time an enhancement attempt fails. If a piece of equipment is at 0 durability and enhancement fails, it becomes damaged. Damaged items can't be enhanced or traded.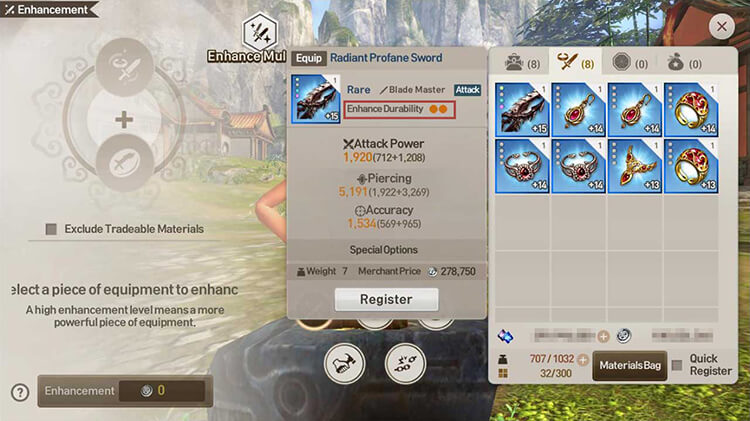 Though damaged equipment can't be listed in the Marketplace, it can be sold to NPC Shops or salvaged.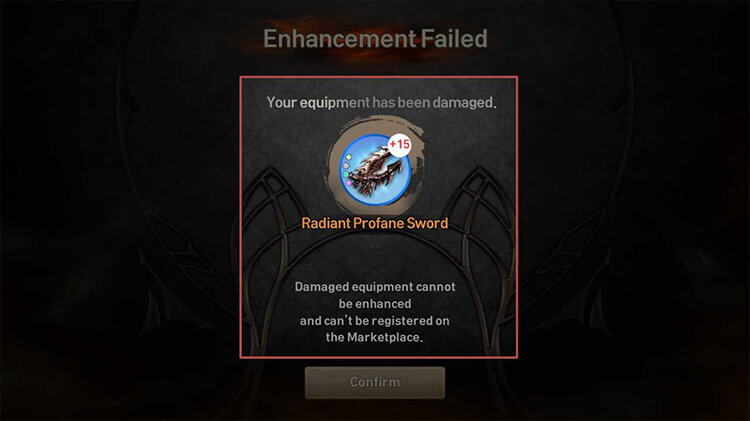 Special Options will activate when Superior grade or better equipment is enhanced to +10.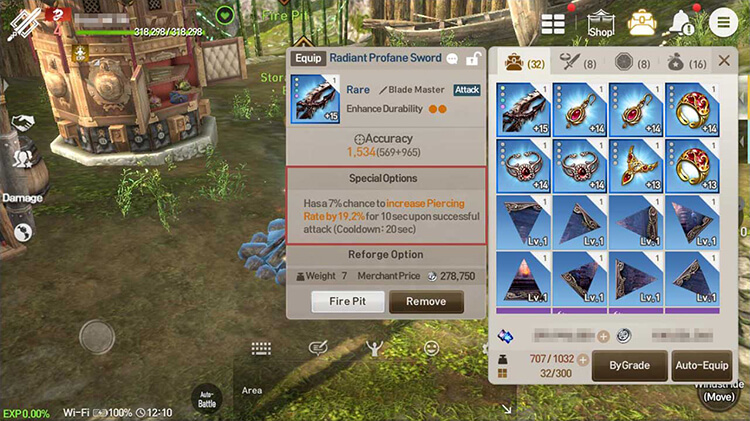 How to Enhance
Tap the icon from the Fire Pit to open up the forge menus and select Enhancement.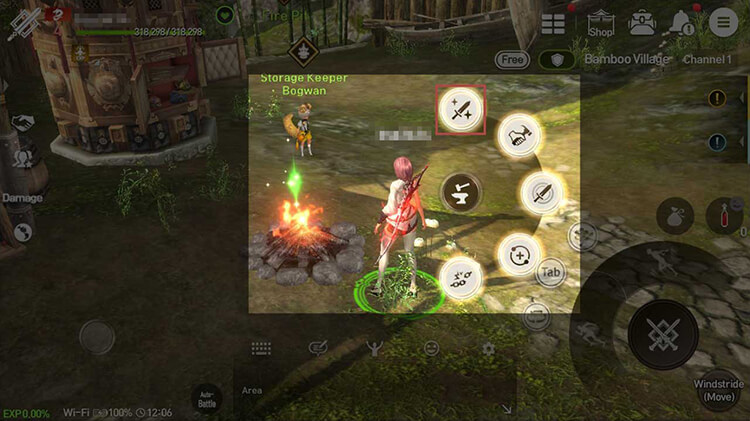 You'll need Enhancement Stones and equipment to enhance. Weapons and Accessories both require their own unique Enhancement Stones.
Proceed with Enhancement
Register the piece of equipment to enhance. Use Quick Register to quickly tap and register items.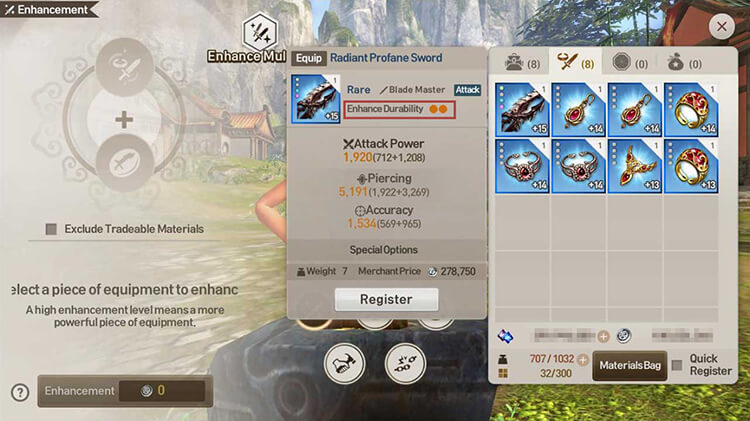 Register the Enhancement Stones to use. Tap "Exclude Tradeable Materials" to filter out any materials that can be listed in the Marketplace.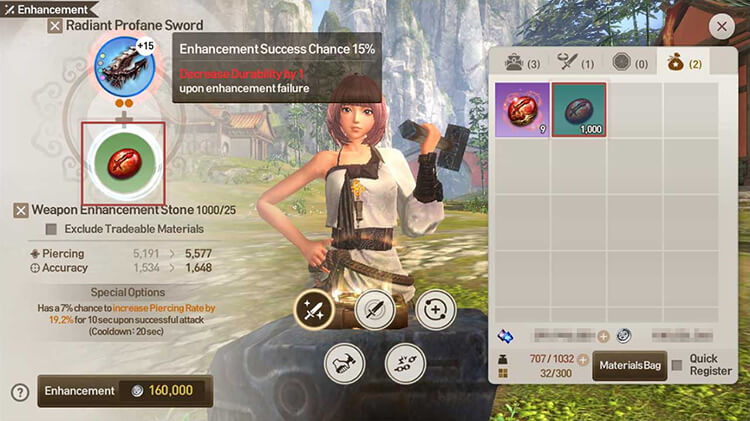 When all the required materials have been registered, tap "Enhance" to proceed.
Check the success rate here before starting enhancement.
Stat increases from successful enhancement will be displayed here.
Special Options activated after enhancing Superior grade or better equipment will be displayed here.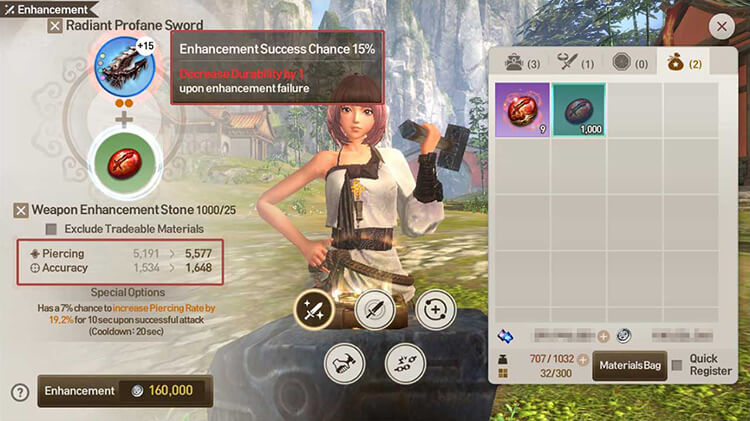 Successful Enhancements
A successful enhancement will increase the base stats of equipment.
The higher the enhancement level, the lower the enhancement success rates.
Failed Enhancements
Failed enhancements decrease equipment durability.
Enhancement failures on a piece of equipment at 0 durability will render it damaged.
Multiple Enhancements
Tap Enhance Multiple at the top of the screen to enhance multiple pieces of equipment.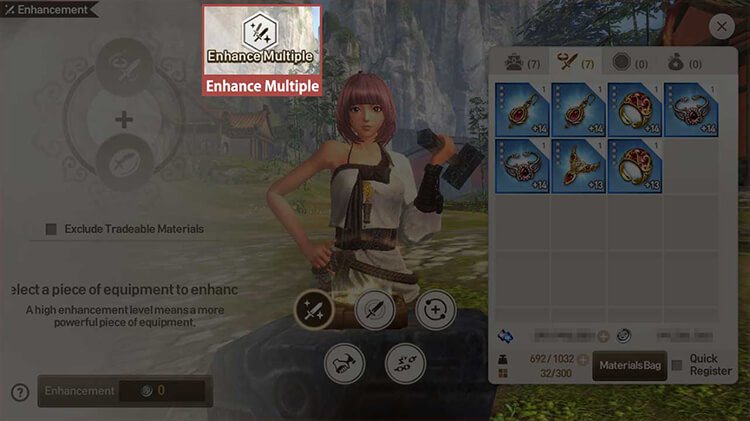 Enhance Multiple allows you to enhance multiples of the first type of equipment registered.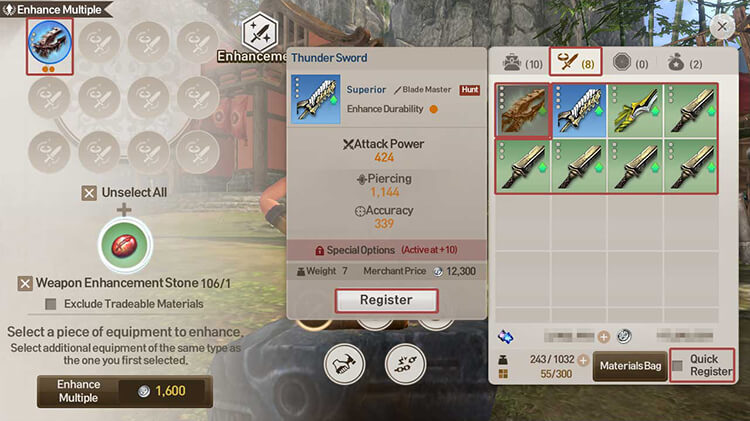 Tap "Enhance" to start the process. Results will be displayed immediately.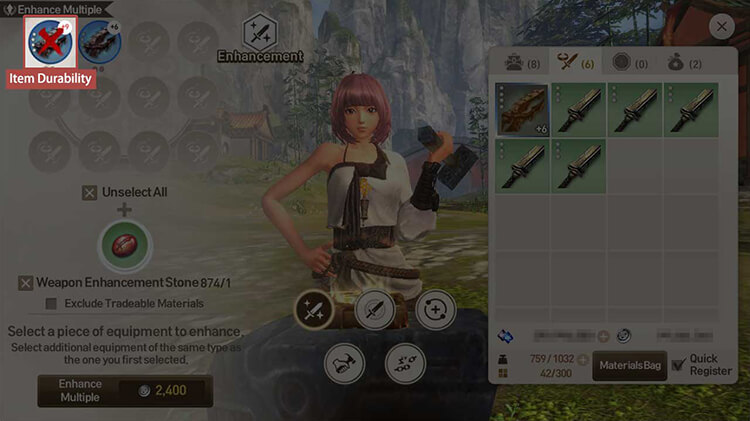 Enhancement Materials
Equipment
Equipment is required for enhancement.
Only Weapons and Accessories (Earrings, Necklaces, Bracelets, Rings) are eligible for enhancement.
Enhancement Stones
Weapon/Accessory Enhancement Stones: Success increases enhancement level by 1.
Radiant Weapon/Accessory Enhancement Stones: Success increases enhancement by up to 2 levels.
How to Obtain Enhancement Materials
Materials can be obtained from hunting, from dungeons, and through quests.
They can be purchased from the General Merchant or in the shop.
They can also be crafted through General Merchants or obtained by salvaging equipment.
There's a chance to obtain them when processing Soulstones.