You can adjust graphics settings, battle settings, and linked accounts of Blade & Soul Revolution at here.
Options Menu
You can get to the options menu from the title screen or from the in-game menu.
[Start Game] → [Title Screen] → [Options]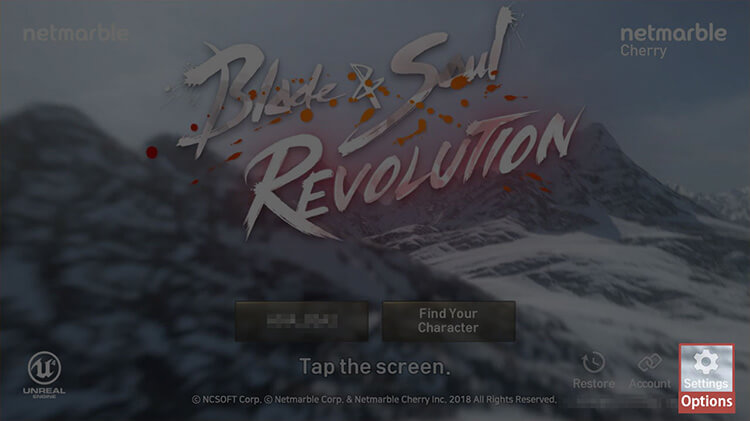 [Log in to Character] → [Main Screen] → [Menu] → [Options]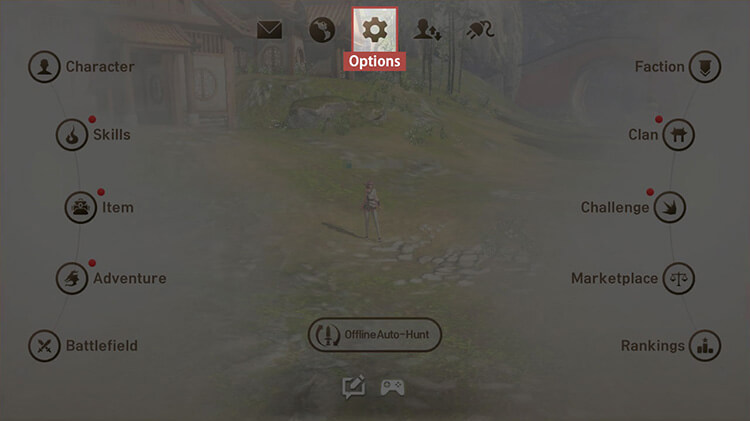 Changes made in the options will apply to all characters.
Options: Game
Choose various settings to suit your playstyle.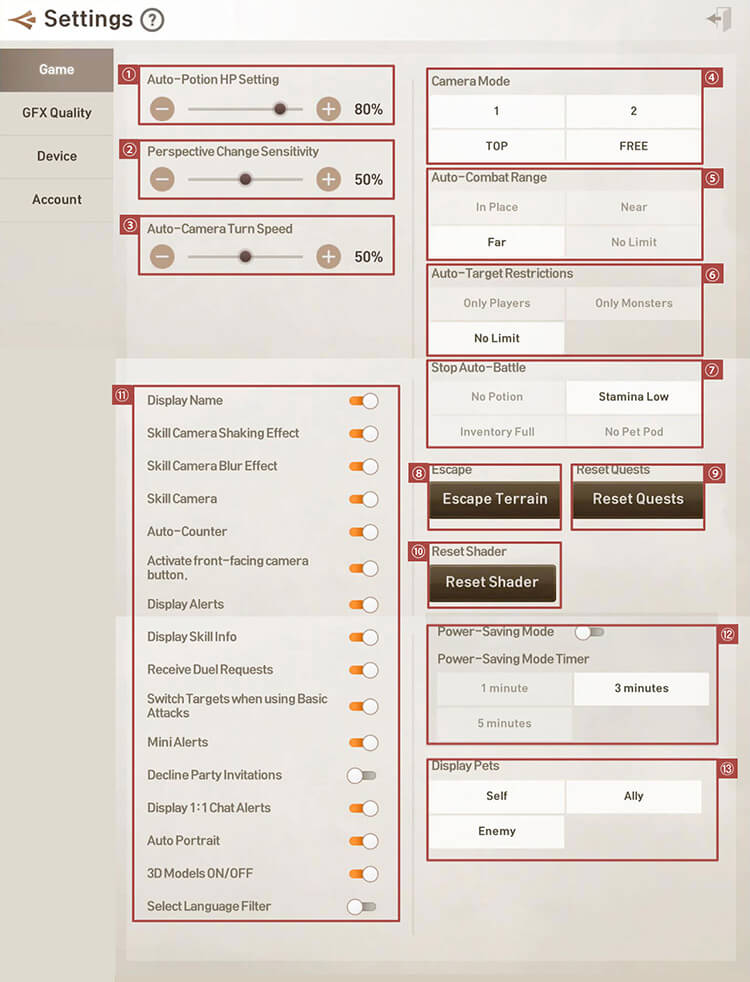 1. Auto-Potion HP Settings
Potions will be automatically consumed if the HP goes below the set level.
2. Perspective Change Sensitivity
Change the screen perspective change speed.
3. Auto-Camera Turn Speed
Change the speed of the camera turn when the camera mode is on FREE.
4. Camera Mode
Character will be closer when the number is smaller and FREE mode will automatically change the perspective, depending on the character movement and map terrain.
5. Auto-Battle Movement Range
In Place: If the character moves out of the marked range, then they will return to their original place.
Near: The character will automatically battle a short distance around the original location.
Far: The character will automatically battle a large distance around the original location.
No Limit: The character will automatically battle regardless of distance, but will not travel out of the area.
6. Auto-Target Restrictions
Set the target for auto-battle.
Merchant, NPC, and party members will be excluded.
Only Players: Attacks players of the opposite faction or hostile ones.
Only Monsters: Attacks only monsters.
No Limit: Attacks both players and monsters.
7. Stop Auto-Battle
Change when auto-battle will stop.
No Potion: Auto-battle stops when there are no potions.
Stamina Low: Auto-battle stops when stamina is low.
Maximum Inventory Weight: Auto-battle stops when the inventory's weight or space is more than 90%
Insufficient Pet Pods: The Auto-Battle will automatically stop once you run out of the Pet Pod to fill the Pet meter.
8. Escape Terrain
You can use Escape Terrain whenever you are stuck and cannot move. You can't do this while you're in battle.
9. Reset Quests
If a problem occurs during a quest, you can reset it to the beginning of the quest to resolve the issue.
10. Reset Shader
Reset the game's shader and restart the game.
11. Other Settings
Display Name: Turn on/off the names of NPCs, other players, and monsters.
Skill Camera: Turn on/off the skill animation.
Auto-Counter: Turn auto-counter on/off to counter when you are attacked.
However, you will not auto-counter a target you chose not to target in the target setting.
Change to Standard Perspective: Turn on/off Main Screen's perspective camera.
Display Alert Message: Turn on/off alert messages in the chat window and main screen.
Display Skill Info: Turn on/off skill info when using skills.
Receive Duel Request: Turn on/off to accept duel requests from other players.
Switch Targets when using Basic Attacks: Turn on/off switching targets from the one you're already attacking.
Mini Alerts: Turn on/off simple alert messages of your current status.
Decline Party Invitations: Turn on/off to automatically decline party invitations.
1:1 Chat Alert: Turn on/off alert message when 1:1 chat is received.
View Auto Portrait: Turn on/off content that displays 3D modeling.
3D Model ON/Off: When this option is set to ON in the in-game [Settings], you can view your 3D character through [Character][My Info].
Language Filter: Only the selected language will be displayed in the chat when you turn on the Language Filter.
12. Power-Saving Mode: Turn on to activate mode that will automatically begin when there's no input on the screen.
Power-Saving Mode Timer: Set the time when the Power-Saving Mode will begin.
13. Display Pets: Turn on/off to display the pet. Turning it off will decrease the memory usage.
Option: GFX Quality
Select higher quality for better graphics and select lower quality to decrease memory usage.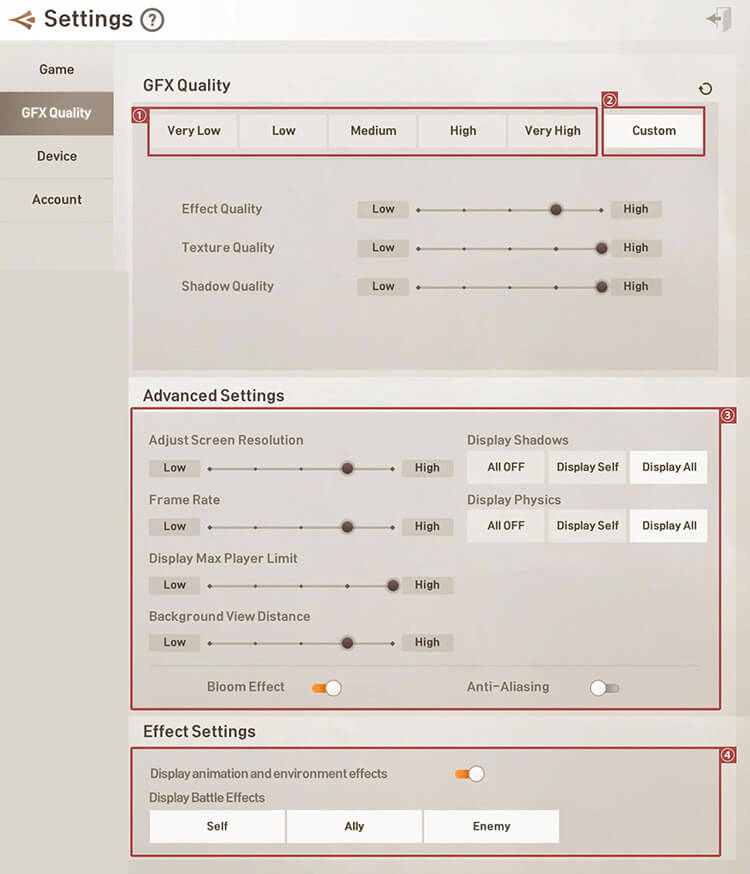 1. GFX Quality Menu
Effect Quality: Choose the quality of effects such as skills.
Texture Quality: Choose the quality of color and texture.
Shadow Quality: Choose the quality of the shadows.
2. Custom
Customize the quality of Effect/Texture/Shadow.
3. Advanced Settings
Adjust Screen Resolution: Increase the resolution to see higher graphics quality.
Screen Play Speed: Increase to make the character's movement appear more seamless.
Display Max Player Limit: Set the number of players that are displayed on the screen.
Background View Distance: Increase view distance to see further.
Display Shadows: Display shadows for a more realistic graphics.
Display Physics: Graphics such as fabric movement are displayed more realistically.
Bloom Effect: Turn on for more scenic light effects.
Anti-Aliasing: Turn on for a smoother graphics.
4. Effect Settings
Display Battle Effects: Turn on for more scenic light effects.
Options: Device
In device settings, you can change the sound volume and alert settings.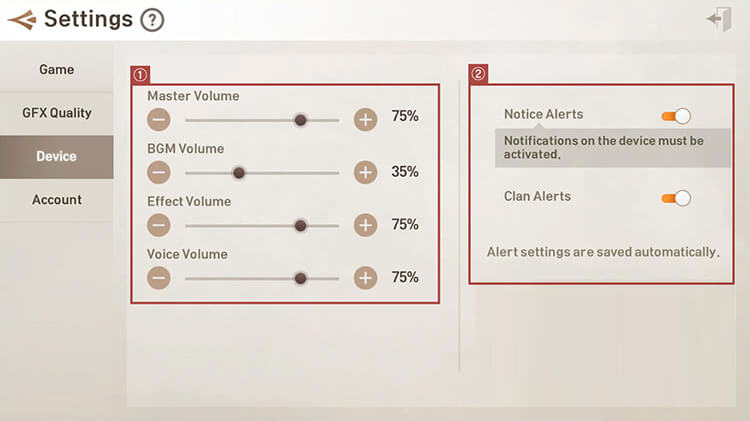 1. Set the sound volume.
Master Volume: Overall sound volume.
When Master Volume is at 0, no other sound will come out.
BGM Volume: Background sound.
Effect Volume: Attack noises and etc.
Voice Volume: Character voice sound.
2. Alert settings.
Notice Alerts: Turn on/off alerts in the game.
Clan Alerts: Turn on/off alert for news from clan.
Language Settings: Select your preferred language to use in the game from the list.
Option: Account
Information on the account you're currently using.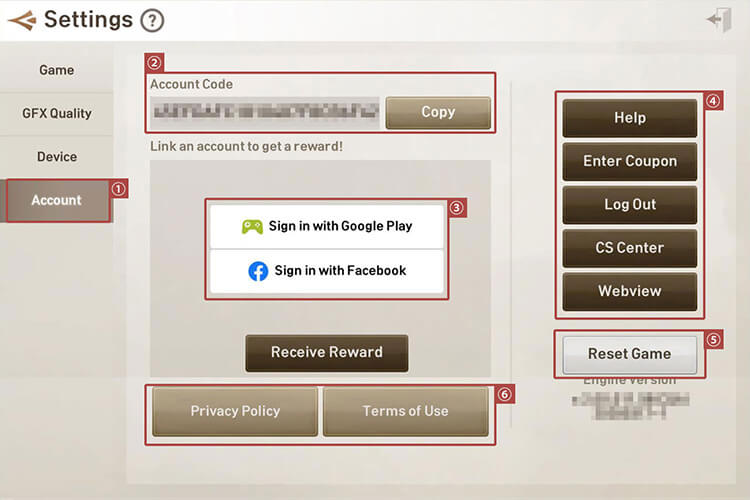 1. What is an Account
An account is the information used by the player to log in.
2. Account Code
Unique 32 character code for each account.
3. Link Account
Choose an account to link to the game.
Only one account can be linked to the game account.
You can receive a reward for linking your account for the first time.
4. Misc. Menu
Help: Find Game Guides here.
Enter Coupon: This is available on Android devices.
iOS devices need to go to the website to enter coupon codes.
Log Out: Log out of current account.
Logging out of an unlinked account might result in loss of game data.
5. Reset Game: If the patch was not updated correctly, you can reset the patch file to update again.
Select Wi-Fi or LTE before downloading the update files. Wi-Fi is recommended to reduce mobile data usage.
6. Terms of Use: Check Blade & Soul Revolution's Terms of Use and Privacy Policy.