In Blade & Soul Revolution, increasing Soul Shield levels will grant even more stats.
Soul Shield Ascension
Access the Ascend Soul Shields menu through the forge in the Fire Pit.
When ascending Soul Shields, you may use Soul Shields of the same shape as material for the main piece, regardless of grade.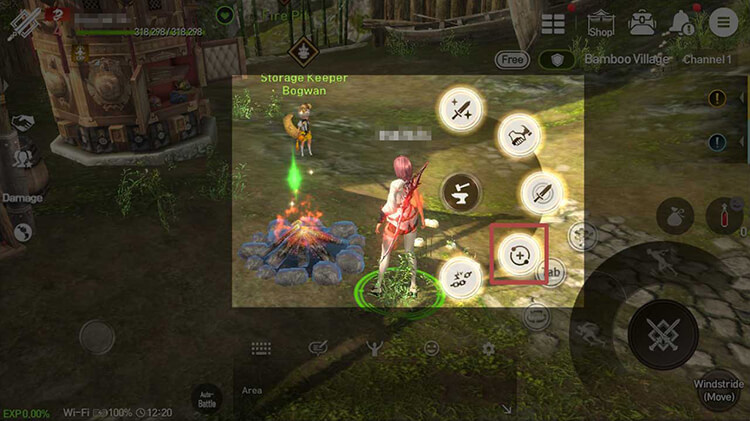 Soul Shields are numbered according to where they are placed.
They can be leveled up to level 30 and base stats increase with each level.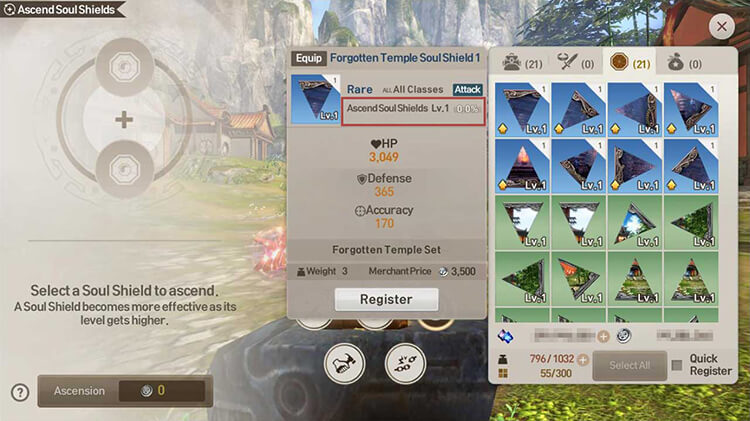 Soul Shields used as material for ascension are converted into XP and will disappear. The higher the material Soul Shield's grade/level/XP, the more XP it grants for ascending the main Soul Shield.
Make sure to check the numbers on the main Soul Shield and any materials used. The Soul Shield being ascended and any eligible materials will be selected based on a number – its equip location.
How to Ascend Soul Shields
Select and register the main Soul Shield to ascend.
Register the main Soul Shield on the upper left and register materials to the bottom slot.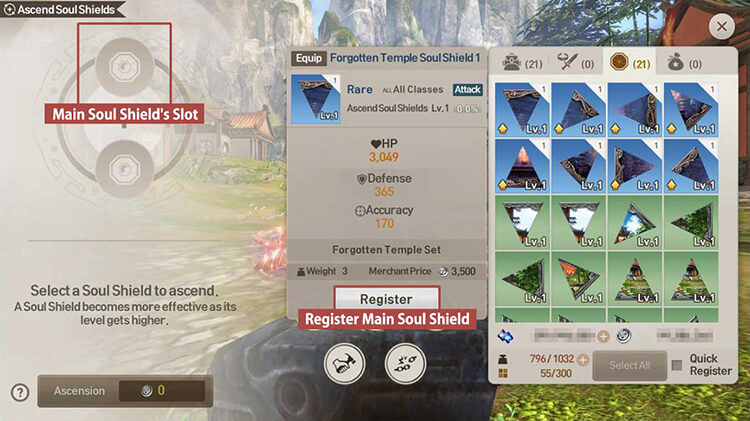 Select Soul Shields to use as material and register them.
A list of Soul Shields that can be used as material in the Inventory will show up automatically when the main Soul Shield is selected.
Tap eligible Soul Shields in the Inventory to register them as material.
The amount of Silver required to ascend Soul Shields differs based on the grade/level/amount of materials registered.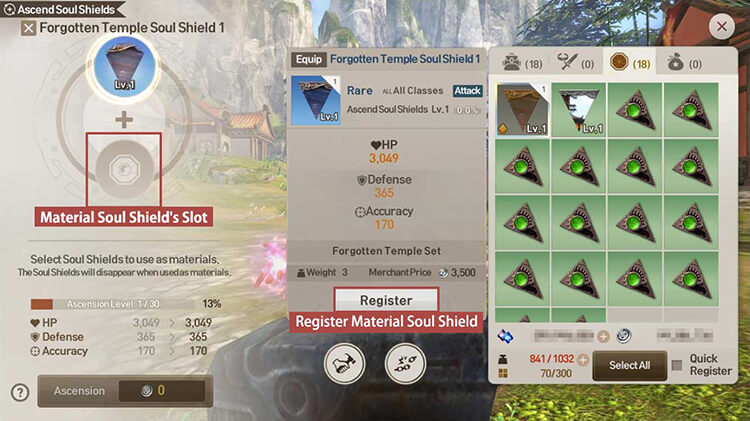 Material Soul Shields purchased from the Exchange Merchant can also be used to ascend Soul Shields.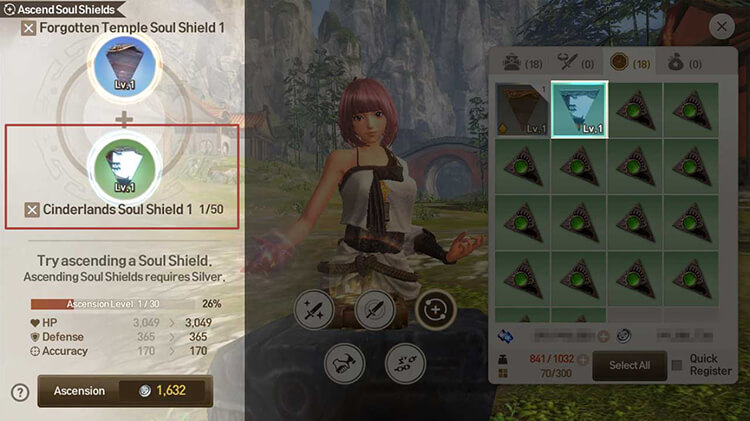 Tapping Auto-Register after selecting a main Soul Shield will automatically register any available materials.
Auto-Register settings can also be set by selecting "Auto-Register".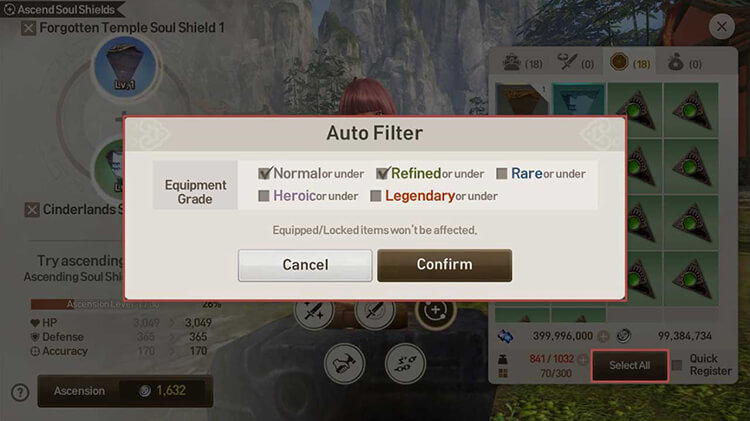 Up to 50 Soul Shields can be registered as material. Check the counter below the materials slot to see the number of materials selected.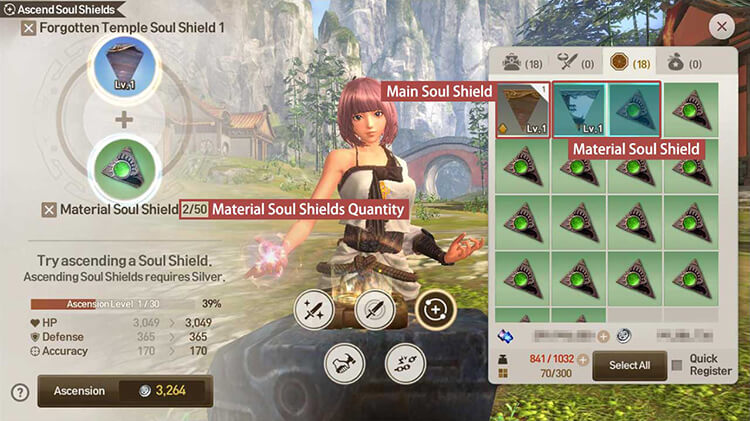 Tap the selected Soul Shield to deselect it.
Tap the "Remove" button to deselect Soul Shields after selecting them from the Inventory.
Tapping the 'X' button to the left of the item name will also deselect the item.
All selected materials will be deselected when the 'X' button is tapped.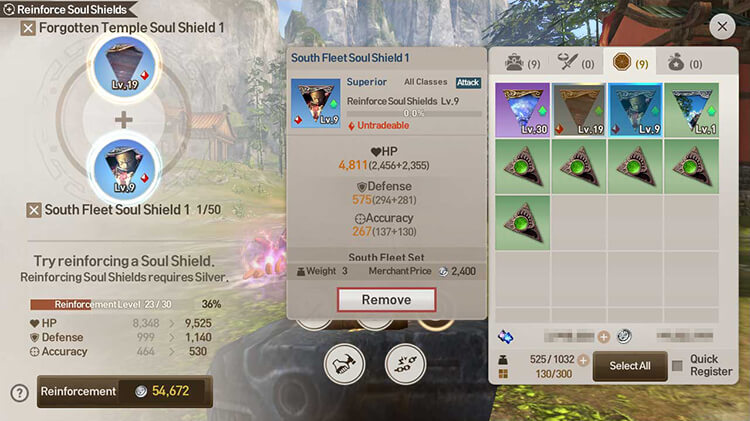 Ascension results can be previewed before starting, and tapping "Ascension" will start the process.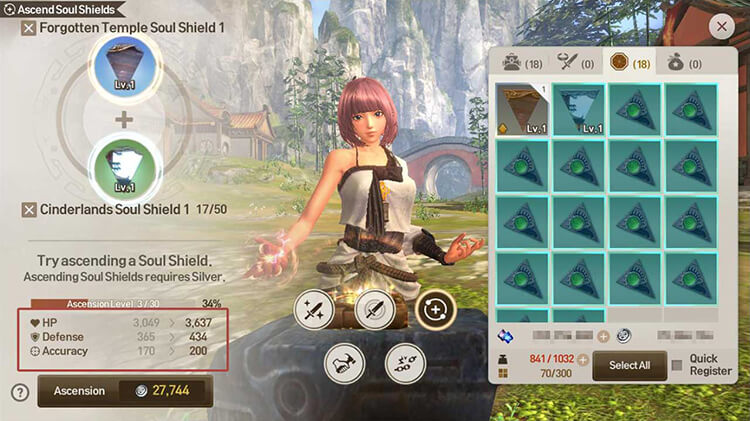 Stat increases can be viewed after ascension is complete.