Open Treasure Chests for unexpected gifts!
What are Treasure Chests?
Treasure Chests are boxes that appear on the field by chance. Blade & Soul Revolution players can get various items from them.
Golden Treasure Chests disappear after a set amount of time.
Supply Chests do not disappear until someone acquires them.
How to Acquire Treasure Chests
1. A hand icon will be displayed when your character approaches a Treasure Chest.
2. Tap the hand icon to make your character move to acquire it. Once the movements are complete, the contents can be acquired.
3. However, taking damage or performing another action cancels the acquisition of the Treasure Chest.
2. Types of Treasure Chests
Golden Treasure Chest
1. A box that appears on the field at specific times. It disappears once its time limit runs out.
2. A notice message and notification icon will be displayed when a Golden Treasure Chest appears.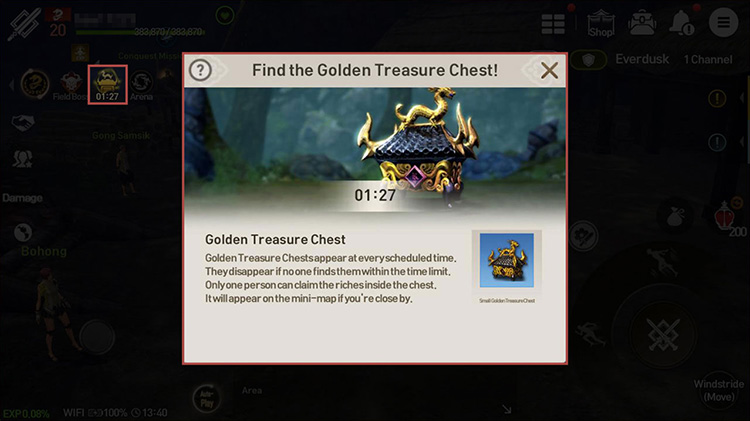 3. Its location changes each time, only appearing in spots that are difficult to reach. Gliding from roofs or cliffs is also a good idea.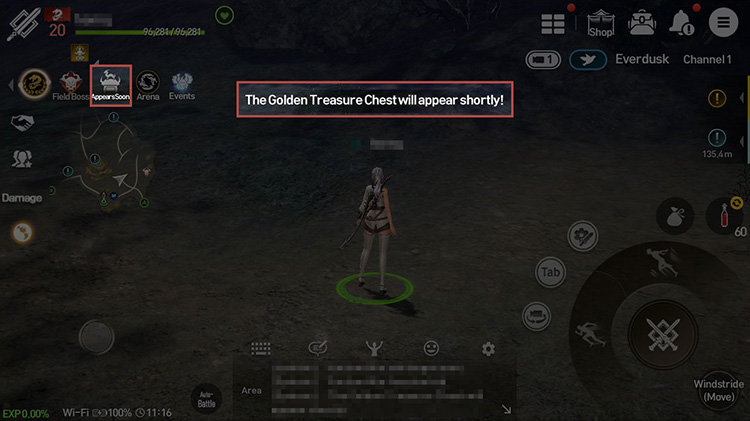 4. If a Golden Treasure Chest exists near the character, its location will be displayed on the Mini-Map and World Map.

Supply Chest
1. Each channel can have 1 Supply Chest appear.
2. The Supply Chest remains on the field until a player acquires it. When it's gone, it reappears again after a set period.
3. There are 4 types of Supply Chests and the type can be determined by its icon on the Mini-map.
4. There are no notifications when a Supply Chest appears, but its location will be displayed on the Mini-Map and World Map if it's near your character.

Treasure Chest Occurrence Info by Area
1. Viridian Coast
Everdusk: Supply Chest, Super Supply Chest, Golden Treasure Chest
Dragonscale: Supply Chest, Super Supply Chest, Golden Treasure Chest
Stillbrook Basin: Supply Chest, Super Supply Chest, Golden Treasure Chest
Songshu Isle: Supply Chest, Super Supply Chest, Golden Treasure Chest
Gloomdross Forest: Supply Chest, Super Supply Chest, Golden Treasure Chest
Forgotten Valley: Bronze Chest, Super Bronze Chest, Golden Treasure Chest
2. Cinderlands
Tomun Range: Supply Chest, Super Supply Chest, Golden Treasure Chest
Scorching Sands: Supply Chest, Super Supply Chest, Golden Treasure Chest
Spirestone: Supply Chest, Super Supply Chest, Bronze Chest, Super Bronze Chest, Golden Treasure Chest
Razorwing Ravine: Supply Chest, Super Supply Chest, Bronze Chest, Super Bronze Chest, Golden Treasure Chest
3. Moonwater Plains
Lycandi Foothills: Bronze Chest, Super Bronze Chest, Golden Treasure Chest
Hogshead Pastures: Bronze Chest, Super Bronze Chest, Golden Treasure Chest
Sapphire Basin: Bronze Chest, Super Bronze Chest, Golden Treasure Chest
Misty Woods: Bronze Chest, Super Bronze Chest, Golden Treasure Chest
Highland Necropolis: Bronze Chest, Super Bronze Chest, Golden Treasure Chest
4. Silverfrost Mountains
Skypetal Plains: Bronze Chest, Super Bronze Chest, Golden Treasure Chest
Primeval Forest: Bronze Chest, Super Bronze Chest, Golden Treasure Chest
Shiverstone Plains: Bronze Chest, Super Bronze Chest, Golden Treasure Chest
Rocky Hills: Bronze Chest, Super Bronze Chest, Golden Treasure Chest
Hunter's Post: Bronze Chest, Super Bronze Chest, Golden Treasure Chest
Sunset Basin: Bronze Chest, Super Bronze Chest, Golden Treasure Chest