Cookie is a SUP/Group Buff hero in Extraordinary Ones, the innovative anime 5v5 MOBA game made by NetEase Games.
Simple Introduction
Name: Cookie.
Race: Demon.
Height: 153cm.
Weight: 43.2kg.
Birthday: 5/29.
ID: Top Grade Chef.
A brilliantly gifted chef. People from all realms and walks of life are honored to taste her cooking.
Her mount is a veggie-loving alpaca named Al.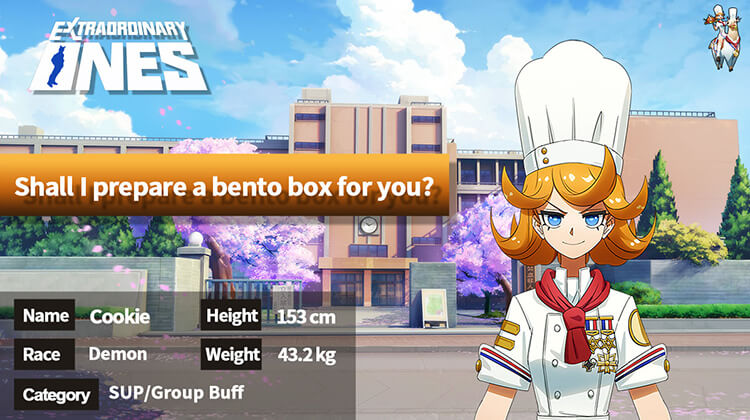 Hero Skills
[0] Portable Kitchen
When leveling up, gains a Portable Feast which can be used to increase teammates' EXP.
[1] Cookie
Dashes in the specified direction, pushing enemies on the path to either side and dealing Phy.Damage. Cast again within 4s to return to the original location, bringing back enemies and dealing additional Phy.Damage. Returning to the original position restores HP. Going too far from the charging position will be slowed down.

Awaken: When dashing past the ultimate charging center, speeds up and cancels distance limit. When dashing back, brings enemies back to the ultimate center and tuns them for 1s.

[2] Feed
Feeds the nearest hero. If the target is an ally, Phy.ATK and SP are increased. If the target is an enemy, deals Phy.Damage and reduces Phy.ATK and SP.

Every 6s or every 300 yards moved will recover 1 Food.

[3] Take-Out
Movement charges her ultimate, which can be cast when fully charged. Summons food in a specified location, dealing Phy.Damage to enemies and slowing them. Allies are healed over time. Cookie obtains food over time.