Kaveh Character Ascension Materials
Here are all items that you will need to ascend Kaveh to level 90:
420,000 Mora
46 Quelled Creeper
168 Mourning Flower
1 Nagadus Emerald Sliver
9 Nagadus Emerald Fragment
9 Nagadus Emerald Chunk
6 Nagadus Emerald Gemstone
18 Fungal Spores
30 Luminescent Pollen
36 Crystalline Cyst Dust
| Phase | Level | Mora | Material #1 | Material #2 | Material #3 | Material #4 |
| --- | --- | --- | --- | --- | --- | --- |
| 1 | 20 | 20,000 | 1 Nagadus Emerald Sliver | | 3 Mourning Flower | 3 Fungal Spores |
| 2 | 40 | 40,000 | 3 Nagadus Emerald Fragment | 2 Quelled Creeper | 10 Mourning Flower | 15 Fungal Spores |
| 3 | 50 | 60,000 | 6 Nagadus Emerald Fragment | 4 Quelled Creeper | 20 Mourning Flower | 12 Luminescent Pollen |
| 4 | 60 | 80,000 | 3 Nagadus Emerald Chunk | 8 Quelled Creeper | 30 Mourning Flower | 18 Luminescent Pollen |
| 5 | 70 | 100,000 | 6 Nagadus Emerald Chunk | 12 Quelled Creeper | 45 Mourning Flower | 12 Crystalline Cyst Dust |
| 6 | 80 | 120,000 | 6 Nagadus Emerald Gemstone | 20 Quelled Creeper | 60 Mourning Flower | 24 Crystalline Cyst Dust |
Kaveh Talent Ascension Materials
Here is the total cost of fully leveling up for Kaveh's single talent:
1,652,500 Mora
6 Fungal Spores
22 Luminescent Pollen
31 Crystalline Cyst Dust
3 Teachings of Ingenuity
21 Guide to Ingenuity
38 Philosophies of Ingenuity
6 New Character Level-Up Material
1 Crown of Insight
| | | | | | |
| --- | --- | --- | --- | --- | --- |
| Level 2 | 3 Teachings of Ingenuity | 6 Fungal Spores | | | 12,500 Mora |
| Level 3 | 2 Guide to Ingenuity | 3 Luminescent Pollen | | | 17,500 Mora |
| Level 4 | 4 Guide to Ingenuity | 4 Luminescent Pollen | | | 25,000 Mora |
| Level 5 | 6 Guide to Ingenuity | 6 Luminescent Pollen | | | 30,000 Mora |
| Level 6 | 9 Guide to Ingenuity | 9 Luminescent Pollen | | | 37,500 Mora |
| Level 7 | 4 Philosophies of Ingenuity | 4 Crystalline Cyst Dust | 1 New Character Level-Up Material | | 120,000 Mora |
| Level 8 | 6 Philosophies of Ingenuity | 6 Crystalline Cyst Dust | 1 New Character Level-Up Material | | 260,000 Mora |
| Level 9 | 12 Philosophies of Ingenuity | 9 Crystalline Cyst Dust | 2 New Character Level-Up Material | | 450,000 Mora |
| Level 10 | 16 Philosophies of Ingenuity | 12 Crystalline Cyst Dust | 2 New Character Level-Up Material | 1 Crown of Insight | 700,000 Mora |
How to Obtain
Material
How to obtain
New Character Level-Up Material
Dropped by New Boss
Teachings of Ingenuity

Guide to Ingenuity

Philosophies of Ingenuity

Obtained from domain Steeple of Ignorance (Tuesday, Friday, and Sunday)
Fungal Spores

Luminescent Pollen

Luminescent Pollen

Dropped by Fungi
Nagadus Emerald Sliver

Nagadus Emerald Fragment

Nagadus Emerald Chunk

Nagadus Emerald Gemstone

Dropped by Jadeplume Terrorshroom, and Dendro Hypostases
Quelled Creeper
Dropped by Dendro Hypostases
Mourning Flower
Found in the deserts of Sumeru.
Recommendation: Found in the Kshuradhara Woods.
Profile
| | |
| --- | --- |
| Name | Kaveh |
| Title | Empyrean Reflection |
| Rarity | 4-star |
| Constellation | Paradisaea |
| Weapon | Claymore |
| Vision | Dendro |
| Affiliation | Independent Design Studio |
| Birthday | July 9th |
| Special Dish | The Endeavor |
| Chinese VA | 刘三木 (Liu Sanmu) |
| Japanese VA | 内田雄馬 (Uchida Yūma) |
| English VA | Ben Balmaceda |
| Korean VA | 이정민 (Lee Jeong-min) |
| Version Released | 3.6 |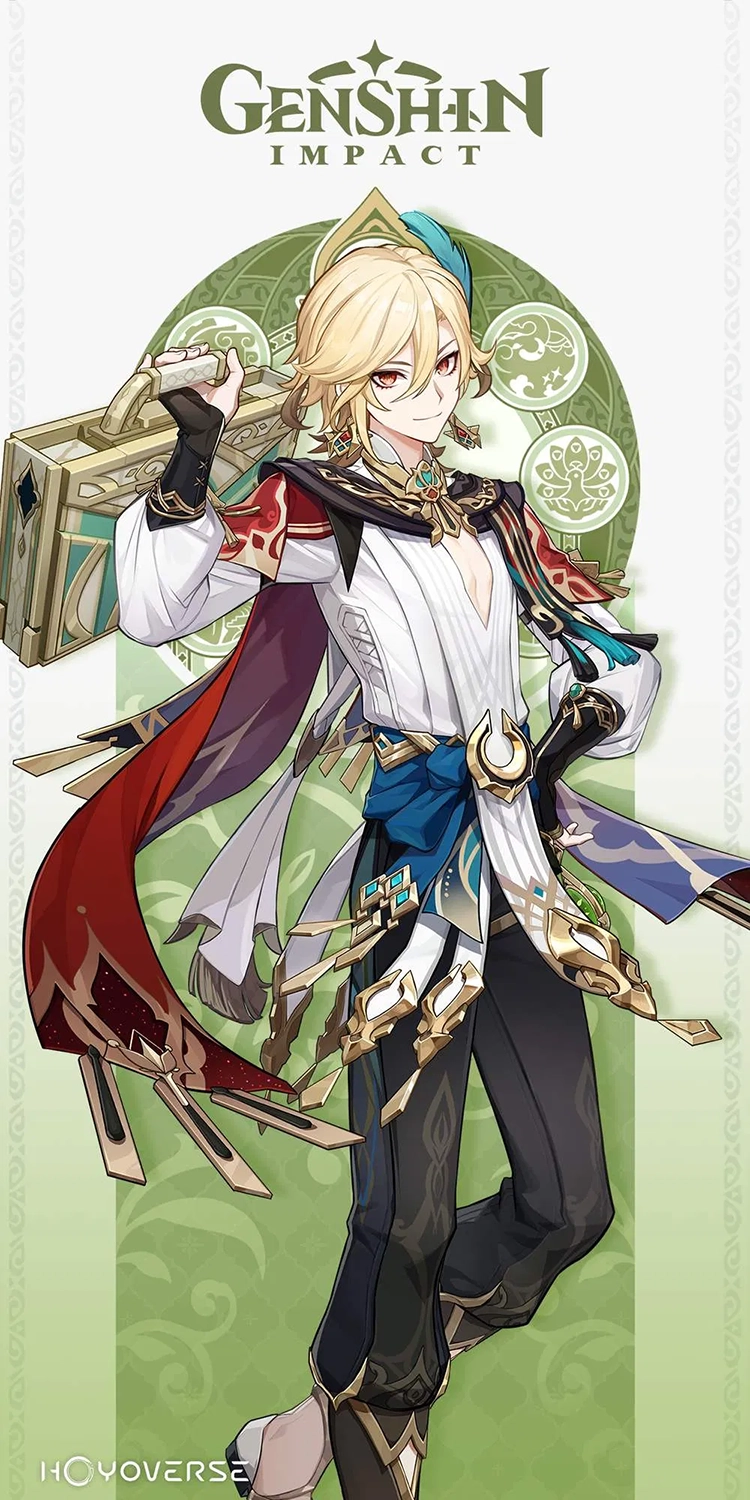 Talents
Normal Attack: Schematic Setup
Normal Attack
Uses Mehrak to perform up to 4 consecutive attacks.
Charged Attack
Drains Stamina over time to perform continuous slashes.
At the end of the sequence, performs a more powerful slash.
Plunging Attack
Plunges from mid-air to strike the ground, damaging opponents along the path and dealing AoE DMG upon impact.
Artistic Ingenuity
Uses Mehrak's mapping ability for offensive purposes, initiating a radial scan that deals AoE Dendro DMG. It will also scan all Dendro Cores in its AoE and cause them to immediately burst.
Mehrak was created through the modification of ancient technology and may have some other functions apart from mapping work…
Painted Dome
Completely unleashes Mehrak's energy and creates a cubic scanned space, dealing AoE Dendro DMG to all opponents within it, causing all Dendro Cores in its AoE to immediately burst, and granting Kaveh the following enhanced combat abilities for a specific duration:
Increases Kaveh's Normal, Charged, and Plunging Attack AoE, and converts his attack DMG to Dendro DMG that cannot be overridden.
All Dendro Cores created by all your own party members through Bloom reactions will deal additional DMG when they burst.
Increases Kaveh's resistance to interruption.
These effects will be canceled once Kaveh leaves the field.
"Every building style includes the architect's unique worldview, and from this angle, one can say that the buildings themselves are coalescences of human memories."
The Art of Budgeting
When Kaveh crafts Landscape, Building, and Courtyard-type Furnishings, he has a 100% chance to refund a portion of the materials used.
An Architect's Undertaking
When DMG dealt by a Dendro Core (including DMG from Burgeon and Hyperbloom) hits Kaveh, Kaveh will regain HP equal to 300% of his Elemental Mastery. This effect can be triggered once every 0.5s.
A Craftsman's Curious Conceptions
During Painted Dome, after Kaveh's Normal, Charged, or Plunging Attacks hit opponents, his Elemental Mastery will increase by 25. This effect can be triggered once every 0.1s. Max 4 stacks.
This effect will be canceled when Painted Dome's effects end.
Constellations
Sublime Salutations
Within 3s after using Artistic Ingenuity, Kaveh's Dendro RES and Incoming Healing Bonus will be increased by 50% and 25% respectively.
Grace of Royal Roads
Kaveh's Normal Attack SPD increases by 15% during Painted Dome.
Profferings of Dur Untash
Increases the Level of Painted Dome by 3.
Maximum upgrade level is 15.
Feast of Apadana
Dendro Cores created from Bloom reactions Kaveh triggers will deal 60% more DMG when they burst.
Treasures of Bonkhanak
Increases the Level of Artistic Ingenuity by 3.
Maximum upgrade level is 15.
Pairidaeza's Dreams
When Kaveh's Normal, Charged, or Plunging Attacks hit opponents during Painted Dome, they will unleash Pairidaeza's Light upon the opponent's position, dealing 61.8% of Kaveh's ATK as AoE Dendro DMG and causing all Dendro Cores within that AoE to burst. This effect can be triggered once every 3s.
Voice-Over
Hello
I'm glad you gave me a chance. I always think it takes people with similar tastes to sustain a pleasant conversation.
Nice to meet you — I'm Kaveh, an architect. If you have a project you'd like me to work on, then I'll need a detailed description of what you have in mind.
Chat: Beauty
The ability to appreciate beauty is an important virtue.
Chat: Overcoming Boredom
It's good to get out and stretch your legs once in a while. People aren't made to stay cooped up inside all the time.
Chat: Final Polish
My latest design's getting there, but there's still room for improvement. Better make my finishing touches before the deadline creeps up…
When It Rains
Huh? When did it start to rain? Oh no, I forgot to bring an umbrella…
When Thunder Strikes
Did you see that? That bolt of lightning was such an interesting shape!
When It Snows
Brrr… Feels like the wind's creeping in from the back of my shirt… and also the front…
When the Sun Is Out
I get dizzy and sleepy when I'm under the sun for too long… It's a similar feeling to pulling an all-nighter on a work project.
In the Desert
This isn't my first trek into the desert, but I can never get used to the heat… *sigh* Is there no shade anywhere…?
Good Morning
Did you sleep well? I hope you have a great day today. And that you don't run into someone who ruins your day first thing in the morning.
Good Afternoon
This midday sun is fierce… I should go check on the building materials I left out to dry.
Good Evening
There's supposed to be a great view of the stars tonight. Don't you think that's a good omen?
Good Night
Relax your mind, and let go of all your troubles. Have a good night.
About Kaveh: Expertise
It's fair to say I'm a pretty proud person when it comes to my area of expertise. Most scholars are when talking about their chosen fields. After all, we build our whole lives around it. I mean, if I ever stopped taking pride in my own work, then I would also forfeit the right to have any expectations of myself or anyone else.
About Kaveh: Artistry
Aesthetic isn't the number one priority in my work, and nor should it be: Quality and safety are paramount. But I never neglect the artistic side either. That's what sets my work apart from others'.
* Unlocks at Friendship Lv. 4
About Us: Appreciation
You must've seen the Palace of Alcazarzaray before? That's my magnum opus. I sacrificed so much for that… Everyone else thought I'd lost my mind. Haha, well, if you're not me, and you don't share my trade, I wouldn't expect you to understand. Mmm… It'd be nice to meet someone who did understand, though.
About Us: Ideals
I've always thought that you can never truly know a person until you understand their deepest wishes. But once you start exploring hopes and dreams, whether they're your own or someone else's… it can be a dangerous journey. You might unlock something that can't be put away again. Not everyone can face the potential consequences of that.
* Unlocks at Friendship Lv. 6
About the Vision
I almost don't want to say this out loud, but… Sometimes, hopes and dreams bring suffering instead of happiness. Luckily, I don't mind my Vision.
* Unlocks at Friendship Lv. 4
Something to Share
People who know what drives them to create deserve our respect. Wouldn't you agree?
Interesting Things
The uninitiated often assume that the expertise of Kshahrewar architects starts with clay and ends with lumber. It's such an ignorant perspective that it's not even worth arguing against… If all it took to build a house was to smush a few random materials together, there'd be no need for this discipline in the first place… As well as being one of the building blocks of human culture and civilization, architecture is also an art form. Art does not exist in a vacuum, so I've always been mindful of the experiential factor for the occupants, and the emotional character conveyed to those looking on from the outside… Oh, and I'm always looking for better ways to integrate artistic expression and practical functionality.
About Lesser Lord Kusanali
Lesser Lord Kusanali is a wise and capable god. Not only is she extremely knowledgeable, she also possesses virtue far beyond mortal comprehension. I have only the utmost respect for her tolerance of others — especially in a nation of learning like Sumeru, that takes great equanimity.
Sometimes, though, I do stop to wonder… Surely even the gods must have their struggles, too? Oftentimes, confusion is the beginning of wisdom… In which case, how can we ever achieve true happiness?
* Unlocks at Friendship Lv. 4
About Alhaitham: Temperament
I guarantee you'll never meet anyone else who's as infuriating as him! And for the record, yes, I would say that to his face. Sure, he's smart, and sure, geniuses often come with a bad temper, but that's only half the story with him… He knows perfectly well how to appear friendly and likable to others, he just doesn't want to.
If he ever gives you the impression that he doesn't really have a temper, or that he's rigidly logical like a machine, then you just don't know him well enough yet. He definitely has a personality, it's just… too big a personality. Most people wouldn't get it.
* Unlocks at Friendship Lv. 4
About Alhaitham: It's Complicated
Alhaitham helped me out a fair amount recently. If we were still as close as we were during our student days, then I'd be thanking him every chance I got. Now, though… I can't seem to get a word of appreciation out of my mouth. Even if I could, I wouldn't want to give him the satisfaction.
I guess you could say our relationship is something of a mixed bag these days? Honestly, with everything that's happened, it almost feels like the universe has been playing pranks on us… It's hard to make sense of it all… too much to process for one lifetime. I will say that it's not every day that you get to know someone like him — I just wish he could rein in some of the worst excesses of his personality. Okay, yeah, that's never gonna happen.
* Unlocks at Friendship Lv. 4
About Tighnari
Ah, Tighnari… He's one of the nicest guys you could know. If you've met him, you'll know what I mean. He's kind, and he has enormous expertise in his field, but he never brags about it in front of other people. And he seems to genuinely care about his work.
Back when I was building the Palace of Alcazarzaray, I asked him for some tips on how to pick out the right ornamental plants. After he wrote back to me, he also helped me out with some other issues, too. Oh, and I almost forgot — he was the one who first introduced me to Cyno.
* Unlocks at Friendship Lv. 4
About Dori
Dori is the owner of the Palace of Alcazarzaray… Excuse me? Mine? No, don't be ridiculous. I know full well that it doesn't belong to me… I know, I know, but… argh, please, let's not go there!
Dori is a shrewd one. She knows how to coerce others into doing things for her. I, uh… For, ahem, various reasons, I now owe her a large sum of money. It all got quite complicated in the end, but… A—Anyway, I wish she'd show me a little mercy, and stop making my life a misery for the sake of Mora. I swear, she doesn't seem like a bad person at heart, so… I just don't understand, how did she turn out like this?
* Unlocks at Friendship Lv. 4
About Cyno
Cyno can come across as cold and ruthless, but he's actually a very big-hearted guy. I still remember how shocked I was when Tighnari said he was gonna introduce me to his best friend, and then a couple of seconds later, an incredibly intimidating matra comes walking through the door… I honestly never expected to meet a matra who's so comfortable hanging out with scholars. Gotta say though, I can't stand his sense of humor. It really makes my skin crawl. If he ever invites you to a meal at Tighnari's place, make sure someone's bringing beer, because no one should have to endure Cyno's humor while sober.
* Unlocks at Friendship Lv. 4
About Collei
I've met Collei quite a few times now. As Tighnari's student and assistant, she follows him everywhere. With her diligence and patience, she's much more responsible than most other kids her age. But, umm… I can also tell that she's got a lot going on inside.
* Unlocks at Friendship Lv. 4
About Nilou
Nilou's talent as a dancer is indisputable. Zubayr Theater really lucked out when they recruited her. I've heard that she has a great personality too — she always smiles and says encouraging things to her audience when she's performing. Once I can find some time, I'll have to catch one of her shows.
* Unlocks at Friendship Lv. 4
About Faruzan
Madam Faruzan doesn't mince her words, so I can understand why some students at the Akademiya are afraid of her. She doesn't have any bad intentions, though — all she wants is to devote herself completely to the research that interests her. Some people say that all Haravatat scholars are hard to get along with, and uh… heh, I'll let you be the judge of that.
I assume she's already asked you to be her student? She sure is a little intense when she's doing the hard sell, huh… But she can walk the walk too. She really does know her stuff.
* Unlocks at Friendship Lv. 4
More About Kaveh: I
You heard that I've earned myself a little fame in Sumeru? Hahaha, don't believe everything you hear. They're exaggerating, trust me. It's easy enough to make a name for yourself in Sumeru if you stick around here long enough — honestly, I think managing to keep a low profile would be more of an achievement.
I hope you didn't first hear about me because of my bankruptcy scandal, though. Hmph… If you're actually willing to hear me out, I could tell you about some of my more redeeming qualities, heh…
More About Kaveh: II
You're not thinking about enrolling in the Akademiya, are you? …Well, if you do sign up, from a pragmatic standpoint, I'd have to advise you to steer well clear of design. Don't get me wrong — it's a fascinating subject to study, but the work is… brutal. I spent some time working under one of my seniors after I first graduated, and they worked me to the bone every day… I was constantly being ordered around like a pack animal. I really don't know how I survived for as long as I did…
* Unlocks at Friendship Lv. 3
More About Kaveh: III
While everyone's aesthetic preferences differ to a point, beauty is, on the whole, a pretty concrete concept. I do think it's possible to establish some basic objective aesthetic standards. It's possible to improve your aesthetic appreciation, too, although it takes a lot of time to get the experience. If you ever need any advice on that front, by the way, you're always welcome to come to me.
* Unlocks at Friendship Lv. 4
More About Kaveh: IV
Some people think I like to stir up trouble, but they don't know what they're talking about. Anyone trying to make any sort of progress in life is inevitably gonna come into conflict with other people from time to time. You can't just ignore the situation because you don't wanna deal with it.
* Unlocks at Friendship Lv. 5
More About Kaveh: V
I like to have a drink or two when I've got the time — it's a good way to de-stress. Hm? Oh, yeah, I mean, mostly just to pass the time, heh.
Uh… Ahem, what's that look for…? Alright, alright! I admit it! Maybe I do drown my sorrows a little more often that I was letting on. It all gets a bit too much sometimes, what with the unfinished projects, obstacles that I can't overcome, misunderstandings with other people… Don't you struggle with those kinds of things as well?
* Unlocks at Friendship Lv. 6
Kaveh's Hobbies
Music, architecture, sculpting, painting… All are worth taking the time to appreciate properly.
I wouldn't say I'm an expert in all of them, but as long as I stay interested, maybe I can master them all one day. I mean, look — I already know how to play an instrument.
Kaveh's Troubles
My troubles? …Hmm, the most obvious one would be my financial situation.
It's not that I can't make Mora, it's just that I can't seem to hold on to it. So many things in life require money, and if you're not careful, it just disappears… Don't worry about me, though — I'm a lot better than I used to be. I'll be more careful to live within my means in the future.
Favorite Food
My favorites are alcohol, warm soup, and anything with cream or cheese in it. Oh, and I'll never say no to fresh fruit.
Least Favorite Food
I can't deal with anything that's too hot or spicy. If I have to eat them, I leave them to cool first so I at least don't burn my tongue.
Receiving a Gift: I
This is marvelous! Can you teach me how to make it?
Receiving a Gift: II
I bet this'd go great with a glass of wine!
Receiving a Gift: III
…Huh? Uh… It's hmm… Umm…
Birthday
Is it your birthday today? Well, congratulations! Birthdays are important days, and it's also one of those days in the year that gets you thinking about your family. However you spend today, I hope it makes you happy.
Feelings About Ascension: Intro
This'll do nicely… Thank you.
* Unlocks at Ascension Phase 1
Feelings About Ascension: Building Up
Hmm? Got any more where that came from?
* Unlocks at Ascension Phase 2
Feelings About Ascension: Climax
My horizons have been broadened… I hope I can hold on to this feeling.
* Unlocks at Ascension Phase 4
Feelings About Ascension: Conclusion
The more power I wield, the more things I can accomplish. Even if achieving my goals comes at a cost, and even if all my hopes and dreams are built on pain and suffering… I don't want to turn back now.
* Unlocks at Ascension Phase 6
Elemental Skill: I
Scanning!
Elemental Skill: II
Come at me!
Elemental Skill: III
Site clear!
Elemental Burst: I
Watch and learn!
Elemental Burst: II
Breaking new ground.
Elemental Burst: III
Feast your eyes!
Opening Treasure Chest: I
A new discovery!
Opening Treasure Chest: II
What a lucky find! Bet that's made your day?
Opening Treasure Chest: III
This is incredible! No, extraordinary!
Low HP: I
How annoying!
Low HP: II
That was your last chance.
Low HP: III
Ugh… Shoo!
Ally at Low HP: I
Leave this to me!
Ally at Low HP: II
Get behind me.
Fallen: I
So many things… I never accomplished…
Fallen: II
Why…
Fallen: III
Don't… crush my dreams…
Heavy Hit Taken: I
Ugh, hey! Cut it out…
Heavy Hit Taken: II
Huh! I've been through worse.
Joining Party: I
Need a hand?
Joining Party: II
I'll take care of this.
Joining Party: III
Is that the client…? Wait… Oh! It's you.
Story
Character Details
In a land brimming with as much talent as Sumeru, one is practically spoiled for choice when it comes to designers. But when one speaks of architects, few are those who will not subconsciously think of "Kaveh."
The Kshahrewar graduate was once named the greatest architect in several decades and is known as the Light of Kshahrewar. Kaveh himself, however, is unfortunately unmoved by this title.
Such lovely names and titles are, to him, acknowledgment and shackles both. For example, Kaveh's insolvency remains a matter of shame for him to this day. A person with little to no standing could just admit to such a thing, but a famous architect cannot. In fact, such undue candor might result in a crisis of reputation for him. So, Kaveh cannot but avoid this topic to save face, and be forced to masquerade as a man living in leisure.
Thanks to his abilities as a designer and his astounding aesthetic attainments, people believe in his talent, and thus, in his facade also.
After all, what could possibly trouble Kaveh, architect extraordinaire?
Character Story 1
Up till today, one can hear Kshahrewar students discuss and speculate about their alumnus Kaveh at the Palace of Alcazarzaray and various parts of the Akademiya. In the hearts of his Darshan-mates, Kaveh is a genius nigh-unparalleled in the last few decades and an architect of great fame. Kaveh has, by his outstanding works, engraved his name into the history of the Akademiya. If you are to meet Kshahrewar students, it wouldn't hurt to listen to them extol his achievements: Single-handedly designing the Palace of Alcazarzaray, renovating the landmark lighthouse of Port Ormos, modifying the port's elevators and cargo-handling structures, his pioneering role in the spatial optimization of the peripheral areas surrounding forests and valleys… The list goes on.
Clad in these achievements, Kaveh has become more than a simple name, but a synonym for achievement in the field of design. Many wish they could have a resume like his: brilliantly talented in school, invited to work in various major construction agencies after graduation, and leaving after several years to do work under his own name.
All outsider readings of his life stop here, and almost none know of the hidden truth behind the stories — the truth that Kaveh himself is trying to hide. It is true, of course, that he is an exceptional designer. It is a shame, then, this has not allowed him to live the perfect life that others think he does.
He would summarize his past experiences in this way: Misunderstandings are troublesome but inevitable. All people are vulnerable to momentary lapses in judgment and to the influence of rigid labels. For example, their first reaction to "designer" is the fantasy of someone who earns Mora with a flick of their fingers, who becomes famous with but a few strokes of a pen. And when people think about "the arts," the first thing that emerges is the bizarre, unfounded image of some lackadaisical, self-centered soul who swings between bouts of gloom and mania, and who is all too fond of bossing others about.
Kaveh does not fit any such imaginative fantasies. He cannot complete his designs in a single stroke, instead approaching every job earnestly. He dresses like a successful person, but in truth, he does not judge the merit of a project by the remuneration alone. He is principled beyond most other people in Sumeru, believing that "art" is the wellspring of a life in design, and yet does not forsake humanistic purpose or practicality in the process. Indeed, he is willing to make some compromises for these two things. Sometimes, he compromises on rest time, other times it is the ornamentation and trappings of the project… and sometimes it is his own pay.
After many years, he finally succeeded. The Palace of Alcazarzaray was completed, and he returned to Sumeru in glory. His colleagues had naught but praise for the fabled palace atop a large tree, stunned as they were by its designer's astounding imagination. They gorged themselves upon the way in which the structure united architectural function and human narrative into its elegant design values, resulting in luxurious craftsmanship that yet exists as a testament to precision and elegance, rewriting the atmosphere of the surrounding mountainous space with its very presence. No one would say that the Palace of Alcazarzaray was any less than an exceedingly successful experiment.
Those colleagues, however, were blissfully unaware of how Kaveh went bankrupt over this project due to a mix of personal principle, the vagaries of life, and other problems layered atop one another. After all, the truth — much like the troubled gestation of this success — has remained well-hidden thanks to Kaveh's efforts.
* Unlocks at Friendship Lv. 2
Character Story 2
Kaveh was born into a classic scholarly family in Sumeru. His father was from the Rtawahist Darshan and once worked at the Akademiya, while his mother had graduated from Kshahrewar, and much as he would become later in life, she too was a famous architect. Influenced by them, Kaveh was interested in architectural design from a young age. They would sit in the living room as he sat at home playing with the block puzzles they had bought for him.
Theirs was a house in which words were not necessary, and Kaveh would gain his understanding of "home" from this time.
However, their blissful days were not to last. Some time before he joined the Akademiya, his father would, at his encouragement, join the Interdarshan Championship. The competition itself was not a complicated affair, but his father, who became a favorite to win, would miss becoming champion by a hair, and then proceeded to go missing for a time afterward.
Soon, the bad news came: His father had perished in an accident in the desert. The suddenness of this misfortune threw mother and son into disarray. His mother was hit particularly hard. Being a sensitive soul by nature, her husband's passing would cause her to break down, spending much time in anxious, gloomy thought. As for Kaveh, he would see his father's laugh and promise to bring something nice back for him as he walked out that door every time he closed his eyes to sleep. Young Kaveh thought that had he not said anything, his father might not have taken part in the contest, and he would not have gone missing afterward, and finally perished as a result. But no matter how he begged, the past could not be changed. His father's death, his mother's agony… all these things that could no longer be taken back were on the account of a single thing he had said. From that day forward, he would live under the shadow of that guilt.
His mother would say that her husband was a man with a good heart, and that life at such a person's side made her happy. Indeed, after his passing, she would never again smile. "Home" went from a sanctuary of warmth and light to a cold and lonely hall. Kaveh would often find his mother sitting on the sofa staring at her trembling hands in silence. She could neither draw anything at all, nor even conceive of a design in her mind. Each time this happened, Kaveh would feel like a giant hand was crushing him to the ground, and he would question himself: Were it not for me, would the family have ended up like this?
At that time, he was still young, and he could do very little. Out of guilt, he would do his best to keep his mother company, and he would never wear a disappointed face around her, trying to support her in any way he could, even if such was but a drop in the bucket.
It was amidst this chaos that Kaveh would reach schooling age and, having passed the entrance exams, enroll into Kshahrewar. During this time, he would inevitably spend less time with his mother. She would thus travel to Fontaine to ease her soul a little. There, she would receive a job offer, and upon returning to Sumeru, she informed Kaveh of the good news. Kaveh knew that this would leave him to live alone, but still, he agreed, and even saw his mother off on the day she departed.
He would continue to look on even after her ship had long left the harbor. He would deeply miss her, but he knew that it was best that she left the place that had come to represent so much pain for her. For her sake, Kaveh would never admit that he was lonely. He assured her that he was all grown up now and could live independently. And if he should be kept awake at night by loneliness, pain, or memories of their now-broken family, why, it was his just desserts for egging his father on to take part in the competition. One guilty of harming his parents so deeply deserved all that came to them, and so he must live on bearing that brand.
Given that such thoughts have been his constant companions since, one could say that "home" taught Kaveh how to care, and also utterly purged him of the ability to knowingly harm another person. In the many years afterward, he would remain trapped by his personality and ideals, desiring to help any and all who asked it of him, and unable to truly oppose others even if he wished to try and resist on some matters. Despite the good he often does, his guilt remains. More than this, he cannot accept pure goodwill, for when he makes choices, he believes that he should be punished, and finds some comfort in the pain.
If Kaveh were a sculpture, he would be one that appeared all but flawless, but which would suffer utter destruction if the weak point in its core were to be found.
* Unlocks at Friendship Lv. 3
Character Story 3
After graduating, Kaveh's first project was helping out with a group project with other students of the same Darshan, though they had different mentors. This being his debut as the person responsible for design, the work weighed heavily on him. But he is (by his own admission) a stubborn person, and he would spend all his energy on his work, and thus would he shoulder the work for others, heedless of the hour, on all manner of projects for two entire years.
Once he had gained enough experience, Kaveh left these cooperative projects behind to work in his own name, gaining a clientele who appreciated his style. Some would ask him to design buildings, and this marked the beginning of his career. By dint of his hard work, he was able to save up a good sum of Mora. It did not take long, however, for Kaveh to hit a bottleneck. The demands of the market were very different from academic design. It was more pragmatic, more snobbish, and the clients' requirements were far harder to meet than his mentors' had been. At the same time, academic trends in Sumeru were disrupting his work. He began to realize that his ideals and career goals were, as a certain someone had said, not easily attainable.
New iterations of the schools of thought and viewpoints amongst researchers were constantly being created, and there was no lack of those who would engage in self-critique and self-reflexive questioning, with changes and improvements in social factors encouraging such considerations. As such, things that were once recommended might someday become objects of criticism, whether they be actual books or art.
But other than those who had given themselves wholly over to art, no one could understand what artists in Sumeru had to endure. As academic accomplishment became ever more prized in Sumeru, researchers would in turn value pure academic accomplishments and practical skills more highly. The Six Sages would grow ever more radical in their ways, and the idea that "the arts provide no real benefits" started to become mainstream. Thus, those who worked in the arts would be marginalized, and those subjects that were often related to the arts sought to distance themselves.
The engineering projects that Kaveh came into contact with were highly streamlined, bereft of flair or style. He would suggest various beautiful designs, only to have them rejected on the grounds that they were "meaningless presentation," or that "this project only needs practical buildings." His original pursuit was to make good designs for all that incorporated both artistic beauty and practicality, but now that the arts had become a joke, and people rejected their necessity and value, no one would give him freedom to work on his designs. Kaveh, believing that architecture was indeed art, resolutely opposed such viewpoints. But his job required him to have technical support and investments, and so he could not escape these circles, nor could he simply put his views out there in the open for fear that he might drag too many others down with him.
With his dreams and career now at odds, Kaveh gave himself a long vacation. But when he returned home, he received an unexpected letter from Fontaine. It was from his mother, and she wrote that she had found someone to whom she could entrust the rest of her life, and as such was going to remarry in Fontaine. It was this news that she would, with great trepidation and expectation, relate to her only relative.
Kaveh wrote back and congratulated her, and would even go to Fontaine to take part in the wedding. It was a simple affair, and only a few guests were present. Seeing his mother smile once more, Kaveh felt glad, but felt lost again almost immediately afterwards.
His mother would leave all her property in Sumeru to him. Three days later, he would return to Sumeru, and once again felt the terror of the empty home — the mere act of sitting on the sofa tormented him with heretofore unmatched solitude. Here, he felt the old adage of all wise scholars being fulfilled: "Do the right thing, no matter what it costs you."
* Unlocks at Friendship Lv. 4
Character Story 4
The more he continued to work in the construction industry, the stronger Kaveh's displeasure with the current state of society grew. It was at this moment that a turning point came. The wealthy merchant, Lord Sangemah Bay, sought him out to construct a private mansion.
Lord Sangemah Bay had become fairly famous, but Kaveh had no idea that this "Lord"'s name was in fact Dori until they met, nor did he have any reckoning of her power and riches. She only had two conditions for this mansion, that it be large and extravagant. Kaveh would probe her concerning design style and other details, but she was unconcerned with such. Even amongst his clients, Dori stood out as a bit of an oddity. She did business, but seemed to care little for what researchers thought. She wanted her mansion built in a secluded place — for business needs, or so she claimed — and Kaveh was told not to ask too many questions and simply aim to make a truly awe-inspiring estate. As for aesthetics, Dori neither cared for nor stopped him from doing anything he wished.
Kaveh realized almost immediately how rare it was to come by such a commission. A mansion construction project without limitations meant that he could put his all into it. Party A would fork out the resources, while Party B would do the work — was this not how their business should be? And was allowing academic views to restrict development and growth not utterly wrong-headed? So it was with that Kaveh threw himself in planning these designs with a sudden fervor, and, in his role as "Party B," he advised Dori to make some adjustments. A true mogul could not simply live in the mountains. If this estate was to go down in history, it had to be something of truly legendary beauty! A garden was a must, with the flowers carefully selected, of course, with the input of professional botanists. The conceptualization must be bold, the planning conscientious. The buildings themselves would prioritize practicality, but the requested warehouses and facilities would rest upon a luxuriant foundation. And as for location… the cliff-side in the northern mountains looked good. Lord Sangemah Bay would awaken every day with a window onto the loveliest natural views that could be had.
Though Dori would constantly insist that the mansion did not have to be close to a cliff, Kaveh's engineering spirit and aesthetic appetites drove him on to convince her otherwise. Thus did the project begin with a flourish, and as the days passed, work proceeded apace under Kaveh's watchful eye.
Yet his ideals would not be so easily achieved, for though Kaveh's diligence in selecting a site had been immaculate, and he had made every consideration, he could not have anticipated the speed at which the Withering would expand its reach that year. When the work was 70% complete, on a quiet night, the Withering crept in silently, destroying all that had been built overnight. The sight of his creation's devastated corpse struck Kaveh like a furious thunderbolt. Dori, who had rushed down upon receiving the news, was in incomparable fury, demanding that Kaveh leave the project. Though the Forest Rangers quickly dispersed The Withering, the buildings were beyond saving.
Yet he knew that it would be difficult to ever get a chance of this sort again, and so he begged Dori to let him finish the Palace of Alcazarzaray. Dori would point out the crucial problem with stark sharpness: He had been the one to insist on the change of site. Now that the palace had been destroyed, taking the investment put in thus far with it, how could the project continue, even assuming that she did not pursue the matter with him? If they were to rebuild the structure, who would bear the cost for the losses?
Kaveh sat atop the ruins as he contemplated this all night long. He had his savings, and the property his parents had left behind. That had once been his "home," but now, it was just an empty building. And what was a "home," anyway? An architect like him knew better than most that a construction bereft of a family or people to dwell in it was no "home." It was simply a building.
When the sun rose, Kaveh returned to Sumeru City and sold that house. Adding all the proceeds from that sale, along with his savings, to the funds Dori had provided with him, he was able to come up with 70% of the necessary Mora required, with Dori coming up with the rest.
Thus was the Palace of Alcazarzaray built on a beautiful, sunny day. Kaveh had given all he possessed to build a legendary palace that did not belong to him in the slightest. He did not earn a single Mora on this project. On the contrary, some slight overspending on the follow-up work would leave him heavily in debt to Dori. While Kaveh made a token show of resisting, he knew in his heart that he could not deny the fact that he did indeed owe this debt. His heart was once again consumed by that old guilt, and Lord Sangemah Bay, shrewd merchant that she was, could immediately perceive that he was paying not for her sake, but for that of his ideals.
And if someone wanted to martyr their entire fortune on the altar of their ideals, who was she to stop them? Construction was ultimately just business, but ideals were priceless. As for how Kaveh would come to be homeless afterward, that is a different story.
* Unlocks at Friendship Lv. 5
Character Story 5
After going bankrupt, Kaveh entered into a period of melancholy. The Palace of Alcazarzaray had ever so briefly filled the hole in his heart that had been ripped open by so many things, but it had also proved to him once again that no matter what he gave to attain his ideals, it wasn't enough. He was now directionless, and enmeshed in a world where he could not go anywhere without Mora. And yet he was accustomed since his youth to putting on a brave front, and so Kaveh was unwilling to let his colleagues and friends know that he was nigh penniless even after selling all he owned, and so he went to a tavern, where he would order a few bottles and chat to comfort himself. One bottle later, he would collapse at the table, only to wake up in the exact same position afterward.
Lambad, the tavern owner, had reserved a seat and a few free drinks for him out of kindness, and as thanks, Kaveh helped him redesign and refit the booth seating area of the tavern's second floor. He would occasionally meet friends from his Akademiya schooling days, and with them he would pretend that he was just here to drink and gather inspiration. He would spend over a fortnight in this manner, during which he would encounter that friend that he no longer called "friend."
When discussing Kaveh's old friends, the current Akademiya Scribe, Alhaitham of Haravatat, will invariably get mentioned. Alhaitham enrolled at a later date than most of those his age, but his grades stood out above the rest. People didn't know who he was or where to find him normally, only that he was some student who had gotten high marks. And when his name was mentioned, even the old researchers from Kshahrewar would shake their heads and say that he was too intelligent by half and hard to get along with.
At that time, Kaveh had just parted ways with his mother and was living alone. He would meet this junior student in the library at times, and would speak to him out of curiosity, and thus did he meet the Haravatat genius Alhaitham. But time would go on to prove that wishful thinking alone does not make friends. For Kaveh quickly realized that Alhaitham, though two years his junior and admittedly both extremely talented and incredibly gifted, was also utterly different from him, whether it be in personality, dealing with people, academic direction, and convictions.
Kaveh's time in school would leave him with a great many memories, the least pleasant of which is the group project they undertook together. Each recognized the other's ability, and they decided to conduct research regarding ancient structures, ancient runes, and linguistics, with Kaveh suggesting that Alhaitham be the one responsible for selecting the topic. At first, others would take also take part in the cooperative project, but as the work progressed, the other students dropped out gradually as they could not keep up. That was the first time Kaveh realized the brutal and all-too-intuitive difference in talent between individuals. The Akademiya linked talent and resources to an extreme degree, and all here knew that. As Alhaitham liked to put it, certain matters have their upper limit determined by talent and their lower bound determined by hard work. Ordinary people and geniuses would be separated by various practical realities, and they did not have to force themselves to fit into a group they did not belong to. Kaveh, however, was resolute in his belief that this was all the result of obstacles that appeared during the process, and that wisdom should be uncovered by many people. To prevent the other students from backing out, Kaveh spent much time and effort helping them with their work, placing a great burden on his own shoulders. Alhaitham persisted in upholding the opposite view, believing Kaveh to be too idealistic in his ways — academia was not charity work, and temporary salvation would not change the reality of their differences in ability. Thus did discord arise between the two.
Finally, the day came when only two people remained working on the topic: Alhaitham and Kaveh. The disputes between them accumulated to a critical mass before exploding spectacularly. Kaveh maintained that Alhaitham was too much of an egoist, that he could be much better welcomed amongst people if he would just care about helping out more often. Alhaitham for his part pointed out that Kaveh's impractical idealism was just a flight from reality, and that it would come to be a burden on his existence someday, and the source of Kaveh's altruism was naught but his inescapable sense of guilt. At that moment, more than anything else, Kaveh felt cut to the quick by someone who was his best friend. Alhaitham had seen through the reality that he had never been able to face, causing him to feel reality's bite for the first time, a feeling that made Kaveh steadfastly declare that he regretted making friends with this all-too-intelligent person.
The two parted ways in a single stroke. Alhaitham would remove his name from that thesis, while Kaveh would rip his copy of the thesis apart in a fury — only to put it back together with deep regret. He sensed that he would not be able to change his friend, with the reverse also being true.
Afterwards, the two would later clash in academic journals several times, each criticizing the other's perspective. Before this, the "Decoding the Runes and Architectural Philosophy of the Ruins of King Deshret's Civilization" had made great progress. Its fruits on the linguistics front had filled various gaps in the grammatical logic of some ancient minor languages, allowing for the successful interpretation of many important texts. Similarly, the results achieved in architectural studies had successfully improved the load-bearing structures for some special terrain features in Sumeru, which greatly improved the lives of those living in remote regions. To encourage the project, the Akademiya had even specially designated a research site for its use. Unfortunately, lacking manpower and a united vision on the part of its primary researchers, it eventually ground to a halt.
This failed project became an unavoidable part of Kaveh's past. As the years passed, and he was beaten back by reality time and time again, Kaveh was forced to admit that his persistence born of wishful thinking was not always useful. It was only when he was rendered penniless that he finally understood the deeper meaning behind his friend's past words. A person who wished to ascend to the garden of heaven upon steps made of thin air would inevitably plant their feet on an empty stair and fall to their death. As a genius, Kaveh longed to belong in a crowd, subconsciously fearing separation from it — this was the difference between him and Alhaitham.
Returning to the matter of that table in the tavern, Kaveh was deeply shocked to see Alhaitham, who was coincidentally present to purchase some alcohol, in this place. Alhaitham for his part could immediately tell that Kaveh was in a very bad way. Having been oppressed by life for too long, Kaveh completely unloaded all his woes onto his erstwhile friend right there and then. After all, there was nowhere to hide from his problems, so what use was concealing them in front of the one friend with whom he had fallen out so acrimoniously? He would lament about a great many misfortunes that had befallen him, only falling silent when they left the tavern in the dead of night, and his eyes fell upon a place in the distance that he once called home. Alhaitham, on the other hand, listened intently to Kaveh's words, and seeing through him once more, asked him a difficult question: "How has realizing your ideals gone for you?"
Only reality can force a researcher to admit that they were wrong, but Kaveh did not know what he should consider reality. He yearned for a fantasy so perfect and beautiful that none need flee it, even if the price of this dream was losing himself. He still firmly believed that his ideals were in themselves not mistaken, and that the fault lay only in the methods used to achieve them.
People should not give up, for even if they are doing good in an attempt to make up for something, the results will still have meaning for some. Even if he could not enter that promised land of his ideals, that did not mean the radiance and the attraction of such a realm should be denied.
As for those phantasm-like realities, like how he found his homeless self living his friend's house by happenstance, or how this house, now under the Scribe's name, had been converted from that same research center the Akademiya had offered them back in the day, or how this excess academic asset would not have been turned into a residence at all after numerous transactions, had Kaveh not resolved to give it up… Or how, knowing full well that Alhaitham never did perform a good deed unconditionally, Kaveh would be plagued by guilty conscience and proactively mention helping with household chores, only to become saddled with all the domestic errands… These might be an annoyance for someone at a low point in life, but they are also proof the most unshakable part of one's past is a friend that will never change. Rationality and sensibility, language and architecture, knowledge and human feelings… Things that can never be integrated are what constitute the two sides of the mirror — indeed, of the entire world.
* Unlocks at Friendship Lv. 6
Old Sketchbook
A thick old sketchbook with a leather cover. It does not merely contain doodles, but also some clippings. Its owner must have been using it as a sort of scrapbook of memorabilia:
Page 1: "Architectural Drawing Basics," Author: Faranak. Postscript: "Mother's book. Is it just me, or does the cover seem to be a bit washed out?"
Page 15: A simple drawing that shows a person falling into quicksand. It is "hidden" because in the pages before and after it have been stuck together using glue.
Postcript: "Father… Forgive me. I don't know what I should write in order to… Please, forgive me."
Page 26: A topic application form. Postscript: "A fine beginning. Such an intelligent collaborator is hard to come by."
Page 31: Some academic notes and architectural drawings. Postscript: "Our views are aligned, and they are complete." This line has been struck out.
"Our views are contradictory, but it is through contradiction that more speculation and philosophy may be born." This line has been retained.
Page 42: The cover of a thesis that has been torn up, then put together again. No postscript.
Page 47: An excerpt from a school publication. The original title is unknown, and the preserved content is as follows:
"The selfish cannot understand wisdom's final destination. Though all of us might claim to have a place in this great hall of learning, we must understand that it is people, and not knowledge, that make our world what it is. Without a vessel, knowledge shall have no home. Universal values must naturally have some merit to be named such, and denying their general meaning does not mean that minority viewpoints will arise accordingly. This is the case with aesthetics. Beauty is something objective that exists in human hearts. It will not lose its value simply because some people cannot understand it.
"To view oneself as some mighty vessel is to fall to the narrowness of the researcher. Know that truth has never existed for the sake of individuals. The logic of the world coexists with nature, and this will not easily change whether it is interpreted as such or not. Excessive belief in the object is self-disclosure just the same, a manifestation of a lack of confidence in the subject. Moreover, one who is sufficiently self-confident will not need to constantly use plural forms of address, such as 'we.' I alone am sufficient to sustain this position — this I can assert."
Page 56: A hand-drawn sketch of the Akademiya. Postscript: "I shall probably not return to work here, but I do hope that I can return to this place as a speaker on a pulpit one day."
The 20 pages that follow are full of work timetables and notes that accompany pictures. The handwriting goes from precise to messy, indicating that time is growing tighter, and the one writing the notes is busy with work.
Page 85: A sketch too lovely to be called such. It appears to be some mighty work of construction in miniature. Postscript: "Workable, but requires far too many resources. Details to be considered."
Page 91: Messy doodles. All over the place. No postscript.
Page 92: A real estate transfer certificate. Postscript: "This might be impulsive of me, but I cannot refuse this possibility that fills me with so much hope. May everything go smoothly."
Page 101: Some small doodles. Postscript: "I'm done for! I can't draw. I won't draw tomorrow."
Page 107: Interior design images. This appears to be the second floor of Lambad's Tavern. Postscript: "Could I ever do anything better?"
Page 112: Rent records. Postscript: "I mean, I wouldn't call this a bad thing… But how did things turn out like this? That guy definitely wouldn't take me in for no reason and without expecting anything… But what could I possibly do for him?"
Page 115: Suitcase design draft. Postscript: "Mehrak is an ancient word, one I have used as the name for this suitcase. It means 'little light.' More than anything, I hope it really can understand what I'm saying."
* Unlocks at Friendship Lv. 4
Vision
While he was still a student, Kaveh would often be busy with various projects. During this time, he would visit numerous ruins with fellow students. They were all very young at the time, and were as yet unable to descend to the heart of the tombs, but they managed to achieve significant results nonetheless.
However, the study of ancient ruins comes with its risks, and they would find themselves imperiled despite their professionalism. During one such search, the student team encountered some danger, and there was a cave-in. If not for Kaveh pushing two fellow Kshahrewar students out of the tomb, they would surely have died there. As for Kaveh himself, though he also escaped with some light injuries, he could not stop his fellow students' change of heart. He believed that he was helping them achieve results, but instead most of his fellow students saw only a perceived difference in ability, and troubled by the situation, they elected to quit the project.
Kaveh knew of the objects known as "Visions." He had originally thought that they would appear at moments of crisis, but he had been through one such mortal crisis already, he had not received the favor of the gods, but instead had to use all his strength to drag everyone out of the fire.
Years later, Kaveh graduated, left the Akademiya, and threw himself into his work. He had by then ceased to think about Visions for some time, or even consider further as to what kind of people would come into possession of such an item. People said that only those with a wish could receive divine favor this way — perhaps he was just not such a person.
Everything that happened after flowed like a stream of water, dull and unchanging. He would busy himself with design work, for a while becoming overwhelmed, with the lack of acknowledgment of the arts causing him to feel fatigued. His mother would set up a new family in Fontaine, leaving the house and her other possessions to him, her son… He could do nothing about these things, and they also felt unremarkable and unworthy of mention.
This persisted till the day the first version of the Palace of Alcazarzaray was destroyed by The Withering, and he was sitting upon the wreck of that building, contemplating the whole night through. Suddenly, he would resolve to boldly bet it all on chasing the dream before him, come what may. Thus did he return home and quickly hit up the relevant departments to put things in order. Coincidentally, that day was a smooth one for transactions, and Kaveh spent only half a day transferring ownership of his house, coming to possess a sum of Mora that he would later redirect into that project.
After settling a host of trivial matters, Kaveh would return to the old home he had lived in for many years for the final time. He would use flatbread to place a simplified Palace of Alcazarzaray upon his plate, drizzled with sauce and yogurt, making himself a beautiful snack in the process.
This dish was not hard, and he had been taught to make it by his father in his youth. He had not made that dish much since his father's passing, and it was merely impulse that guided him to give it a try that day.
This was not his favorite dish, exactly, but a sudden bitterness stole its way up his throat when he made to smash the flatbread palace and start eating.
Within the shattered bread-palace lay a shimmering Vision.
Kaveh stared at it, unable to believe his eyes. It had arrived quite a few years late, but here it still lay before him, as gorgeous as some fantastic sky-realm — and thankfully, it was a lot closer to him than his ideals were.
* Unlocks at Friendship Lv. 6