Kuki Shinobu is 4 star Electro character, likely sword user and Yelan is 5 star Hydro character, likely bow user. Here are introduction for Kuki Shinobu and Yelan from Genshin Impact official social media sites.
Kuki Shinobu
Mender of Tribulations
Deputy Leader of the Arataki Gang
Electro
Tribulatio Demptio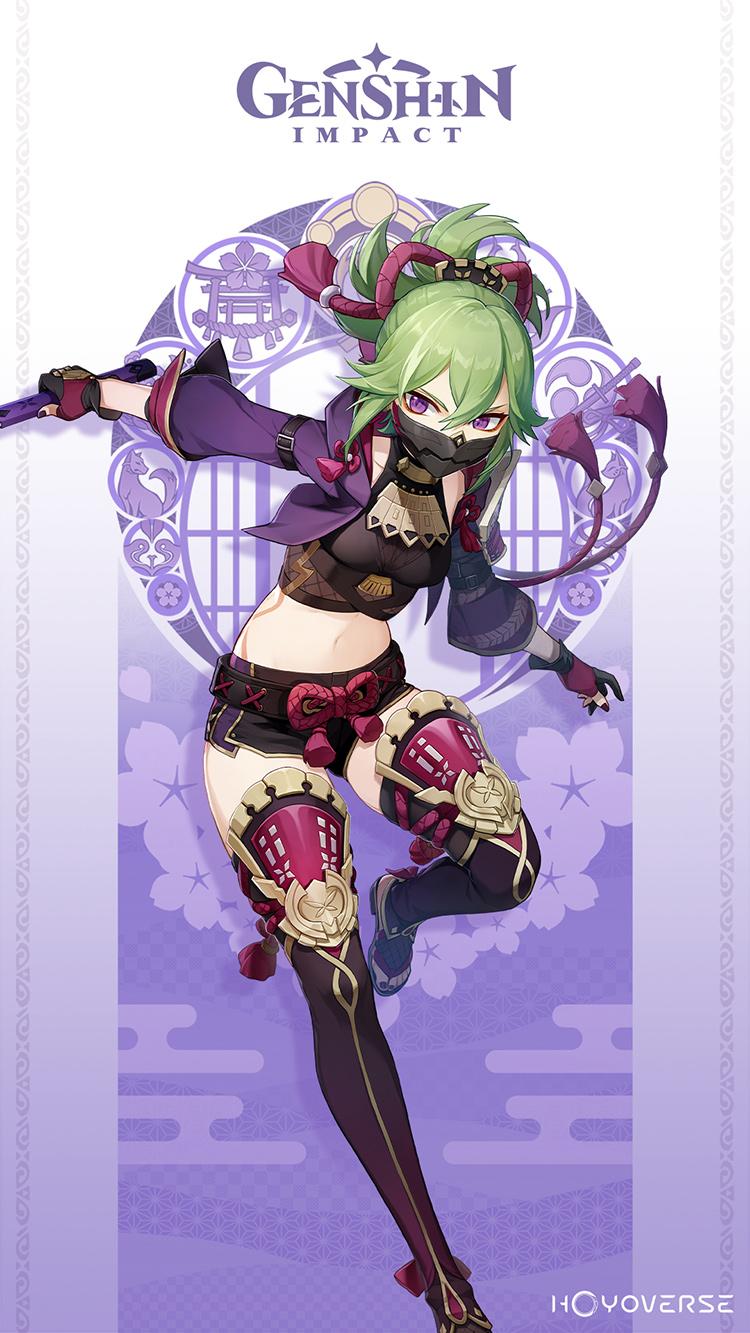 Although Kuki Shinobu joined the Arataki Gang at a later stage, she is a powerful figure who transformed the whole gang. After she arrived, the gang's business scope expanded to all walks of life, including but not limited to: legal consultation, business negotiation, banquet catering, clothing customization…
What's even more surprising is that the lackadaisical Arataki Gang was able to produce all the relevant practice certificates, all signed with the same name: Kuki Shinobu.
It is said that this second-in-command had studied abroad, and it is also said that she has close affiliations with the Tenryou Commission.
When outsiders hear this, they inevitably have many suspicions. However, the residents of Hanamizaka who often deal with the Arataki Gang are different, and they always go to her for advice on various matters without any reservations.
In their opinion, discussions with Kuki Shinobu are always smooth and efficient.
Just always keep in mind the following two rules:
One, do not attempt to find out how she looks like under her mask.
And two, don't ask why she has to steer clear of the Grand Narukami Shrine every time she heads out for a job.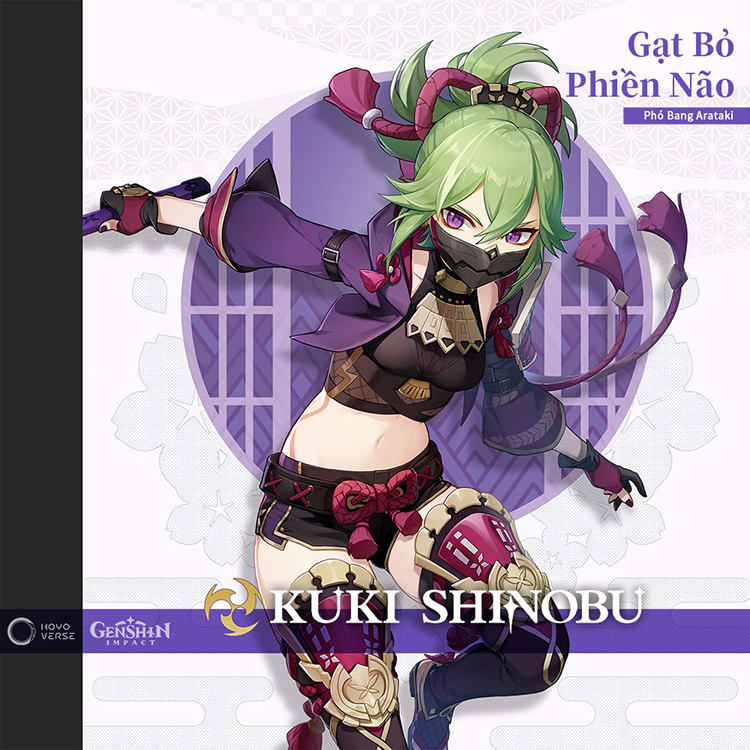 My apologies, I have not sent my regards for a long time. I am writing to introduce a talented person to you. She is very knowledgeable, well-versed in both literature and martial arts, and is an invaluable assistant… Unfortunately, she is currently working for the Arataki Gang and only accepts outsourced consultations, which is a pity.
– Kujou Sara
Nobody questions my leadership in the gang, what I say goes — except when it comes to Shinobu. She's always challenging everything I say. And not only that — all the hard-earned loot I bring back and share with everyone? She goes and returns it! But also, she gets me out of jail, and out of every mess we get ourselves into, so I'll let it slide. Besides, I don't wanna get on her bad side… An angry Shinobu would make my life a nightmare.
– Arataki Itto
I've heard a lot about Miyuki's little sister. Quite the character, I'm told. Although she comes from a family of shrine maidens, she's gone her own way in life — tried her hand at many different trades, studied abroad in Liyue, even ended up joining the Arataki Gang… Fascinating girl. Maybe I should have Miyuki introduce me. Yes, that'll work — Miyuki wouldn't dream of refusing my request.
– Yae Miko
With her talent and qualifications, it's a shame she decided to join the Arataki gang. I must concede, however, that at the very least, her presence has effectively prevented idlers from stirring up trouble and disturbing the public, reducing the burden on the Tenryou Commission.
– Kujou Sara
Doesn't ring a bell, umm… What? Arataki Itto's little sidekick? Ugh, well she's definitely gotta be a sleep disturbance then. Birds of a feather flock together…
– Sayu
Shinobu? I remember her, she's the Inazuman girl that came to Liyue as an exchange student to specialize in law. When she was doing her coursework, she used to meet with me to discuss some cases, and after we were done, she'd always bow and thank me, which would always make me a little embarrassed. I always felt like she was going to make an excellent lawyer in the future. Thinking about it, Inazuma went into lockdown right around the time she would have graduated. I wonder how she's been doing since she went back…
– Yanfei
Yelan
Valley Orchid
A mysterious person who claims to work for the Ministry of Civil Affairs
Hydro
Umbrabilis Orchis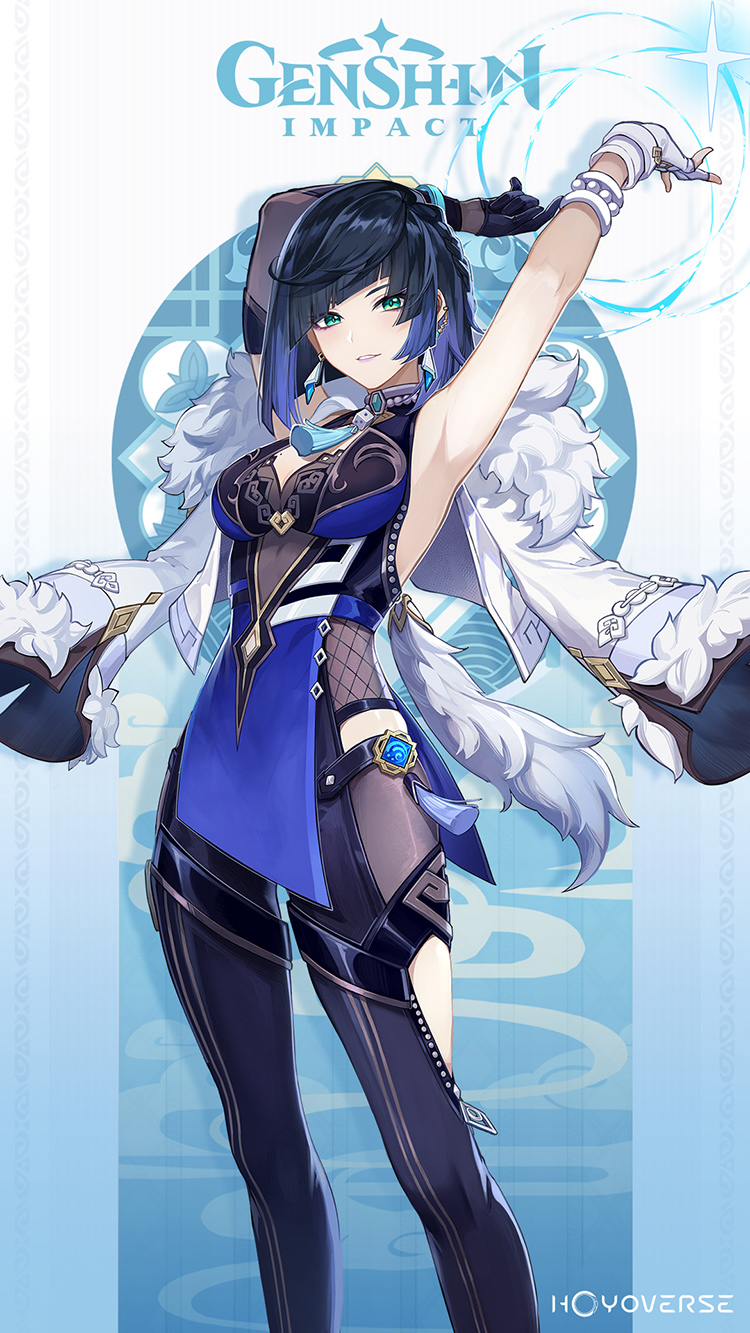 Yelan's identity has always been a mystery.
Like a phantom, she often appears in various guises at the center of events, and disappears before the storm stops.
The people who are caught up in trouble look forward to meeting her. For some reason, most of them think she will help them, and if not, they want her to be their ally.
But the problem is, their opponents harbor the same idea.
Every one of these people has met a Yelan who goes by a different name and identity, and each of them thinks they can reach a partnership with her. However, everyone has been kept in the dark.
Who does she want to help? When will she tell the truth?
Once she acts and intervenes, nothing can be trusted.
When she reveals her true identity and speaks the truth, those who are eager for answers may not have the chance to hear it.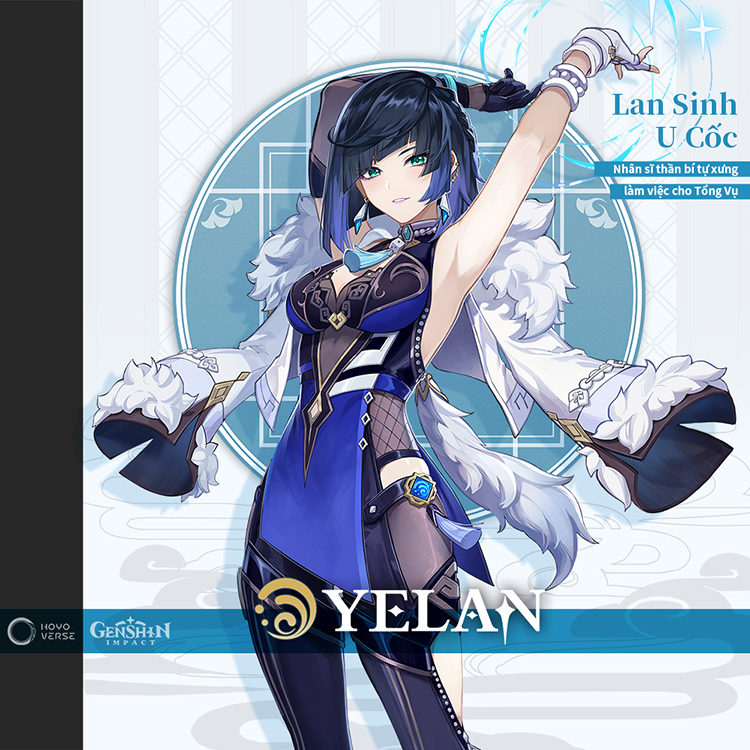 Oh, you're looking for Yelan? Hmm, I'd like to suggest that you treat her as an ordinary person, but if you do, it's easy to lose control over negotiations. There are some things that really depend on her impression of you.
– Yanfei
Ms. Yelan's ancestors used to serve the Qixing. My grandfather and her family have had academic collaborations in the past. All in all, she's reliable, efficient, and provides important intel to the Ministry of Civil Affairs. I can't say for sure how Ms. Yelan actually gets her intel, however…
– Keqing
She's a very interesting character. I can say with the utmost confidence that she is someone I trust unreservedly. She handles herself impeccably, which means she stays beyond reproach. Hehe, since you both have high intelligence in common, hopefully you will get along very well.
– Ningguang
Yelan? Of course, I remember her! When I first met her, I was certain she'd be the kind of gal who'd prefer lighter dishes… turned out that she can handle the most spice out of all my customers! Apparently, my dishes weren't spicy enough for her, because she started taking bites of raw Jueyun Chilies! Truly amazing.
– Xiangling
Have you heard the expression "same person, different face"? Ms. Yelan gives me precisely this feeling. When she came to visit my family, my father and brother treated her with respect, and she was pleasant and polite in return. She seemed like a kind and mature young lady to me. But when I saw her elsewhere, she gave a completely different impression.
– Xingqiu
I've heard that she once investigated The Chasm, following the trail of the Millelith. If she can investigate mysteries like that on her own, she must be someone of rare skill.
– Xiao
Yelan is an employee of the Ministry of Civil Affairs — she once helped me crack a tough accounting fraud case. I treated her to dinner afterward. The only thing is… I feel like she's able to read my mind at any given moment when talking to her… Yes, in the future, I need to make absolutely sure I don't get on the wrong side of her.
– Yanfei