Profile
| | |
| --- | --- |
| Name | Lynette |
| Title | Elegance in the Shadows |
| Rarity | 4-star |
| Constellation | Felis Alba |
| Weapon | Bow |
| Vision | Anemo |
| Affiliation | Hotel Bouffes d'ete |
| Birthday | 2/2 |
| Special Dish | A Leisurely Sip |
| Chinese VA | 可可味 (Kekewei) |
| Japanese VA | 篠原侑 (Sasahara Yu) |
| English VA | Anairis Quiñones |
| Korean VA | 이명화 (Lee Myung-hwa) |
| Version Released | 4.0 |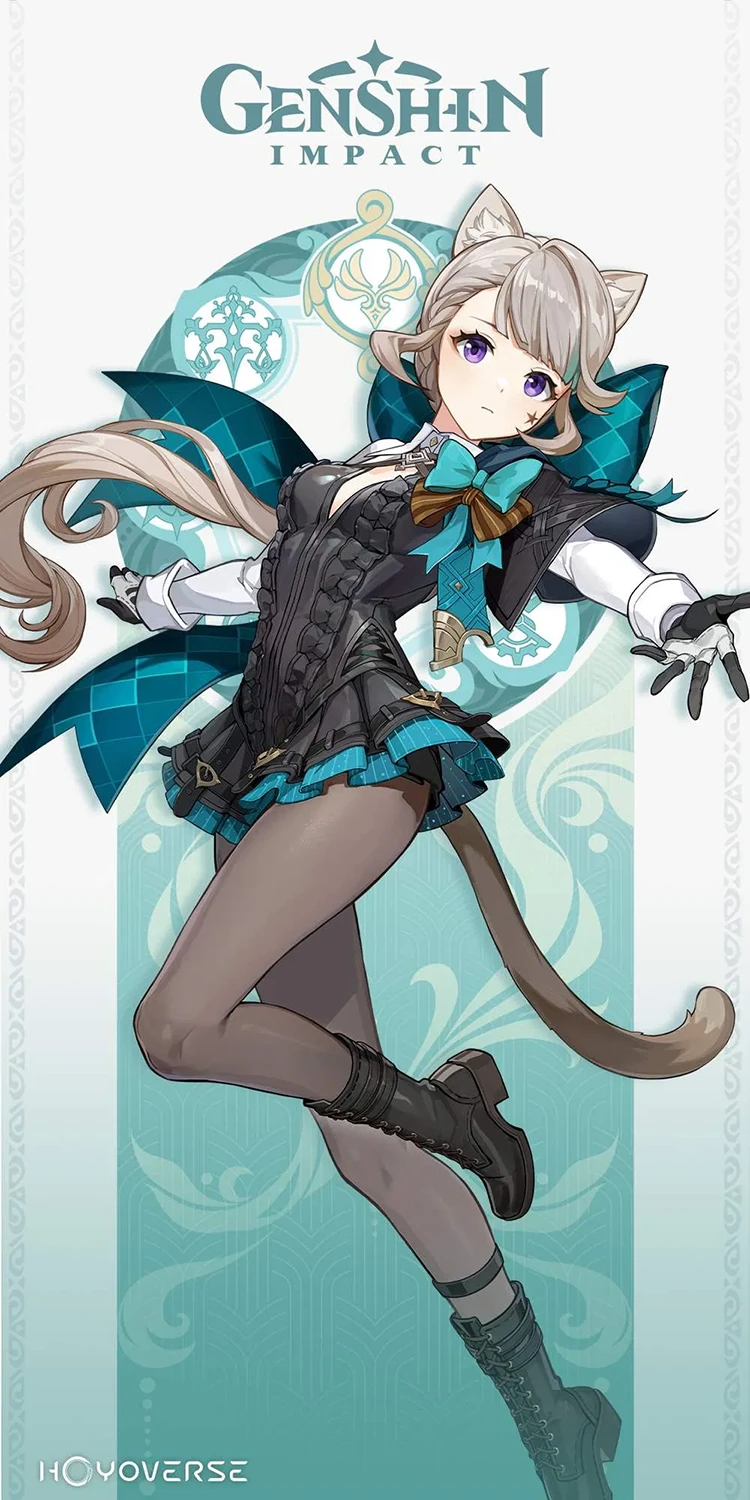 Lynette Ascension Materials
Here are all items that you will need to ascend Lynette to level 90:
420,000 Mora
46 Artificed Spare Clockwork Component – Coppelia
168 Lumidouce Bell
1 Vayuda Turquoise Sliver
9 Vayuda Turquoise Fragment
9 Vayuda Turquoise Chunk
6 Vayuda Turquoise Gemstone
18 Meshing Gear
30 Mechanical Spur Gear
36 Artificed Dynamic Gear
| Phase | Level | Mora | Material #1 | Material #2 | Material #3 | Material #4 |
| --- | --- | --- | --- | --- | --- | --- |
| 1 | 20 | 20,000 | 1 Vayuda Turquoise Sliver | | 3 Lumidouce Bell | 3 Meshing Gear |
| 2 | 40 | 40,000 | 3 Vayuda Turquoise Fragment | 2 Artificed Spare Clockwork Component – Coppelia | 10 Lumidouce Bell | 15 Meshing Gear |
| 3 | 50 | 60,000 | 6 Vayuda Turquoise Fragment | 4 Artificed Spare Clockwork Component – Coppelia | 20 Lumidouce Bell | 12 Mechanical Spur Gear |
| 4 | 60 | 80,000 | 3 Vayuda Turquoise Chunk | 8 Artificed Spare Clockwork Component – Coppelia | 30 Lumidouce Bell | 18 Mechanical Spur Gear |
| 5 | 70 | 100,000 | 6 Vayuda Turquoise Chunk | 12 Artificed Spare Clockwork Component – Coppelia | 45 Lumidouce Bell | 12 Artificed Dynamic Gear |
| 6 | 80 | 120,000 | 6 Vayuda Turquoise Gemstone | 20 Artificed Spare Clockwork Component – Coppelia | 60 Lumidouce Bell | 24 Artificed Dynamic Gear |
Lynette Talent Ascension Materials
Here is the total cost of fully leveling up for Lynette's single talent:
1,652,500 Mora
6 Meshing Gear
22 Mechanical Spur Gear
31 Artificed Dynamic Gear
3 Teachings of Order
21 Guide to Order
38 Philosophies of Order
6 Everamber
1 Crown of Insight
| | | | | | |
| --- | --- | --- | --- | --- | --- |
| Level 2 | 3 Teachings of Order | 6 Meshing Gear | | | 12,500 Mora |
| Level 3 | 2 Guide to Order | 3 Mechanical Spur Gear | | | 17,500 Mora |
| Level 4 | 4 Guide to Order | 4 Mechanical Spur Gear | | | 25,000 Mora |
| Level 5 | 6 Guide to Order | 6 Mechanical Spur Gear | | | 30,000 Mora |
| Level 6 | 9 Guide to Order | 9 Mechanical Spur Gear | | | 37,500 Mora |
| Level 7 | 4 Philosophies of Order | 4 Artificed Dynamic Gear | 1 Primordial Greenbloom | | 120,000 Mora |
| Level 8 | 6 Philosophies of Order | 6 Artificed Dynamic Gear | 1 Primordial Greenbloom | | 260,000 Mora |
| Level 9 | 12 Philosophies of Order | 9 Artificed Dynamic Gear | 2 Primordial Greenbloom | | 450,000 Mora |
| Level 10 | 16 Philosophies of Order | 12 Artificed Dynamic Gear | 2 Primordial Greenbloom | 1 Crown of Insight | 700,000 Mora |
How to Obtain
Primordial Greenbloom: Dropped by Guardian of Apep's Oasis in domain The Realm of Beginnings.
Teachings of Order, Guide to Order, Philosophies of Order: Obtained from domain Pale Forgotten Glory (Wednesday, Saturday, Sunday).
Meshing Gear, Mechanical Spur Gear, Mechanical Spur Gear: Dropped by Clockwork Meka.
Vayuda Turquoise Sliver, Vayuda Turquoise Fragment, Vayuda Turquoise Chunk, Vayuda Turquoise Gemstone: Dropped by Anemo Hypostases, Setekh Wenut.
Artificed Spare Clockwork Component – Coppelia: Dropped by Icewind Suite.
Lumidouce Bell: Found in the wild. Found in the north of the Court of Fontaine.
Talents
Normal Attack: Rapid Ritesword
Normal Attack
Performs up to 4 rapid strikes.
Charged Attack
Consumes a certain amount of Stamina to unleash 2 rapid sword strikes.
Plunging Attack
Plunges from mid-air to strike the ground below, damaging opponents along the path and dealing AoE DMG upon impact.
Enigmatic Feint
Flicks her mantle and executes an Enigma Thrust, dealing Anemo DMG.
When the Enigma Thrust hits an opponent, it will restore Lynette's HP based on her Max HP, and in the 4s afterward, she will lose a certain amount of HP per second.
Based on whether you press or hold this ability, she will use Enigma Thrust differently.
Press
She swiftly uses an Enigma Thrust.
Hold
Lynette will enter a high-speed Pilfering Shadow state and apply Shadowsign to a nearby opponent. You can control her movement direction during this state, and you can end it prematurely by using this skill again.
When this high-speed state ends, Lynette will unleash her Enigma Thrust. If there is an opponent with Shadowsign applied to them nearby, Lynette will approach them in a flash before using Enigma Thrust.
A maximum of 1 opponent can have Shadowsign at any one time. When this opponent gets too far from Lynette, the Shadowsign will be canceled.
Arkhe: Ousia
At specific intervals, Lynette will unleash a Surging Blade when she uses Enigma Thrust, dealing Ousia-aligned Anemo DMG.
"Now then, turn your eyes to the stage and continue to enjoy the performance. When I next appear, I'll be where you least expect."
Magic Trick: Astonishing Shift
Lynette raises her mantle high, dealing AoE Anemo DMG, using skillful sleight of hand to make a giant Bogglecat Box appear!
Bogglecat Box
Taunts nearby opponents, attracting their attacks.
Deals Anemo DMG to nearby opponents at intervals.
When the Bogglecat Box comes into contact with Hydro/Pyro/Cryo/Electro, it will gain the corresponding element and additionally fire Vivid Shots that will deal DMG from that element at intervals.
Elemental Absorption of this kind will only occur once during this ability's duration.
"Look this way, and look closely. This is a time for miracles, just for us."
Loci-Based Mnemonics
Shows the location of nearby Recovery Orbs on the minimap. The Aquatic Stamina and HP gained from touching Orbs will be increased by 25%.
Sophisticated Synergy
Within 10s after using Magic Trick: Astonishing Shift, when there are 1/2/3/4 Elemental Types in the party, all party members' ATK will be increased by 8%/12%/16%/20% respectively.
Props Positively Prepped
After the Bogglecat Box summoned by Magic Trick: Astonishing Shift performs Elemental Conversion, Lynette's Elemental Burst will deal 15% more DMG. This effect will persist until the Bogglecat Box's duration ends.
Constellations
A Cold Blade Like a Shadow
When Enigmatic Feint's Enigma Thrust hits an opponent with Shadowsign, a vortex will be created at that opponent's position that will pull nearby opponents in.
Endless Mysteries
Whenever the Bogglecat Box summoned by Magic Trick: Astonishing Shift fires a Vivid Shot, it will fire an extra Vivid Shot.
Cognition-Inverting Gaze
Increases the Level of Magic Trick: Astonishing Shift by 3.
Maximum upgrade level is 15.
Tacit Coordination
Increases Enigmatic Feint's charges by 1.
Obscuring Ambiguity
Increases the Level of Enigmatic Feint by 3.
Maximum upgrade level is 15.
Watchful Eye
When Lynette uses Enigmatic Feint's Enigma Thrust, she will gain an Anemo Infusion and 20% Anemo DMG Bonus for 6s.
Voice-Over
Hello
Pleased to make your acquaintance. I am Lyney's magic assistant, and if you have work-related inquiries, please ask Lyney. If you have questions related to seeing a magic show, please ask the ticket office. You want to talk to me? …Then get to the point.
Chat: Drinking Tea
Tea is ready, now it's time for a short rest.
Chat: Older Brother
Seems Lyney is saying some strange things again… it's really worrying.
Chat: Spacing Out
Entering Standby Mode… I hope nobody disturbs me.
When It Rains
Rainy days are perfect for spacing out…
After the Rain
The skies have cleared? What a pity.
When Thunder Strikes
Ow… that hurts my ears.
When It Snows
So cold… let's hide you in a hat!
When the Sun Is Out
There is nothing new under the sun… Is that really true?
When the Wind Is Blowing
*sniff* What's that on the breeze? …Nope, it's nothing.
Good Morning
Good morning… Not fully recharged. Now snoozing again.
Good Afternoon
I usually drink a cup of tea before work. Not only does it change my mood, but also helps me stay alert.
Good Evening
After the sun goes down, the desires hidden in people's hearts will rise to the surface… I mean, evening shows are spectacular. Should I reserve a ticket for you?
Good Night
Go to sleep, I still have some loose ends to tie up from work today… (I still have to fix the vacuum cleaner I broke.)
About Lynette: Magic
During our shows, I'm usually Lyney's assistant. Because I never speak or change expressions, people often mistake me for a puppet… this kind of misunderstanding can prevent unnecessary social interactions, so it's actually quite nice.
About Lynette: Intelligence Reports
Staying silent is beneficial for maintaining focus and gathering intelligence. Once, a VIP audience member at our show took out a handkerchief that didn't belong to his wife… as for how such information is used, now… that depends on what "Father" wants.
* Unlocks at Friendship Lv. 4
About Us: Listening
I'm not accustomed to expressing myself, but I consider myself a good listener. If you have any troubles, come find me. I'll guard your secrets.
* Unlocks at Friendship Lv. 4
About Us: Interests
I used to think that the golden sun and dark shadows of the night could never understand one another. But in you, I see a kind of strange complexity that has needlessly piqued my curiosity… I'll have to keep a close eye on you.
* Unlocks at Friendship Lv. 6
About the Vision
I prefer to use my eyes to understand the situation and find an appropriate solution, as opposed to using martial prowess. But having brute force as an option greatly increases the potential cards at your disposal, and enables you to protect those most important to you in a crisis.
* Unlocks at Friendship Lv. 4
Something to Share
Making tea looks simple on the surface, but it is actually quite complex. The quality of the tea leaves, the temperature of the water, the number of times to add water… Only when every variable is properly controlled can tea of the purest taste be brewed. Would you like a cup?
Interesting Things
Animals can also express their feelings. If you listen carefully, you can tell what state they are in. For a kitty, "Meow~" means they are much happier than "Meow meow meow!", and in that situation, you can pet them as much as you want and they won't run away.
About Lyney: Unspoken Understanding
I have always been together with Lyney, and we can tell what the other is thinking without speaking. Thus, he tends to be more quiet than normal when we are alone. Hmm? Can I tell when he's lying or telling the truth? Of course I can, but this matter is top secret.
* Unlocks at Friendship Lv. 4
About Lyney: Worries
Lyney is normally quite confident, and does everything with incredible ease… or at least, that's how he wants everyone else to see him. So when he runs into difficulties, he always wants to solve everything perfectly on his own… if this happens, please be sure to take good care of him.
* Unlocks at Friendship Lv. 6
About Freminet
He is a delicate and gentle child, but also tends to belittle himself… perhaps due to his previous experiences. Sometimes he feels like the antithesis of Lyney… but since they're both family, when their opinions clash, I will bridge their differences.
* Unlocks at Friendship Lv. 4
About "Father"
Oh, how "Father" expresses love… well, not everyone can accept it. But it is only because of "Father" that home… can be called home.
* Unlocks at Friendship Lv. 4
About Neuvillette
The Chief Justice always feels strangely aloof, though his words are always humble… or perhaps he just doesn't like dealing with humans? After all, when he speaks with Melusines, he's actually quite friendly.
* Unlocks at Friendship Lv. 4
About Furina
Lady Furina's behavior is incredibly hard to explain, and I can't discern any useful intelligence from observing her. I always feel like her every move and action is an act, and she is playing different people… She truly is an Archon, one cannot apply the logic of ordinary humans to her.
* Unlocks at Friendship Lv. 4
About Navia
Though she's the new president of Spina di Rosula, her style is more like the nosy big sister next door. If we really had a sister like her in the "House of the Hearth," that would be really great… I know I probably shouldn't be wishing for anyone to be an orphan, but…
* Unlocks at Friendship Lv. 4
About Clorinde
I was once ordered to observe a duel of hers. Even just as a bystander, the coldness radiating from her was absolutely chilling… I don't know what it would be like to face her directly in a duel, and I hope I will never find out.
* Unlocks at Friendship Lv. 4
About Chiori
The costumes Lyney and I wear for performances were specially tailored by Chiori. Once, Lyney was using a small knife for a magic trick, and accidentally cut the cuff of his sleeve a bit. She scolded us nonstop… it was scary. Luckily, I can hide behind Lyney whenever we go to her shop.
* Unlocks at Friendship Lv. 4
About Charlotte
Uh… I was eventually cornered by her for interviews a few times. The way she persistently asked even after Lyney rejected her all those times, I really have to commend her perseverance. Too bad for her, though… despite preparing all those questions, I never answered a single one.
* Unlocks at Friendship Lv. 4
About Emilie
Her perfume products are so popular that you have to get in line before the break of dawn to have a chance at snapping any up. However, I'm far too sensitive to the smell of perfume, and it's really rude to sneeze… so I have to take the long way around.
* Unlocks at Friendship Lv. 4
More About Lynette: I
If you explain a magic trick, then the allure of the performance is lost. Personal relationships are the same. If you want to understand me, why not learn a bit at a time, and gradually piece together a complete picture?
More About Lynette: II
Humans are complicated creatures. Even when they are not doing so intentionally, they will still unconsciously hide their true selves. Though I can always notice a few "redundant" details, I won't expose their facades when it isn't necessary.
* Unlocks at Friendship Lv. 3
More About Lynette: III
Magic shows were once our livelihood, but now they are more of a convenient identity to present to society. In the name of magic performances, we can easily gain more access throughout the city, and be the "eyes" of our House.
* Unlocks at Friendship Lv. 4
More About Lynette: IV
Before Lyney and I came to our new home, we were constantly adrift on the streets. We experienced many hardships and dangerous situations… It was then that I developed the habit of paying attention to any sign of danger, and also gradually learned to understand what others were thinking. Fortunately, we now have a safe place to live.
* Unlocks at Friendship Lv. 5
More About Lynette: V
Building a relationship with someone is like gambling. No matter how much information you have, it's hard to predict how other people might change. I've always had the habit of keeping a safe distance from others, but in your case… I'm willing to shoulder the risk of losing a bet.
* Unlocks at Friendship Lv. 6
Lynette's Hobbies
A person's mental state is like a bowstring. If it's constantly under high tension, it will be at risk of suddenly snapping. So outside of work, I prefer to do things that relax my brain, like making tea, feeding cats, and just zoning out. The calmer one normally is, the easier it is to deal with crises when they do pop up.
Lynette's Troubles
I tend to have difficulties operating any kind of machinery. As soon as I stop paying attention, all kinds of things start to go wrong. Once, I even broke the dryer on a rainy day… At least Freminet is good at fixing things.
Favorite Food
Pry open the shells, squeeze a bit of lemon juice onto the fresh shellfish… no plate necessary. Perfection.
Least Favorite Food
Dishes should not be over-seasoned. Good food preserves the original taste of the ingredients.
Receiving a Gift: I
Delicious. I've already memorized the recipe.
Receiving a Gift: II
Thank you for your generosity.
Receiving a Gift: III
Perhaps you could reconsider the spice ratio a bit?
Birthday
Happy Birthday! Let me give you this card… it's not a greeting card, so of course nothing's written on it. Write down what kind of present you want, place it in my hat, and no matter what it might be, you'll get it.
Feelings About Ascension: Intro
My perception has been heightened.
* Unlocks at Ascension Phase 1
Feelings About Ascension: Building Up
My processing speed… has become even faster.
* Unlocks at Ascension Phase 2
Feelings About Ascension: Climax
I can see the conditions for victory now.
* Unlocks at Ascension Phase 4
Feelings About Ascension: Conclusion
I never imagined I could become this powerful… looks like I won't need to hide behind you anymore.
* Unlocks at Ascension Phase 6
Elemental Skill: I
Step on up!
Elemental Skill: II
Over here.
Elemental Skill: III
Surprise!
Elemental Burst: I
Let the magic begin!
Elemental Burst: II
Cue the spotlight!
Elemental Burst: III
Be amazed!
Opening Treasure Chest: I
The scent of treasure.
Opening Treasure Chest: II
Just as I expected.
Opening Treasure Chest: III
Piece of cake!
Low HP: I
Stay calm.
Low HP: II
I need to focus.
Low HP: III
Entering Combat Mode…
Ally at Low HP: I
Take a bow!
Ally at Low HP: II
Let me take the heat!
Fallen: I
What detail… did I miss…
Fallen: II
Saw through… my trick…
Fallen: III
Lyney…
Light Hit Taken: I
I'll live!
Heavy Hit Taken: I
Ah, didn't quite dodge it.
Joining Party: I
Is it time for a magic show?
Joining Party: II
Time for afternoon tea.
Joining Party: III
You lead the way.
Story
Character Details
When asked who the most famous magician in the Court of Fontaine is, audiences will almost certainly think of the stylish, vibrant Lyney and his stage presence.
But if you were to ask after its most renowned magic assistant, people would scratch their heads and be at quite a loss to answer.
The adulation is not for her, after all, nor is the resounding applause directed at her skill and presence. As an assistant, she needs only misdirect the audience at opportune moments, ensuring the spotlight stays on the protagonist.
Whether on or offstage, Lynette habitually hides behind Lyney, in shadows that neither lights nor compliments can penetrate.
For an assistant, keeping a low profile is a professional matter.
And as for a child of the "House"… being cloaked in shadow is how one survives.
Character Story 1
Lynette often uses phrases like "standby" and "power-saving" to avoid unwanted trouble.
Now, if one were to use a term like "idling" to avoid work, one has an 80-90% chance of getting "doesn't that mean you're free, then!?" as a reply, followed by renewed haranguing.
But, say, if you were to very seriously proclaim yourself to be in "standby mode" to "save energy," and combine that with a statue-like expression like Lynette's, you can stupefy the other party for a while.
It is through such momentary gaps that Lynette will calmly slip away, all the while wearing a most serious expression.
This method, of course, does not work on friends, but those who know Lynette well are more than aware of her dislike of work, and still more clear with regards to the… consequences of making her do errands.
Though she might spout machine-related lingo often, that is about as far as Lynette understands machines.
There is a saying in her home: No matter what you do, do not leave her unattended in a room with the dishwasher, the vacuum cleaner… or any machine, really.
Failing this, by the time a third party (usually Freminet) arrives on the scene, the machine will have suffered one of two fates:
One, it will have broken down, somehow – the dishwasher will foam at the mouth, the vacuum cleaner will suffer convulsions, all while Lynette stands amidst the disaster zone with an innocent expression.
Two, the machines are mercifully spared, but there has been no progress with the task, with Lynette cat-napping in a corner somewhere.
Considering that the result of any one incident is unpredictable, and neither result is desirable, Lynette has, to her relief, been relieved of all housework.
It is strange, however, that she is able to wreck even the simplest machines due to mishandling…
Yet, when onstage operating magical props, Lynette is even more focused than her brother, never having made a single mistake over the years.
* Unlocks at Friendship Lv. 2
Character Story 2
From a certain point of view, a "magician's assistant" is a contradictory sort of work.
The cheers and applause are for the magician, the protagonist, and similarly, the flowers and fame are not directed at the protagonist's sidekick.
Yet a brilliant performance cannot exist without an assistant's cooperation.
As the one closest to the magician onstage, the assistant knows all the magician's secrets, and in dangerous performances, the assistant's every move means life or death for the magician.
Onstage, the magician and assistant are like a double-sided mirror. One tends toward the light, absorbing the audience's attention. The other faces the darkness, pulling levers and strings in the rear to complete the trick – each side turns the other in endless permutations.
If they are to operate in harmony, the assistant's skills cannot be far behind those of the magician themselves.
But with such skill, how could one long be content to live in another's shadow? Thus do many assistants, once their skills are fully developed, strike out on their own – they will not forever remain the pupil.
When Lyney became famous, many notables took notice of Lynette's potential, believing that she could achieve greater stardom still should she become an independent act. Some even asked her to take up the role of a leading actress in their films.
Cat ears on young lady, who was also a magician… Even with those gimmicks alone, there was a fortune to be made!
Alas, these passionate entreaties fell on deaf ears, and not only would Lynette reject them… She could not even be bothered to come up with reasons for doing so, instead leaving the task of coming up with them to Lyney instead.
This was quite the conundrum indeed, for many of those making requests were distinguished members of society. "Father" had left clear instructions – they were not to be treated with contempt.
And if his authorship were to be discovered, any further meetings with them might turn awkward.
So Lyney had no choice but to write letter after letter of refusal in Lynette's manner of speech, filling each to the margins with polite and earnest words.
Even one as silver-tongued as Lyney found it exceeding difficult to mimic her laconic manner of speech.
Exhausted in hand and spirit, glancing at his sister lounging on the sofa, Lyney could not help but think – why not try it for real? He could play the assistant, no problem.
"…Don't even think about it." Even that flicker of thought could not escape Lynette. She stretched, before flipping over to face him. "I like being your assistant."
* Unlocks at Friendship Lv. 3
Character Story 3
Brewing tea is one of Lynette's few hobbies.
Watching the steam swirl above the tea cup, getting a whiff of its elegant flavor, and the day's troubles all but melt away.
Whenever a guest comes to visit, Lyney is usually the one who receives them, while Lynette waits with tea in the back. When words are had over tea at home, she is also usually the one who makes it while others do the talking.
As others discuss all manner of things or engage in light and idle talk, Lynette can be found sitting at the side, holding her cup in two hands, blowing on it to cool it before drinking in small sips.
Her tongue is naturally sensitive, and she cannot drink tea that is too hot.
But to use merely warm water to make tea would be an abominable waste, and to add ice to tea, or pour the tea between two cups to cool it down… Lynette would consider such actions blasphemy.
Ice dilutes the thickness of the drink, and the pouring will affect its layered flavor… Only by blowing on it, puff by small puff of air at a time, may one achieve the ideal temperature, so as to neither scald nor be shorn of flavor.
And once this ideal temperature has been achieved, one should not also drink it all immediately.
Some teas have greater flavor as you near the bottom of the cup, and a wait of several minutes should be imposed after one mouthful before one may continue on and savor the next sip. That is why she always takes her time when drinking tea.
By the time the teapot is empty, the conversation is usually also just about over.
And as for the teaware on the table… That might be best left to someone else, lest she wreck the dishwasher again.
* Unlocks at Friendship Lv. 4
Character Story 4
There was once an official in Fontaine who wanted to investigate the cash flow of the Hotel Bouffes d'ete in the previous few months.
However, no sooner had he finished drawing up a draft than his superior hastily called the whole business to a halt.
This poor official could never have imagined how this was due to a letter his superior had received, complete with an attached set of photos featuring a tryst the latter had enjoyed with a famous socialite.
This superior, too, could never have imagined that this secret had been exposed thanks to his whipping out a handkerchief that did not belong to his wife during a magic show.
At that time, he had been all too absorbed in the exciting goings-on onstage, thus failing to notice the gaze directed his way from the shadows.
This momentary distraction allowed Lynette to "steal" intel from him, all but picking him clean.
People will unconsciously reveal themselves through their outfits, eyes, movements, and even the slight pauses and shifts in their tone…
While most will be unable to get much out of such signs, buried as they are under many confusing details, Lynette is able to use her uncanny powers of observation to catch all such critical details.
And after she connects all these seemingly trivial details, she can tease out intel useful to the Hotel.
These "eyes" of the Hotel, one in the light and the other in darkness, have stolen all manner of secrets from the famous in Fontaine. Nor have any of these people noticed the theft – to them, it may as well have been magic.
And because she must maintain this razor focus while working, Lynette speaks little to conserve her energy and not divide her attention.
Even in her daily life, or when she is at rest, she habitually filters out all kinds of useless information…
That said, what information counts as useful and what counts as useless is completely up to her.
For example, what about machine operating and housework-related skills? Why, if one never does them, one can safely and confidently tuck them away in the back of one's mind.
And when caught up in teatime gossip, one merely needs to occasionally append the conversation with "I see," "Is that so," and "And then…" to ensure a smooth-running chat.
Economy of energy – just the way she prefers it.
* Unlocks at Friendship Lv. 5
Character Story 5
People often believe that Lynette's cat ears are a part of her performance attire, as the same blood flows in her and Lyney's veins, yet he appears no different from ordinary people.
However, Lynette's ears and tail do, in fact, grow on her body – they are real as real can be.
It is said that these cat-like features are inherited, but that even as such a bloodline grows thin across generations, instances of "atavism" can still occur from time to time.
When she was young, Lynette did not love this particular gift from her ancestors.
There would always be some curious kid who would, whether intentionally or inadvertently, point at them and ask her: Why are you different from everyone else? Are you and Lyney not real siblings?
The introverted Lynette did not know how to reply, nor could Lyney always be with her. Whenever such things would happen, she could only push her ears down, curl her tail up, and squat in a corner, by herself and beside herself with misery.
Only alley cats would come to comfort her, coiling around and rubbing against her ankles.
She could not let her brother see her like this, she knew. He already had a great many things to worry about – he did not need this kind of trivial matter on his mind as well.
But she could not simply pretend that nothing was wrong – to deceive the genius magician, she had to fool herself first.
So she hugged the cat tightly to herself, softly brushing the fur on its back. As she felt its light breath, calm slowly returned to her heart.
By the time the cat leapt from her arms, her face had regained its usual placid appearance.
Among Fontaine's nobility, there are also some novelty-seeking degenerates. During one party, a certain "important person" found themselves taken with Lynette's unusual appearance.
Over her protests, despite her struggling, the siblings' foster father stuffed her into that person's carriage without a second thought, almost as if giving away a sofa-scratching cat.
Why her? Why was she born with these ears?
In her suffocating solitude, Lynette once again covered her ears in pain, unable to hold back the bitterness repressed over long years.
"Stop hiding. Cowering will get you nowhere." That voice shone through the darkness with the moonlight. "Come out. The one who wished to harm you is dead."
That voice was cruel ice, and yet it had a spellbinding, comforting power also. Lynette lifted her eyes, and there she saw the person she would in later days call "Father."
"You have good ears. Learn to use them."
"Father" kneaded Lynette's ears. That touch was not gentle. Indeed, they were as cold as the moon's light.
And like that light, it illuminated a corner of the darkness.
…
"When a cat's ears are folded backward, that often indicates fear or vigilance, and if they stand up and point forward, that usually indicates a good mood…"
Whenever Lyney tells new members of Hotel Bouffes d'ete about the habits of ordinary cats, he will often steal a glance at his younger sister nearby.
Lynette's ears are straight, they face the front, and they occasionally flutter outward.
It has been a long time since she last folded them back.
* Unlocks at Friendship Lv. 6
Non-Automated Feeding Machine
This is a made-to-order automated feeding machine that Freminet helped construct, intended to deal with the ever-increasing number of small animals at home.
After a certain performance ended, Lynette discovered an abandoned box at the theater's back door.
As she opened it, a few kittens, barely a month old, raised their heads in alarm. Yet they had not the strength to flee, and thus could only stare into her eyes anxiously.
Lynette said nothing, nor did she reach out to further startle them. Instead, she simply looked back at them in silence.
Slowly they seemed to come to the understanding that she meant them no harm, and eventually dipped their straining necks.
Only then did Lynette pick the box of cats up, and they laid down in silence, allowing this young lady to take them back to their new "home."
There was some small debate amongst family members as to whether the animals should be taken in, but the usually reticent Lynette put her foot down, insisting that they stay.
The argument somehow managed to reach the ears of none other than "Father," and she had the final word – which was that her children should cease the silly squabbling.
"Those who wish to raise them, do so yourselves – but do it well. Don't make trouble for others."
After a short silence, she then added, "And if you have not taught them how to follow the rules by the end of winter, get rid of them yourselves."
That statement put paid to the rest of the argument. As for the task of teaching the cats, it fell to Lynette.
Considering that Lynette was usually averse to busywork, Freminet had the automated feeding machine custom made.
The machine came with an internal clock and a weighing machine that could allow it to feed the kittens various foods at precise times and in fixed amounts.
This machine, in turn, became one of the few machines to survive Lynette's tender mercies, never breaking down across many years of service. Indeed, its inner components have remained spanking new, with only the plate beneath the food outlet showing much sign of use.
And this… is because Lynette has never used it properly.
The sort of food to add into each box, how to input feeding times and amounts… Rather than memorize that, she found it more convenient to personally prepare the cat food in a plate.
Moreover, if she had to leave even feeding to a machine…
Lynette squatted next to the Non-Automated Feeding Machine, stroking the satisfied cats' fur in silent thought.
…How would she be able to teach these children?
* Unlocks at Friendship Lv. 4
Vision
When Lynette was young, she often heard stories about Visions from Lyney.
The protagonists of these tales seemed omnipotent, capable of summoning storms with a flick of the finger or dispelling dark haze with a puff of air.
Those were not meticulously prepared magic tricks, no – this was the realm of true miracles.
If only we had Visions too, Lynette often thought.
Then they could turn magic tricks into real magic. They could pull food to fill their stomachs or fire to keep themselves warm from a hat. Lyney wouldn't constantly be busy just keeping them both alive.
But the gods never answered her prayers. In the days that followed, she and Lyney would wander on, and after several twists and turns on the city streets and in noble mansions, they found a place to plant their feet, under the aegis of their "Father."
Both of them knew how hard this chance was to come by, and so they endured the harsh training and supported each other through countless missions.
Reality had eroded their childish innocence all too early, and the dream of possessing a Vision, too, had fallen by the wayside, relegated to a long-gone past.
During one particular mission, they were dispatched to perform at a noble's mountain villa in order to steal incriminating evidence that their target had hidden in a study.
The mission itself was ordinary, and it went quite well. During their performance, the two tampered with a window in the villa. Once the show was over, they would be able to re-enter stealthily and make off with the evidence without a trace.
But just as they thought they had succeeded, three flares went up in the forest outside the window – a message from their "family members" keeping watch.
Three flares meant the worst-case scenario: that the Maison Gardiennage was also targeting this person, and indeed had already dispatched forces to the scene.
If they retreated the way they came, there was a high chance of encountering Maison personnel, and if they were exposed as having used their status as magicians to conduct their mission, not only would they be doomed, but their "family members" would be implicated as well.
The voices outside the study were growing louder – if they wished to escape as quickly and stealthily as possible, they would have to make a desperate gamble.
The villa retreat was built against the mountain, and outside the window was a cliff, beneath which flowed a swift river.
Lynette exchanged a glance with her brother, and without a word, they grasped each others' hands tightly, and leapt out the window together.
The rippling waves below slammed into Lyney with a terrible crash.
He had attempted to absorb the impact with his shoulder just as they hit, protecting his sister once again, but the shock of the collision with the water swallowed his consciousness.
Desperate, Lynette grabbed onto a floating piece of wood, and by sheer dint of will managed to drag her unconscious brother to shore, coughing up water as she struggled on.
Fighting the searing pain in her lungs, she checked his condition in a panic. He was deathly pale, his eyes squeezed shut – there was no trace of his usual vitality to be seen.
She hugged him tightly to prevent his temperature from dropping further, even as she surveyed her surroundings. The forest was dark and gloomy, and under cover of night the twisted trees seemed even more malevolent.
She called his name softly, hoping that he might stand up again with a grin, just as he would do in their prior performances. But this time, the only reply she received was his weak and fragile breathing.
The same loneliness and fear of that fateful night so many years ago seized her heart once again.
"It's been so long, and we've been through so much – I thought I had grown beyond this!
Why, then, is it just like that night? Can I do nothing but wait under the protection of another? As I do nothing but tremble in the darkness?
No. No. It should be different. We made so many miracles by our own hands, conquered so many obstacles.
…I wished so dearly, so ardently, to stand behind you, supporting you, back to back, shoulder to shoulder."
The Maison personnel could be patrolling nearby. She dared not call out to their "family members," nor could they stay here.
The only thing she could do now was grasp Lyney's hand tightly, and haul him onto her shoulders.
If she could not see the way forward, then she would hear it.
Extending her ears as much as she could, she listened intently for even the slightest wisp of wind.
And then, as the breeze sang through the branches and through the bushes, and brushed against her face… and it gradually painted her a blurry picture.
Lynette groped forward in the dark, the thorns along the path piercing her skin, staining her clothes red.
Slowly, the scene before her eyes became clearer. Perhaps her ears had grown used to listening to the wind, or her eyes accustomed to the darkness, but her steps grew more agile, more resolute.
On this stage without spotlights, in this performance without plaudits, Lynette had at last become the star.
As the rays of dawn lanced into the woods, Lynette carried her brother back to the rendezvous point of their "family," only to encounter someone wholly unexpected – their "Father" had arrived, having especially made the trip in person the previous night.
Using the last of her strength, Lynette retrieved the sodden evidence from her bosom, but before she could hand it over, her legs gave out, taking Lyney down with her as she collapsed.
"Father" grabbed them both, allowing the incriminating information to fall to the earth and be soiled.
"Sleep now. You've retrieved… a far more valuable prize."
A Vision, reflecting both the dawn sun and the twins' sleeping faces, hung at Lynette's waist, glowing silently.
* Unlocks at Friendship Lv. 6