Profile
| | |
| --- | --- |
| Name | Nilou |
| Title | Dance of Lotuslight |
| Rarity | 5-star |
| Constellation | Lotos Somno |
| Weapon | Sword |
| Vision | Hydro |
| Affiliation | Zubayr Theater |
| Birthday | December 3rd |
| Special Dish | Swirling Steps |
| Chinese VA | 紫苏九月 (Zisu Jiuyue) |
| Japanese VA | 金元寿子 (KANEMOTO Hisako) |
| English VA | Dani Chambers |
| Korean VA | 채림 (Chae Rim) |
| Version Released | 3.1 |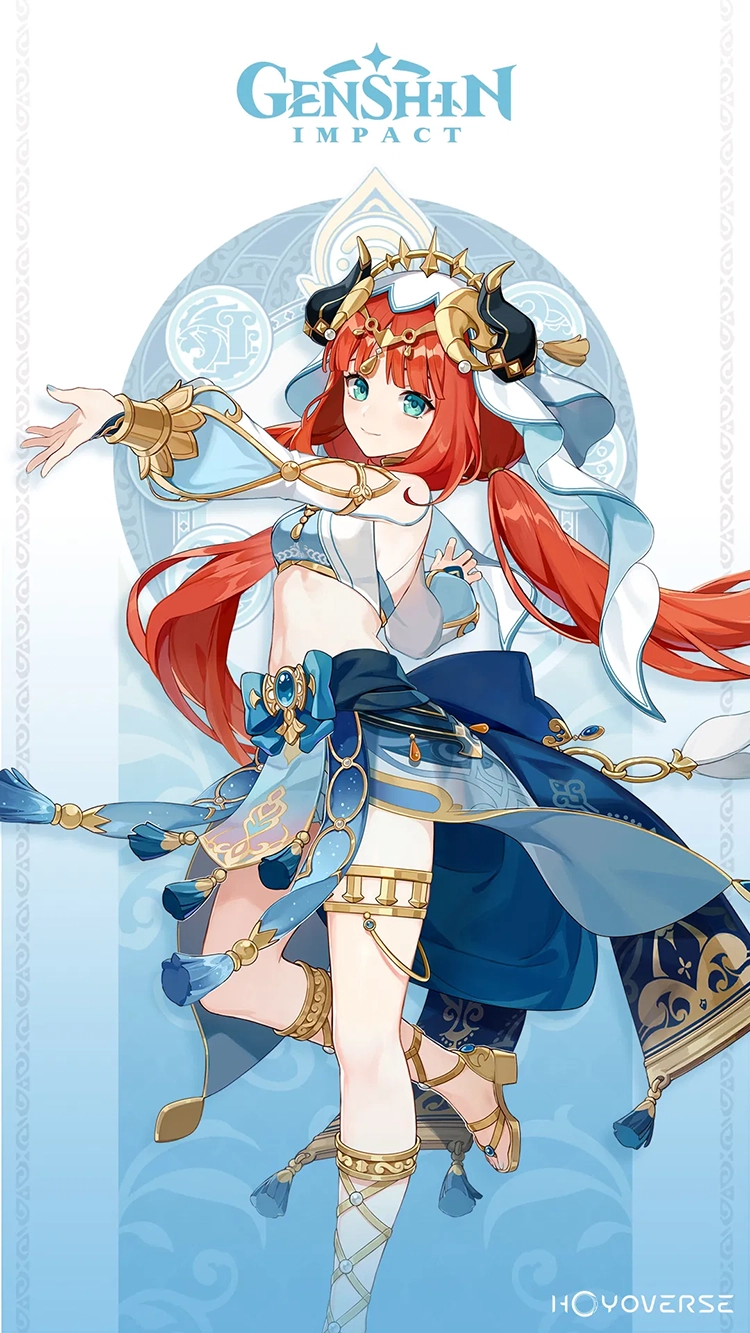 Nilou Character Ascension Materials
Here are all items that you will need to ascend Nilou to level 90:
420,000 Mora
46 Perpetual Caliber
168 Padisarah
1 Varunada Lazurite Sliver
9 Varunada Lazurite Fragment
9 Varunada Lazurite Chunk
6 Varunada Lazurite Gemstone
18 Fungal Spores
30 Luminescent Pollen
36 Crystalline Cyst Dust
| Phase | Level | Mora | Material #1 | Material #2 | Material #3 | Material #4 |
| --- | --- | --- | --- | --- | --- | --- |
| 1 | 20 | 20,000 | 1 Varunada Lazurite Sliver | | 3 Padisarah | 3 Fungal Spores |
| 2 | 40 | 40,000 | 3 Varunada Lazurite Fragment | 2 Perpetual Caliber | 10 Padisarah | 15 Fungal Spores |
| 3 | 50 | 60,000 | 6 Varunada Lazurite Fragment | 4 Perpetual Caliber | 20 Padisarah | 12 Luminescent Pollen |
| 4 | 60 | 80,000 | 3 Varunada Lazurite Chunk | 8 Perpetual Caliber | 30 Padisarah | 18 Luminescent Pollen |
| 5 | 70 | 100,000 | 6 Varunada Lazurite Chunk | 12 Perpetual Caliber | 45 Padisarah | 12 Crystalline Cyst Dust |
| 6 | 80 | 120,000 | 6 Varunada Lazurite Gemstone | 20 Perpetual Caliber | 60 Padisarah | 24 Crystalline Cyst Dust |
Nilou Talent Ascension Materials
Here is the total cost of fully leveling up for Nilou's single talent:
1,652,500 Mora
6 Fungal Spores
22 Luminescent Pollen
31 Crystalline Cyst Dust
3 Teachings of Praxis
21 Guide to Praxis
38 Philosophies of Praxis
6 Tears of the Calamitous God
1 Crown of Insight
| | | | | | |
| --- | --- | --- | --- | --- | --- |
| Level 2 | 3 Teachings of Praxis | 6 Fungal Spores | | | 12,500 Mora |
| Level 3 | 2 Guide to Praxis | 3 Luminescent Pollen | | | 17,500 Mora |
| Level 4 | 4 Guide to Praxis | 4 Luminescent Pollen | | | 25,000 Mora |
| Level 5 | 6 Guide to Praxis | 6 Luminescent Pollen | | | 30,000 Mora |
| Level 6 | 9 Guide to Praxis | 9 Luminescent Pollen | | | 37,500 Mora |
| Level 7 | 4 Philosophies of Praxis | 4 Crystalline Cyst Dust | 1 Tears of the Calamitous God | | 120,000 Mora |
| Level 8 | 6 Philosophies of Praxis | 6 Crystalline Cyst Dust | 1 Tears of the Calamitous God | | 260,000 Mora |
| Level 9 | 12 Philosophies of Praxis | 9 Crystalline Cyst Dust | 2 Tears of the Calamitous God | | 450,000 Mora |
| Level 10 | 16 Philosophies of Praxis | 12 Crystalline Cyst Dust | 2 Tears of the Calamitous God | 1 Crown of Insight | 700,000 Mora |
How to Obtain
Material
How to obtain
Tears of the Calamitous God
Dropped by Magatsu Mitake Narukami no Mikoto in End of the Oneiric Euthymia
Teachings of Praxis
Guide to Praxis
Philosophies of Praxis
Obtained from domain Steeple of Ignorance (Wednesday, Saturday, and Sunday)
Fungal Spores
Luminescent Pollen
Luminescent Pollen
Dropped by Fungi
Varunada Lazurite Sliver
Varunada Lazurite Fragment
Varunada Lazurite Chunk
Varunada Lazurite Gemstone
Dropped by Oceanids, and Hydro Hypostases
Perpetual Caliber
Dropped by Aeonblight Drakes
Padisarah
Found near Sumeru City
Talents
Normal Attack: Dance of Samser
Normal Attack
Performs up to 3 consecutive sword strikes.
Charged Attack
Consumes a certain amount of Stamina to perform a twirling slash.
Plunging Attack
Plunges from mid-air to strike the ground below, damaging opponents along the path and dealing AoE DMG upon impact.
Dance of Haftkarsvar
Enters the Pirouette state, dealing Hydro DMG to nearby opponents based on Nilou's Max HP.
While she is in the Pirouette state, Nilou's Normal Attacks and Elemental Skill will cause her to enter the Sword Dance and Whirling Steps stances respectively, causing DMG she deals to be converted to Hydro DMG that cannot be overridden and that is considered Elemental Skill DMG.
In these stances, Nilou's third dance step will end Pirouette, and has the following effects based on the type of said dance step:
Sword Dance: unleashes a Luminous Illusion that deals Hydro DMG to opponents it touches and grants Nilou the Lunar Prayer effect. This effect converts Nilou's Normal Attacks into Sword Dance techniques, and her final hit will unleash a Luminous Illusion.
Whirling Steps: Nilou unleashes a Whirling Water Wheel that deals AoE Hydro DMG and creates a Tranquility Aura that follows your active character around and applies Wet to opponents within its AoE.
Nilou is unable to perform Charged Attacks when under the effect of Pirouette or Lunar Prayer. These effects will be removed once she leaves the field.
"Daintily her toes touch the water's face, and the light that ripples forth equals even the seven heavens."
Dance of Abzendegi: Distant Dreams, Listening Spring
Begins the dance of faraway dreams and springs that hear, causing a Lotus of Distant Waters to bloom, dealing AoE Hydro DMG based on Nilou's Max HP and applying the Lingering Aeon effect to all opponents hit.
After an interval, opponents affected by Lingering Aeon will take Hydro DMG.
"We have never witnessed that distant dream, but this dance can bring it to life."
White Jade Lotus
When Perfect Cooking is achieved on Food with Adventure-related effects, there is a 12% chance to obtain double the product.
Court of Dancing Petals
When all characters in the party are all Dendro or Hydro, and there are at least one Dendro character and one Hydro character:
The completion of the third dance step of Nilou's Dance of Haftkarsvar will grant all nearby characters the Golden Chalice's Bounty for 30s.
Characters under the effect of Golden Chalice's Bounty will increase the Elemental Mastery of all nearby characters by 100 for 10s whenever they are hit by Dendro attacks. Also, triggering the Bloom reaction will create Bountiful Cores instead of Dendro Cores.
Such Cores will burst very quickly after being created, and they have larger AoEs.
Bountiful Cores cannot trigger Hyperbloom or Burgeon, and they share an upper numerical limit with Dendro Cores. Bountiful Core DMG is considered DMG dealt by Dendro Cores produced by Bloom.
Should the party not meet the conditions for this Passive Talent, any existing Golden Chalice's Bounty effects will be canceled.
Dreamy Dance of Aeons
Every 1,000 points of Nilou's Max HP above 30,000 will cause the DMG dealt by Bountiful Cores created by characters affected by Golden Chalice's Bounty to increase by 9%.
The maximum increase in Bountiful Core DMG that can be achieved this way is 400%.
Constellations
Dance of the Waning Moon
Dance of Haftkarsvar will be enhanced as follows:
Luminous Illusion DMG is increased by 65%.
The Tranquility Aura's duration is extended by 6s.
The Starry Skies Their Flowers Rain
After characters affected by the Golden Chalice's Bounty deal Hydro DMG to an opponent, that opponent's Hydro RES will be decreased by 35% for 10s. After a triggered Bloom reaction deals DMG to opponents, their Dendro RES will be decreased by 35% for 10s.
You need to have unlocked the "Court of Dancing Petals" Talent.
Beguiling Shadowstep
Increases the Level of Dance of Abzendegi: Distant Dreams, Listening Spring by 3.
Maximum upgrade level is 15.
Fricative Pulse
After the third dance step of Dance of Haftkarsvar's Pirouette hits opponents, Nilou will gain 15 Elemental Energy, and DMG from her Dance of Abzendegi: Distant Dreams, Listening Spring will be increased by 50% for 8s.
Twirling Light
Increases the Level of Dance of Haftkarsvar by 3.
Maximum upgrade level is 15.
Frostbreaker's Melody
For every 1,000 points of Max HP, Nilou's CRIT Rate and CRIT DMG will increase by 0.6% and 1.2% respectively.
The maximum increase in CRIT Rate and CRIT DMG via this method is 30% and 60% respectively.
Voice-Over
Hello
Hello, I'm Nilou from Zubayr Theater. We have one dance scheduled for today, and it's about to start — keep your eyes peeled!
Chat: Practice
First get into position like this, then move like that… Yep, that's it.
Chat: Sleepiness
Take a deep breath, as if you're about to blow up a huge balloon. Exhale all your sleepiness into it, and then, poof — it's now flying away!
Chat: Rest
Relaxing days like this are nice… Let's take it easy.
When It Rains
The weather and our moods are the same — they can both get gloomy. It's all right, though, because the sky will become even brighter after the rain.
When Thunder Strikes
Thunder is kinda scary. Are you afraid of it? If so, I can share a nifty method to help with that.
When It Snows
Huh? Wow, it's snowing. You can really hear the snow falling. Add in the swirling snowflakes, and it feels like the spirit of nature is dancing.
When the Sun Is Out
Sunny days are so warm and cozy… *yawn* They make me sleepy…
When the Wind Is Blowing
Are you all right? Watch out for sandstorms.
Good Morning
Good morning! Huh, why are you staring at me? …M—My hair's sticking up? Ahh, don't look! I'll go fix it right now.
Good Afternoon
Uhh… Mmm… Should I eat some baked goods, or should I get something with rice? Or maybe… I can have some hummus instead?
Good Evening
Good evening! I have a performance at Zubayr Theater tonight. Want some tickets?
* Unlocks at Friendship Lv. 4
Good Night
Remember, let out all your frustrations before bedtime for a better night's rest. If you want, I'm more than happy to be your audience.
About Nilou: Body Language
Sometimes, you can convey more with dance than words. If you don't know what to say, then just dance.
About Nilou: Dance and Wisdom
You need an extreme amount of talent to pursue knowledge and wisdom. Many people throw their entire lives into it, only to end up burned out and depressed… Dance isn't like that. You don't have to understand what you're seeing to enjoy watching it. If I can use my movements to demonstrate the beauty and meaning of dance, then I'm happy.
* Unlocks at Friendship Lv. 4
About Us: Dealing with Anger
Are you sulking? That's no good — c'mon, follow my lead. First, use your right hand to draw a biiig circle in front of you. Then, use both hands to take all those negative feelings off your chest and into the circle. Next, push it away as hard as you can! So? Feeling better now?
About Us: Going on Adventures
I've never left Sumeru City, but… I want to go on adventures with you. Going to new places will be fine as long as I can adjust… Umm, quick question: Inazuma's beaches won't have huge Wenut that'll suddenly jump out at us, right?
* Unlocks at Friendship Lv. 6
About the Vision
I received my Vision when I debuted on stage. If even the goddess was willing to watch my performance, then that must mean she had acknowledged the beauty of human-made art.
* Unlocks at Friendship Lv. 4
Something to Share
It's normal for hard work to produce no results. For example, no matter how hard I try, I can never understand the Rtawahists' teachings. When you're stuck, shake up your mind, flip your brain around, and change the direction you're going in.
Interesting Things: Dance of the Crystalflies
Crystalflies come in all sorts of colors. They're so pretty that you can't not be curious. When you quietly reach out to one, it instantly steps into an elegant and nimble dance, and flies away from you. Hehe, if I could fly, I'd take dance lessons from them.
Interesting Things: Padisarahs
When the Goddess of Flowers danced, real Padisarahs would bloom underneath her feet. That sounds like such a beautiful scene. I'd love to see it.
* Complete "The Morn a Thousand Roses Brings."
About Cyno
I don't really like interacting with people from the Akademiya because they don't view the arts too kindly. I often wonder what they do when they're bored… Huh, Cyno plays Genius Invokation TCG? I can't believe it…
* Unlocks at Friendship Lv. 4
About Tighnari
I hear he's a really talented botanist. He must be good at telling apart mushrooms. At least, he would never have to worry about eating a poisonous one… I'm so jealous.
* Unlocks at Friendship Lv. 4
About Collei
She sometimes comes to watch my performances. She's a really hard-working Trainee Forest Ranger. One time, she warned me about getting lost. What did she mean by that? It's not like I've gotten lost before…
* Unlocks at Friendship Lv. 4
About Kaveh
I heard he was the one who built the magnificent Palace of Alcazarzaray. He must have had a wonderful time making such a masterpiece, like when I'm in the middle of dance practice. Just thinking about dancing for everyone gives me so much happiness and motivation.
* Unlocks at Friendship Lv. 4
About Dehya
It's hard to believe that so many things have happened recently… I wanted to pick out a good present for Dehya and Dunyarzad, but I just can't make up my mind. Everyone at the Grand Bazaar has given me many suggestions, but if I took them all, it'd be too much… What should I do…
* Unlocks at Friendship Lv. 4
About Dori
The big-spending merchant Dori has watched me dance before. I remember that she talked with Mr. Zubayr once, and then never came back. Did something happen? …Huh? She wanted me to go on tour around Teyvat? No way, Mr. Zubayr definitely would've refused for me! …Ahh, please tell me he has…
* Unlocks at Friendship Lv. 4
About Lesser Lord Kusanali
The people of the Great Bazaar love Lesser Lord Kusanali. I'd love to hear her thoughts on my Dance of Sabzeruz… Oh, no, no, forget it… If she were in the audience, I'd get stage fright…
* Unlocks at Friendship Lv. 4
More About Nilou: I
Aaagh! Sorry, I'm trying to decide what to eat, and I got lost in thought. Hee-hee, do you need help with anything?
More About Nilou: II
My teacher taught me everything there is to know about dance, but she said that the most important thing is putting feeling into your movements. Only then can you move your audience and convey emotion. To express beauty, I must first become the embodiment of beauty.
* Unlocks at Friendship Lv. 3
More About Nilou: III
Sometimes, I receive letters from showgoers who say that my dancing has cheered them up. I always share this kind of happy news with everyone at Zubayr Theater. Even though I'm the one the audience sees on the stage, it's because of everyone's collective efforts that I can stand up there in the first place.
* Unlocks at Friendship Lv. 4
More About Nilou: IV
The Grand Bazaar occasionally hosts other kinds of performances, such as juggling showcases. I've tried juggling before, but I always end up catching the balls with my head… Mr. Zubayr and everyone else just laughed at me. They probably thought I had really good hand-eye coordination. Hee-hee, I've been exposed.
* Unlocks at Friendship Lv. 5
More About Nilou: V
Someone once told me that I was like a shining oasis that restored life and happiness to others with its warmth. That was nice of them to say, and I was happy to hear it, but… what I want to show people is much more than that. After spending so much time with you, though, I finally understand how it feels to have someone care for and look after you. Now… Now, I feel like that comparison is a far better one for you.
* Unlocks at Friendship Lv. 6
Nilou's Hobbies
"My life is dance," or "Dance is my life"… Which phrase is the better way to describe it? Agh, I'm no good at logical things like this. Anyway, I'll just keep on dancing. I want to use my performances to show the beauty of art to more people.
Nilou's Troubles
I still can't tell poisonous mushrooms apart from non-poisonous ones… Apparently, color doesn't mean much — poisonous mushrooms can be bright or dull. Mmm, I feel like I understand, but I also don't…
Favorite Food
Sweets always make you feel better! Most people in Sumeru love them. Wanna try some? I'll get some for you!
Least Favorite Food
I have a hard time eating mushrooms, mostly because I'm scared… Not the type of scared that makes you want to run away, though! When I was little, I once ate a poisonous mushroom and was bedridden for days… If you want to eat any of Sumeru's mushroom dishes, please make sure to check that the ingredients are all edible!
Receiving a Gift: I
This must be what it feels like to have flavors dancing on your tongue… How wonderful!
Receiving a Gift: II
Thank you. You must have put a lot of love and effort into this dish, just like I put so much of me into my dance practice.
Receiving a Gift: III
Sorry, my appetite's been a bit off lately. Please don't take offense.
Birthday
Umm… Happy birthday! I learned a new dance, and I want to show it to you. Uh, am I nervous? *sigh* You saw right through me. It's because… I wanted to incorporate my feelings into the moves, but then the choreography just got more and more difficult… Anyway, I just wish that your life will always be full of wonder and happiness.
Feelings About Ascension: Intro
Huh? What's this feeling…?
* Unlocks at Ascension Phase 1
Feelings About Ascension: Building Up
I'm done warming up. I can do even better now!
* Unlocks at Ascension Phase 2
Feelings About Ascension: Climax
I feel like I'm lying down on the back of a massive Anemo Slime. Ahh, it's so light and comfy~
* Unlocks at Ascension Phase 4
Feelings About Ascension: Conclusion
I really like being with you. I don't know why, but it feels like a butterfly is trying to burst out of my chest… Anyway, how about I show a new dance to you?
* Unlocks at Ascension Phase 6
Elemental Skill: I
Here!
Elemental Skill: II
Positions!
Elemental Skill: III
With all my strength!
Elemental Burst: I
Dance with the waves!
Elemental Burst: II
All eyes on me!
Elemental Burst: III
This dance is for you.
Opening Treasure Chest: I
For you~
Opening Treasure Chest: II
Let me help you pack this up.
Opening Treasure Chest: III
Wow, what a lovely surprise!
Low HP: I
Ah, don't worry about me…
Low HP: II
How troublesome…
Low HP: III
Deep breaths…
Ally at Low HP: I
Don't worry, I'm here.
Ally at Low HP: II
I'll stand in for you!
Fallen: I
It's time for the curtain… to fall…
Fallen: II
The show… can't go on…
Fallen: III
Beauty… Don't leave me…
Heavy Hit Taken: I
Ah, I gotta keep my balance…
Heavy Hit Taken: II
That… hurt a little.
Joining Party: I
Where are we dancing today?
Joining Party: II
Anything I can help you with?
Joining Party: III
…Oh, you're calling for me? Coming!
Story
Character Details
"Since you're in Sumeru, you must not miss Nilou's performances."
This is a fact that most people in Sumeru agree on.
There is no threshold for Nilou's dances, so everyone can come and enjoy a most fascinating and engrossing time there.
Nilou's audience comes from all walks of life. Be it a knowledgeable researcher or a mercenary who's seen true brutality — everyone is attracted here by Nilou's gorgeous, dancing form.
Every time Nilou takes the stage, a press of people crowds the Grand Bazaar until all are standing shoulder to shoulder.
Rational sense and wisdom are the mainstream in Sumeru, while art, which stands for sensibility, does not enjoy the same popularity and respect.
Yet if wisdom is meaning bestowed upon Sumeru by the goddess, then art stands for meaning that human beings seek for themselves.
Character Story 1
Unlike other dancers across the continent who hail from artistic families, Nilou came from an ordinary family in Sumeru.
The life that the family of three once lived was no different from that of many who lived in downtown area.
The knowledge they gained from the Akasha was enough for their common day-to-day lives.
If there was anything special about Nilou's family, it was that Nilou's parents' loved and cared for her very much.
Although the pursuit of scholarship is prevalent in Sumeru, Nilou's parents never compared Nilou with other children, nor did they expect Nilou to become a researcher.
Growing up happily and living a stable life was all that they wanted for her.
Nilou thus grew up surrounded by love and respect.
Later, even when there were differences of opinion and occasional arguments between her parents, Nilou's thoughtful and considerate mediation would permit no harm or grudge to ever linger in their family.
* Unlocks at Friendship Lv. 2
Character Story 2
Every inch of the Grand Bazaar has been measured by Nilou's footprints, and she keeps everyone at Grand Bazaar in her heart.
Nilou can introduce anyone in the Grand Bazaar in detail, as if they were a family member.
Mr. Jut usually gets up early to make tahchin, so if you want the privilege of having the most delicious bite of freshly cooked tahchin, be sure to get up early!
Mr. Afshin's storytelling skills are simply divine. His wonderful ingenuity always makes people want to buy his merchandise.
Mr. Hushang, who sells toys, has very dexterous hands. With them, he fashions the most fascinating little toys, and they are very popular amongst children.
And, of course, everyone has long regarded this smart red-haired girl as a family member too.
Every time Nilou goes grocery shopping, she always ends up carrying more items than on her purchase list just by making a single trip through the streets, and the weight of the groceries shows exactly how much people like and take care of Nilou.
Of course, Nilou also takes care of them in return.
Hushang and Farhad may have a quarrel over a bet, about as long as Nilou shows up, the two will surely be reconciled.
If Afshin's Sumpter Beasts have stolen someone else's food, Nilou will come forward and help make amends.
If you ask Nilou why she is so enthusiastic, she will answer with a smile:
"Because family is supposed to help each other, hehe."
For Nilou, her mom and dad are her small family, while everyone in the Grand Bazaar is her big family.
* Unlocks at Friendship Lv. 3
Character Story 3
Nilou remembers clearly that she met her teacher at the Sabzeruz Festival when she was eight years old.
Back then, the Knight of Flowers gave her a lot of Yalda Candies, and so little Nilou passed by the Zubayr Theater with candies in both hands.
The Sabzeruz Festival is a celebration that features dance, but before, only dance groups from abroad were invited to sing and dance at the festival — and on a temporary stage, to boot.
Now that the Grand Bazaar finally had its own theater, excited people were flocking to the new stage.
Little Nilou managed to squeeze through the crowd to the front of the stage and saw the teacher dance for the first time.
Even though there were no flowers on the stage, at that moment, Nilou felt as if she was watching thousands upon thousands of flowers blooming all at once.
The candies in her hands fell to the ground unnoticed, and she couldn't help but dance along.
It was only when the dance had ended that little Nilou realized what she had done, and hurriedly apologized to the people around her who had made room.
It was at this moment that her teacher also walked down from the stage in an elegant manner and helped her pick the Yalda Candies back up.
She reached out her hand to little Nilou, and asked gracefully—
"Would you like to join me for a future dance?"
* Unlocks at Friendship Lv. 4
Character Story 4
Although she has lived her entire life in Sumeru, the city of wisdom, Nilou has never shown any talent in the field of "knowledge." However, she always knows how to soothe the emotions of others in her own way.
"This is probably a generous gift to me from Lesser Lord Kusanali."
After learning to dance with her teacher, Nilou became deeply aware of the power of body language.
Combining her talents and knowledge of body language, she created her very own form of "body movement therapy."
For example, when Mr. Zubayr is angry, everyone in the theater would be walking on eggshells.
But Nilou would keep a warm smile, drawing wonderful patterns one after another in the air with her arms and fingers.
"Imagine that we are in the rainforest that has just rained, and that you are following me as we walk onward, saying hello to every animal that passes by, waving, leaving everything else behind…"
Perhaps this may seem childish and funny to a bystander, but for those who are wrapped up in the moment, Nilou's gentle voice can cause the anger that clouds their minds to disappear before they even know it.
What's even more amazing is that, according to Mr. Afshin, this body movement therapy has been trending recently — and it even works on his two stubborn Sumpter Beasts…
* Unlocks at Friendship Lv. 5
Character Story 5
Be it in day-to-day life or her performances on stage, Nilou has always maintained a simple attitude —
To melt everyone's worries away and let comfort and ease waltz in.
But when "trouble" comes to her, she is often distressed due to her inability to make the call.
Tahchin sure is delicious, but Pita Pocket is also good, and I also saw someone holding a Potato Boat that seemed really yummy. Which one should I eat tonight?
I've heard people talk about places outside Sumeru City… the pure white snowy mountain and windmills the size of giants… Should I also consider going out for a trip?
Nilou can often find good reasons to go with any of the options she is considering, and so they are like Forest Tree Frogs sitting across from one another with bellies out, not one able to win the others over.
But if there was a person who could make a decision at this time and tell her with confidence and calm:
"Why not have half the amount of each and share them with me?"
"And as for those places you have never been to, I have already set foot there. I can assure you that they are safe."
…Nilou would dismiss her hesitation in an instant and raise her arms in a dance-like graceful gesture of thanks, before indulging in the joy of having solved a great problem for a long time indeed.
* Unlocks at Friendship Lv. 6
Letters from the Audience
Refusing to accept gifts on stage has been a long-standing rule in the Zubayr Theater.
Sometimes, the audiences do still get too excited and may insist on giving various kinds of gifts to Nilou. That said, such givers will definitely receive a gift in return the very next day, along with a note that has been left at their doors…
"Thank you for your kindness. If you would like to express your love for Nilou's dance, you may write a letter to the Zubayr Theater instead of sending gifts."
And so it came to pass that like snow flakes dancing and falling in the air, letters filled with the audience members' passionate praise have been sent in batches and droves by the Dusk Birds to the theater's mailbox.
During her free time when there are no shows or rehearsals, Nilou will read every letter carefully, share this joy with the other members of the Zubayr Theater, and then carefully preserve these letters.
Every word and every expression of recognition and fondness in the letters is worth remembering and appreciating.
As Nilou bettered her dancing skills, more and more people came to watch her dance, and in time, the letters have added up to quite the stack indeed.
But if someone cracks a joke, saying that Nilou is the most valuable treasure in the Zubayr Theater, she will definitely shake her head with a sweet smile.
"Our most valuable treasure is our audience's love, and it is all carefully stored in one mysterious box."
* Unlocks at Friendship Lv. 4
Vision
Nilou has heard her teacher talk about the meaning of dance more than once. From her teacher's perspective, dance is born from human life and has belonged to everyone from the very beginning.
"As a dancer, you should convey emotions on stage, and your audience's smiles are their response to the emotions conveyed in your dance."
Nilou was well aware that she was nowhere near as good at thinking about the "meaning" behind things as Akademiya researchers. But still, she practiced diligently each day under the direction of her teacher and planned to continue following in her footsteps.
When she finally first took the stage, she quickly became completely immersed in the performance, holding nothing back.
She thought of the wind, the moon, the gentle sound of the rose blooming, the feeling of stroking the tail feathers of Dusk Birds, and a myriad of beautiful things that existed in this world.
She wanted to display the beauty she perceived in her heart to the entire audience through her dance.
Slowly, splashes of water ran together, converging into a lake on the stage. Like a Crystalfly dancing on a lake's surface, Nilou gently fluttered back and forth, and the lake-mirror rippled slightly in time to her steps.
Like a water lily, her body swirled in the middle of that lake. Amazed at such pure and flawless beauty, the audience almost forgot to breathe.
After the curtain fell, Nilou flopped down on the backstage chair and took deep breaths.
Like dewdrops on a lotus leaf, a Hydro Vision had appeared at her waist.
Nilou thought then that she had perhaps found the purpose of dance at last —
"To become beauty, and then to convey the beauty and value of art."
* Unlocks at Friendship Lv. 6