Players from these regions are now able to download Honor of Kings from Google Play Store and experience the world's most-played mobile MOBA title with English, Turkish, Spanish, and Portuguese in-game content. More regions and access for iOS users will be added during future tests.
During this Beta, players will experience an early version of the game aimed at testing core gameplay experiences and stability. Players will be introduced to limited game modes and over 60 unique heroes with diverse designs and styles – each with signature and distinct skills – along with stunning skins to unlock and legendary stories to explore. Honor of Kings will welcome and value feedback from players, especially on gaming experience, network stability and localization, to deliver on-going refinements and improvements.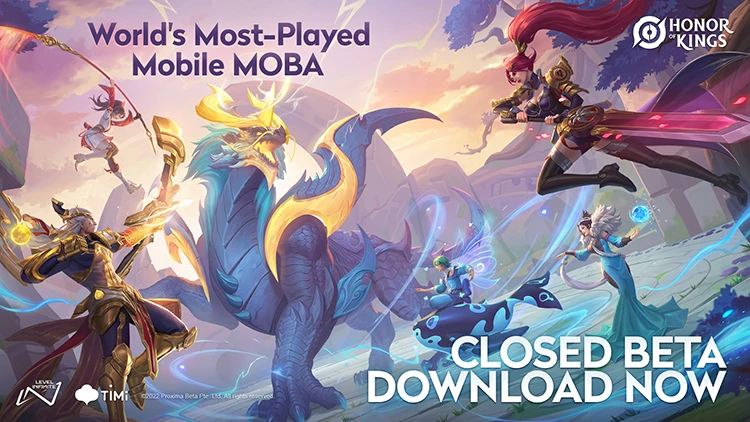 Honor of Kings is a 5v5 mobile MOBA designed from the ground up to deliver the most-enjoyable, fulfilling and easy-to-play competitive experience for every gamer. In Honor of Kings, everyone, regardless of the role they select – Tank, Warrior, Assassin, Mage, Marksman, or Support – plays an important role during the fierce battles and helps to carry their team to victory. This is in line with Honor of Kings' ethos of being "free to play, fair to win" with victories determined by players' skills and tactics, not by how much they spend.
Developed by TiMi Studio Group, Honor of Kings has achieved unparalleled success since its 2015 launch in China, with 100 million average Daily Active Users recorded in 2020. With its roster of colorful heroes, a vibrant battlefield and music to spur them to victory composed by world-renowned composers such as Hans Zimmer, Joe Hisaishi, and Howard Shore, Honor of Kings immerses players in its unique and engaging universe.
For further information and provide feedback please visit the official Honor of Kings website or follow the official social channels on Facebook, Twitter and YouTube.