Lam
General Information
Class
Assassin
Subclass
Roving Assassin1
Strength
Dash/Finish
Recommended Lane
Jungling
Release Date
Brazil: March 8th, 2023
Cost
Road to be Greatness: Bronze III Reward
Lam Bio
The man who now goes by the code name Lam was exiled by his people for his inauspicious birth and spurned by his peers for possessing unnatural abilities.
He was left to die in the rubble of a battlefield, but was found by Cao Cao, who took him in and trained him as one of his covert assassins. Lam embraced the lonely life of a hunter in the darkness, if only to survive yet another day.
That would all change when he was sent on a mission to eliminate Cai Yan, a girl who appeared to him so utterly warm-hearted and kind, it shattered his beliefs and led him to abandon his past once and for all. Now, the ruthless assassin is only willing to get his hands dirty for those he deems worthy.
Abilities
Passive Skill
Hunter: Basic attacks and skills deal additional true damage to targets with low Health.
Skill 1
Wavebreaker: Dashes in the target direction and submerges underwater for a period of time, gaining increased Movement Speed.

Submerged: Using the skill again initiates a dash attack in the target direction, inflicting damage and slowing enemies hit. While in the river, there is no time limit on the submerged state.

Passive: The submerged state grants an additional Movement Speed bonus when nearby enemies are within a certain range.

Skill 2
Space Split: Deals damage twice to nearby enemies within range. Lam gains 1 mark each time damage is dealt (up to 3 stacks) and each mark enhances 1 Basic Attack.

Dashes during enhanced Basic Attacks, dealing extra damage and restoring Health.

Submerged: Dashes in the target direction during Skill 2.

Skill 3 (Ultimate)
Death From Below: Throws a dagger in the target direction, then dashes to the dagger after a short delay, dragging enemies along his path to the dagger and dealing damage to them.

Submerged: Cancels the casting animation and skill delay.
Skins
Classic
Prowl in the dark, hunt in the light.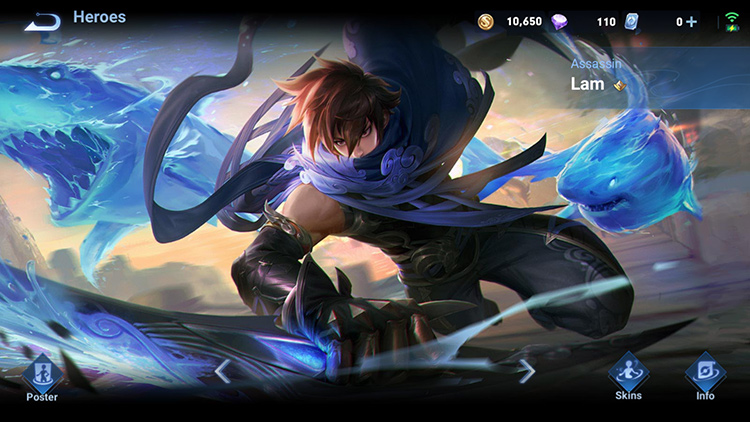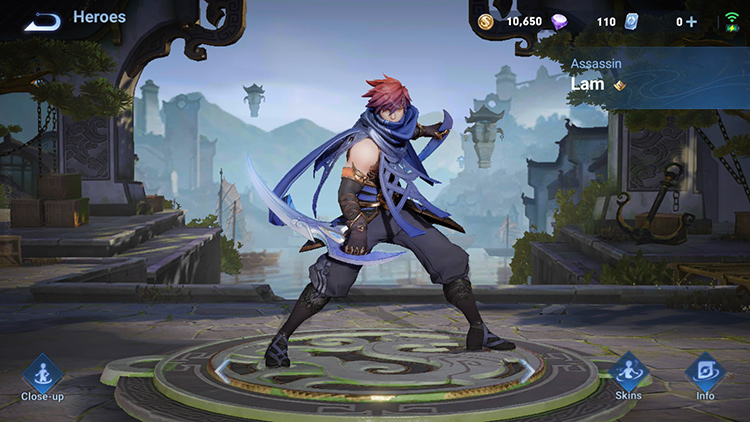 Lonesome Hunter
Sharks follow the scent of the blood when they hunt.
Price: 288 Tokens.
Release date: March 8th, 2023.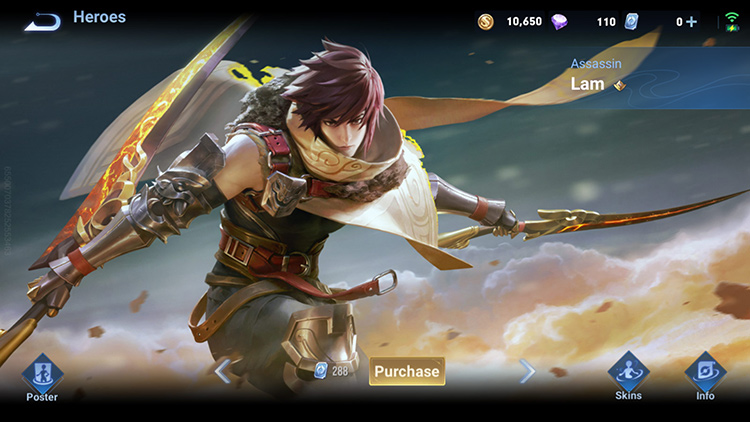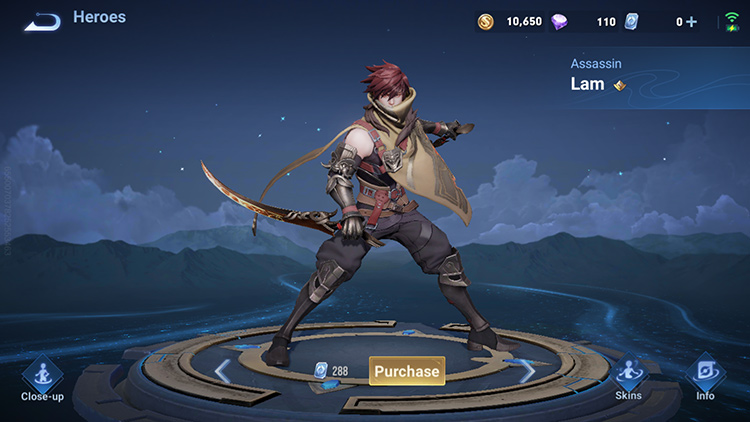 Videos
Updating…