Let's check out the interview with Raymond, the Game Designer for MARVEL Super War, and what is NetEase Games doing with MARVEL Super War.
Hey everyone, I'm Raymond, the Game Designer for MARVEL Super War. I'm really glad to meet you all.
Since the launch of MARVEL Super War on December 19th of last year, we have received tremendous support from many Marvel fans and gamers. Your encouragements and constructive feedback motivate us to do what we love.
The development team has read through comments from various social channels and we are aware of popular topics such as the new hero planned for the game. Rest assured we are also thinking about this for our future updates.
Let us dive right into it!
So it would be a pleasure for me to take this chance to represent the dev team, and share some of our views with all the watchers out there.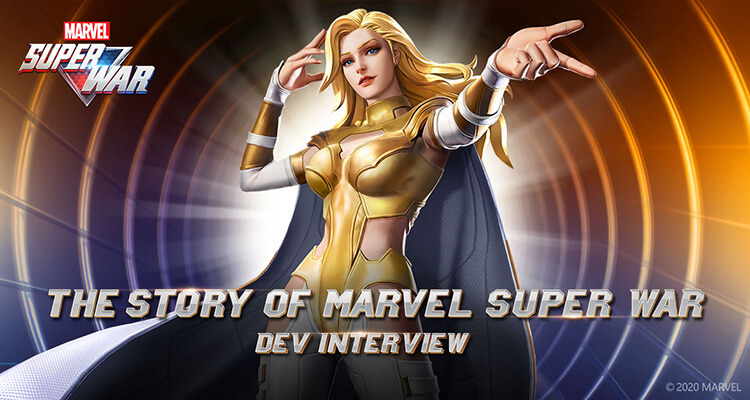 Vivian: Please tell us about the world "MARVEL Super War" is set in.
Raymond: MARVEL Super War is set during the time when two earths from different realities are on a collision course.
Super Heroes from both sides plan to stop this from happening and unfortunately there are disagreements on how to resolve this problem. At the heart of it all, Wakanda happens to be the battleground where the two worlds start to collide.
Vivian: Why choose Wakanda as the battleground?
Raymond: Wakanda happens to be where the initial collision will happen. You can see the river on the map has glitches that represent a violent collision is about to take place.
We thought about using a city such as New York City, however, the characteristics of tall buildings could cause unwanted interference during battles.
In order to provide a great gaming experience, we first started with an outdoor map, working with the Marvel Games team to identify one of the most unique and exciting location in the world.
We ended up with Wakanda because it is the most advanced technological nation on the planet, perfectly balanced with its beautiful nature and landscape. We can represent Wakanda with highly technological structures such as the Wakanda turrets and also provide green environments that ease players' visual fatigue during battle.
Of course, we would consider other locations in the future, but for now we would like to focus on Wakanda.
Vivian: Fantastic, let's hear about the plans for Season 2!
It has been a while since Season 1 started, and we believe that many players have come to love MARVEL Super War. In the upcoming Season 2, various events have been prepared for everyone to enjoy. Let's take a look at what news Raymond from the development team has brought us!
Can you give us a sneak peek of Season 2's main contents?
Raymond: In the upcoming Season 2, the first female villain will make her debut, along with a special skin!
As for her identity, we will leave it to the players' imaginations.
Furthermore, we have prepared Hero Assembly 003 and new season-exclusive skins. A new skin will be added to the lineup in the Museum as well.
Costumes inspired by Marvel's Avengers: Infinity War have already been released in the game, so we plan to release costumes inspired by Marvel's Avengers: Endgame in the upcoming season as well.
We hope that we can provide players with a better gaming experience that allows them to have more fun in the upcoming season.
Vivian: What can you tell us about the global launch?
Raymond: We know that Marvel and MOBA fans from all over the world have been asking about global launch.
We have also read numerous comments from our social channels asking about this.
Official announcements will only be made on the official channels if we have further information available in regards to this matter.
Vivian: What is the process for implementing a new Hero?
Raymond: Our designers spends a lot of time working with the Marvel Games team to research each hero's skills that fit their distinctive features.
It takes a long time to ensure that we get the hero right.
We are currently planning to implement a new hero every 2 to 3 weeks to ensure that we have great design quality for each new hero. This will also allow us to give players the ultimate experience of being a Super Hero or a Super Villain as quickly as possible.
Vivian: When will Wolverine, as seen in the trailer, become available in the game?
Raymond: We are all big fans of Wolverine and he is one of the most iconic characters in the Marvel Universe. He is still under development and after extensive testing, he will make his debut in the game.
Vivian: Will more content inspired by the Marvel Studios movies be added to the game?
Raymond: Yes, we plan to support content inspired by the upcoming movies from Marvel Studios. Please look forward to it.
Vivian: Will there be a new map?
Raymond: We are preparing a new gameplay at the moment. This is something special and we hope everyone will enjoy.
As for the current map, we are actively improving the quality and various effects to make it even better for everyone to play.
Vivian: Will there be an official tournament?
Raymond: The first tournament of MARVEL Super War will be held in Thailand. Once we optimize the event, we hope to bring similar tournaments to different regions.
We are currently developing a micro match system and regional tournament system in-game. Once we have tested this, we will show this to the players.
The mirco match system allows players to start their private tournaments including arcade matches or formal matches.
As for Regional tournaments, players will be divided into different regions according to their servers. The team that wins in their region will proceed to match against winners from other regions for rewards.
Please stay tuned for more matches to be held in the future.
Vivian: Did the devs consider merging servers to increase matchmaking speed?
Raymond: Matchmaking speed and match quality matters. We continue to observe both criteria on each server to ensure we have the right parameters for everyone. We are working on this still.
Of course we will prioritize servers issue because we need to make sure we provide reasonable match making and match quality for all players.
Vivian: Are you planning to optimize the game for more devices that have a "High Frame Rate Mode"?
Raymond: We are still working on it. Our goal is to allow more players to have a smooth gameplay experience across different devices. We will allow more devices to turn High Frame Rate mode on so that the game can run better on some of those devices.
Once we have confidence in certain level of optimization, we will also consider allowing more verified devices to enable this option.
Vivian: Aside from the comics, what inspires the design of the costume?
Raymond: We always start from iconic looks of Marvel characters. We work side by side with the Marvel Games team to modernize the classic look so you can tell how cool those characters are.
Marvel Games also encourages us to come up with some cool sets of original designed costumes that not only represent the character well, but also have story relevancies.
When we start a new original design, we work with Marvel Games to come up with a backstory that informs the designs of original costumes.
We hope players find that the new look is not only visually appealing but fun to play in as well.
If we have identified a certain theme resonate with the players, we will also try to apply this theme with other characters as well. Of course we will also consult Marvel Games on this to ensure we stay true to their characters.
Source: MARVEL Super War.