Free Hero Rotation Update
This week's free hero rotation has been updated!
On Thursday, July 21, 2022 (GMT+8), a new rotation of heroes will be available in 5v5 battles: Captain Marvel, Executioner, Iron Man, Juggernaut, Mysterio, Polaris, Ronan, Rocket Raccoon, Star-Lord, and Storm. Go forth into battle, Watchers!
New Watchers (characters below Lv. 10) can use heroes (beginner and easy difficulty) from the weekly free roster, and also from the free roster for new players.
New Skin
Street Spider
Spider-Man's new Street Spider skin will be available soon! Come and get yours starting July 21, 2022 (after maintenance), and save 30% before July 27, 2022. Don't miss out!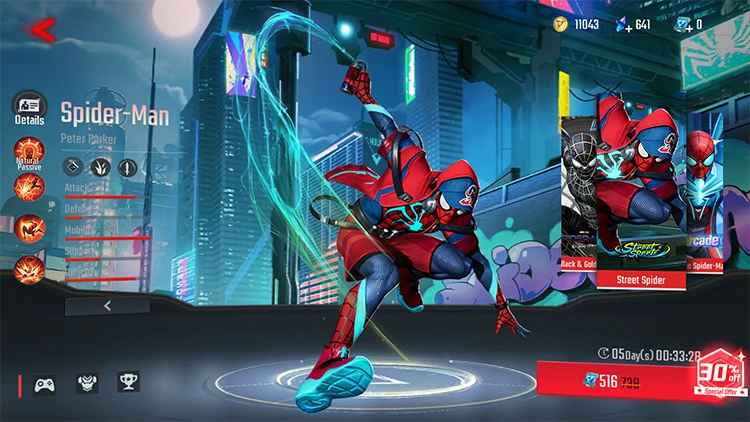 New Events
Urban Trendsetter
Event Duration: July 21, 2022 – August 17, 2022 (GMT+8).
Collect any 4 of the 5 following skins to claim rewards: Star-Lord's Street Rocker, Spider-Man's Street Spider, Venom's Street Tagger, Iceman's Free Skater, and Quicksilver's Free Runner.
District Fund
Event Duration: July 21, 2022 – August 10, 2022 (GMT+8).
Complete quests for exciting prizes! Spend 60 Star Credits to increase your fund level and receive the Street Sports Summer Anniversary Avatar Frame, Brilliant Caskets, Security Keys, and more!
Graffiti Hits the Streets
Event Duration: Permanently available starting July 21, 2022 (after maintenance).
The Graffiti Series Emote Badge Pack is available for a limited time. It contains a Graffiti Series Emote Badge you haven't received!
Adjustments and Optimizations
Added "Total Contributions" and each member's login status under the "Status" column so that Guild Leaders and Deputy Guild Leaders can manage Guilds more easily.
We have slightly lowered the health and attack power of the final boss Immortal Hulk on normal and hard difficulty of Hulkbuster Awakens.