The MARVEL Super War June 18th 2020 Update sees new hero Mysterio and his Ultimate skin arrives.
Free Hero Rotation Update
This week's free hero rotation has been updated!
On June 18th, 2020 (Thursday) at 5:00 AM, the new roster of heroes that are free to use in 5v5 battles will be: Captain Marvel, Corvus Glaive, Executioner, Gambit, Hela, Human Torch, Mantis, Proxima Midnight, Rocket Raccoon, and Storm. Go forth into battle, Watcher!
To help new Watchers (characters below Lv. 10) familiarize themselves with our various heroes, they will gain access to heroes of beginner and easy difficulty from the weekly free heroes rotation as well as the exclusive roster for new players.
New Hero Mysterio
Mysterio is an energy hero who can manipulate his illusionary fog and drones to confuse his enemies, allowing him to launch heavy damage surprise attacks when they least expect it.
Natural Passive: Perilous Fog
Passive – Fog: Mysterio creates illusionary fog at a random location between himself and an enemy hero at regular intervals. Touching the fog will give Mysterio one unit of energy and shoot elemental projectiles at nearby enemies, dealing energy damage and applying a stackable Slow effect. Mysterio will lose one unit of energy per second after exiting combat.
Passive: After using an ability, Mysterio's next basic attack is enhanced, dealing energy damage to enemies.
Ability 1: Lethal Element
Mysterio shoots an elemental projectile at the specified enemy hero, dealing energy damage to the target and randomly creating an area of Fog around it. When Mysterio's energy is full, this ability shoots an enhanced elemental projectile that deals energy damage. This projectile can be intercepted by enemy heroes.
Ability 2: Deadly Orbit
Select the specified location as the central point and use the ability joystick to adjust the radius in which Mysterio encircles as he levitates, dealing energy damage to enemies in his path. If he hits an enemy hero, he gains one unit of energy. He is immune to control effects and gains a shield while this ability is active.
Ability 3: Mirror Illusion
Mysterio creates an illusion at the specified location and gains a movement speed boost. The illusion mirrors his movements. Using this ability again allows Mysterio to switch places with the illusion. This can be done up to 2 times.
Ultimate Ability: Holographic Assault
Mysterio uses drones to create illusion against the specified enemy, making all heroes within their field of vision to appear as Mysterio. The illusion will end when the target's teammates destroy all of the drones or after a certain amount of time has passed.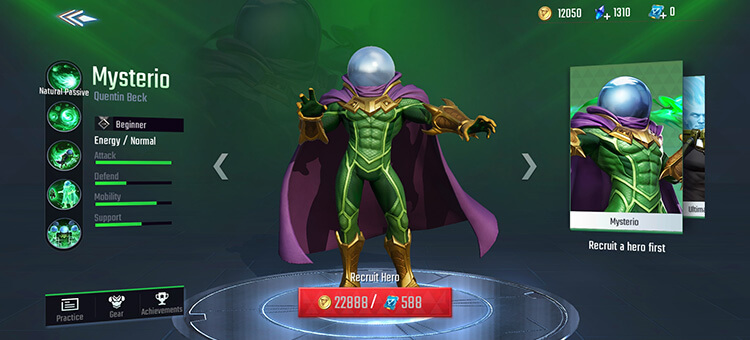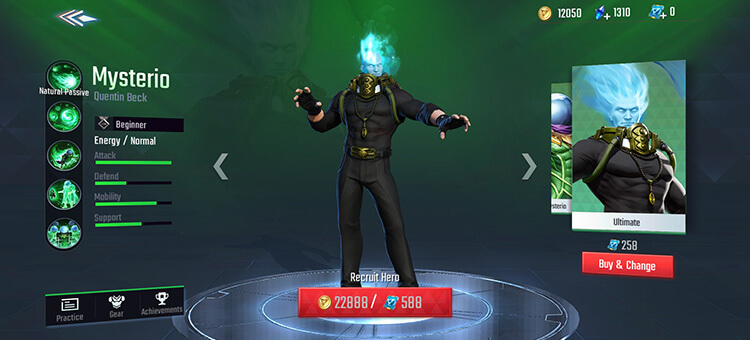 All Mysterio (Quentin Beck) data has been collected. He will be joining you all in battle this week, and his Ultimate skin will be added to the Shop.
From today until 11:59:59 PM on June 24th, all Watchers can purchase the Mysterio Data Pack, as well as recruit this hero and unlock his skins! There's even a 20% off discount on this pack in its first week!
Skin Upgrade Event
Event Duration: After maintenance on June 18th, 2020 to July 8th, 2020.
The texture quality of skins inspired by the films has received a full upgrade. Enjoy a discount of 30% off on selected skins during the event! The prices will be readjusted once the event is over.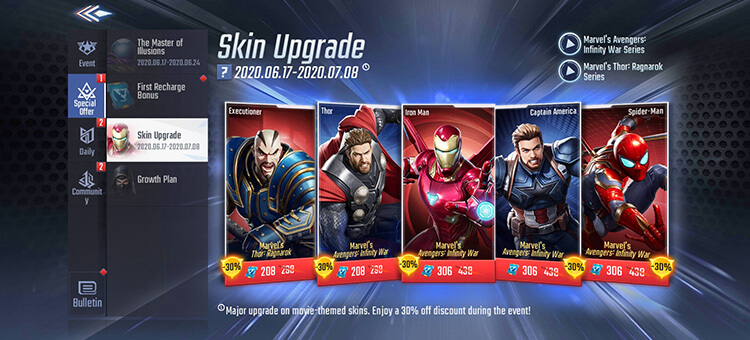 Adjustments and Optimizations
To avoid major discrepancies between the proficiencies of both players, the Supreme Legendary Master tier will no longer allow duo rankings.
The available hours for Battle for Vibranium have been adjusted to 12:00 PM – 2:00 PM and 8:00 PM – 11:00 PM daily.