The MARVEL Super War September 3rd 2020 Update sees new marksman hero Moonstar and her skin New X-Men arrives.
Free Hero Rotation Update
This week's free hero rotation has been updated!
On September 3, 2020 (Thursday) at 5:00 AM (GMT+8), the new roster of heroes that are free to use in 5v5 battles will be: Blade, Groot, Hela, Human Torch, Rocket Raccoon, Ronan, Scarlet Witch, Spider-Man, Star-Lord, and Storm. Go forth into battle, Watcher!
New Watchers (characters below Lv. 10) are able to use heroes of beginner and easy difficulty from the weekly free roster, and heroes from the free roster for new players.
New Hero Moonstar
Moonstar is a marksman hero. Her powers allow her to tame monsters to assist her in battle, through which she can activate various abilities depending on the type of monster tamed. She also converts psionic energy into arrows to attack her enemies.
Natural Passive: Telepathic Empathy
Passive: Moonstar can tame monsters to assist her in battle while receiving EXP and Coins from them. The tamed monsters help attack Moonstar's enemy targets, and taming different monsters activates different abilities for Moonstar.
Tame the Muspelheim Spider or Wendigo to assist her in battle and activate the Terror Shot ability.
Tame the Mindless One or Man-Thing to assist her in battle and activate the Resist Death ability.
Ability 1: Psionic Volley
Passive: Moonstar marks enemies and gains vision of them when she and her tamed monsters deal damage to them. Marks stack up to 5 times.
Active: Moonstar releases her Psionic Volley, dealing multiple attacks to marked targets within range and causing Physical Damage. The number of attacks equals the number of marks stacked. When Moonstar and her tamed monsters move toward a marked target, their movement speed increases.
Ability 2: Neural Arrows
Moonstar charges in the specified direction, shooting arrows at a maximum of 3 nearby enemies, dealing physical damage and slowing them while increasing her own attack speed.
Ability 3: Terror Shot
Moonstar's next three basic attacks deal extra damage, with the third attack inflicting fear on the target.
Ability 3: Resist Death
Moonstar gains a shield and an acceleration effect. At the end of the shield's duration, any remaining shield value converts into an equal amount of HP.
Ability 4: Hela's Embrace
Moonstar embraces Hela's dark power, increasing her attack and attack speed while reducing the cooldown of her Psionic Volley ability. She also enhances her tamed monsters by increasing their attack speed and movement speed.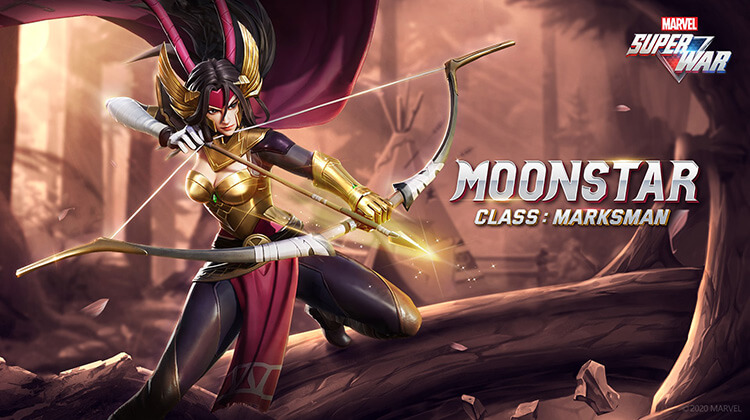 All Moonstar – Danielle Moonstar data has been collected. She will be joining you all in battle this week, and her skin, New X-Men, will be added to the Shop.
From today until 11:59:59 PM (GMT+8) on September 9, all Watchers can purchase the Moonstar Data Pack, as well as recruit this hero and unlock her skins! There's even a 20% off discount on this pack in its first week!
Latest Events
Special Offers
Event Duration: After maintenance on September 3, 2020 to September 23, 2020 (GMT+8)
Exclusive discounts have arrived. Come and claim your discount offers!
Receive various discounts on skins during the Special Offers event. A variety of wonderful skins can be purchased at super low prices! Spend up to a specified amount of Star Credits to get a special max discount!
Total Recharge Bonus
Event Duration: After maintenance on September 3, 2020 to September 23, 2020 (GMT+8)
When your total recharge amount reaches the specified amount, you'll obtain Skin Shards, Crystals, Brilliant Caskets, and other fantastic rewards!
S.H.I.E.L.D. Missions
Event Duration: After maintenance on September 3, 2020 to September 16, 2020 (GMT+8)
Event Details: All Watchers will earn Agent Points by completing daily quests during the event! Redeem fabulous rewards using your Agent Points at the Redemption Shop!
S.H.I.E.L.D. Recruitment
Event Duration: September 17, 2020 to September 23, 2020 (GMT+8)
Accumulate sign-ins during the event to unlock the corresponding rewards!
Adjustments and Optimizations
Optimized the display effects of Star Membership on the Interface.
Fixed a problem where some heroes' actual firing range is further than the range of their abilities.