Hero Spotlight
Mathilda is a support hero who can fly with allies. She has high mobility, incredible damage on single target and potential for solo killing.
Tips and Tricks
Ancestral Guidance (Passive)
Mathilda gains Ancestral Guidance while moving. When it is fully charged, her next Basic Attack will be enhanced, dealing extra Damage to the target and increasing her Movement Speed.
Tips: An increased movement speed enables Mathilda to roam more efficiently.
Soul Bloom (1)
Mathilda resonates with the power of ancestors and summons wisps that surround her. With the movement distance increased, more and more wisps will be attracted to her, capped at 6 wisps. After casting this skill or reaching the time limit, the power of ancestors will guide the wisps to attack nearby enemies and deal Damage.
Tips: Soul Bloom is Mathilda's major damage source. The damage scales with movement distance after casting this skill.
Guiding Wind (2)
Mathilda creates a field surrounding her and leaps forward. Upon landing, she gains a Shield and Movement Speed. The allied units who come in contact with this field will receive the same Shield also, and Guiding Wind: After using Guiding Wind, the hero will be guided to Mathilda, and both of them will gain the same Movement Speed. When using this skill during Circling Eagle, Mathilda will not change her position.
Tips: Guiding Wind makes Mathilda a helpful support hero by granting allies a Shield and ability to blink, which enriches teamfight tactics.
Circling Eagle (Ultimate)
Mathilda applies a Soul Mark to the targeted hero and then circles around the target for a while. During this period, wisps will rush to nearby enemies, each time dealing Magic Damage. After casting this skill or reaching the time limit, she will rush to the target, knocking back enemies on the path and stunning them. Mathilda gains control immunity and Shield during her circling.
Tips: Mathilda's Ultimate is versatile. Combined with Skill 1, it can maximize her damage. Combined with Skill 2, Mathilda can dash into battle together with allies and catch enemies unprepared.
Skill Combo
Solo Fight
Cast the 1st phase of "Soul Bloom"
Cast "Circling Eagle" on the enemy
After the rush of "Circling Eagle" ends, cast "Soul Bloom" again to deal high damage to the enemy
Team Fight
Cast the 1st phase of "Soul Bloom"
Cast "Guiding Wind" to grant allies an extra skill
Cast "Circling Eagle" on the enemy
Equipment and Emblem Set
Recommended Build: In terms of equipment items, this kit is recommended for Mathilda as a support hero, which boosts her damage, survivability and ability to assist.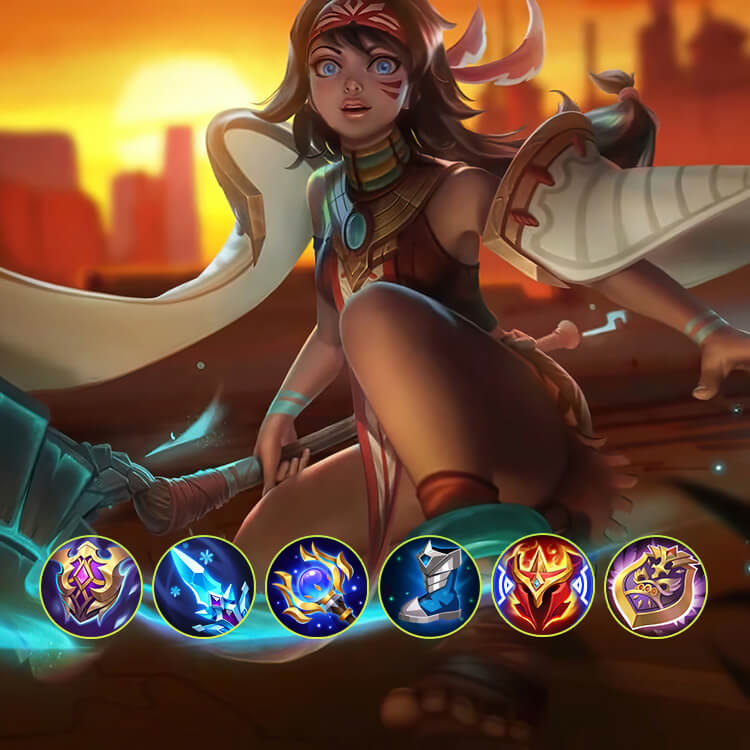 Battle Spell: In terms of Battle Spell, "Execute" and "Aegis" are recommended for Mathilda. "Execute" improves her damage output, and "Aegis" enhances her survivability.
Emblem: As for Emblems, we recommend Support Emblem (Agility – Rupture – Avarice). This can further boost Mathilda's Movement Speed based on the effects of her Passive and Skill 2, so that she can easily gain more wisps when using Skill 1.