Obtained equipment can be modified freely by Enchanting, Option Transmutation/Granting, etc. Equipment modification can also be used to produce further upgraded equipment.
Equipment Modification
Access by tapping the "Equipment Modification" icon at the top-right menu of the main screen.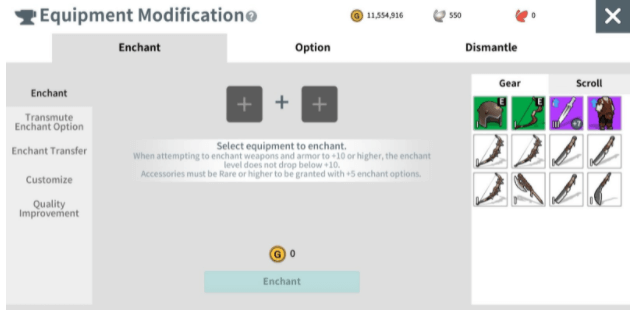 Enchant
Select the equipment to be enchanted then use Enchant Scrolls and Gold to enchant the equipment.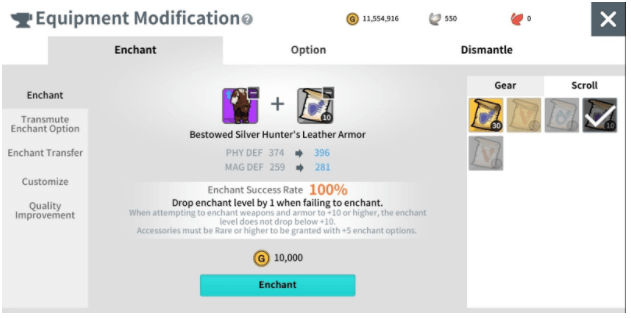 Use Blessed Enchant Scrolls to enchant by up to 2 levels.
Enchantment has a rate of success, and starting from +10 the enchant stage does not drop below 10.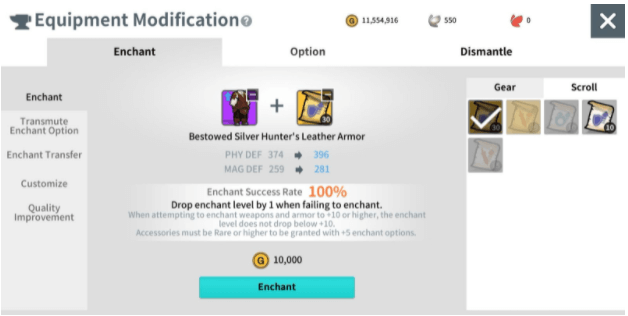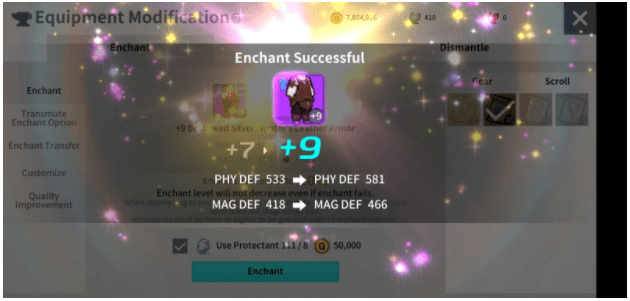 Check the box for Use Enchant Protectant to keep the enchant stage from dropping upon failure.
Enchant Transfer
Enchant Transfer is a function for transferring an enchant level to another piece of equipment.
Enchant Transfer using equipment that has been enchanted to +10 and higher can be performed by selecting Min Enchant Transfer for a +0 piece of equipment of the same type.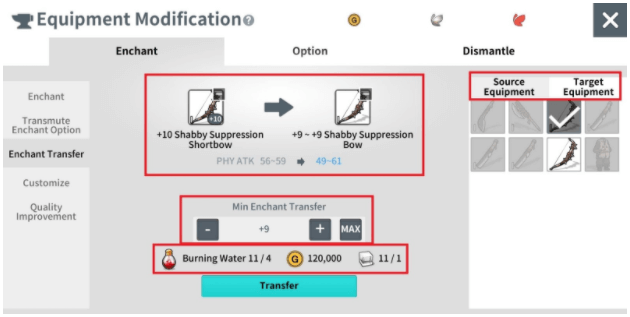 Equipment for receiving Enchant Transfer is only activated as Target Equipment if it is of a higher grade and has not been enchanted.
Transfer is only possible if the 2 pieces of equipment used to perform a transfer are of the same type. Ex. Staff → Staff = O / Staff → Two-Handed Sword = X.
The consumed quantity of Burning Water / Gold / White Lunarium items required for transfer changes the higher the Min Enchant Transfer is set.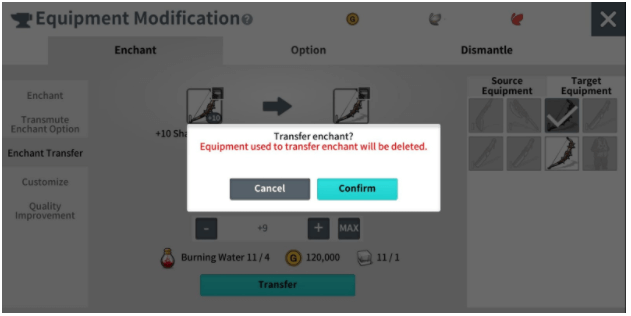 The equipment used for performing Enchant Transfer will be lost, so proceed carefully.
Dismantling
Various materials can be obtained by dismantling unused equipment. Materials obtained through dismantling can be utilized for crafting and equipment modification.
Select a grade for items to be dismantled to batch-dismantle all pieces of equipment of that grade.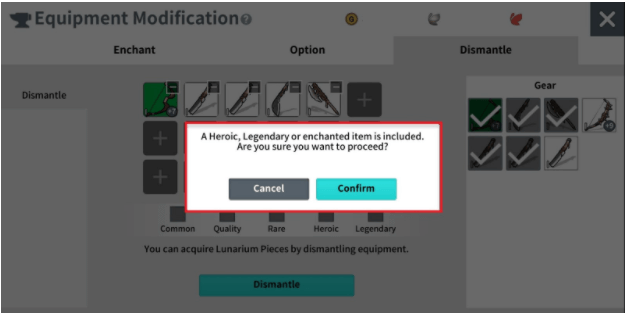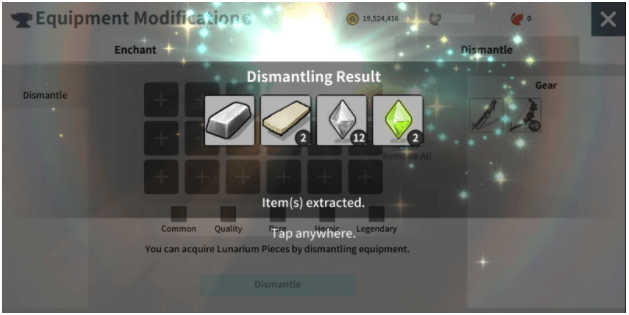 Take note!
Make sure to review the check boxes of hard-to-acquire Heroic /Legendary equipment items. Lunarium fragments can be crafted into Lunarium by using the Crafting Table of each village.
Fusion
A function for fusing Option Stones that are required to grant options. 3 Option Stones of the same grade can be used to produce a new Option Stone.
Fusion has a chance to produce Option Stones of a higher grade.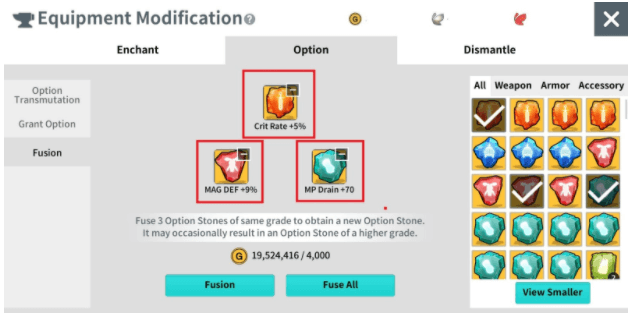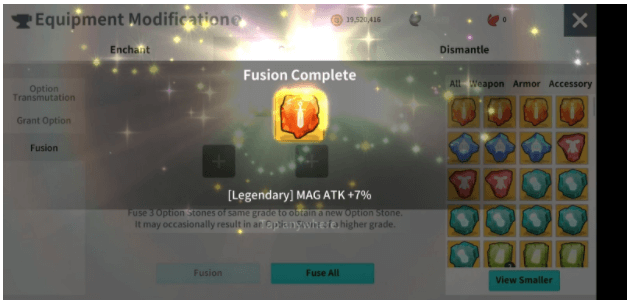 Option Transmutation
If you want to change the options of a piece of equipment, the selected equipment's options can be changed by spending Gold. When performing Transmute, all options from the "Transmutable Options" list are changed at random.
Not some, but all options will be changed at random. So please proceed carefully.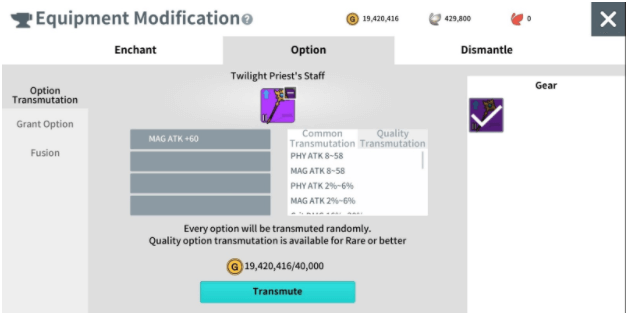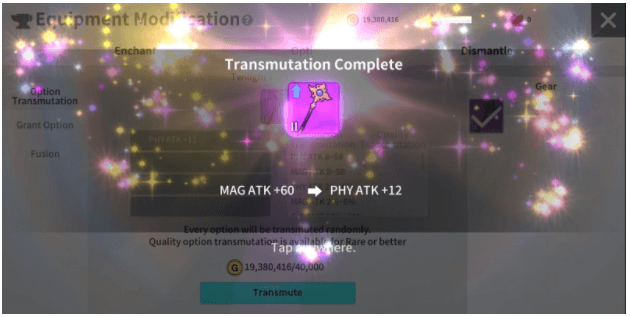 Granting Options
Select a piece of equipment to grant options to and select an Option Stone, then tap Grant Options to grant the equipment with the Option Stone's options.
Granting options costs Gold and Lunarium of the same equipment grade.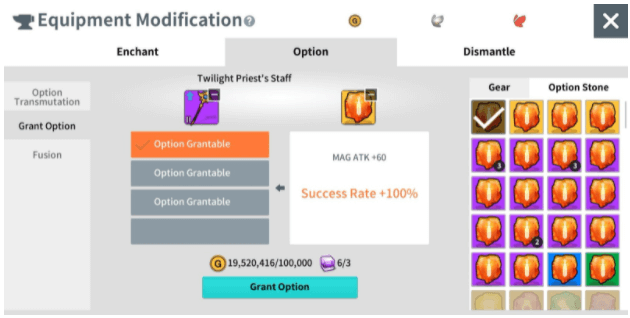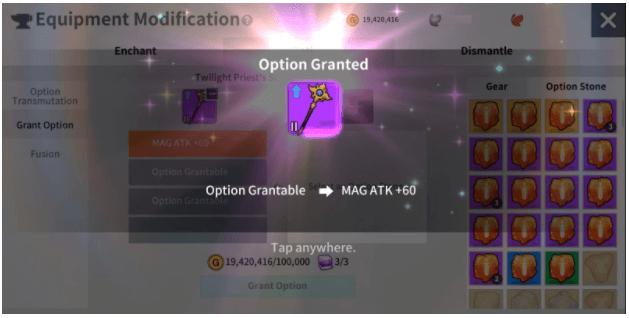 Granting options cost Gold and Lunarium of the same equipment grade, and Lunarium fragments obtained by dismantling equipment can be crafted into Lunarium by using the Crafting Table of a village.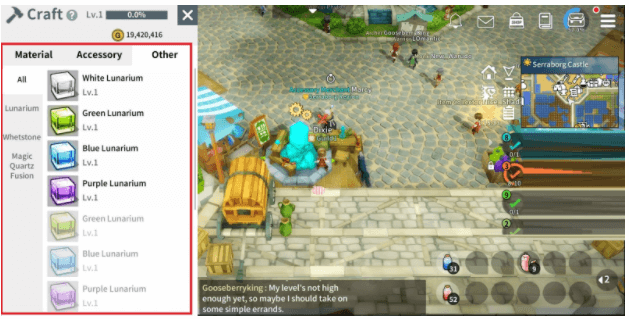 Customization
Increases the basic stats of equipment that is bound to you, and obtains improved equipment stats upon Customization.
The consumed quantity of Butterflies changes depending on the grade of the equipment to be customized.