Welcome to the notes for Update 3.0, where we share information about newest champion, game features, promotions, and other changes to Paladins Strike.
GENERAL
GAMEPLAY
New Currency: Champion Fragments. Earn Champion Fragments through daily Activity Chests and Awards to unlock new Champions.
Increased Gold output from Activity Chests.
Increased Gold output from 7 Day Log-In and Regular Sign-In Rewards.
Rune Chest UI has been moved from the Store to Runes menu.
Runes after level 6 also cost Gold to upgrade.
Runes can now be upgraded to level 20.
Added additional tutorial steps.
Added region select feature when creating a new account.
NEW SKINS
Ethereal Seris
Phantasm Seris
Ice Lord Zhin
Striker Viktor
Defender Terminus
Goal King Bomb King
Penalty Punisher Lex
BUNDLES
Seris Bundle: Includes Seris, Phantasm Skin, 5 Seris Rune Chests, and 10 Universal Cores.
Global Flag Bundle: Includes 79 Flag Avatars based on different country flags.
MYSTERY STORE
The Mystery Store has opened in the Shop.
The Mystery Store is filled with random discounted items.
Players can refresh the Mystery Store once daily for free.
Players can refresh the Mystery Store more times per day using Crystals.
LIMITED OFFER
The Limited Offer has returned with new goods to claim!
Obtain the Ice Lord Zhin Skin and Icy Visage Avatar!
Everyone gets a free roll!
BATTLE PASS
Introduction of Battle Pass which includes both a Free and Premium Track
Battle Pass 01
Super Battle Pass 01
2018 Season Pass
2018 Digital Deluxe Edition
BATTLE PASS CHALLENGES
Striker
Fanfare
Score a Goal
Overtime!
Red Card
For the Win!
TECHNICAL
Improved client performance when minor network loss occurs.
BUG FIXES
If there is local account data present, the initial login options will no longer show.
Kinessa can no longer shoot through certain walls.
Grover's 40% Damage and 40% Crit talents have been fixed to function properly.
Ying's attacks now penetrate enemy targets.
Zhin's Spite no longer leaves enemy in air if Zhin is killed during ability.
Fixed an issue where you couldn't rotate certain directional abilities after activation.
GAME BALANCE
BARIK
Base health reduced from 3800 to 3400.
Turret base health reduced from 1200 to 1000.
Barricade health changed from 4000 to 1500+60% Maximum Health.
BUCK
Recovery cooldown reduced by 2 seconds.
Recovery healing changed from 1500 to 500+30% Maximum Health.
CASSIE
Base health increased from 2200 to 2350.
Dodge Roll cooldown increased by 1 second.
FERNANDO
Flame Lance damage reduced from 250 to 200.
Flame Lance shooting interval between blasts increased.
Shield health changed from 3500 to 1000+60% maximum health.
GROHK
Healing Totem heal amount from 250 to 125+5% Maximum Health.
GROVER
Whirlwind healing change from 350 to 200+5% Maximum Health.
KINESSA
Increased Reload Speed by 30%.
Sniper Mode damage reduced from 1000 to 800.
LEX
Combat Slide distance increased by 25%.
MAEVE
Base health reduced from 2600 to 2400.
MAKOA
Shell Shield cooldown reduced by 2 seconds.
Shell Shield health changed from 5000 to 2500+60% Maximum Health.
MAL'DAMBA
Mending Spirits healing changed from 1200 total to 50+2% Maximum Health per tick.
Mending Spirits duration increased from 4 seconds to 6 seconds.
Mending Spirits cooldown increased from 6 seconds to 8 seconds.
PIP
Base health reduced from 2400 to 2200.
Reduced Movement Speed by 5%.
Healing Potion healing changed from 800 to 400+15% Maximum Health.
Enhancement Potion reduces Movement Speed bonus from 50% to 35%.
RUCKUS
Emitter cooldown increased by 3 seconds.
Emitter absorbs changed from 2000 to 800+30% Maximum Health.
TERMINUS
Calamity Blast range increased by 20%.
Power Siphon damage required to store a charge reduced from 1000 to 750.
VIKTOR
Base health increased from 2600 to 2800.
YING
Base health reduced from 2500 to 2400.
Illusory Mirror damage reduced from 200 to 170.
Illusion heal amount changed from 200 to 50+2% Maximum Health.
Illusory Rift heal amount changed from 500 to 250+5% Maximum Health.
ZHIN
Inferno Blade Flame Strike damage reduced from 400 to 350.
Counter attack damage reduced from 500 to 350
Counter interval reduced from 0.8 seconds to 0.4 seconds.
NEW CHAMPION: SERIS
Seris is a mystical support who excels at setting up kills for her teammates.
ABILITIES
| Name | Description |
| --- | --- |
| Soul Orb | Fires 3 Soul Orbs forward, each dealing 500 area damage and penetrating enemies. |
| Restore Soul | Fires 3 healing orbs forward, each healing HP equal to 200+15% maximum health to allies on impact. |
| Shadow Travel | Travel in shadow and enter stealth for 3 seconds. |
| Convergence | Throw a soul core forward that drags all nearby enemies into its center after a brief delay, dealing 500 damage and immobilizing them for 1.5 seconds. |
TALENTS
Level up to active a talent. You can level up 5 times, and each time you level up you can select from a set of two different talents.
| | | |
| --- | --- | --- |
| Gain 20% area damage reduction | 2 | Movement Speed increases by 20% |
| Basic Attacks deal 15% more damage | 3 | Shielding and Healing increased by 30% |
| Recovery increases by 30% | 4 | Max Health increased by 25% |
| CC Duration reduced by 50% | 5 | Gain 25% Basic Attack Damage Reduction |
| Ability Cooldowns reduced by 35% | 6 | Ultimate Charges 200% Faster |
SKINS
Ethereal (Unlocked in Awards).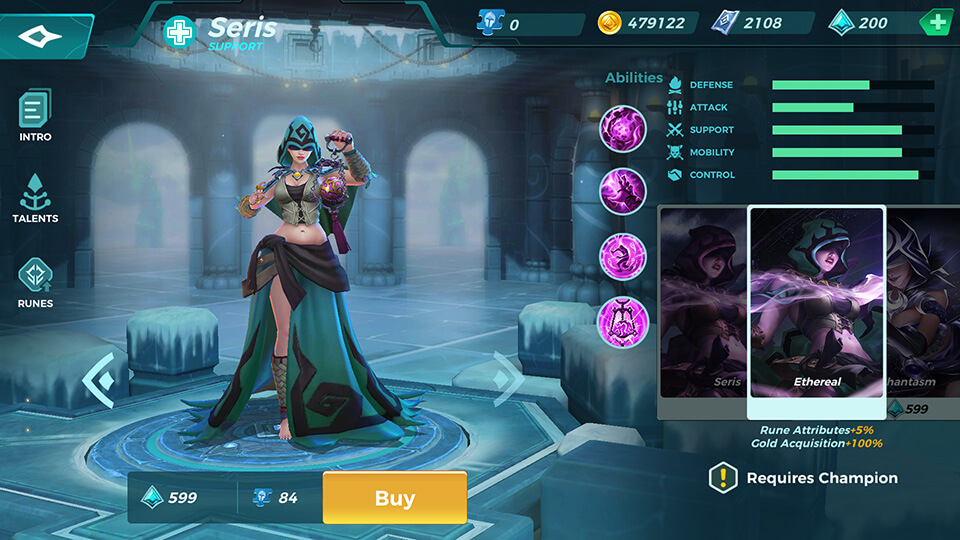 Phantasm (Unlocked with Crystals).