Mal'Damba is a support champion who excels at zoning out opponents while also shaping the battlefield into a safe area for his allies. Players looking to excel with Mal'Damba will need to learn to master his Snake Toss reload mechanic to help lock down the enemy team.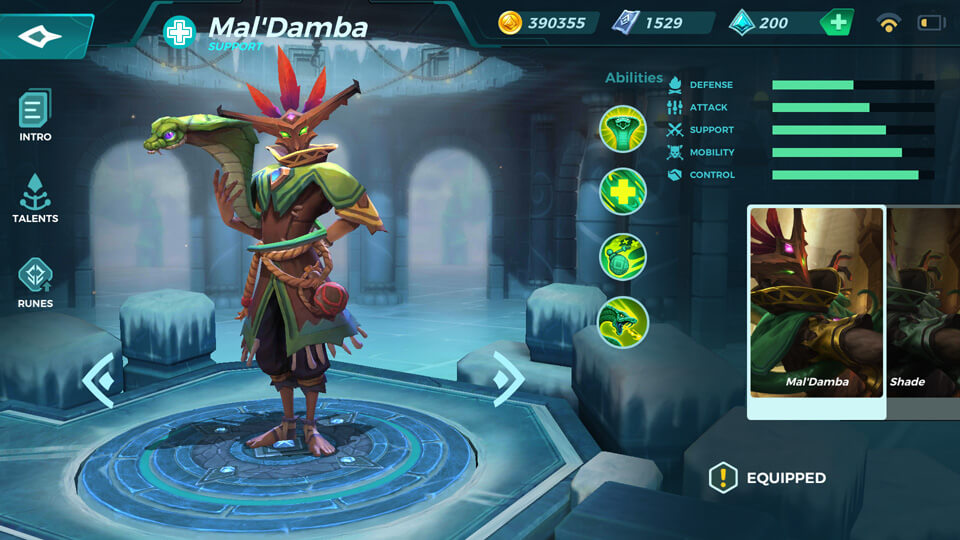 ABILITIES
| Name | Description |
| --- | --- |
| Spitting Cobra | CD: 0.8s. Fires a beam of 3 globs of venom forwards, each dealing 200 damage when hitting enemies. Bonus Damage: Mal'Damba throws a Spitting Cobra forward when his ammo recovers from 0 to 1. The enemy hit by snake takes damage and is stunned. |
| Mending Spirits | CD: 6s. Summon a spirit to heal the closest ally for 1200 Health over 4s. |
| Gourd | CD: 16s. Movement speed is increased by 50%, and Mal'Damba leaves behind a trail of venom when moving that restores 400 health to allies every seconds and deals 400 damage to enemies every second. Lasts for 5 total seconds. |
| Death Serpent | CD: Engery Gained. Fire a dark vessel that explodes when it lands, fearing enemies on impact for 2s. |
TALENTS
Level up to active a talent. You can level up 5 times, and each time you level up you can select from a set of two different talents.
| | | |
| --- | --- | --- |
| Movement speed increased by 20% | 2 | CC duration reduced by 50% |
| Ability cooldowns reduced by 20% | 3 | Gain 25% basic attacks damage reducion |
| Basic attacks deal 40% more damage. | 4 | Gain 20% area damage reducion |
| Shield and healing increased by 30% | 5 | Max health increased by 35% |
| Ultimate charges 200% faster | 6 | Critical Chance increases by 40% |
SKINS
Apophis (Unlocked by Crystals)