Tyra is a fierce huntress who can use her rifle and Nade Launcher to take out high-health targets. She can also help the team by making a piority target with Hunter's Mark or holding an area with Fire Bomb.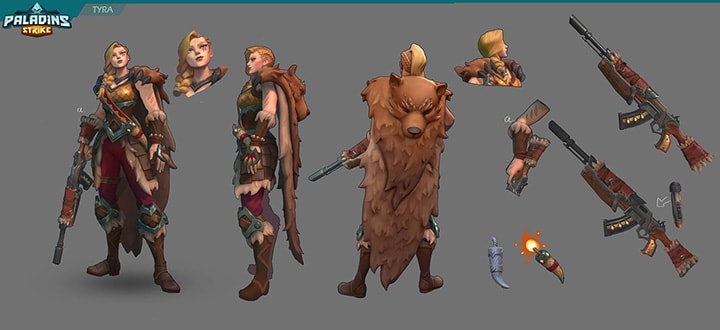 ABILITIES
| Name | Description |
| --- | --- |
| Auto Rifle | Fire rapidly dealing 45 damage per shot. Bonus Damage: Basic attacks have 30% Lifesteal. Cooldown: 0.15s. |
| Nade Launcher | Fire a grenade that deals 240 damage in a small area. Cooldown: 8s. |
| Fire Bomb: | Hurl an incendiary device that leaves a pool of fire for 6s. Enemies that contact the fire will burn for 6% of the maximum health over 0.6s. Recovery also reduces by 50%. Continued contact refreshes this effect. Cooldown: 12s. |
| Hunter's Mark | Mark an enemy for 6s. Marked enemies are revealed and take 15% increased damage from your basic attacks. Cooldown: 15s. |
| Crossfire | Gain 40% attack speed and 40% movement speed for 4.5s. Firing does not consume ammo. |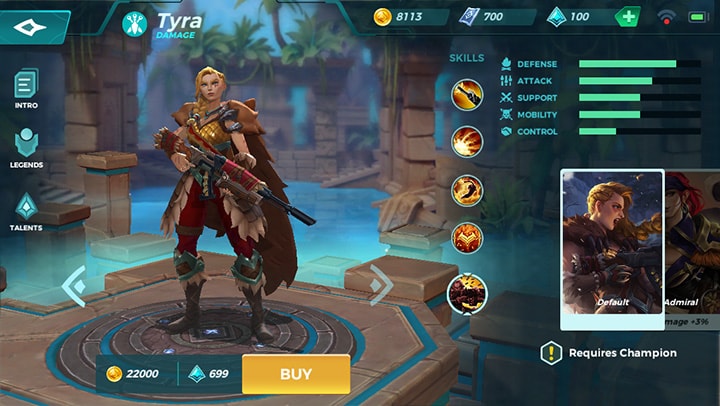 RUNES
| Name | Description |
| --- | --- |
| Mercy Kill | Nade Launcher deals up to 100% additional damage based on the target's missing health. |
| Spreading | New pools of fire will spread when enemies are damaged by Fire Bomb. |
| Hunting Party | Hunter's Mark's bonus damage increases to 25% and now also benefits allies. |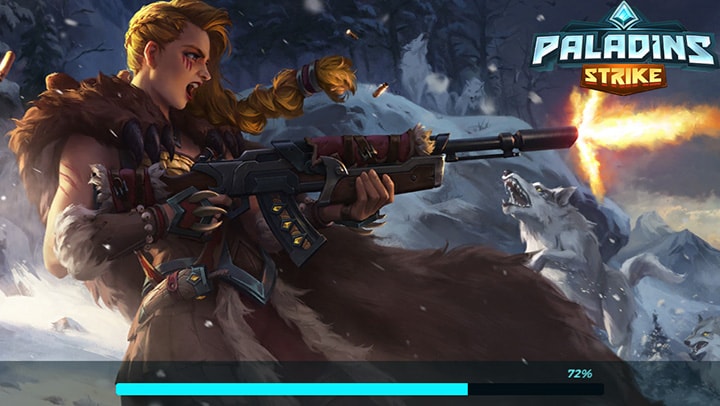 TALENTS
Level up to active a talent. You can level up 5 times, and each time you level up you can select from a set of two different talents.
| | | |
| --- | --- | --- |
| Basic attack reduce healing by 50%. | 2 | Reload 50% faster. |
| Max health increases by 25%. | 3 | Recovery increases by 25%. |
| Critical Chance increases by 20%. | 4 | Gain 25% area damage reduction. |
| Movement speed increases by 30%. | 5 | CC duration reduced by 50%. |
| Critical Damage increased to 200%. | 6 | Basic attacks deal 35% more damage. |
SKINS
Snow (Unlocked in Awards)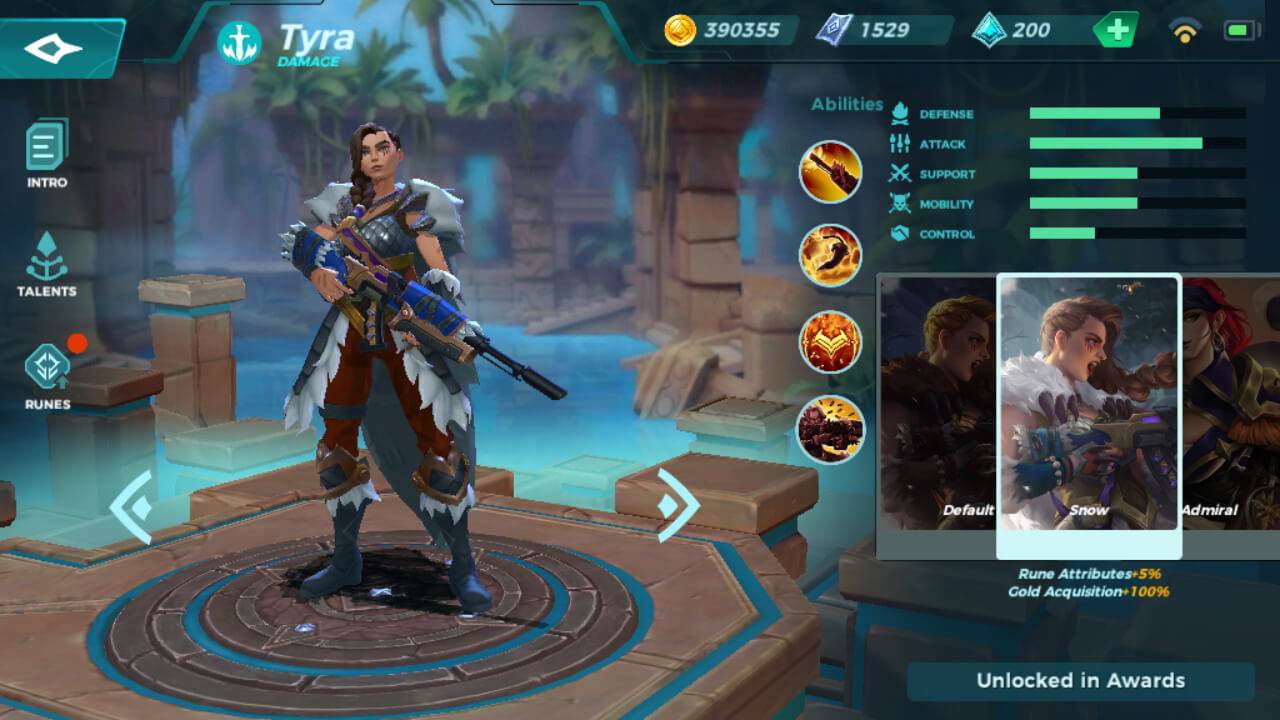 Admiral (Unlocked by Crystals)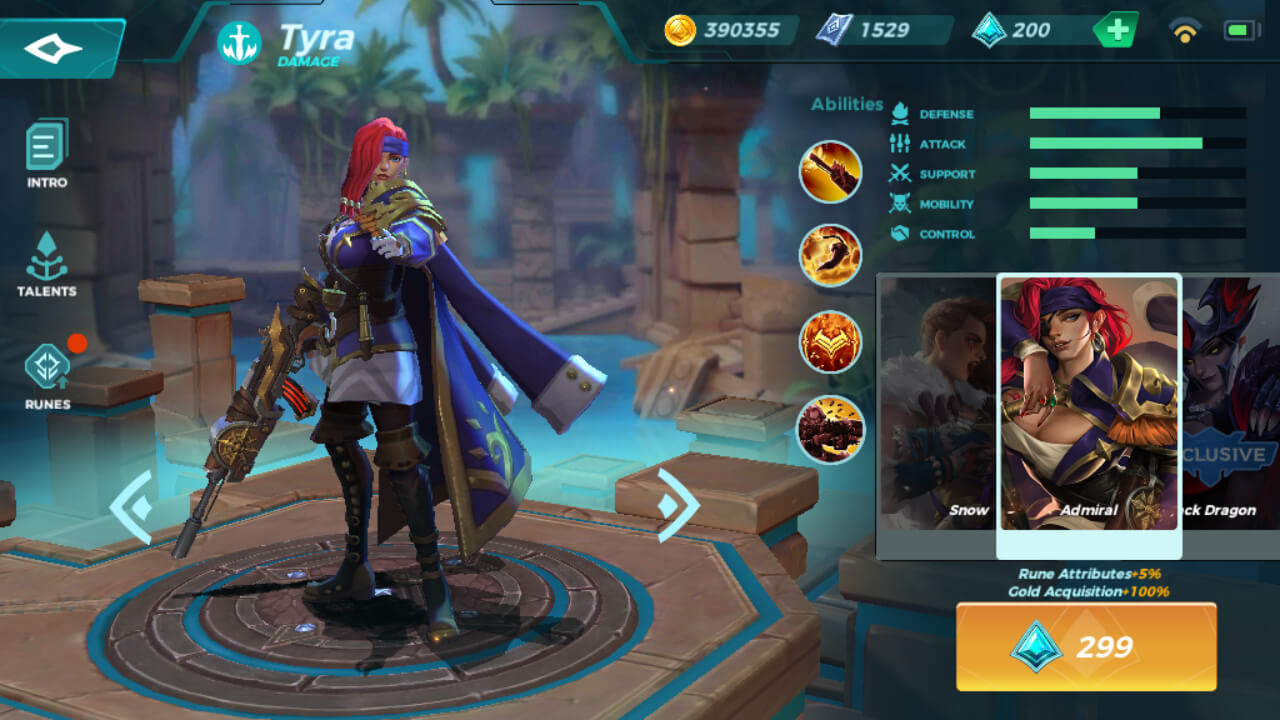 Black Dragon (Event Limited)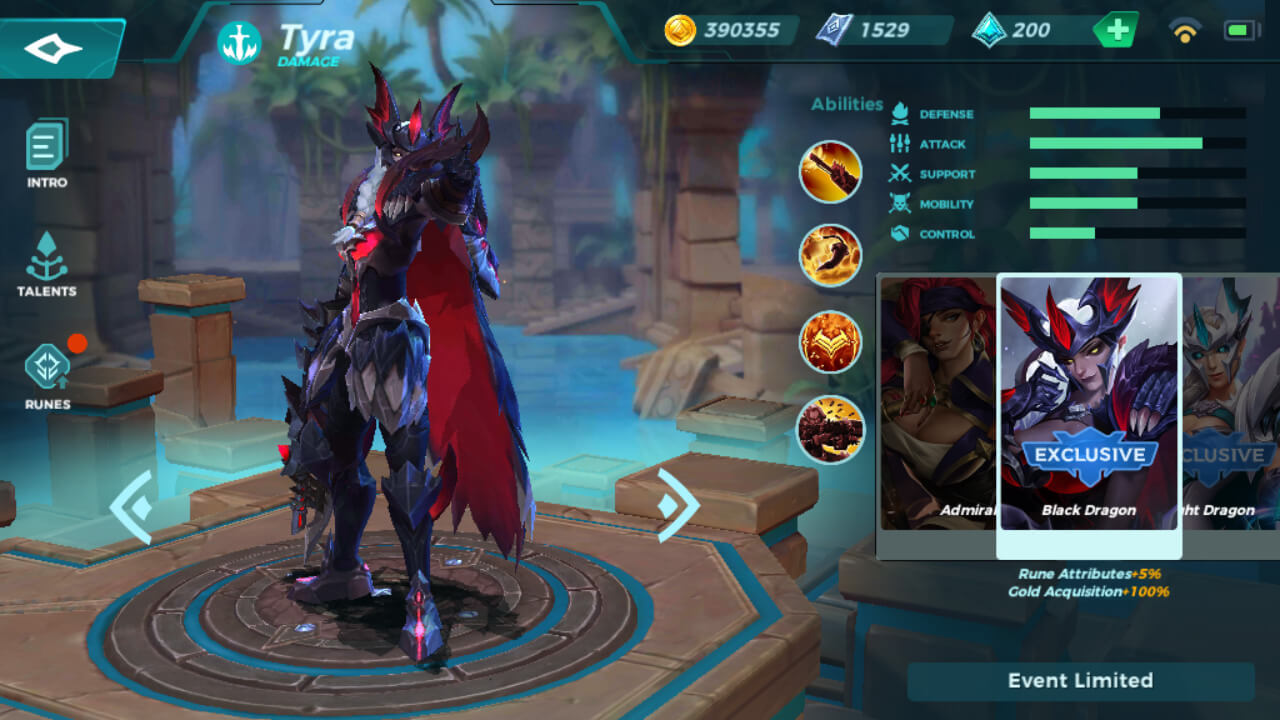 Light Dragon (Event Limited)