List of Fish
Fish
Location
Requirement
Recommended Bait
Use
Carp
Prontera South Gate
Fishing Lv.1
Beginner Fishing Bait
Steamed Egg n' Fish I
Turquoise
Prontera South Gate
Fishing Lv.1
Green Cotton Larvae
Carnium I
Cobblestone
Prontera South Gate
Fishing Lv.1
Rat Tail
Bascyx I
Water Weed
Prontera South Gate
Fishing Lv.1
Beginner Fishing Bait
Aquatic Salad I
Shell
Prontera South Gate
Fishing Lv.1
Rattan
Phracon I
Frog
Prontera South Gate
Fishing Lv.1
Beginner Fishing Bait
Nutritious Frog Meat I
Giant Tiger Prawn
Prontera South Gate
Fishing Lv.1
Beginner Fishing Bait
Mandragora Prawns I
Lotus Seedpod
Prontera West Gate
Fishing Lv.2
Beginner Fishing Bait
Mixed Congee I
Conch
Prontera West Gate
Fishing Lv.2
Poison Spore
STR Stone I
VIT Stone I
White Cloud Fish
Prontera West Gate
Fishing Lv.2
Spawn
AGI Stone I
LUK Stone I
Grass Carp
Prontera West Gate
Fishing Lv.2
Beginner Fishing Bait
Fish Fillet I
Pure-water Sturgeon
Prontera West Gate
Fishing Lv.2
Hedgehog Skin
INT Stone I
DEX Stone I
Crucian Carp
Prontera West Gate
Fishing Lv.2
Beginner Fishing Bait
Fish Soup with Frog Legs I
River Crab
Prontera West Gate
Fishing Lv.2
Beginner Fishing Bait
Fly Leg Folk Remedy I
Catfish
Sograt Desert
Fishing Lv.3
Beginner Fishing Bait
Crispy Fish I
Crayfish
Sograt Desert
Fishing Lv.3
Beginner Fishing Bait
Prawn-on-a-Stick I
Krill
Sograt Desert
Fishing Lv.3
Beginner Fishing Bait
Delicious Prawns I
Hardshell Crab
Sograt Desert
Fishing Lv.3
Elder Pixie's Moustache
Carnium II
Vulcanfish
Sograt Desert
Fishing Lv.3
Yoyo Tail
Phracon II
Emberfish
Sograt Desert
Fishing Lv.3
Spiderweb
Bascyx II
Snakewater
Sograt Desert
Fishing Lv.3
Beginner Fishing Bait
Fresh Snake I
Freshwater Snail
Labyrinth Forest
Fishing Lv.4
Beginner Fishing Bait
Sour Conch I
Bass
Labyrinth Forest
Fishing Lv.4
Beginner Fishing Bait
Fish n' Crab I
Maple Fish
Labyrinth Forest
Fishing Lv.4
Guiding Grass
Blessed Bradium I
Sheer Marina
Labyrinth Forest
Fishing Lv.4
Rot Root Grass
Blessed Oridecon I
Sand-swallower
Labyrinth Forest
Fishing Lv.4
Stoneheart Shroom
Blessed Elunium I
Starlight Snail
Labyrinth Forest
Fishing Lv.4
Coagulated Egg
Enriched Elunium
Pipefish
Labyrinth Forest
Fishing Lv.4
Beginner Fishing Bait
Bitter Fish I
Night Pearl
Labyrinth Forest
Fishing Lv.4
Earthworm Peeling
Enriched Bradium
Glowfish
Labyrinth Forest
Fishing Lv.4
Ant Egg
Enriched Oridecon
Mystic Mussel
Underwater Cave
Fishing Lv.5
Dokebi Tooth
Bascyx III
Butterfly Cowrie
Underwater Cave
Fishing Lv.5
Nose Ring
Phracon III
Whitefeather Cowrie
Underwater Cave
Fishing Lv.5
Charming Eye
Carnium III
Tuna
Underwater Cave
Fishing Lv.5
Beginner Fishing Bait
Tuna Sashimi I
Squid
Underwater Cave
Fishing Lv.5
Beginner Fishing Bait
Fried Eggs with Squid I
Hairtail
Underwater Cave
Fishing Lv.5
Beginner Fishing Bait
Fish Stew I
Tube-eye
Payon East Forest
Fishing Lv.6
Serrated Tooth
STR STone II
VIT Stone II
Arowana
Payon East Forest
Fishing Lv.6
Beginner Fishing Bait
Fragrant Arowana Fillet I
Silver Carp
Payon East Forest
Fishing Lv.6
Beginner Fishing Bait
Carp Bento I
Giant Shrimp
Payon East Forest
Fishing Lv.6
Beginner Fishing Bait
Sashimi Platter I
Soldierfish
Payon East Forest
Fishing Lv.6
Curly Shell
AGI Stone II
LUK Stone II
Rainbow Coral
Payon East Forest
Fishing Lv.6
Swirly Shell
INT Stone II
DEX Stone II
Pufferfish
Payon East Forest
Fishing Lv.6
Beginner Fishing Bait
Fresh Pufferfish I
Trout
Munak Cave 1F
Fishing Lv.7
Beginner Fishing Bait
Salt-baked Trout I
Pupa Sulcata
Munak Cave 1F
Fishing Lv.7
Singing Plant
Blessed Bradium II
Gray-shell Mussel
Munak Cave 1F
Fishing Lv.7
Beginner Fishing Bait
Grilled Clams I
Devilfish
Munak Cave 1F
Fishing Lv.7
Ash Flea
HD Oridecon
River Eel
Munak Cave 1F
Fishing Lv.7
Beginner Fishing Bait
Marinated Eel I
Armored Crab
Munak Cave 1F
Fishing Lv.7
Winter Cherry
Blessed Elunium II
Clearwater Pearl
Munak Cave 1F
Fishing Lv.7
Small Beehive
HD Bradium
Ghostfish
Munak Cave 1F
Fishing Lv.7
Green Rotten Meat
HD Elunium
Dusk Fish
Munak Cave 1F
Fishing Lv.7
Aquatic Reed
Blessed Oridecon II
Piranha
Orc Dungeon
Fishing Lv.8
Beginner Fishing Bait
Mysterious Canned Fish I
Green-backed Fish
Orc Dungeon
Fishing Lv.8
Beginner Fishing Bait
Shredded Fish Rice Ball I
Crystal Acanthodean
Orc Dungeon
Fishing Lv.8
Rusty Nail
Bascyx IV
Yellow Mantis Shrimp
Orc Dungeon
Fishing Lv.8
Beginner Fishing Bait
Smoked Dragon Meat I
Hunter Fish
Orc Dungeon
Fishing Lv.8
Creeping Thorn
Carnium IV
Swordfish
Orc Dungeon
Fishing Lv.8
Ash Bug
Phracon IV
Blind Loach
Orc Dungeon
Fishing Lv.8
Beginner Fishing Bait
Spicy Fried Loach I
Iron-eating Tortoise
Glash Heim
Fishing Lv.9
Bloodstained Plate
STR Stone III
VIT Stone III
Oyster
Glash Heim
Fishing Lv.9
Beginner Fishing Bait
Juicy Oyster Meat I
Mantra Fish
Glash Heim
Fishing Lv.9
Tattered Page
INT Stone III
DEX Stone III
Deepwater Frog
Glash Heim
Fishing Lv.9
Beginner Fishing Bait
Heated Roast Frog I
Sand Shrimp
Glash Heim
Fishing Lv.9
Beginner Fishing Bait
Shrimp Meatball I
Fairy Squid
Glash Heim
Fishing Lv.9
Ornament Ball Fragment
AGI Stone III
LUK Stone III
Silver Bream
The Major City of Aldebaran
Fishing Lv.10
Beginner Fishing Bait
Sea Bream Skewer I
Crow Crab
The Major City of Aldebaran
Fishing Lv.10
Long Tongue
Bascyx V
Sugar Marina
The Major City of Aldebaran
Fishing Lv.10
Sticky Rice Squares
Carnium V
Rust Striped Fish
The Major City of Aldebaran
Fishing Lv.10
Rusty Mushroom
Blessed Oridecon III
Incense Fish
The Major City of Aldebaran
Fishing Lv.10
Fragrant Vine
Blessed Elunium III
Sharp Kiss Fish
The Major City of Aldebaran
Fishing Lv.10
Delusional Flower
Blessed Bradium III
Houndstooth Sturgeon
The Major City of Aldebaran
Fishing Lv.10
Wood Shavings
Phracon V
Veiled Shark
The Major City of Aldebaran
Fishing Lv.10
Fishy Herb
High Density Oridicon
Magnetic Crystal
The Major City of Aldebaran
Fishing Lv.10
Noisy Spare Parts
High Density Bradium
Salt Crab
The Major City of Aldebaran
Fishing Lv.10
Beginner Fishing Bait
Salt-baked Crab Pot I
Lizard Eel
The Major City of Aldebaran
Fishing Lv.10
Gray Egg
High Density Elunium
Sardine
The Major City of Aldebaran
Fishing Lv.10
Beginner Fishing Bait
Witchy Fish Fillet I
Fishing Locations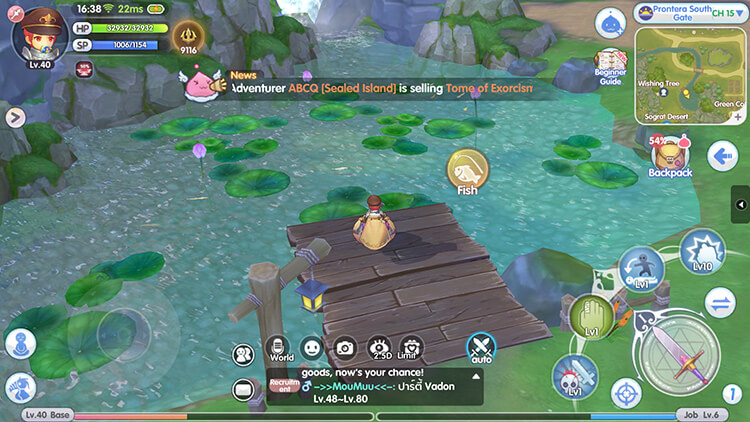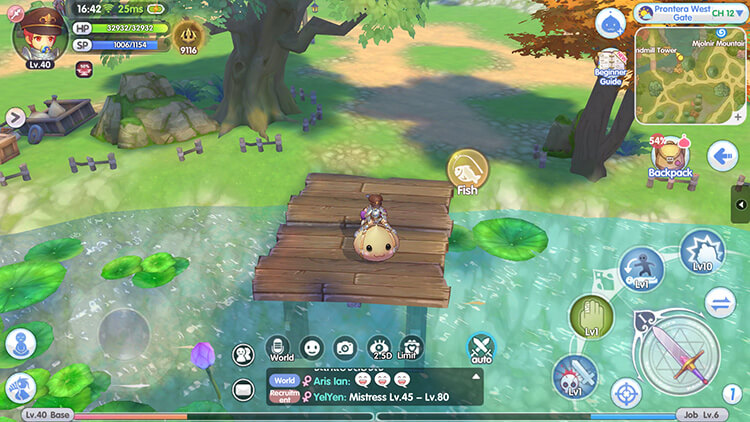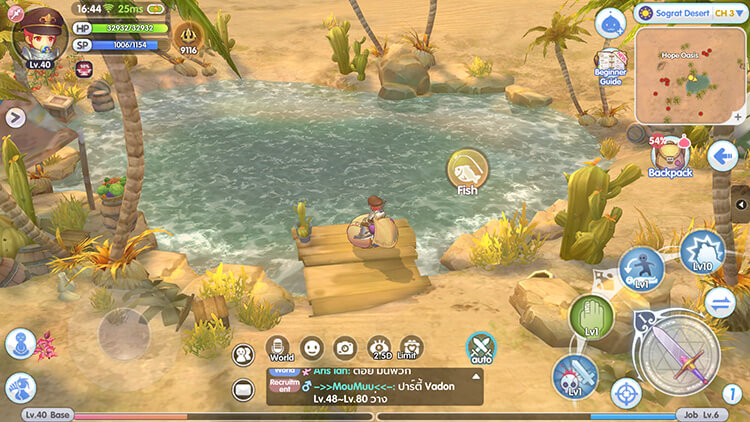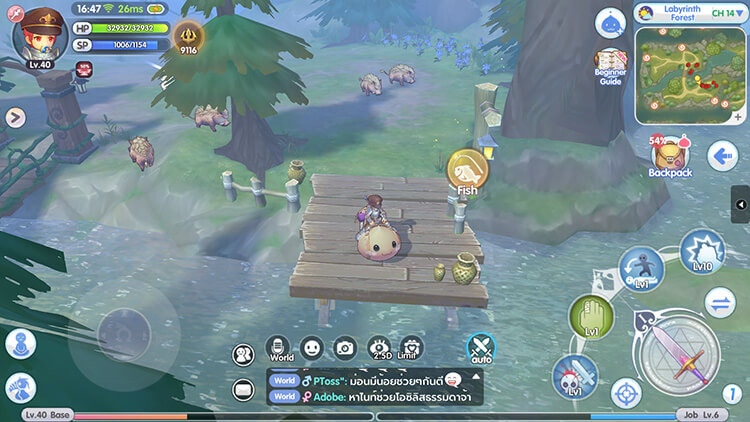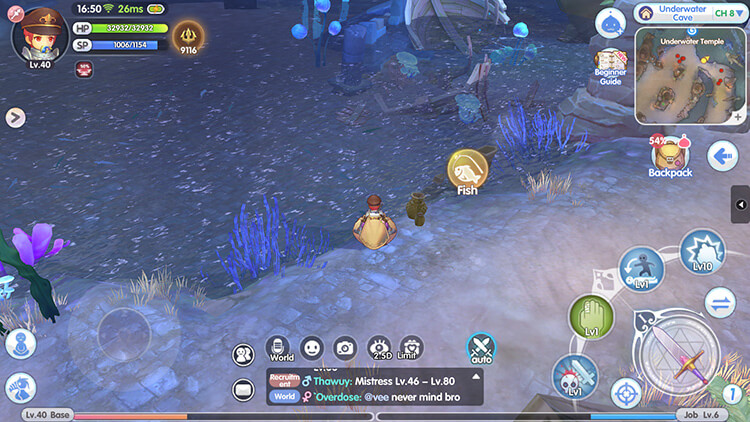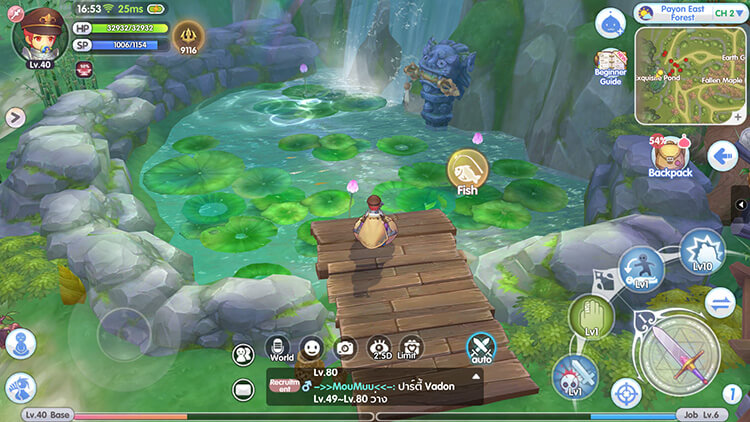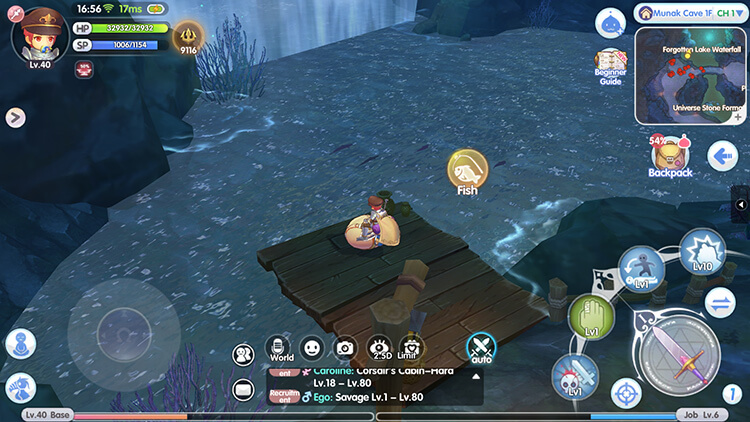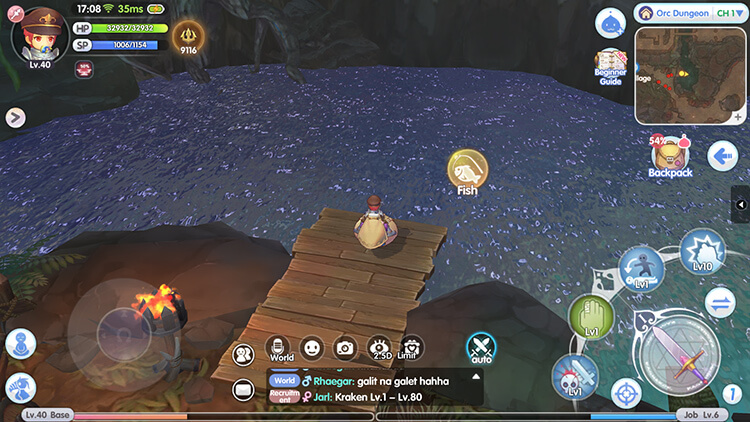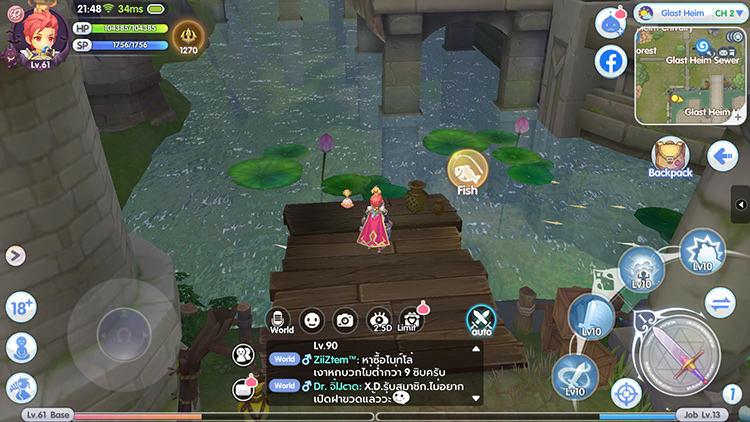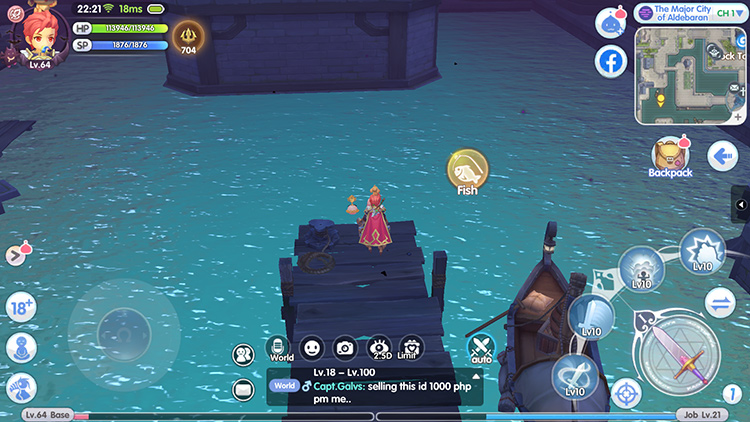 How to get started
In the main screen, tap to Life > Fishing > Select fish type which do you want then tap to location to fishing. Each different type of fish will require different fishing level.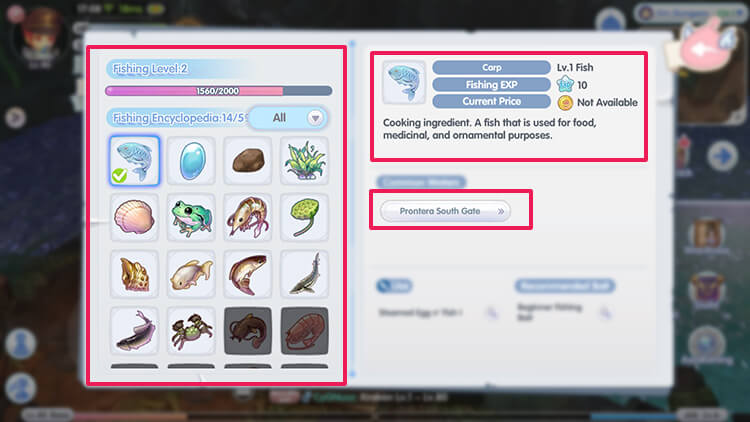 When you go to fishing location, tap Fish button to start fishing.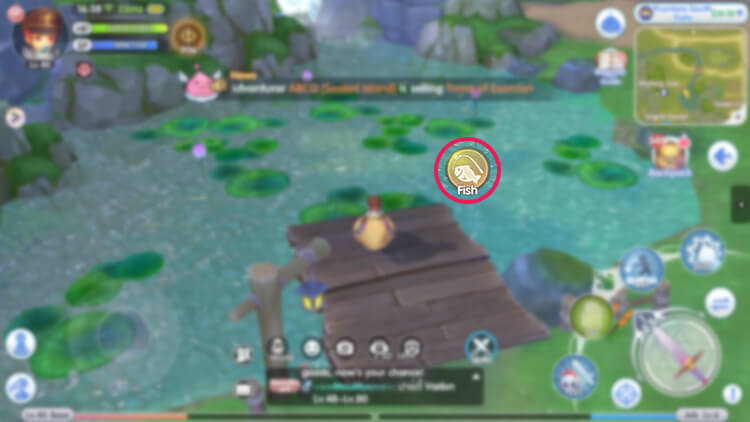 At here, you can change bait and rod. If you use Wooden Fishing Rod, you must press Cast button to catch fish. If you use Automatic Fishing Rod, it will automatically catch fish.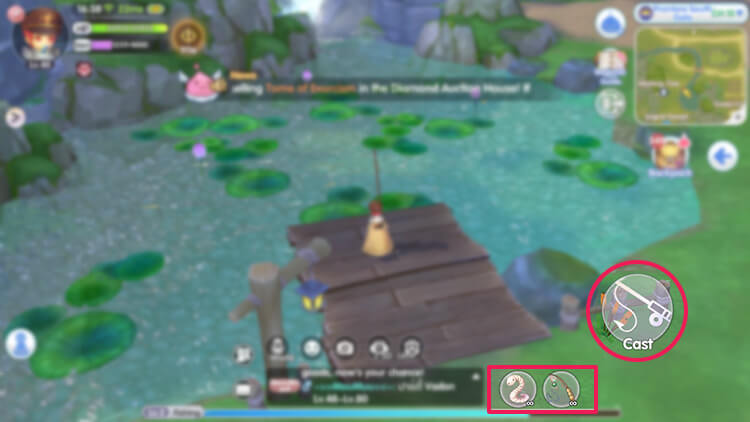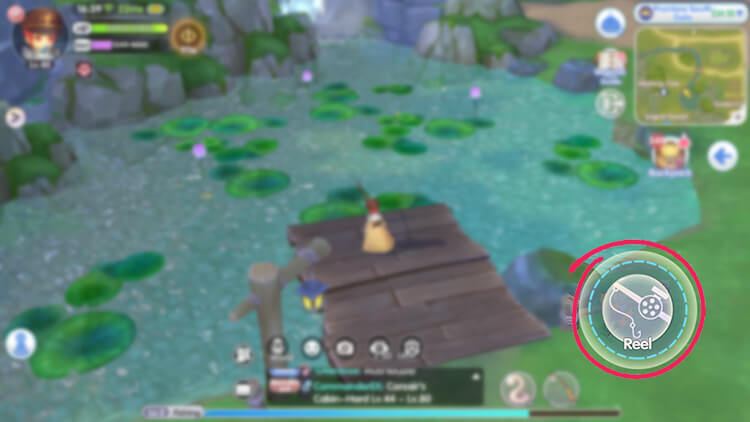 You can purchase Automatic Fishing Rod from NPC Xavier in Prontera South Gate with 20 Fish Print Commemorative Coin. Fish Print Commemorative Coins are rewards for Magic Bait Fishing Contest by Xavier.