ESL's first minor for the upcoming year, ESL One Genting 2018 powered by Intel, is just a little bit over a month away, and with FNATIC wrapping up the cycle of direct invites to the event, let's have a deeper look into the invited teams.
The event's playoffs will feature a Single Elimination format while all matches at the live event will be Best of Three with the Grand Finals being played at a Best of Five format. The 8 invited and 8 qualified teams will compete against each other for the lion's share of the staggering $400,000 prizepool and 400 Pro Circuit Points (200, 120 and 40 distributed accordingly to spots 1-4).
Virtus.pro
The strong performance of the Russian squad during The International 2017 in combination with their top spot finish at ESL One Hamburg 2017 pretty much sealed their spot at the Arena of Stars next month in Genting.
The squad is currently placed at the silver pedal of the Pro Circuit, behind Team Secret and next to Team Liquid. Since the brackets have not been drawn yet, it is way too early to make any predictions as to how the team will score against the other competitors, but the breeze for a run they had during this season's first major in Hamburg and their golden medal at The Summit 8, do provide promising signs for the team's chances to win this minor.
Now, that is not to say that VP will have an easy run at Genting as well. Following their win at Hamburg, the squad has been performing quite shaky, highlighted by their mediocre finish at DreamLeague Season 8 Major at Jönköping. The squad didn't manage to overcome the obstacle called Liquid at the Upper Bracket and got kicked down at the semi finals where their clash with EG crashed their hopes for another Major top spot finish. Immediately after that VP found themselves losing to TNC at MDL Macau with an admittedly disturbing 2-0.
Team Liquid
It is just impossible to see any event without Team Liquid getting into it one way or another. Since the start of 2017 the squad has obtained 10 golden, 2 silver and 2 bronze medals in 16 tournaments. The TI7 winners have exhibited extremely consistent performance in almost every single event they participated, which in turn lead to them occupying the second spot at the Pro Circuit rankings, just below Team Secret.
Team Liquid, alongside Secret, have the highest chances of taking those sweet 200 points home, as they have been alternating at the top spots of recent events. With the exception of GH who was added to the main roster last January, the squad has had one of the most stable and consistent rosters when compared towards other competitors.
We still have to see though whether Liquid will manage to redeem themselves against Secret, as the latter ones sweeped through them with a fast 3-0 during DreamLeague's Season 8 Major event.
Newbee
Newbee's direct invite didn't come as a surprise to anyone. Alongside Vici Gaming they are the top chinese team, they came second at The International and in general have been showing an astonishing round of results throughout the past year.
The squad is currently having one of their best seasons ever. Following their silver spot finish at the International, they managed to score a number of 2nd and 3rd place finishes which culminated in them snatching The Perfect World Masters first place out of Vici Gaming's hands. They are currently comfortably sitting at the 4th place of the Dota Pro Circuit rankings, having roughly 200 points more than their runner ups, Evil Geniuses.
Despite everything though, December hasn't treated Newbee fairly. Their disappointing appearance at DreamLeague's Season 8 major left them standing with a poor 33% win ratio, having lost to both Secret and Na'Vi. Their most recent appearance showed that Chinese former TI winner might have been exhausted with all the consecutive appearances they had to make. They are sitting at point where they must choose to either lay back and pull themselves together or give it all they have and try for the best possible outcome in their upcoming appearances.
Mineski
Mineski became the first team from SEA to receive a direct invite to ESL One Genting 2018. The squad had an exceptional start to this season, with a first place finish at PGL Open Bucharest and a silver medal at the StarLadder iLeague Invitational Season 3, which subsequently earned them a chance to compete at the Arena of Stars this January.
Mineski though certainly had it really rough during 2017. They didn't manage to score any major finishes, as they've seen a barrage of 5th to 8th finishes in almost every event they competed. That, in combination with the continuous reforms they had to undergo throughout 2017 have set them back. Undoubtedly, it is of crucial importance to find a roster that will eventually work out, but swapping out players that often doesn't allow for any bonding to happen.
Mineski's roster has the potential to shine in Genting but they must sit down and train properly before taking any challenges.
Evil Geniuses
It goes without saying that Evil Geniuses is a team with respectable force that has to be reckoned with. Former TI winners, top spot finishes in countless events and with a top of the notch roster that bestows fear to any opponent they get to face! That being said, and taking into consideration their third spot at DreamLeague's major, it shouldn't surprise anyone that Arteezy's gang gets to go to Genting this January.
Currently sitting just a few points above Mineski at the Pro Circuit rankings, the NA team has had a brilliant run at DreamLeague, where they eventually succumbed to Liquid's dominance. The real issue that is hidden though, is whether EG will be able to surpass either Secret or Liquid. Not only that, but January is expected to be a really full month for the squad, as they are off to start the new year with Captains Draft Minor and Galaxy Battles II Major.
It seems like the hunger for more points has made EG a little bit desperate and subsequently tired. They are certainly not delivering the results they expected as, with the exceptions I previously mentioned, all they've seen is a series of mediocre results. In an attempt to normalize their course to date, Evil Geniuses moved to a particular set of roster changes. MiSeRy, one of the most accomplished players of all times, stepped into the team as team captain, while the squad also recruited BuLba as their head coach. At the same time, UNiVeRsE has also been released from the team, a move which is raising doubts as to whether the team is moving to the right direction or not. UNiVeRsE had an astonishing 63.05% in a total of 1061 (!) games with EG.
In their roster changes announcement, EG also mentioned that SumaiL "will be moving into the offlane position", while Fear will be returning back to a core position. Without a doubt, having Fear back to a position he feels comfortable playing at is a huge advantage for the team, moving SumaiL to the offlane is rather questionable. SumaiL is an extremely talented individual but it is still unknown whether he will be able to respond to the challenges of the offlane.
Team Secret
The big hitters joined the lobby. Following their poor performance at The International, the squad underwent a cycle of roster changes for the upcoming season – changes that proved to be extremely pivotal for them.
Team Secret are currently leading the charge at the Pro Circuit leaderboards, sitting at 3690 points, almost 1000 points on top of Liquid's equally respectable 2700. There's not really much to be said for Secret. They consist of top performing individuals with extremely high skill level, able to execute every strategy flawlessly. If I were to bet on who has the greatest chances to win this minor, my money would be on either Secret or Liquid. Their place on top of the rankings has resulted in them feeling a lot more comfortable to lay down and relax until their next challenge in 2018 at Captains Draft minor.
Vici Gaming
The invite to ESL One Genting 2018 signifies Vici Gaming's first invite of the season. 2017 hasn't treated Vici Gaming the best way possible as well. They had to undergo major roster changes throughout the year before locking into their current roster. Within less than a week, Vici Gaming lost their entire squad, forcing LaNm to switch from coach to support and at the same time recruit a whole new roster that would represent them in the upcoming season.
They kicked off this inaugural season with a poor finish at StarLadder i-League Invitational Season 3, dropping a 0-2 to Mineski. This setback wasn't enough to keep them down, as against all odds they managed to snatch a respectable 2nd place finish at AMD SAPPHIRE Dota PIT League, culminating their 2017 run with a silver medal at the Perfect World Masters major.
ESL One Genting 2018 is VG's chance to break their second place finish barrage and contest a higher spot on the leaderboards.
Fnatic
Wrapping up the cycle of invites, Fnatic became the second team from SEA to receive a direct invite to compete at the Arena of Stars. Fnatic's invite probably caused more reactions than any other, and not without a reason.
The team has been underperforming the whole year, seeing a series of mediocre and poor finishes. Fnatic needs to undergo serious reforms in order to be able to compete at the same level as the rest of the invited teams. They are undoubtedly one of the most historic teams in the Dota2 scene, having started their run during early 2012, and is a team that despite all odds have had appearances in the vast majority of the events.
The SEA squad just managed to receive, an admittedly lifesaving, 90 DPC points from their second place finish at DOTA Summit 8. They came to the whole event as underdogs, but managed to have a superb run during the group stage. Fnatic kept their momentum throughout the playoffs as well, beating OG with a 2-1 but eventually succumbed to Virtus.pro. They might have found the strategy and the mentality that they were missing all this time, but it's up to them to hold on that and perform well at Genting!
Who can bring it home
The big question though still remains unanswered. Which of the invited teams can rise to the highest spot of the pedal? Right now, Virtus.pro, Newbee and Team Secret are holding the reins of the teams with the most appearances in major and minor events, totalling 5 appearances each. Immediately after them, Liquid, Evil Geniuses and Fnatic are following with 4 appearances etc, while the remaining two teams have 3 appearances each.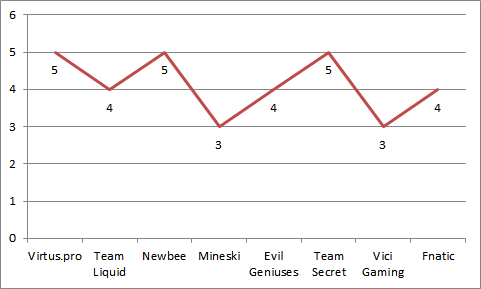 Despite that though, if I were to bet on who is going to win ESL One Genting 2018 solely based on previous results, that would be Team Liquid. They have an astonishing 50% first place to number of appearances ratio, as out of their 4 appearances they got the first place in two of them, while at the same time being within the top 3 in the remaining two.
In order for such a prediction to be 100% valid though, there is a number of additional data that should be taken into consideration, such as considering individual results between the teams and then comparing them. If that was the case, Team Secret would have a slight advantage over Team Liquid, since during their most recent clashes, Secret scored an astonishing 75% win ratio over Liquid, thus giving them the upper hand in a potential future battle between those two.
All in all, this event is expected to be one of the most interesting minors yet. All of the teams are showing some of the best games they ever had, delivering amazing Dota to us, the audience.
Source: ESL Gaming.