Free Hero Rotation Update
This week's free hero rotation has been updated!
On Thursday, September 1, 2022 (GMT +8), a new rotation of heroes will be available in 5v5 battles: Doctor Strange, Gambit, Human Torch, Magik, Moonstar, Namor, Professor X, Rocket Raccoon, Storm, and Taskmaster. Go forth into battle, Watchers!
New Watchers (characters below Lv. 10) can use heroes (beginner and easy difficulty) from the weekly free roster, and also from the free roster for new players.
Hero Adjustments
Black Widow
Black Widow's burst capabilities against single targets were too weak as an assassin hero. Therefore, we have enhanced Ability 1's damage and added an extra damage bonus for Final Tempest when only one enemy hero is within range.
Ability 1
Base damage has been increased from 160/230/300/370/440 to 200/300/400/500/600.
Ability 4 (Ultimate)
Gunfire damage is increased to 130% when only one enemy hero is within range.
Iron Man
When Iron Man's Ultimate is not available, his combat and laning capabilities are too weak compared to other heroes of the same type. Therefore, we have increased the damage of his Ability 1 – Homing Missile.
Ability 1
Damage has been increased from 110/140/170/200/230/260/290 (+30% energy attack) to 160/200/240/280/320/360/400 (+40% energy attack).
Cull Obsidian
We have significantly reduced the cooldown for Cull Obsidian's passive shield to enhance his durability and adjusted the control capabilities of Scythe Swing and Deadly Spiral in the hopes that Deadly Spiral, as an Ultimate, can play a more vital role as part of a combo.
Passive Ability
Cooldown has been reduced from 18 seconds at all levels to 12|9|6 seconds (changes at levels 1|6|12).
Cooldown reduction gained from dealing basic attacks to enemy heroes has been adjusted from 1|2|3 seconds (changes at levels 1|6|12) to 3 seconds at all levels.
Ability 3
Reduced knockback duration.
Ability 4 (Ultimate)
Increased knockback distance from 400 to 550.
Emma Frost
Emma Frost's enhanced durability provided by Diamond Form was ineffective against her enemies' rapidly growing damage in the late game. Therefore, we have adjustments to make up for this weakness.
Ability 4 (Ultimate)
Armor and Energy Resist bonus have been adjusted from 70/110/150/190 to 60/130/200/270.
New Event
Harvest Moon
Event Duration: September 1, 2022 – September 21, 2022 (GMT +8)
The Harvest Moon illuminates the falling maple leaves. Collect Maple Leaf Bookmarks from the event to redeem Selection Pack – Hero, Harvest Moon Limited-Edition Avatar, and more!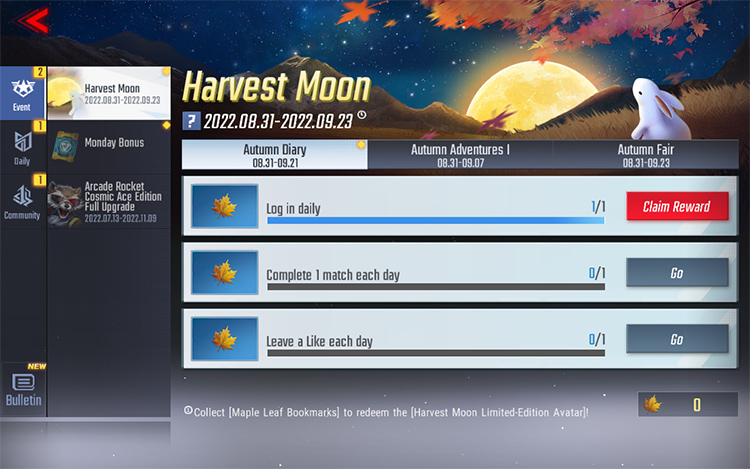 Adjustments and Optimizations
Optimized the size of Emote Badges in the game.
Daily Question database updated. Answer correctly to get Guiding Stars!
The skin you display in Overview will now also display the corresponding background and special effects. Go show off your favorite heroes and skins now!