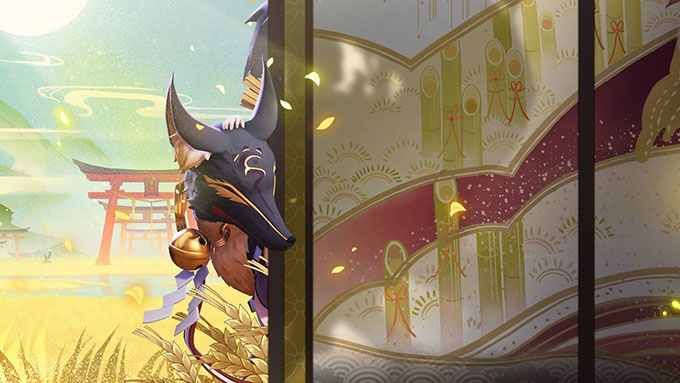 October 19th Update Preview
Here's a preview of the Onmyoji Arena new update on October 19th. Let's check out!

NEW SHIKIGAMI
Miketsu will officially join Onmyoji Arena after the update! Her position is Marksman and Play difficulty is normal. Onmyoji Arena players can purchase Miketsu for 12,888 coins or 48 Summon Amulets.

ITEM ADJUSTMENT
Samurai's Item
Hoko Do: The requirement for triggering the effect will be harder and cool down time will be increased. The Attack Speed debuff will be removed as well.
Soul Grabber: The MAX HP bonus will be removed, while additional Armor bonus will be given.
Bonerotter: Armor will be reduced. The percentage of HP Steal for every HP lost will be decreased.
Eclipse Blade: Price will be increased.
Eye of Orochi: Price will be increased.

Mage's Item
Mandala Sutra: Ability Power will be reduced.
Izanami's Scepter: Ability Power, Movement Speed bonus and Ability Power bonus in additional Magic Damage triggered will be decreased.
Marsh Moon: Ability Power will be reduced while HP will be added.
Ama-no-Ohabari: Ability Power will be increased. Haste effect and slow immunity gained from the passive effect will be strengthened.

New Item
Buddha Beads
+150 Ability Power
+10% Cooldown Reduction
Coin: 2100
Passive Effect: Use Ultimate Ability to obtain 60+(Level*3) Ability Power for 6 seconds.CD: 40 seconds
Shadow Fan
+110 Ability Power
+450 HP
+10% Movement Speed
Coin: 2100
Passive Effect: When your magic damage from skills hits a target, the following magic damage from skills dealt to the target will be increased by 1.5% for 0.5 seconds, up to a maximum of 12%. The effect will be removed when your magic damage does not hit the target within 6 seconds.

Other Item
Onimaru: Attack Damage will be increased.

DEMON ENCOUNTER ADJUSTMENT
Power-up abilities will be adjusted. Ubume, Vampira, Hangan will be weakened while Kuro Mujou, Puppeteer, Maestro will be strengthened.

LASTEST EVENT
Arrow of Wishes
Event period: After the update on October 19th – October 25th (GMT+8).
During the event, players can obtain Magic Arrow after completing a match. It can be used to redeem Wish Ema, Mystery Voucher, Lucky Dice and more!

OPTIMIZATION AND ADJUSTMENT
Motions and effect of Ebisu's ability 3 – "Fickle Fortune" will be optimized.


Source: Onmyoji Arena official Facebook page.