OVERVIEW
The 2018 Asian Games is a continental multi-sport event held every four years among athletes from all over Asia. The event is recognized by the International Olympic Committee as the second largest multi-sport event after the Olympics. The 2018 edition will host Arena of Valor as an Official Demonstration Sport and will feature the national teams selected by the 45 members of the Olympic Council of Asia.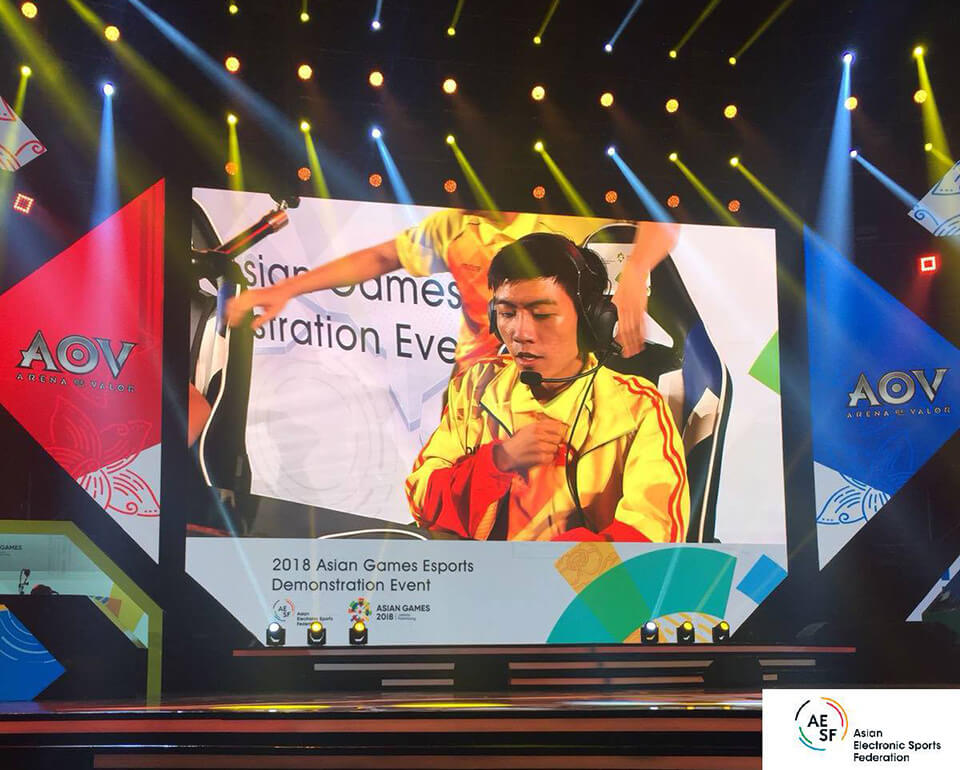 FORMAT
Double Elimination Bracket.
All matches are played in a Bo3.

PARTICIPANTS
Indonesia (Host Country)
Chinese Taipei (East Asia)
China (East Asia)
Hong Kong (East Asia)
Thailand (South East Asia)
Laos (South East Asia)
Vietnam (South East Asia)
India (South Asia)

RESULTS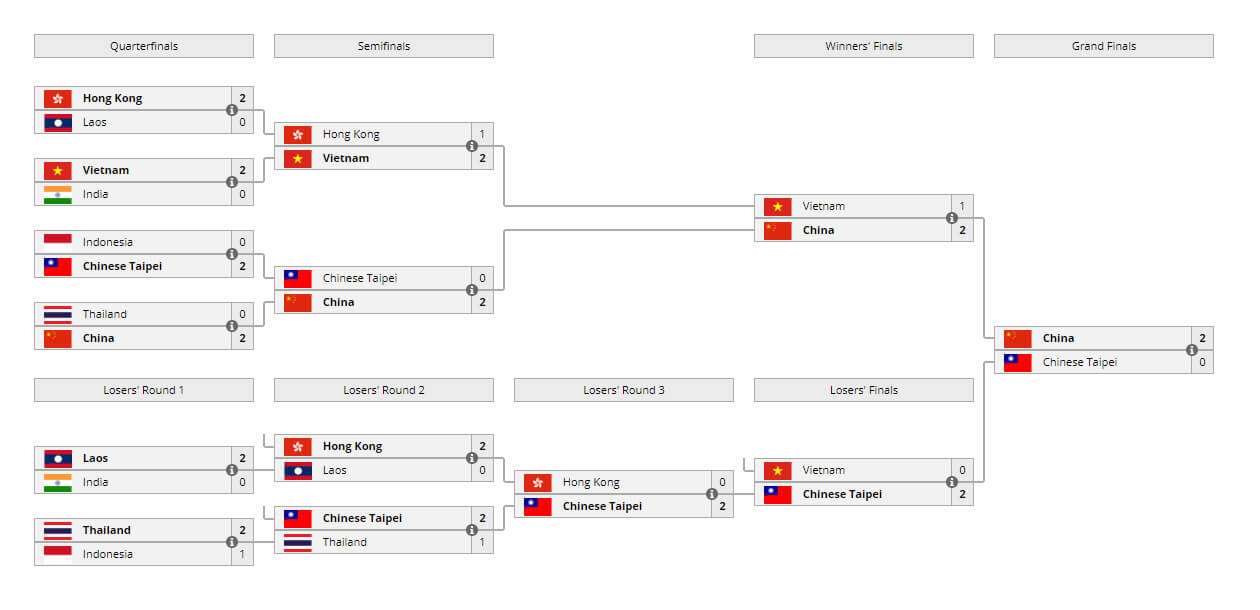 RECAP
Quarterfinals: Thailand vs China
Esports in Asian Games 2018 finally kicked off to the fullest today, August 26th of 2018, with Arena of Valor as the first game in competition. Athletes from six nations compete in this high action mobile MOBA, with China versus Thailand being the main focus of first round on the main stage today.
From the start in the first round, China played aggressively and managed to get ahead in kills. However Thailand struck back and managed to turn the tide with good teamwork.
Team Thailand's relentless attacks managed to destroy all of China towers at the 11-minute mark. However, that loss didn't dampen the Chinese spirit and they managed to hold the line in high ground towers. Not just that, China even manage to strike back and secured first round victory in a very tense and coordinated battle.
Second round started with aggressive attacks from both sides, with some clashes as early as the second minute. Thailand looked dominant with many kills during this first part of confrontation. Just like the earlier round, China turned the tables with hit-and-run attacks and effective jungle control.
This strategy put Thailand in pinch with all of towers besides high land destroyed. Finally at the 15-minute mark, team China broke the Thailand defences and won this round with score of 2 – 0.

Quarterfinals: Vietnam vs India
Vietnam's AoV team advances to upper brackets after 2-0 win against India.
It was a glorious day for Vietnam's renowned Arena of Valor team as they started the 2018 Asian Games Esports Exhibition with a 2-0 win against India's team. This victory earned Vietnam the right to fight in the upper bracket while India has to claw its way up from the lower brackets.
Vietnam dominated the team and only needed 8 minutes to fend off the Indian resistance to get their first victory in a best-of-three match. Vietnam's AoV team relied on Violet and Airy to take control of the first match. In less than 5 minutes after, India lost 5 towers which puts them at a huge disadvantage.
In the second round, Vietnam continued on with their aggressive strategy. While India played defensively, their resilience was not enough to calm the Vietnamese storm. The team earned its 2-0 victory in the 8th minute of the entire second round.
Vietnam will now compete against Hong Kong and China in the upper brackets, while India fights Laos in the lower bracket.

Quarterfinals: Hong Kong vs Laos
Team Hong Kong went against Team Laos in Arena of Valor as part of the demonstration games shown at the 2018 Asian Games, held at the BritArma Arena here in Jakarta earlier today. HK wins 2-0.
Starting the match in a very aggressive manner, the Hong Kong team managed to race to a 5-0 lead as early as the third minute and proceeded to destroy the first Laotian tower in the 4th minute. The destruction of the second tower came a couple minutes later.
Those hoping to see a counter from the Laos team would be disappointed as the Hong Kong team controlled the game throughout, finishing the first set with 15-0 score after a mere 8 minutes of play.
The second match was a bit closer with the Laotian team performing much better compared to earlier. They managed to slow the Hong Kong team's progress, even managing a double kill but in all, were unable to stop the onslaught as the Hong Kong team pushed for the headquarters around the 16-minute mark. Thereon, it was an inevitable Hong Kong win, as they crushed the Laos defenses to win the series 2-0.
With that win, Hong Kong will next face Vietnam in the 2nd round in the winners bracket.

Semifinals: China vs Chinese Taipei
The match between China and Chinese Taipei in the Asian Games 2018 Arena of Valor exhibition is exciting, to say the least. Two of the strongest teams proved their mettle, but only one winner remained: China secured a 2-0 against Taipei.
Both teams had to fight tough battles to take control of the arena's jungle. They displayed impressive positioning skills, with kills happening one after the other and a lot of mind games involving luring and trapping enemy teams one by one. Even so, that wasn't successful since they're good enough to evade such tricks.
Even past the 10-minute mark, both teams were still on even ground. China pushed the middle lane, destroyed Chinese Taipei's defences, and scored the first-ever Quadkill to secure the first win.
By the second round, the Chinese Taipei team pressured and frazzled by China, to the point where they experienced many casualties due to China's momentum. With coordinated teamwork and surprise attacks, as well as great large-scale jungle control and chain attacks, China scored their second game against Chinese Taipei with no casualties whatsoever.
China is on the roll; will there be a team strong enough to halt this train?

Losers' Round 1: Thailand vs Indonesia
Thailand wins against Indonesia 2-1 in the Asian Games 2018 Arena of Valor exhibition. The games' host country is now eliminated.
Both teams played it safe in the first round, until Thailand took the initiative and swoop in to destroy 7 towers within 15 minutes. With not much defence going on with Indonesia, it was only a matter of time until Thailand pressed onwards to Indonesia's base and score a win.
Indonesia picked up the pieces of their defeat and fought back hard in the second round. With a bit more wisdom accumulated from the past match, the host country's AoV team broke through their opponent's defences to score a win.
In the deciding match, both teams played differently from one another. Unfortunately for Indonesia, Thailand came out on top by scoring two towerfalls in the 7th minute mark. This baited the host country to solidify their defense but due to Thailand's resourcefulness, they persevered with a 2-1, kicking Indonesia out of the tournament.

Losers' Round 2: Hong Kong vs Laos
Hong Kong once again had to face Laos in a round 2 lower bracket match. As ever, they persevered with a 2-0 victory.
Hong Kong relied on a combination of Airy and Violet, two heroes that help the country dominate previous matches. With the team already familiar with Laos' tactics, they ended up taking control of the enemy's jungle to secure experience and gold. It took Hong Kong 10 minutes to end the first round.
The second match was a little different in tone since both teams were playing it safe. First blood was drawn in the six minute mark by the Hong Kong team. It was smooth sailing for the team as they dominated the second round within 15 minutes with effective team-fighting and jungle-controlling.
With Laos officially eliminated from the tournament, Hong Kong has cemented their place in the exhibition.

Losers' Round 2: Thailand vs Chinese Taipei
After a big win against Indonesia in the first lower bracket match, Thailand is dead set on fighting their next opponent, Chinese Taipei. While they started strong, it was Chinese Taipei that settled for a 2-1 score instead.
Thailand manages to outwit Taipei in the first round when the latter focused too much on the former's tank (controlled by THA.Lorie) during the last few minutes of the fight. Thailand was relentless after breaking through Chinese Taipei's towers close to their base.
The same can't be said for the second round and third round though. Chinese Taipei was going for broke while Thailand was slowly advancing and maintaining pressure against their opponents. Alas,Thailand's defence and Dark Giant buff wasn't enough to snuff Chinese Taipei's do-or-die aggressiveness.
Chinese Taipei continued on with the aggression despite Thailand picking top-tier heroes like Superman and The Flash. The Taiwanese team knew full well how to keep the Man of Steel out of any fray or teamfight while controlling the enemy jungle to level up fast. Chinese Taipei manage to bait Thailand into hit-and-run tactics.
Slowly but surely, they won 2-1 with one last and hard push, eliminating Thailand from the Asian Games 2018 Arena of Valor exhibition.

Losers' Round 3: Chinese Taipei vs Hong Kong
The East Asian derby between Chinese Taipei and Hong Kong took place at the 2018 AOV Asian Games and it was spectacular. Competing in the lower bracket, both teams found themselves in a do or die position, requiring a win to remain in the contest.
Piling on the pressure from the beginning, Chinese Taipei got a quickly lead at 5-0 as early as the fourth minute. After acquiring the Abysal Dragon in the 7th minute, Chinese Taipei further increased their advantage over Hong Kong with 3k net worth. Chinese Taipei maintained their advantage throughout the first match to ensure victory around the 15-minute mark.
Making his debut at the 2018 Asian Games AOV, the Man of Steel, Superman was finally used and Chinese Taipei's strategy of combining him with SLimz bore fruit as they rolled over their island neighbours under eight minutes in the second match.
With that win, the Chinese Taipei advance to the semis where they have a date with their other neighbor, China who defeated Vietnam 2-1 in the other match.

Winners' Finals: Vietnam vs China
The winner's bracket match between China and Vietnam was full of epic moments and close calls. China emerged victorious 2-1 against Vietnam, but it wasn't an easy battle.
China pushed back Vietnam's offence in the first round and secured a Dark Giant buff to press forward. Thanks to CHN.LaoShuai's damage output, they were toe-to-toe with Vietnam in terms of towers lost. A final push was needed to secure China's win after the 19-minute mark.
The tides turned in Vietnam's favour in the second round, with Vietnam's XB securing multi-kills beyond the 1-minute mark. While China's teamwork was flawless, the Vietnam momentum was enough to secure the latter's win, especially since they successfully attacked the core twice.
China metaphorically levelled up in the third game; right after the 11-minute mark, they secured a Dark Giant buff and made a push to the top lane. China won 2-1 thanks to great synergy with their heroes and being at the right place at the right time.
Vietnam will fight against Chinese Taipei in the next lower bracket match.
Final Lower Bracket – Chinese Taipei Rolls Over Vietnam To Book Place in the Grand Finals:

Losers' Finals: Vietnam vs Chinese Taipei
Game 1: While both teams opted to play safe, the Vietnamese team managed to steal the first kill in the third minute. However that advantage didn't last long as Chinese Taipei regrouped and flipped the momentum as they raced to a 5-1 lead thanks to a disciplined, continuous pressing.
With Soar playing out of his minds, Chinese Taipei were relentless as they methodically took down one tower after another, before closing out the fight after 16 minutes with a 17-4 kill score for a 1-0 lead.
Game 2: In this second round, the Taiwanese team managed to get first blood as early as the first minute and it was all downhill for them thereon. Deciding to play the straight forward game, the Chinese Taipei team marched down the middle and outplayed the Vietnamese team who gave little resistance in a one-sided second match.
With momentum on their side, as well as a much more coordinated strategy, the Taiwanese team finished off the Vietnam squad in about 9 minutes, with a combined score of 12-2 favouring Chinese Taipei.
With this victory, Chinese Taipei book a place in the Grand Final against their arch-nemesis, China.

Grand Finals: China vs Chinese Taipei
The grand finals of the Asian Games 2018 Arena of Valor exhibition match was a tough but fast fight between China and Chinese Taipei. When the dust has settled, China won 2-0 thanks to their drive and ambition.
Chinese Taipei struggled to reach the grand finals, fighting in the lower brackets of the tournament through and through. But in the end, there can only be one team with the gold medal.
Both matches were over within the 10-minute mark because of two crazy damage dealers on China's side: CHN.Ku and CHN.LaoShuai. Both players were spot on with their ambushes on Chinese Taipei's support and damage-dealing heroes, as well as taking the initiative to attack first. Their most-used heroes include Slimz and Kahlii.
With the China team getting Legendary and team wipeout bonuses against Chinese Taipei, it was only a matter of time until they quickly swarmed the core.
China is your Asian Games 2018 Arena of Valor exhibition champion and is the first gold medalist in an esports Olympics-level event. Chinese Taipei earned themselves a silver medal while Vietnam with bronze.
This victory certainly made China's esports community very proud.


Source: AESF – Asian Electronic Sports Federation Official Facebook page.