The RoV Pro League Season 4 is the 4th RoV Pro League season hosted by Garena Thailand for Arena of Valor professional teams in Thailand. Eight teams will compete in the double round robin group stage, with the top four teams continuing to playoffs.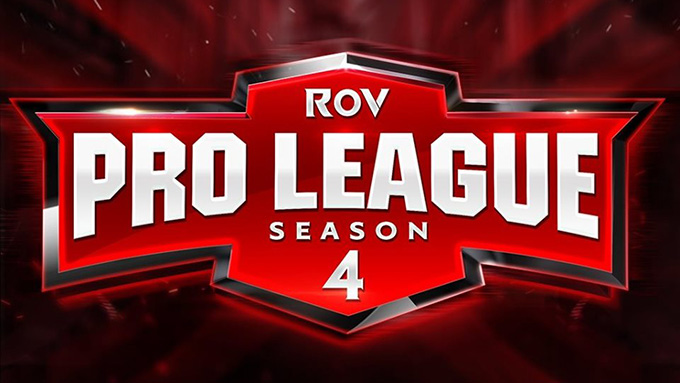 FORMAT
Top four teams from Group Stage.
Double Elimination Bracket.
Grand Final is Bo7.
All other matches are Bo5.
Global Ban Pick rule.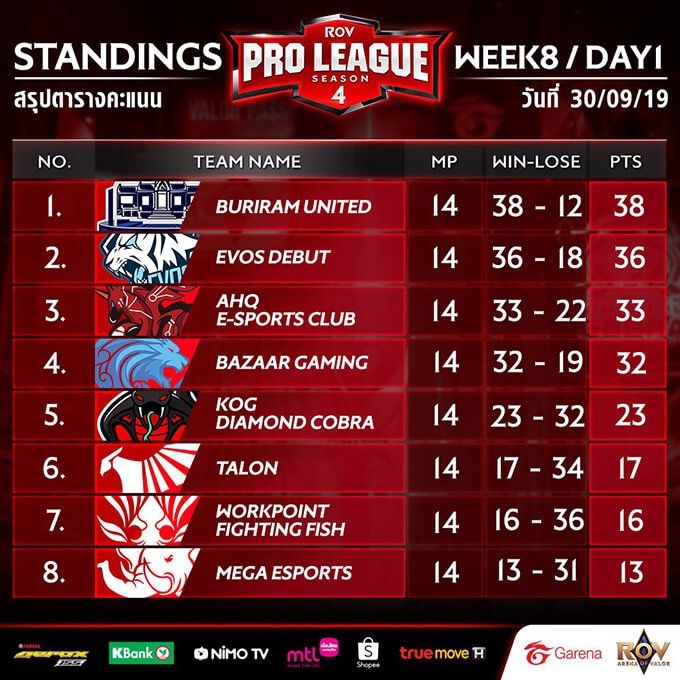 RoV Pro League Season 4 Group Stage Standings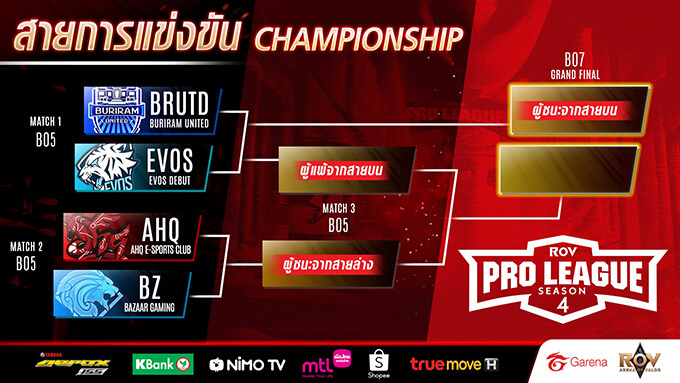 RoV Pro League Season 4 Playoffs Bracket.
PRIZE POOL
The prize pool for the tournament is 10,000,000 THB.
| Place | Team | THB |
| --- | --- | --- |
| 1 | Buriram United | 6,000,000 |
| 2 | ahq e-Sports Club | 2,000,000 |
| 3 | EVOS Debut | 700,000 |
| 4 | Bazaar Gaming | 400,000 |
| 5 | KOG Diamond Cobra | 200,000 |
| 6 | Talon | 200,000 |
| 7 | Workpoint Fighting Fish | 200,000 |
| 8 | MEGA Esports | 200,000 |
PARTICIPANTS
Buriram United
BRUTD.Overfly
BRUTD.BlueNP
BRUTD.NuNu
BRUTD.FirstOne
BRUTD.islindilz
EVOS Debut
EVOS.Wanoiz
EVOS.Steinz
EVOS.NorNun
EVOS.Pichu
EVOS.Drewwy
ahq e-Sports Club
AHQ.TAOz
AHQ.Rush
AHQ.HAK
AHQ.Nt
AHQ.KSSA
Bazaar Gaming
BZ.JOMMy
BZ.PPMonster
BZ.Difoxn
BZ.Winds
BZ.Tony
SCHEDULES & RESULTS
| | | | | |
| --- | --- | --- | --- | --- |
| BRUTD | 3 | Oct 12 | 0 | EVOS |
| AHQ | 3 | Oct 12 | 0 | BZ |
| EVOS | 1 | Oct 12 | 3 | AHQ |
| BRUTD | 4 | Oct 12 | 2 | AHQ |
STREAMS