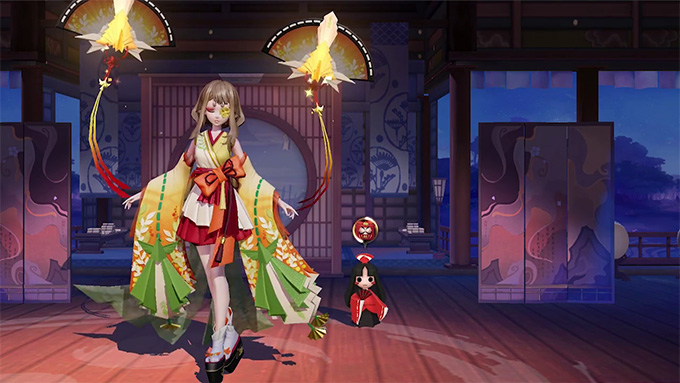 December 28th Update Patch Notes
Here's the Onmyoji Arena update patch notes on December 28th, 2018 has announced by NetEase Games on the Onmyoji Arena official Facebook page.

Onmyoji Arena will change the lineup of the limited-time free Shikigami on December 31st, 2018. The new free Shikigami will be: Ebisu, Miketsu, Kuro, Yumekui, Kiyohime, Ootengu, Jikikaeru, Kyonshi Ani and Puppeteer.
The Shikigami Jikikaeru, Kyonshi Ani and Puppeteer have a difficulty level of Hard or Extreme. Therefore, players who have been in Heian-Kyo for less than 7 days are unable to use these Shikigami for free.

1. NEW YEAR GREETINGS
Event Period: December 28th, 2018 after maintenance to January 3rd, 2019
Join battles during the event for a chance to get New Year Greetings Shards. Fuse New Year Greetings to present to friends and win rewards for both of you!
2. JUBILATION DANCE
Event Period: December 28th, 2018 after maintenance to January 3rd, 2019
Ryomen's rare skin, Jubilation Dance is available now! Enjoy a 12% off from December 28th, 2018 to January 3rd, 2019.

Here are shikigami adjustments in Demon Encounter:
Samurai X
Ultimate Ability "Hagakure": Damage percentage reflected to enemies will be increased from 50% to 65%.
Satori
Passive Ability "Overbearing": Physical Resist bonus and Magic Resist bonus gained from this ability will be increased from 25% to 35%.
Ultimate ability "Club Bomb": Hatred points gained will be increased from 24 to 30 points.
Inuyasha
Ability 1 "Wind Scar": The stackable limit of layers will be increased from 8 layers to 10 layers. The layers gained when his ultimate ability hits an enemy will be increased from 3 layers to 5 layers.
Ryomen
Ultimate Ability "Divine Combo": Attrition Value cost will be increased from 50 to 70. Cooldown time will be increased from 5 seconds to 12 seconds.
Aoandon
Ultimate Ability "Ghost Story Lantern": The duration for the first 2 stuns will be shortened from 0.8 seconds to 0.5 seconds.
Hakuro
Passive Ability "Perfect Shot": The range bonus of Hakuro's basic attack gained as she levels up will be decreased from 20 yards to 16 yards.

Fixed the issue that rank is displayed wrongly in Friend Rank.
Added dynamic effects to the loading interface of some skins.