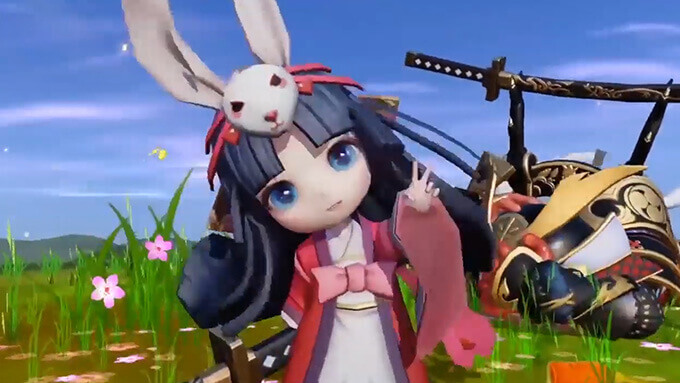 December 7th Update Patch Notes
Here's Onmyoji Arena update patch notes on December 7th, 2018 has announced by NetEase Games on the Onmyoji Arena official site.

Onmyoji Arena will change the lineup of limited-time free shikigami on December 10th, 2018. The new free shikigami will be Youko, Kusa, Ibaraki Doji, Kyuumei Neko, Shiro Mujou, Enenra, Kubinashi, Yasha and Ichimokuren. Of these shikigami, Kubinashi, Yasha and Ichimokuren have a difficulty of Extreme. Onmyoji who have been in Heian-kyo for less than 7 days can't use them in battle.

Komatsu
Natural Passive: Curiosity – Original ability effect reserved
Passive: Komatsu's movement speed will be increased if any shikigami appears within a certain range in front of her.
Ability 1: Pine Cone Clap – Slight Adjustment
Komatsu enhances her pine cones, causing basic attacks within the coming certain period to split after hitting their target, dealing physical damage to enemies within a certain range of the target hit.
Ability 2: Pine Cone Bomb – Reboot
Komatsu buries a pine cone trap that can last for a certain time at a specific position. The trap will become invisible after a short time and will explode if an enemy steps close the trap. The explosion deals physical damage and inflicts a slow effect to enemies within range.
Komatsu can restore a new trap every certain period and can store up to 3 at a time.
Ability 3: Dependence – Adjusted Casting Mode
Passive trigger: Komatsu establishes a dependency with the closest ally shikigami within range to increase attack speed for both of them.
Active effect: Komatsu jumps towards a specific direction or the closest ally shikigami by default and establishes a dependency with him/her to increase movement speed for both of them over a certain time. Komatsu will also leave a Pine Cone Bomb of the same level as Ability 2 at her original location.
Ability 4: Raining Pine Cones – Reset
Komatsu throws a giant Pine Cone Bomb to a specified range to deal physical damage to surrounding enemies within the range and shatter into tiny pieces to fly upward. After a short time, the pieces will deal physical damage and inflict a slow effect to enemies within range.

Yumekui
Ability 1: Speedy Spin
Decreased haste limit from 120/125/130/135/140% to 100/110/120/130/140%.
Ability 3: Nightmare
Adjusted sleep duration from 1 – 1.2 seconds to 0.9 – 1.1 seconds.

Maestro
Ability 1: Arpeggio
Increased ability damage from 50% of Ability Power to 60% of Ability Power.
Ability 3: Lingering Sound
Decreased rushing speed from 1,600 to 1,300.
Decreased the cooldown of the second leap from 1 second to 0.6 seconds.

Kuro Mujou
Ability 1: Soul Eater
Decreased the attack range from 500 yards to 375 yards.

Umibozu
Ability 1: Sashimi Snack
Decreased MP cost from 80/85/90/95/100 to 60/65/70/75/80.
Ability 2: Waterspout
Decreased cooldown from 14/13/12/11/10 seconds to 12/11.5/11/10.5/10 seconds.

Kyonshi Imoto
Base Stats
Increased HP Growth from 150 per level to 165 per level.
Ability 3: Here I Am!
Increased cooldown reduction from 1 second to 1.25 seconds.
Increased shield from 120/155/190/225/260 to 120/165/210/255/300.

Yuki
Natural Passive: Snow Chaser
Adjusted cooldown from 14/11/8 seconds to 10/8.5/7 seconds.
Adjusted level bonus damage from 5/level to 8/level.
Ability 1: Snow Weaver
Adjusted damage from 5/6.5/8/9.5/11% of Max HP to 6/8.5/11/13.5/16% of Max HP.
Fixed the issue that this ability can trigger critical strikes when dealing damage.
Ability 2: Icebreak
Adjusted two-stage base damage from 5/30/55/80/105 to 5/40/75/110/145.
Ability 4: December Snow
Yuki gains a 60% damage reduction when using this ability.

Voice Charm
Event Period: December 7th after maintenance to December 13th.
Complete required quests during the event to claim rewards and increase the event progress.
Complete all quests for 5 days in total to get the Personalized Voice Trial Card!

Bling Bling
Event Period: December 7th after maintenance to December 13th.
The special effect of Yamausagi's epic festival skin Hei (Heian Festival) has been re-designed! The chance of summoning the skin is UP from December 7th to December 13th, don't miss out!

Optimized the warning prompt of turret hatred.
Optimized the rules of playing the shikigami idle actions.
Fixed the countdown display error after refusing a match.
Fixed the issue of failure of sharing the first victory under some circumstances.
Fixed the issue that the ability range of Yuki's passive ability is too large.