June 24th 2022 Update Patch Notes
Free Shikigami Lineup Bulletin
Onmyoji Arena will change the lineup of the limited-time free shikigami at 5:00 AM on June 27th, 2022. The new free shikigami will be Kubinashi, Futakuchi, Momo, Vampira, Kyuumei Neko, Aoandon, Puppeteer, and Yokinshi.
Onmyoji who own the God of Fortune Month Pact will have the additional free shikigami, Shuten Doji and Kainin.
Of these shikigami, Puppeteer and Yokinshi have a difficulty of Hard. Onmyoji who have been in Heian-kyo for less than 7 days can't use them in battle for free.
New Shikigami Bukkuman
"… There are many rumors in the world. They should be taken with a grain of salt."
Roam the land to clear the mind. By making records of all kinds of weird and wonderful incidents in the world, Bukkuman broadens his horizons and gains greater power.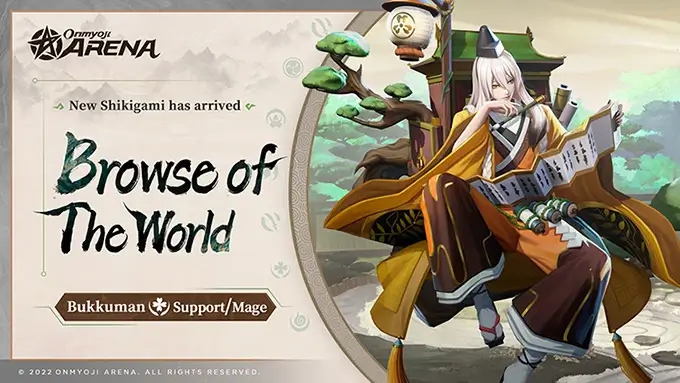 Trait: Roam
A new Phenomenon will randomly occur in the jungle periodically. Bukkuman travels to where the incident takes place and records the episode and the sights around him in a Verse. Each jungle area can only be recorded once.
Gains a Verse when taking part in sealing enemy shikigami. Each enemy shikigami can only be recorded in a Verse once.
Gains a Movement Speed Bonus after leaving the battle.
Hitting an enemy shikigami with the ability inflicts Inkblots on them. Bukkuman and his teammates' basic attacks will trigger the Inkblots on the target, dealing magic damage to them.
Verse Stack Effects:
2 stacks: Every certain number of Inkblots triggered grants Bukkuman and the shikigami with the lowest HP nearby a HP Regen effect.
5 stacks: [Ink Splash] Increases paper doll duration and grants them 1 stack of recharging each.
10 stacks: Scroll of Annals' passive effect of enhancing basic attacks consumes all Inkblots on the enemy target.
15 stacks: Scroll of Annals grants Shields to all ally shikigami nearby the teleport endpoint.
20 stacks: Upon hitting enemies, the ability inflicts an additional Inkblot on them.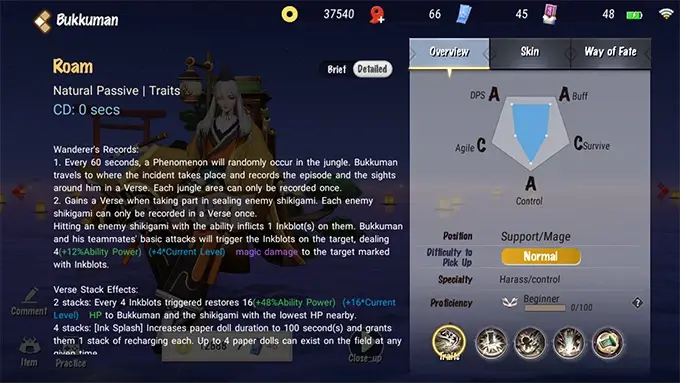 Ability 1: Scroll of Everything
Deals damage to a selected target and applies the initial control effect on the target to enemy units around them.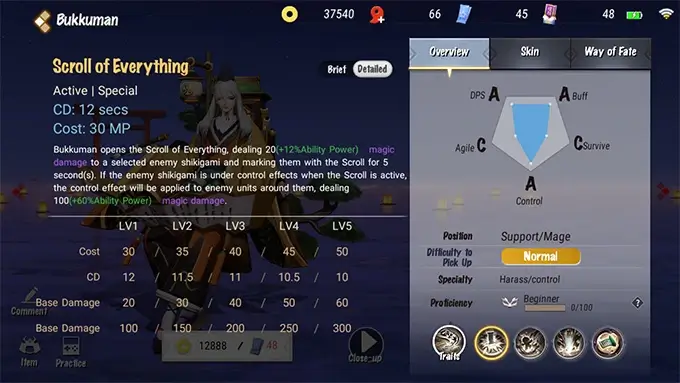 Ability 2: Ink Splash
Summons an ink puddle at a designated area. If an enemy steps into the ink puddle when it is active, paper dolls pursue and attack said enemy unit, dealing damage and inflicting Immobilize on them.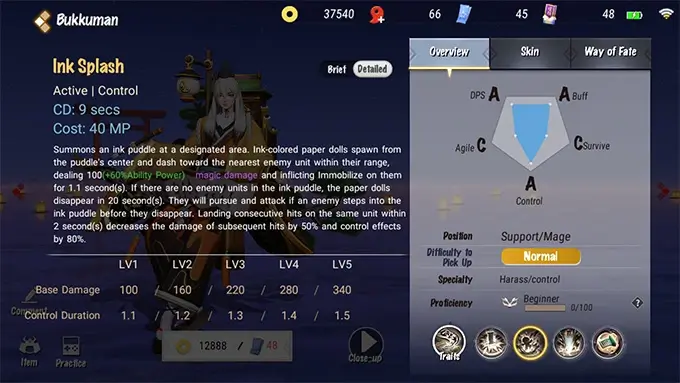 Ability 3: Shadow Paintings
Bukkuman paints a black kite that deals damage and inflicts Slow on enemy units in its path. Also creates a Scroll at a designated area, dealing magic damage and inflicting Knockup to enemies.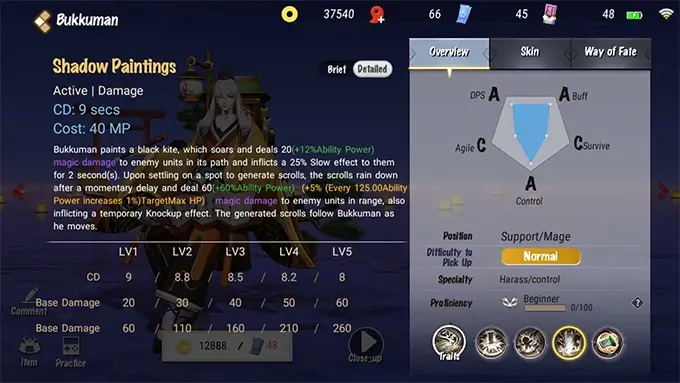 Ultimate Ability: Scroll of Annals
Bukkuman gifts the Scroll of Annals to a selected ally shikigami.
Search: Bukkuman grants a Shield and Movement Speed Bonus to himself and the shikigami bearing the Scroll of Annals. He teleports to where the target is after some time (teleportation duration is dependent on the distance between him and the target).
Revoke: Revoking the scroll returns part of the cooldown duration.
Passive effect: Basic attack is enhanced periodically. Multiple Inkblots can be triggered at once.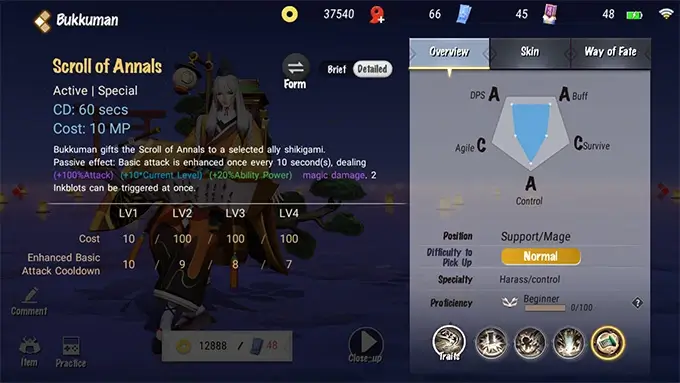 This week sees Bukkuman make his debut on the Heian-kyo battlefield.
The Bukkuman Selection Pack will also be available in the General Store. The selection pack includes the new shikigami Bukkuman, Dyed Skin: Pine Clouds x1, Evolved Form Amulet x1, Taichi Mudra x1, and Eight Petals x8. You can select which to purchase! The Feline Innkeeper Selection Pack will be available till 11:59 PM on July 7th, 2022. Don't miss out on this chance to get Bukkuman!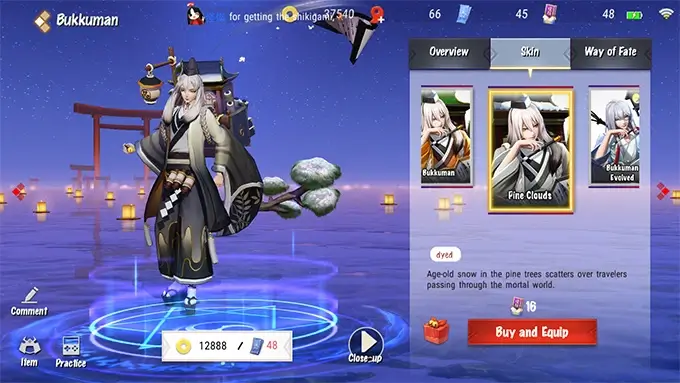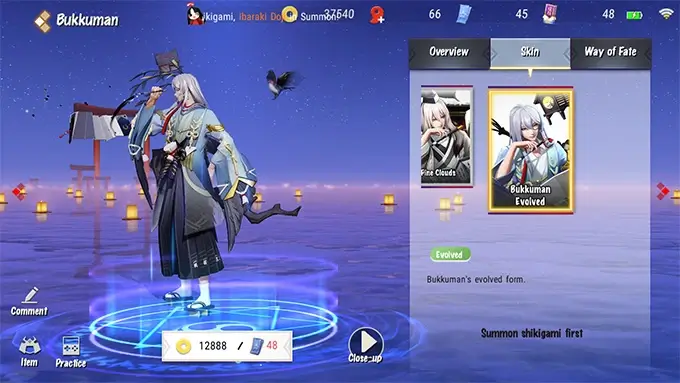 New Events
Hundred Battle Challenge
Event Period: June 24th – June 30th, 2022.
During the event, use the new shikigami Bukkuman to complete designated quests to claim rewards including Prayer Ema, Mid-level Favor Pack, Return Cursed Seal Lucky Gift Box, and Coin Bags.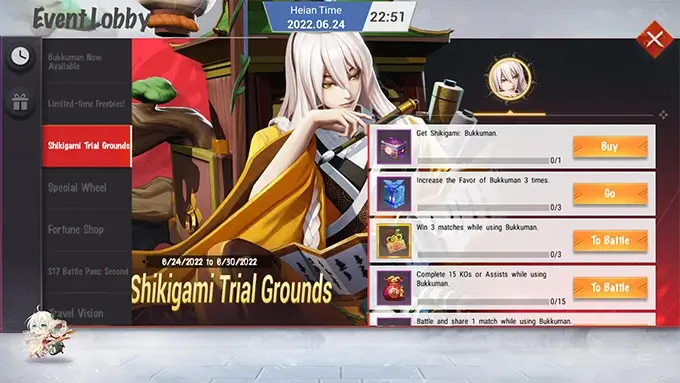 Lush Waves
Event Period: June 24th – July 3rd, 2022.
Participate in the Lush Waves limited-time sign-in event to claim the Lush Waves Avatar Frame and other rewards.
Sunshine Birdsong
Event Period: June 24th – August 9th, 2022.
Take part in the Sunshine Birdsong event to claim Plume Memo item rewards. Plume Memos can be exchanged for character shards in future events.
Limited-time Freebies
Event Period: June 24th – July 3rd, 2022.
During the event, all shikigami will be available in the various battle modes (except for Ranked Matches for tiers Elite or higher and Heian-kyo Showdown). Don't miss this chance to battle to your heart's content!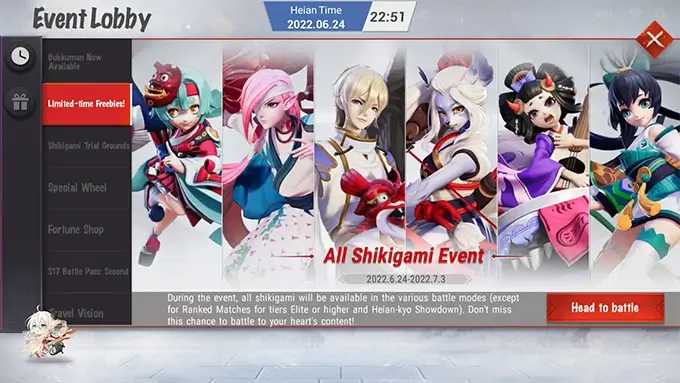 Optimizations and Adjustments
In the new banning mode, a prompt will be displayed during the pre-selection period that informs players which team will select shikigami first.