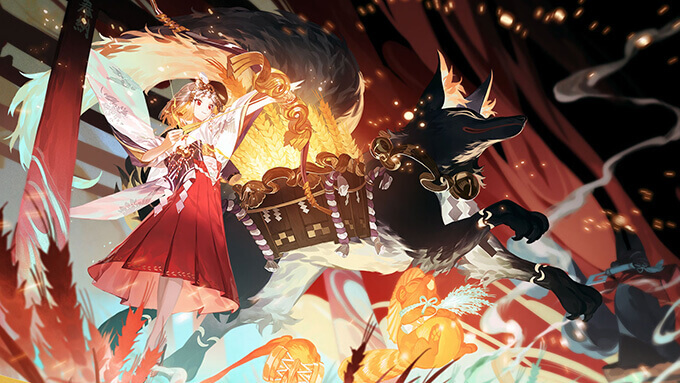 November 2nd Update Preview
Here's a preview of the update on November 2nd, 2018 has announced by NetEase Games on the Onmyoji Arena official Facebook page.

FREE SHIKIGAMI LINEUP ADJUSTMENTS
Onmyoji Arena will change the lineup of limited-time free Shikigami on November 5th, 2018. The new free Shikigami will be Shiro Mujou, Vampira, Ryomen, Ebisu, Chin, Aoandon, Mannendake, Kyonshi Ani and Shuten Doji.
Of these Shikigami, Mannendake, Kyonshi Ani and Shuten Doji have a difficulty of extreme, Onmyoji who have been in Heian-Kyo less than 7 days can't use them for free in battle.

NEW EVENT: MAPLE LETTER
Event Period: After the update on November 2nd until November 8th
During the event, players can obtain "Maple Leaf" after battling. Use "Maple Leaf" to produce "Maple Letter", send it to your friends and receive rewards!

ADJUSTMENT AND OPTIMIZATION
Cross-server Spectate will be added. Players will be able to spectate matches in other servers.
Popularity ranking and Contribution ranking will be added to the Spectate interface.
The issue where the Sesshomaru's passive ability "Tenseiga" and Hangan's passive ability "Book of Life" could be triggered simultaneously will be fixed.

DEMON ENCOUNTER COMES TO GLOBAL SERVER
Demon Encounter is a 5v5 game mode only open for a certain time period of the day. In this mode, every Shikigami has one ability that has been greatly powered-up, making battles more exciting and satisfying!
Demon Encounter mode will become available in the Global server after the update on November 2nd, 2018. This mode can be played during 00:00 to 12:00 every Sunday and Monday (Heian-Kyo time).