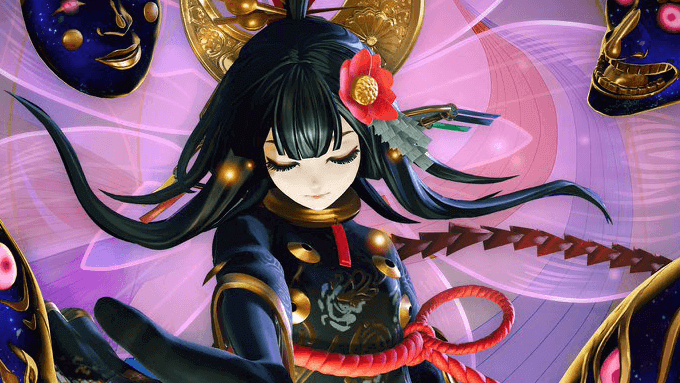 October 26th Update Patch Notes
NetEase Games has released the new Onmyoji Arena update on October 26th, 2018 (GMT+8) on Asia and Global servers. Servers will be up and running during this period, therefore Onmyoji Arena players can login and play as usual.

FREE SHIKIGAMI LINEUP ADJUSTMENTS
Onmyoji Arena will change the lineup of limited-time free shikigami on October 29th, 2018. The new free shikigami will be Tanuki, Kiyohime, Higanbana, Ibaraki Doji, Futakuchi, Umibozu, Yasha, Kubinashi, and Ichimokuren. Of these shikigami, Yasha, Kubinashi and Ichimokuren have a difficulty of Extreme. Onmyoji who have been in Heian-kyo for less than 7 days can't use them in battle.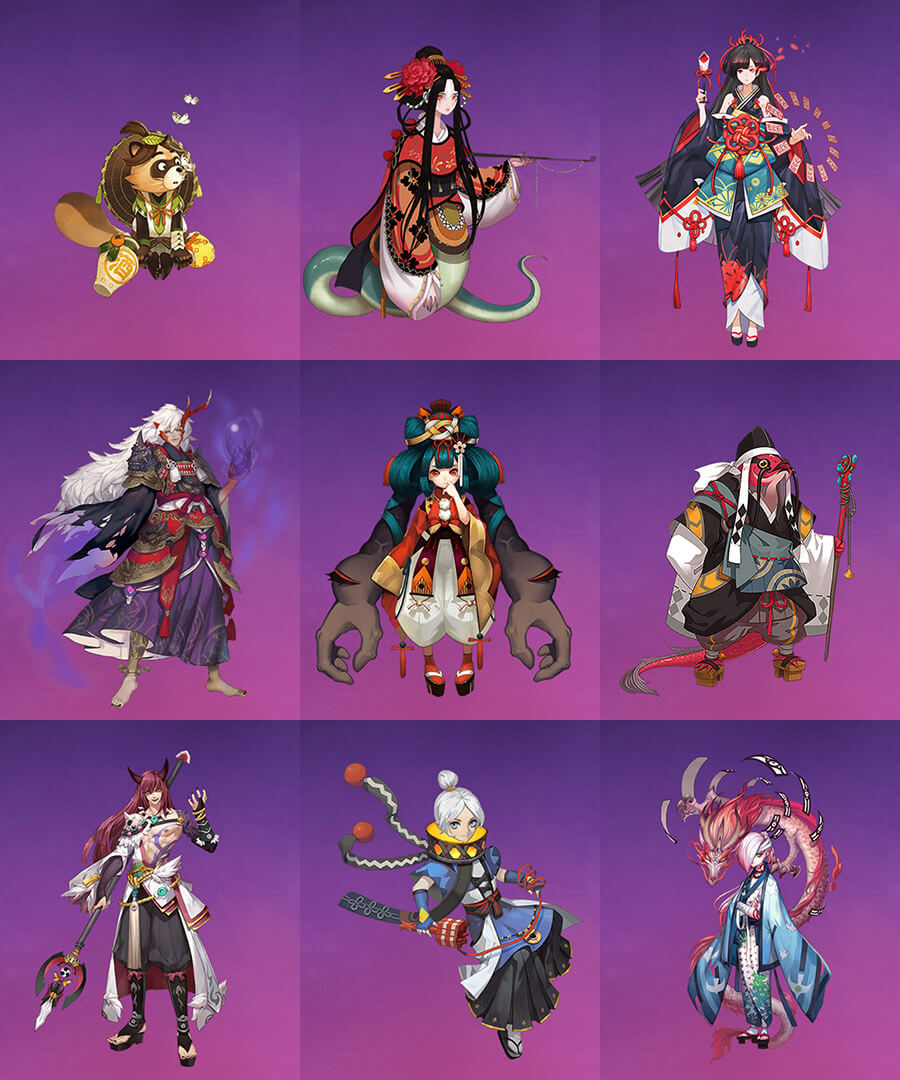 SHIKIGAMI ADJUSTMENTS

Ability 1: Bunny Dance
Increases Movement Speed Bonus from 20/25/30/35/40% to 26/29.5/33/36.5/40%
Ultimate Ability: Ring Toss
Reduced cooldown from 80/75/70 seconds to 70/65/60 seconds.

Base Stats
Reduced Base Attack Damage from 77 to 73.
Ability 3: Puppet Burst – Ranged Form
Reduced Base Damage from 80/130/180/230/280/330 to 60/110/160/210/260/310.

Ultimate Ability: Bamboo Blast
Increased Base Damage from 50/110/170 to 50/115/180.
Increased AD Bonus from 30% to 37.5%.

Natural Passive: Gonna Blow
Increased the Attack Speed Growth from 3% per level to 3.5% per level.
Ability 1: Scary
Increased the Armor & Magic Reduction effect from 2/2.5/3/3.5/4% for each layer to 2.1/2.7/3.3/3.9/4.5% for each layer.
Ultimate Ability: I'm Sorry!
The damage equal to 8% of the target shikigami's HP Lost has been reduced to 5%.
Reduced Base Damage from 210/255/300 to 180/240/300.

Ability 2: Serpent's Shackle
Reduced the additional damage that equals to 4/5/6/7/8% of the target's Max HP to 3.5/4.5/5.5/6.5/7.5%.
Ability 3: Sacrificial Fire
Reduced Base Damage from 60/80/100/120/140 to 60/77.5/95/112.5/130.

Natural Passive: Soul Slayer
Reduced Armor Penetration from 40% to 25%~40% (levels up at Lv.6/11/16).
Ultimate Ability: Fickle Doom
Reduced the cooldown after KO'ing an enemy shikigami from 2 seconds to 1.25 seconds.

Ability 2: False Face
Increased control range from 250 yards to 230 yards and increased ability delay from 0.6 seconds to 0.72 seconds.
Increased Charm duration from 1~1.2 seconds to 1.1~1.3 seconds.
Ability 1: Spirit of Kawakatsu
Added a 18% additional damage to minions.
Ability 3: Forbidden Face
Increased AP Bonus from 12% to 15%.

Natural Passive: Grain Spike
The damage equal to 22.5% of the target's HP Lost has been reduced to 20%.
Ability 2: Fox Realm
Reduced Attack Speed Bonus from 15~55% to 15~45%.

LATEST EVENTS
1. October Recharge Gifts
Event Period: 26/10 after maintenance to 8/11 (2 weeks).
Receive bonus gifts when you accumulate different recharge values during the event period. Gifts contain Evolution Amulets, Wish Charms, Avatar Frames, and other rare rewards.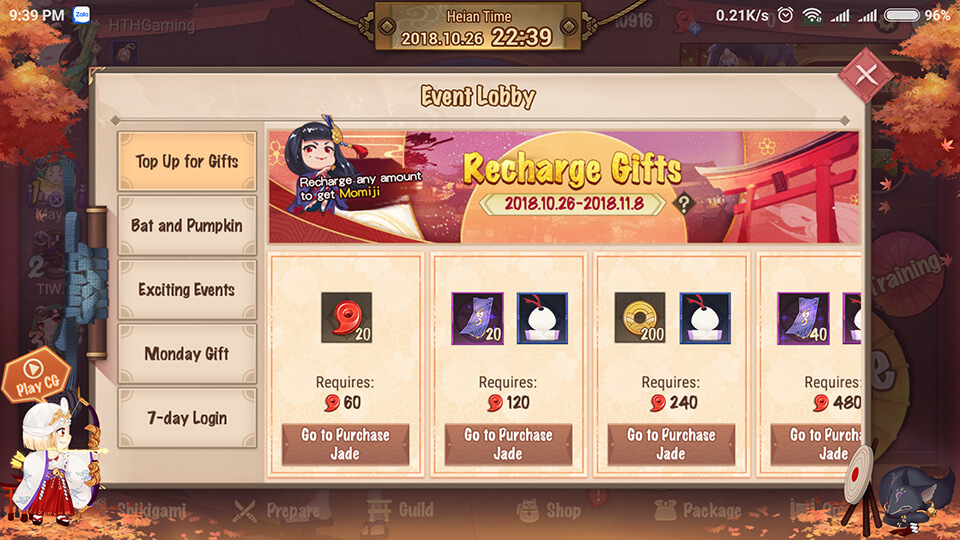 2. Halloween Painting
Event Period: 26/10 after maintenance to 1/11.
Halloween has arrived! During the event, complete matches to obtain Halloween Paint and use them for rewards!
Players can tap their paintings to share. Paintings with the top 5 popularity will be awarded the Halloween skins!
In addition, Pumpkin Candy will be granted by liking other players' paintings! Sakurako is obsessed with this candy and just can't have enough! She will give you gifts if you giver her candy.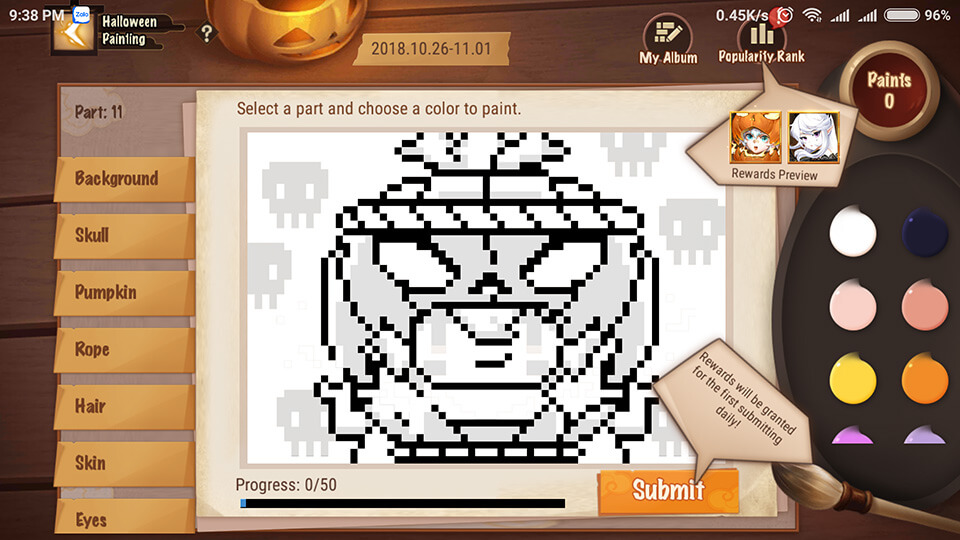 3. Bat and Pumpkin
Event Period: 26/10 after maintenance to 8/11.
The Halloween skins for Vampira and Kubinashi, Phantom Bats and Pumpkin Taro, are available now! The skins are available for a limited time from 26/10 – 8/11 and are 12% off for the first week!

OPTIMIZATIONS AND ADJUSTMENTS
1. Added a Block Gift function to the Bullet Comments setting in the Spectate interface.
2. Optimized the Specified Distance Mode of canceling abilities. It's now clearer to see the cancelation of abilities.


Source: Onmyoji Arena official site.