November 22th 2019 Update Patch Notes
Let's check out Onmyoji Arena November 22th, 2019 Update Patch Notes. This update sees new shikigami Hiyoribou will first be available during this week's Shikigami Brawl.
FREE SHIKIGAMI LINEUP ADJUSTMENTS
Onmyoji Arena will change the lineup of the limited-time free shikigami at 5:00am on November 25th, 2019. The new free shikigami will be Dodomeki, Hana, Tanuki, Kyuumei Neko, Shiro Mujou, Kiyohime, Jikikaeru, Mouba, and Susabi.
Of these shikigami, Jikikaeru, Mouba, and Susabi have a difficulty of Extreme. Onmyoji who have been in Heian-kyo for less than 7 days can't use them in battle.
NEW SHIKIGAMI HIYORIBOU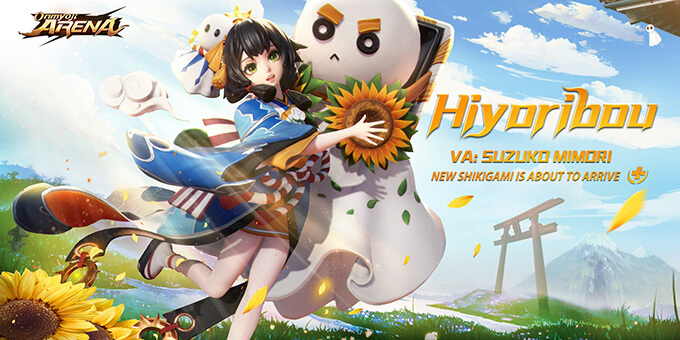 "The sun will make you feel better!"
As a spirit who only comes out on sunny days, Hiyoribou can cast Warm Day to attack enemies and heal allies, and she can unleash blinding sunlight to reduce her enemies' vision. The sunshine doll behind Hiyoribou also has a powerful protective ability; it can aid followed shikigami with attacking, and it can protect followed targets on the brink of death.
Natural Passive: Pray for Sunshine
Passive effect: While Hiyoribou's sunshine doll is following an allied shikigami, it will provide them with an Armor and Magic Resist bonus while also assisting the target with basic attacks. Once the sunshine doll is a certain distance away from Hiyoribou, it will no longer follow the allied shikigami.
Ability 1: Warm Day
Hiyoribou casts Warm Day at the designated position. After a short delay, Warm Day will advance in the opposite direction of Hiyoribou, dealing Magic Damage and inflicting a Slow effect to all enemies in its path. After Warm Day flies its max distance, it will fly back to the sunshine doll, dealing Magic Damage to enemies on the way. If Warm Day hits an enemy shikigami while flying, it will restore HP to allied shikigami it meets afterward.
Ability 2: Sunny Companion
Hiyoribou makes the sunshine doll follow a designated allied shikigami. The sunshine doll will assist the target with basic attacks, dealing Magic Damage to the enemy.
Ability 3: Scorching Sunlight
Hiyoribou makes the sun rise and shine in the designated direction, dealing Magic Damage to enemy shikigami it shines upon. If an enemy shikigami in range is facing Hiyoribou, then 1 stack of Burning Eyes will be added every second, gradually reducing their range of vision.
If the sunshine doll is following, it will also cast Scorching Sunlight in the same direction.
Ultimate Ability: Noontime Sun
Hiyoribou makes the sunshine doll follow a designated allied shikigami. If the followed shikigami takes fatal damage within the short protection period, the Sunshine Doll will make them immune to all damage for a certain length of time.
Hiyoribou will first be available during this week's Shikigami Brawl.
DEMON ENCOUNTER ADJUSTMENT
1. Satori
Ultimate Ability: Home Run Strengthened
Adjusted hit distance from 650/700/750/800 yards to 700/750/800/850 yards.
Damage to side targets increased from 75% to 100%.
Adjusted base damage from 28/130/275/420 to 40/150/300/450.
2. Yasha
Ultimate Ability: Underworld Sea Strengthened
Adjusted damage of the small long spear from 45% to 60%.
3. Tamamonomae
Ultimate Ability: Falling Might Strengthened
Adjusted each hit's range from 75 yards to 100 yards.
Minimum damage to targets in the outer circle increased from 30% to 60%.
4. Hangan
Ability 1: Soul Devour Adjusted
Adjusted AP bonus of each stack from 5/7/9/11/13 to 5/6.5/8/9.5/11.
5. Youko
Ultimate Ability: Blade Cyclone Strengthened
Damage reduced from 65/110/155 (+50/65/80% Attack) to 50/90/130 (+50/60/70% Attack).
6. Hana
Ability 2: Painting Realm Adjusted
Damage Reduction while casting reduced from 80% to 50%.
DUEL GROUNDS ADJUSTMENTS
In order to speed up the Duel Grounds' pace and reduce the number of overtime matches, Onmyoji Arena developer, NetEase Games, has made adjustments to the Duel Grounds minions and Seimei Well's recovery speed.
1. Minion movement speed adjusted from 255 to 290. HP and Attack growth speed is also increased.
2. The HP recovery per second provided to shikigami by the Seimei Well has been reduced from 10% to 8%.
OPTIMIZATIONS AND ADJUSTMENTS
Onmyoji Arena developer, NetEase Games, has optimized the process of returning to the Lobby from the results screen to prevent some devices' clients from freezing.
HEIAN-KYO MAHJONG FIGHT
The countdown to the Mahjong Fight tier reset has started! Tiers will be reset after the update on November 29, and rewards will be tallied based on the current season's highest tier.
BATTLE PASS
The S7 Battle Pass Challenge Quest is back and all new! Complete a Ranked Match or Casual Match every day for a total of 45 days during the season, and when the season is about to end, your Battle Pass will directly increase to Lv. 100!
Note: S7 is rather special. The Challenge Quests completion requirement of future seasons will be 90% of the season's total days.
LATEST EVENTS
1. Steam: Explorer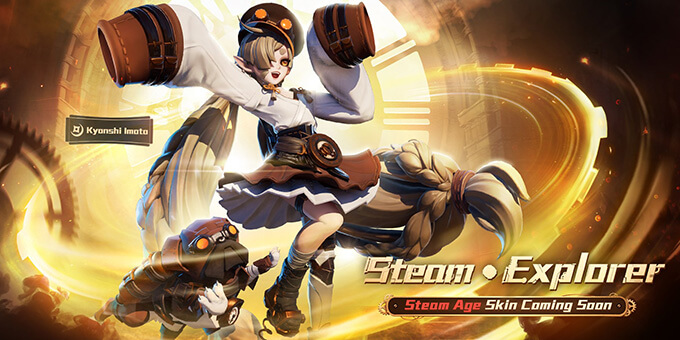 Event Period: November 22 after maintenance to November 28.
Kyonshi Imoto's Steam Age series skin, Steam: Explorer is now available. Get 12% off from November 22 to November 28. Don't miss out!
2. Hundred Wars Benediction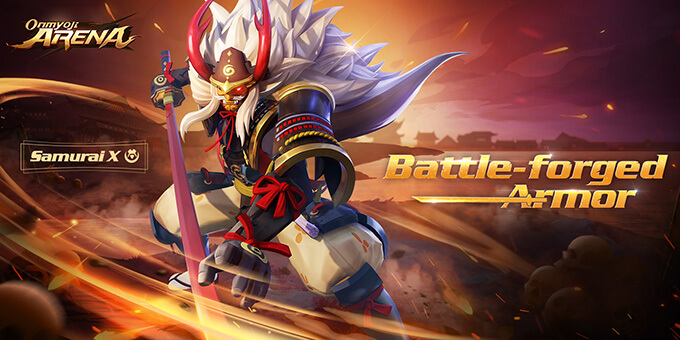 Event Period: November 22 after maintenance to December 5.
The Hundred Wars Benediction event is here! Complete quests during the event to obtain Armor of a Hundred Wars Shards. Collect 50 Shards to exchange for Samurai X's skin, Armor of a Hundred Wars!