Beta 22 Update: Arcana Update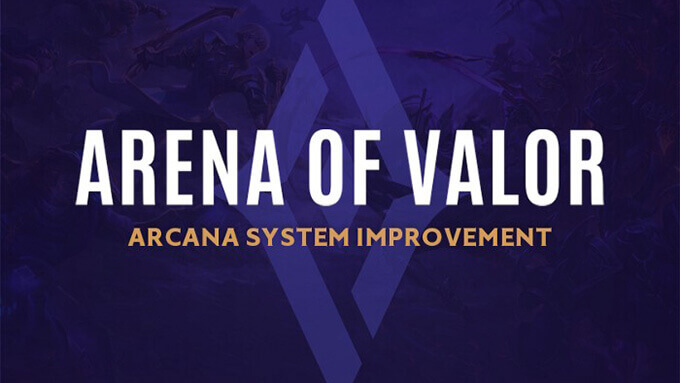 Arena of Valor is upgrading the arcana system to make it easier to understand and more convenient to use. In the upcoming update, Level 1 and Level 2 arcana can be dismantled and upgraded. Also, you can copy top player and popular arcana builds with one click!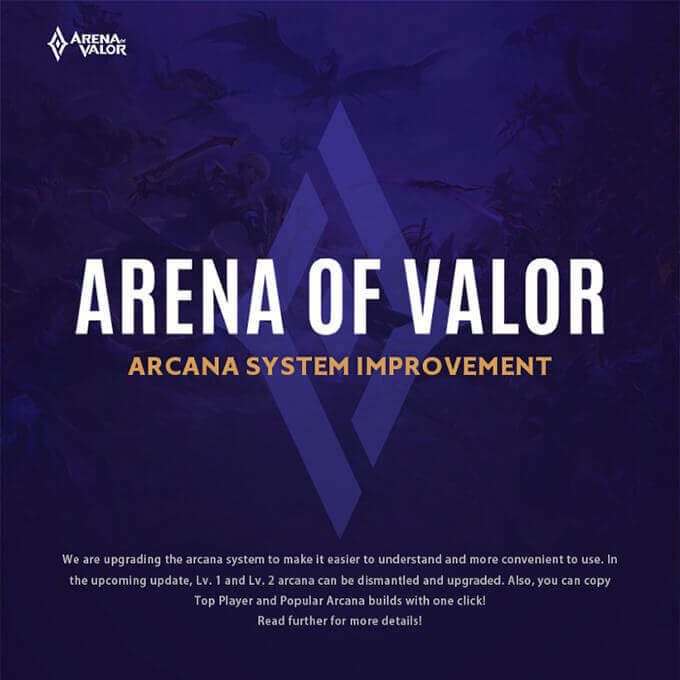 UNIFIED ARCANA NAMING SYSTEM
The updated arcana system will have a unified naming scheme. Level 3 arcana attributes and names will remain unchanged, only Level 1 and 2 arcana will have their attributes and name adjusted. Tencent Games is also adding some new Level 1 and 2 arcana to ensure that arcana names and attributes across all 3 levels.
ALL SLOTS UNLOCKED
All arcana slots are unlocked when the feature is unlocked at Level 7. They are no longer unlocked one by one as you level.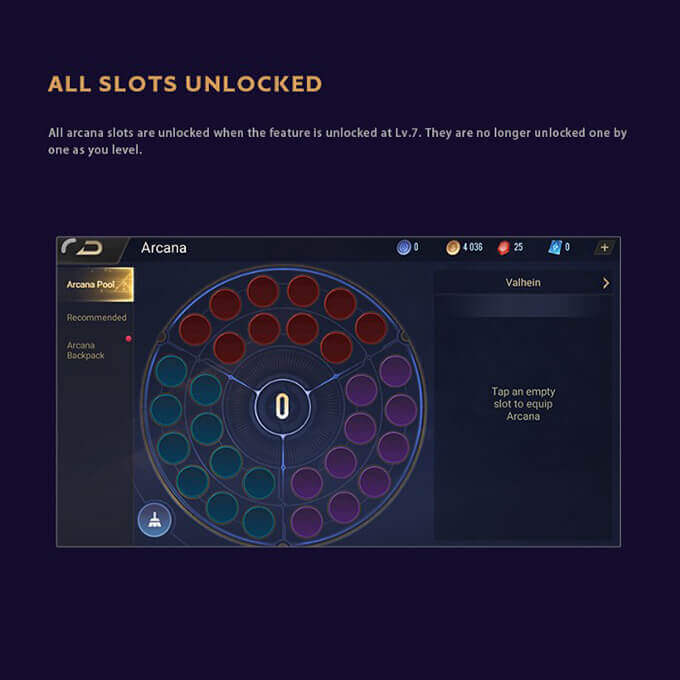 UPGRADE ARCANA WITH ARCANA FRAGMENTS
All players will receive a free set of Level 1 arcana, with 10 arcana from each of the 30 types, for a total of 300. Spend arcana fragments or gold to upgrade Level 1 arcana to Level 2 arcana, and Level 2 arcana to Level 3 arcana.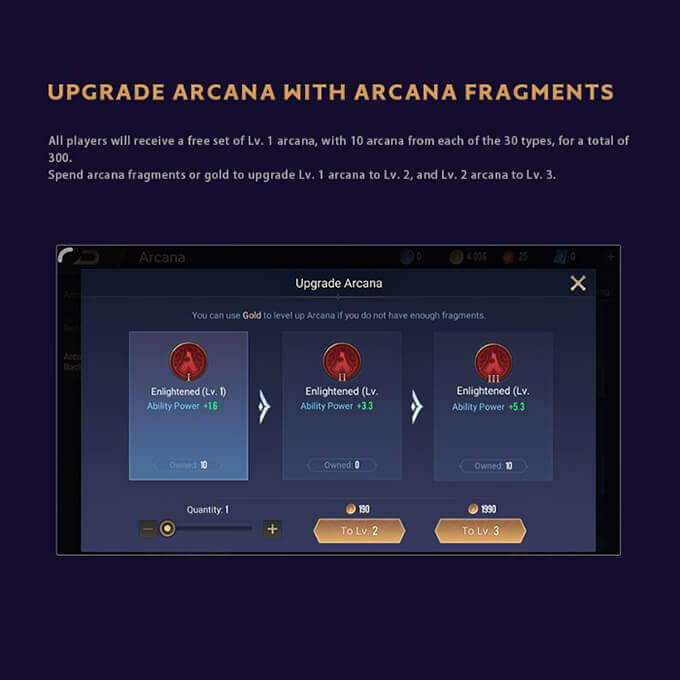 DISMANTLE AND RESET UNNEEDED ARCANA TO GET ARCANA FRAGMENTS
Arcana is no longer sold for gold. You can equip up to 10 arcana of the same name at a time across Level 1/Level 2/Level 3. Excess arcana can now be dismantled into arcana fragments at a slight loss. You can also reset excess arcana from Level 2/Level 3 back to Level 1, which returns the same amount arcana fragments as dismantling.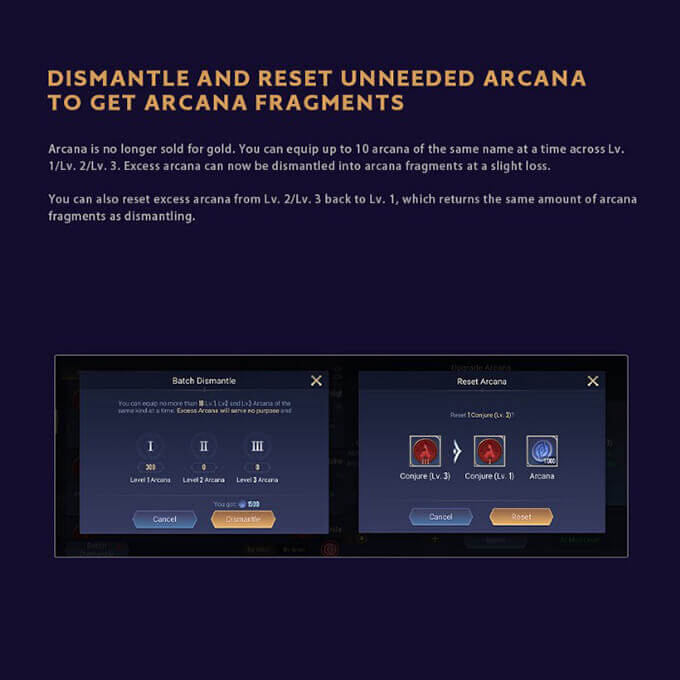 NEW DEFAULT ARCANA BUILDS
Eight common arcana builds will be preset to corresponding heroes. When you use the hero for the first time, you can choose the default recommended preset for the hero.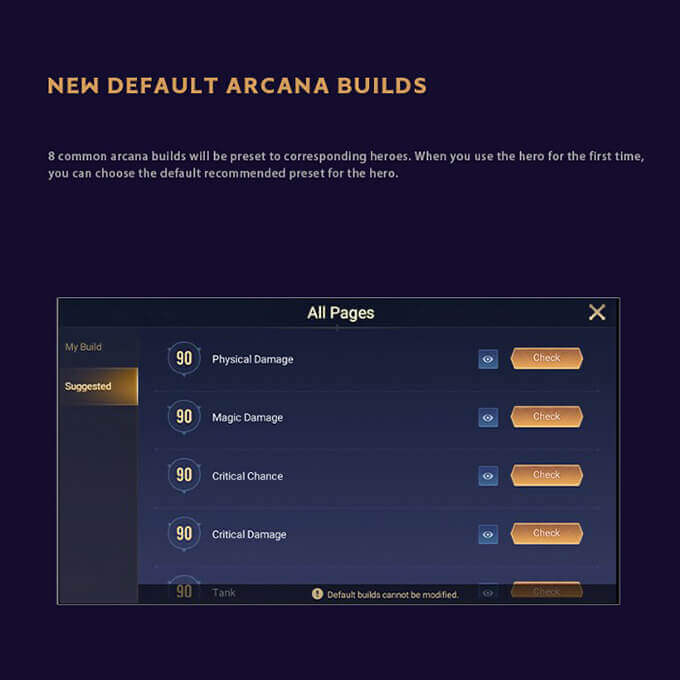 COPY TOP PLAYER AND POPULAR ARCANA BUILDS WITH ONE CLICK
View builds from the top players and popular builds among highly ranked players, and copy theme with a tap to your arcana page to automatic select the highest level arcana available to you!