Moren's Workshop is back with prizes galore! Complete his tasks and earn a variety of rewards, including 500 Arcane shards, Capricorn Frame, and the awesome new Riktor Feast of Roses skin!
MOREN'S WORKSHOP JANUARY 2020 QUESTS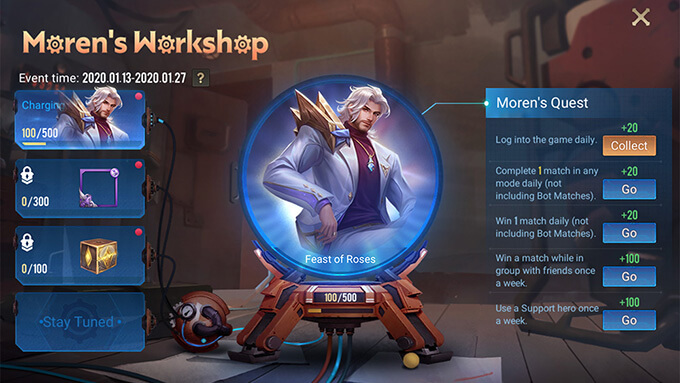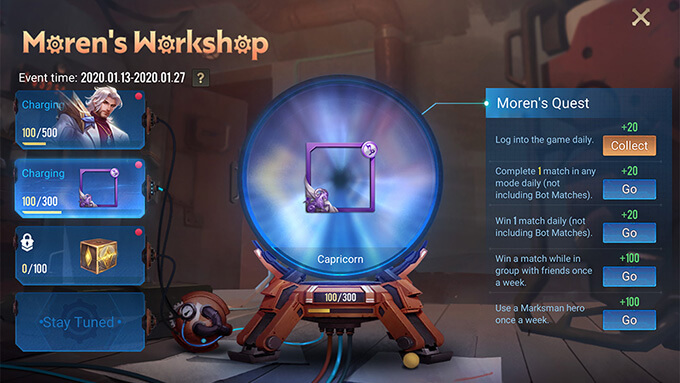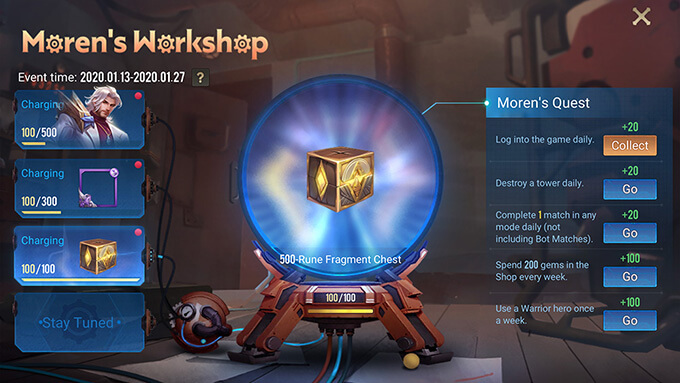 MOREN'S WORKSHOP RULES
1. Items become available for trial once activated. Once an item has been activated, complete their corresponding quests to earn points towards making the item permanent.
2. Acertain amount of points is issued when item is unlocked. For each day that the player does not login, they lose 30 points off all activated items. The quest fails when point balance reaches 0, whereupon the item is removed and cannot be tested through Moren's Workshop again. Quest is also failed if time expires butthe redquired amount of points is not reached.
3. Progress and points for Moren's Quest is reset at 0500 each day for daily quest and at 05:00 every Monday for weekly quests. Unclaimed points are not automatically claimed and must be manually claimed after completing the quest.
4. For hero and skin selection chests, item is only activated if you choose a hero or skin that you do not own. Only item rewards are available if you own all heroes and skins in the chest. Trial is not available for item rewards and can only be collected once you achieve the required amount of points.
RIKTOR FEAST OF ROSES GAMEPLAY
The handsome Riktor is coming to the party, and he is looking to impress! Dress Riktor with red roses to attend the banquet!