Let's check out the February 24th 2020 Arena of Valor Developer Letter and what is Tencent Games doing in Europe, USA/Canada, Latin America, and Asia servers.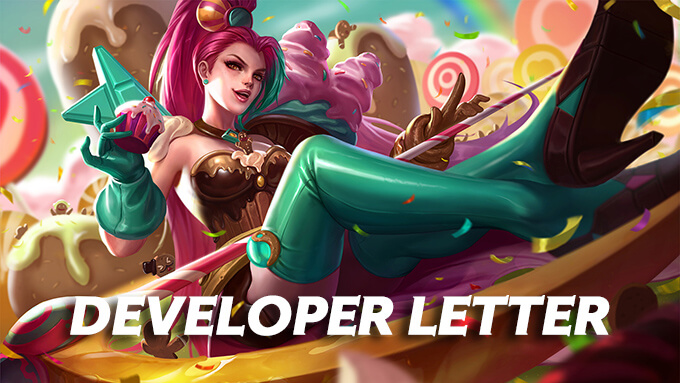 Dear Challengers,
We welcome you all to our latest Developer Letter.
NEWS AND UPDATES
The Fatal Duo skins for Hayate and Airi are now available in Xeniel's Codex! Do you like these two skins? Have you already got the free hero Eva in Xeniel's Codex?
On Feb. 17th, the first Arena Carnival celebration is now underway!
From Feb.17th to March. 1st, join a 10-day log-in event to get Ryoma -The Feast of Rose skin and various rewards.
On Feb. 20th, share the Carnival post and you have a chance to get the Mina-Candy Queen skin for free.
On Feb. 21st, the Carnival themed Moren workshop will open.
On Feb. 24th, we have a Fan Art Skin Collection Event! Are you interested in drawing an exclusive skin for your favorite hero? Big award is waiting for you!
BUGS AND SUGGESTIONS
Inconsistency of the gaming process and results
We've noticed that some players reported that after getting the victory, an error of "Unable to connect to the server" occurs at the end of the victory animation, after which the match showed "failure". We've located the cause of the problem and will fix it later. Thank you for your feedback.
Map Hack Issue
We are striving to fight against the map hacks and have already got some achievements. Please let us know if you find any cheating-related contents or players. We will continue to provide players with a safe and fair gaming experience.
First Skill Issue of Butterfly
We've noticed that some players reported the damage error of Butterfly's first skill. We've located the problem and will fix it soon.
Issue of Nakroth Lobby Model and Tel'Annas Skin Model
We've noticed that the Nakroth lobby model and Tel'Annas new skin model may have appearance bug sometimes. We're working on this issue now. And thanks for your feedback.
India Server Issue
We have always been preparing for the re-launch of the India Server, and we are sorry to keep you waiting. Previously, due to the preparations of the version and server, we were unable to predict the accurate launch time of India Server, and we also needed to develop the function to help players in the old server transfer their heroes and skins to the new India Server. So far, we have already completed some preparations and we plan to launch the India Server in April, so please stay tuned.
LORE STORY
The answers to last week's lore are A, A, A. Please tell us if you have all the right answers! For this week, we'll bring you some questions about different camps in Arena of Valor.
Which option is the correct description of Afata?
A. Guardians of balance, who prefer to live in peace and harmony with nature but take up arms to protect the World Tree in times of crisis.
B. A frightening place near the evil power and protected by Stormwind
Which option is the correct description of Veda?
A. The proud rulers of Athanor, the creators and protectors of order, who sweep away the darkness.
B. A peaceful place protected by the Dryad and free from demonic corruption.
Which option is the correct description of Lokheim?
A. Sworn enemies of order, who seek absolute power against the ties that bind them.
B. The base that Illidan Stormrage led Kael'thas Sunstrider, Vashj and others occupied
We'll continue to make strides with each update. Thank you for playing.
Until next time.
– Arena of Valor Team