June 6th AoV Developer Letter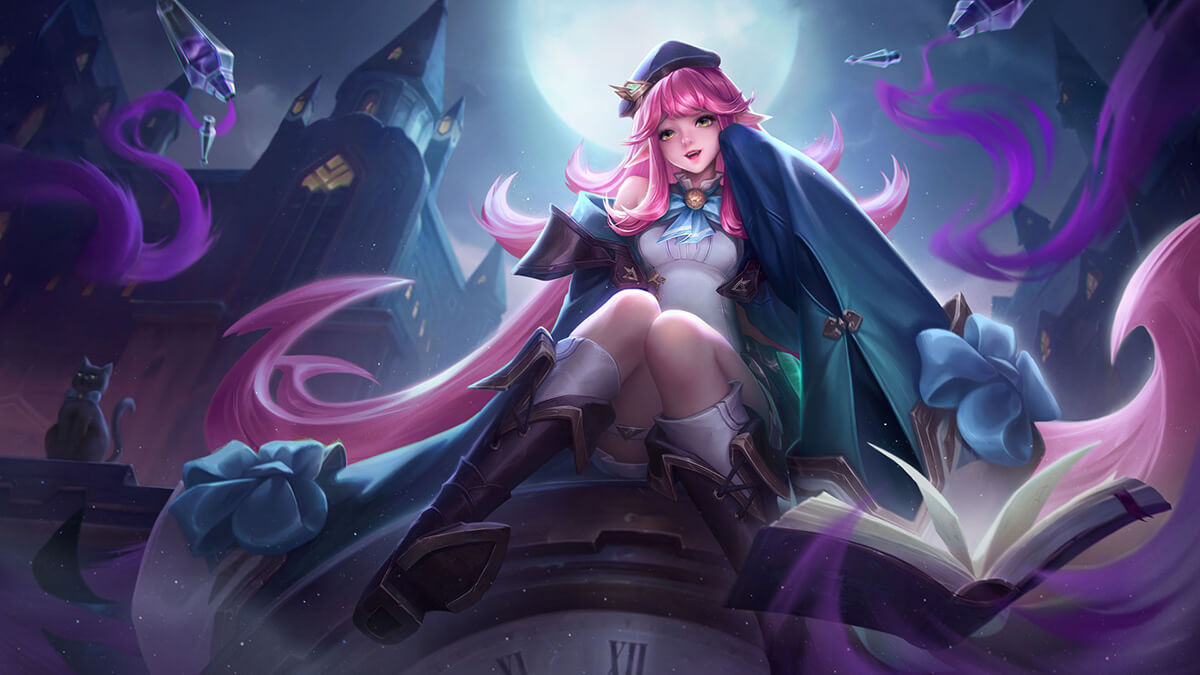 Let's check out the June 6th 2020 Arena of Valor Developer Letter and what is Tencent Games doing in their servers.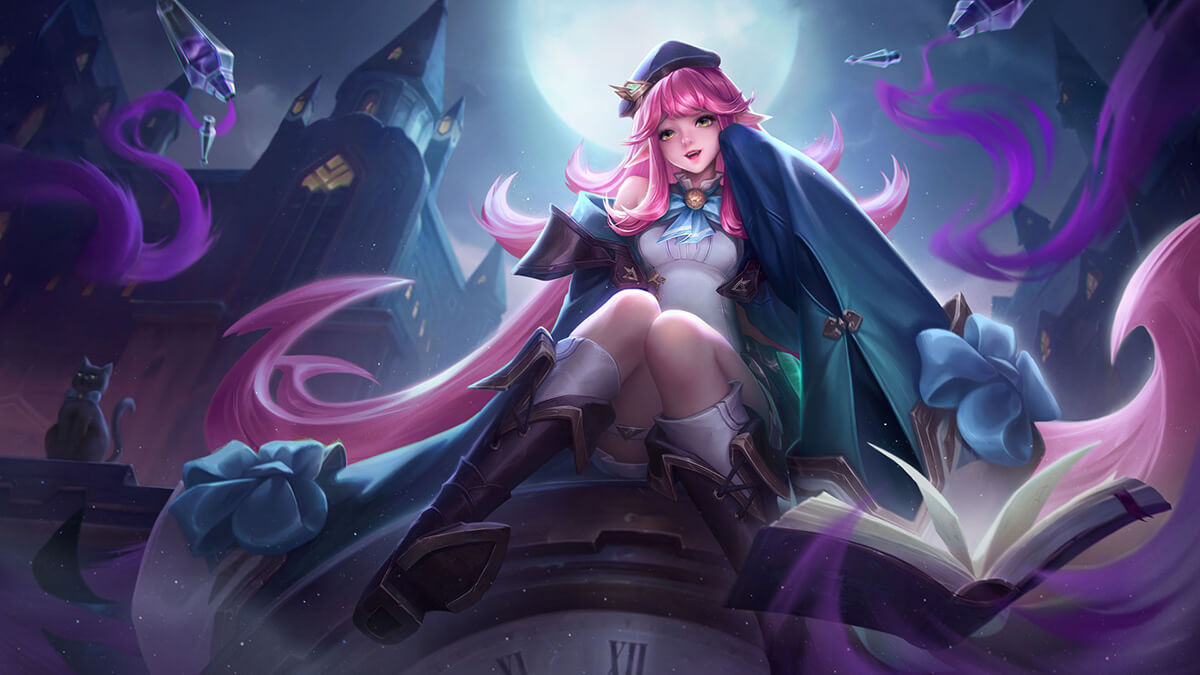 NEWS AND UPDATES
Super Weekend is coming! Just pick up your phone and join us on Jun 12th.
From 6th to 12th, check the event page in-game and get Keera Skin: Carano Scholar for free on June 12th.
From 12th to 14th, all heroes will be free to play in any 5V5 mode.
From 12th to 14th, Gladiator's Summit is open from 8-11 pm every day; (There will be slight differences according to the time zone, please refer to the time in your game).
From 12th to 21st, invite back 10 old friends who miss Arena of Valor, to win Preyta for free (For MENA, Russia and India: invite 10 new players to register to win Preyta for free).
From 12th to 21st, Topup event.
From 12thto 30th, join our 10-days log-in event to get one of these heroes for free (Yena、Quillen、Sephera), Aleister's skin: Enchanted Demise and other rewards.
From 12th to 21st, last but not the least, Skin Tel'Annas F.E.E-X1 Silverwing will return to the shelf.
Friendly reminder – the 10-days log-in event will be ended on 11th, so make sure you finish the event in time.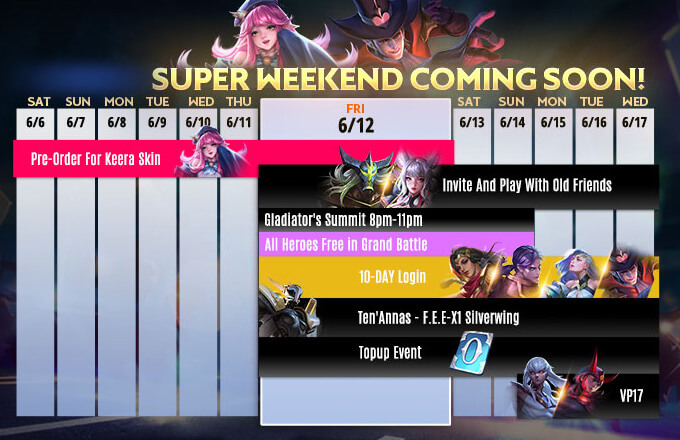 Meanwhile, we heard players complaining about it's hard to find casual matches in certain times (especially the early mornings). We hope to solve the problem and let everyone enjoy different game modes anytime anywhere.
In future, we will open all casual modes in weekends for a limited time. And everyone can check our calendar, on which we will notice the time in advance. If you have any question or suggestion, don't hesitate to reach out to our staffs and moderators.

BUGS AND SUGGESTIONS
In-game environment is one of the things that we care mostly about. Recently we had a series of open discussions and Q&A sessions, focusing on the reporting system, Tier Protection, and the match mechanism. You can find relevant answers at here.
Hackers
We are committed to creating a healthy and fair game environment, to bring better game experience to players. Through 7*24 hours monitoring in the game, for the installation or use of plug-ins, illegal plug-ins, cracked version, map perspective, angle indentation or any other behavior that damage the balance of the game, we will give serious punishment after a verification by the security team. Players should not trust any third-party plug-in information to avoid the loss of game account and other properties.
The losing MVP loss of stars
We've noticed that players are confused that when will the losing MVP trigger the avoid of losing stars, and we'll explain this in another letter from the developer. The losing MVP will not lose stars based on the player's post-game MVP score, fighting participation rate, damage and other stats. There is a requirement that the losing MVP must have a score of 8 or above to trigger the mechanism.
Our original intention in designing this mechanism is to ensure that players who really try to lead their teammates to victory and active confrontation can get this reward, and do not want players to desperately want to keep MVP and data when the game is about to lose.
FAN ARTS
Thank you, @Bulbahulk. Such a lovely Roxie art! Kawaii.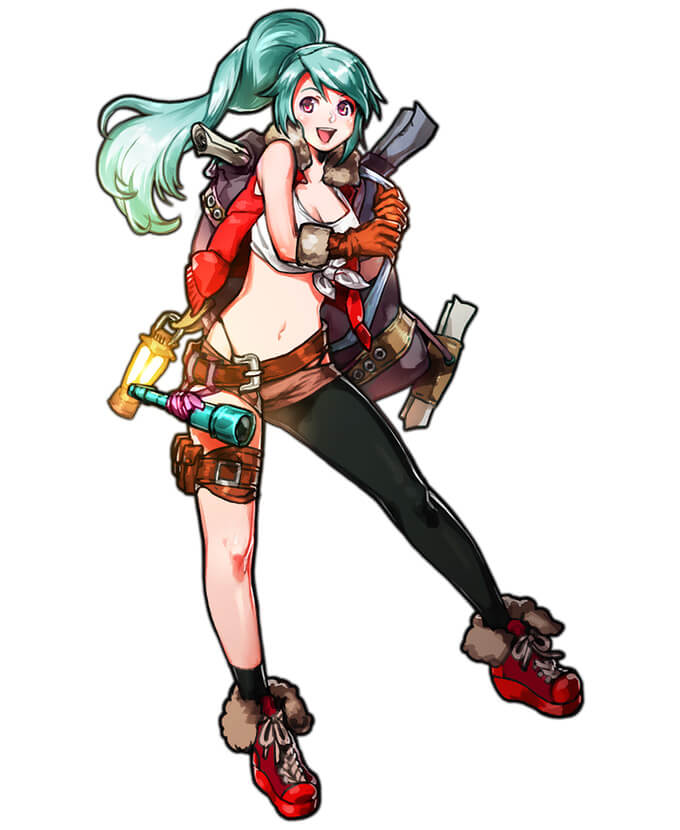 LORE STORY
The answers to last week's lore are ABBB. Please tell us if you have all the right answers! If you feel a little bit difficult to answer the question, feel free to check the hero story for help.
Who holds the lowest status in the Moren family?
A: Max
B: Brunhilda
Which of the following skills does Max excel at?
A: Telling Wisp a bedtime story
B: Sorting through garbage
Which of the following books is written by Moren?
A: The Principles of Mechanical Forging
B: Fortune 100 – How I Made My First Bucket of Gold
Which of the following heroes was not adopted by Moren?
A: Capheny
B: Wisp
We'll continue to make strides with each update.
Thank you for playing.
Until next time.
– Arena of Valor Team