Aya, Fluffy Voice: Abilities and Story Preview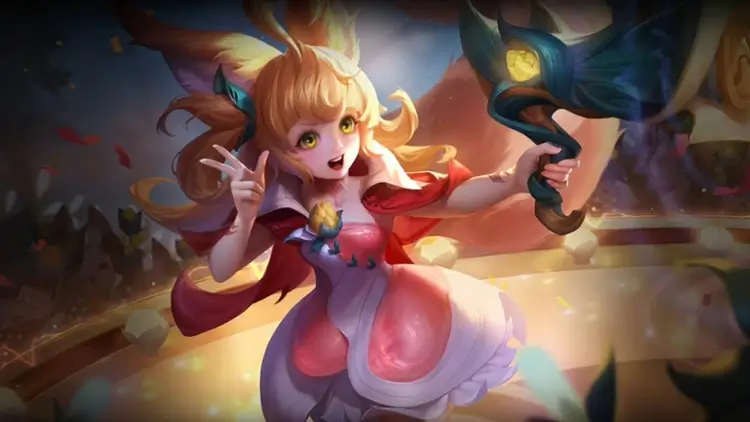 Welcome to AOV PRO Preview series! Today we introduce new Support hero Aya, Fluffy Voice. She is available in Tencent Games and Garena servers.
Abilities
Squirrel Spirit (Passive)
When Aya's HP drops below 40%, she turns into a squirrel for 3s: Can't be selected and can't attack enemies.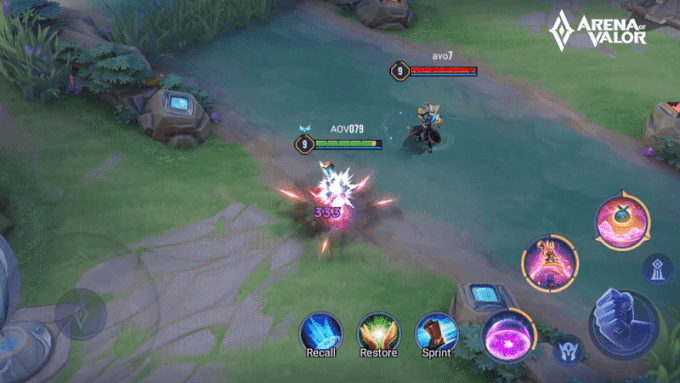 Sound Breaker (1)
Aya fires a bullet that increases in size, dealing magic damage, inflicting slow, and revealing enemies.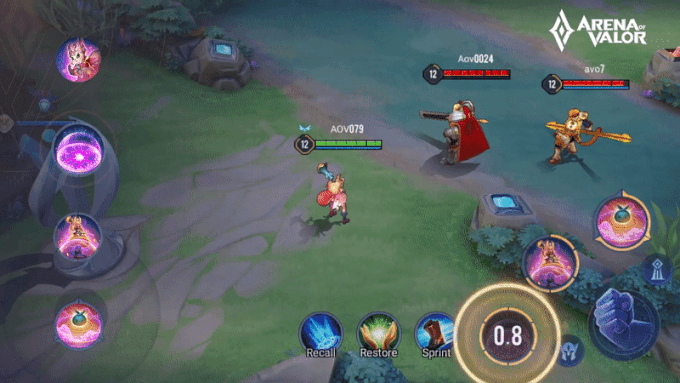 Idol Love (2)
Aya flies toward a teammate, possesses the target, and places a shield on the target. She cannot be targeted during possession.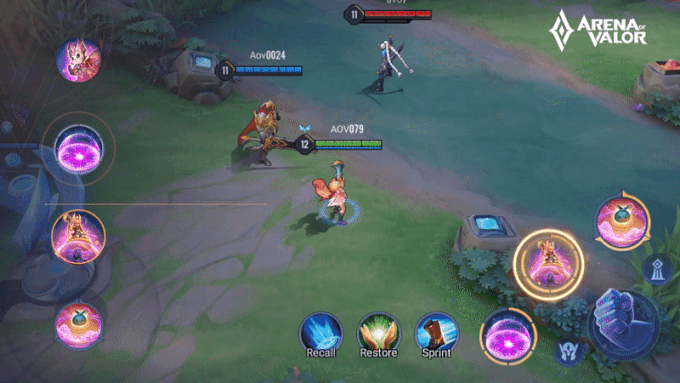 Forest Song (Ultimate)
After a brief moment, Aya transfigures nearby enemies.
Possessed State: Creates a Magic Field with the possessesed target at the center for 5s, dealing damage to enemies. Enemies who remain in the field will be transfigured, and the possessed target will gain a significant movement speed bonus.
Transfigured targets receive Movement speed reduction, and they are unable to use normal attacks and abilities.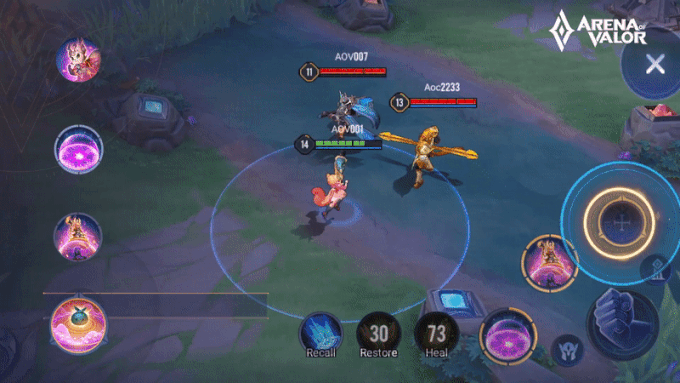 Story
Profile
Let's get going, Athanor's biggest star!
Date of Birth:
Mar 21.
Height:
155cm.
Birth Place:
Afata.
Status:
Elven Star.
Info:
It's no secret in the forest that Aya once had a friend, a glowing Aya's singing isn't like the sounds of nature, but it gives strength to others.
Secret:
For Aya's first concert, all the elves present were coerced by Krixi.

Elenad'orr promised Aya he would perform with her in future performances.

Aya left the forest not only to keep her promise with Eland'orr, but also to look for Shiny.
The spirit of the World Tree gave birth to Aya in the form of a squirrel.
After transforming into human form, Aya came across Eland'orr and Krixi in Elborne Woods, and it was that encounter that opened the door to music for Aya. From then on, Aya could be found lying on Eland'orr shoulder while he player her favorite songs on his silver harmonica, or turning to Krixi over and over again and basking in her heavenly voice to learn the joy that songs can bring. With the help of two elves, Aya soon mastered the ability to express herself through music. In no time at all, the innocent and lively Aya began to hold large and small solo performances in Afata.
As her performances grew grander day by day, Aya soon archived the status of a little idol in Afata. Seeing the smiles of the audience, she believed her songs could bring happiness and joy to others. What the carefree Aya didn't realize was that Krixi had been intimidating the forest elves to attend her concert and not say anything bad about it all along.
After learning to control the Soul Lamp, Eland'orr chose leave Afata to atone for his sins. Before he left, Eland'orr promised Aya that they would meet again when she becomes Athanor's most beloved idol. To ensure that this promise would be fullfilled, Aya threw herself into working hard towards her goal of becoming the world's top idol.
Through her singing, Aya made many friends, from elves, orcs, and humans outside the forest to even a dragon. Across many conversions with them, Aya came to realize that there was a different side to the world, but she remained optimistic that her singing could heal all the hurts of the world. In order to bring smiles to more people's faces, the little idol with the big bushy tail continued her work in Afata.
Aya nerver forgot the promise she had made with Eland'orr. She believed that one day, she would leave Afata and bring her performances all over Athanor for everyone to hear her singing. Then, when the performance ends, she would invite Krixi up on stage to listen to Eland'orr play her favorite song on his silver harmonica.
Trailers
Comic Video
Hero Spotlight
Design Concept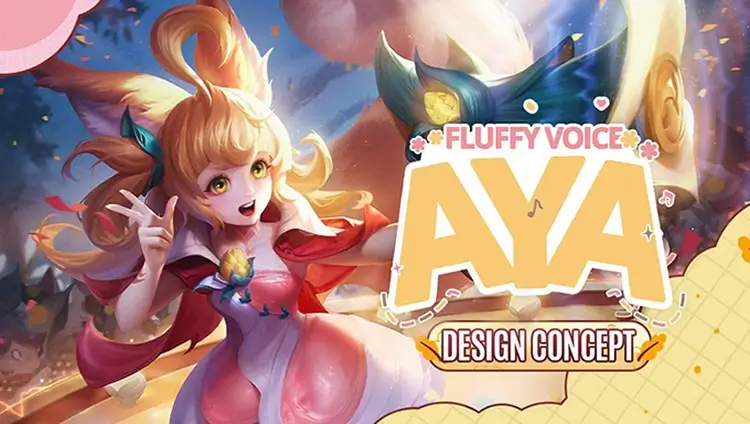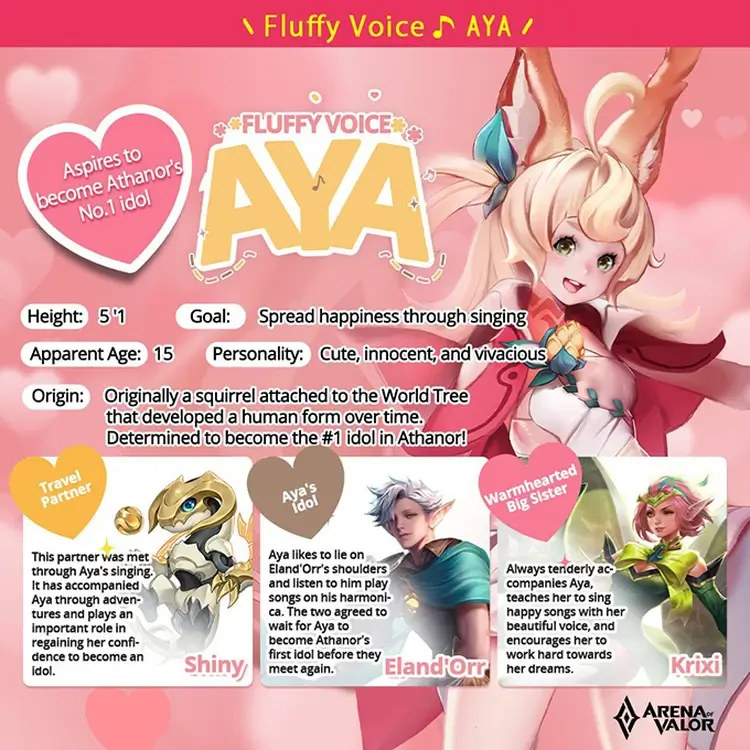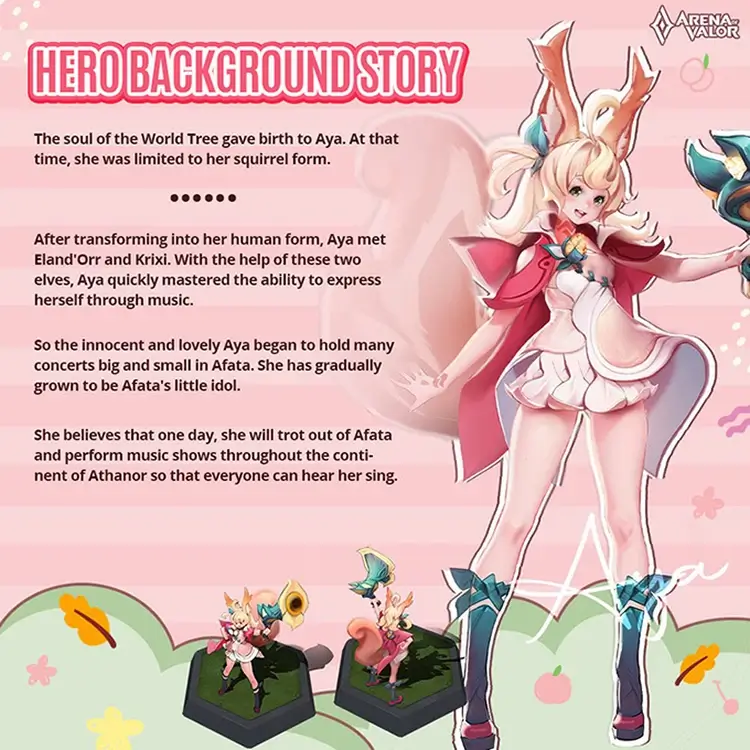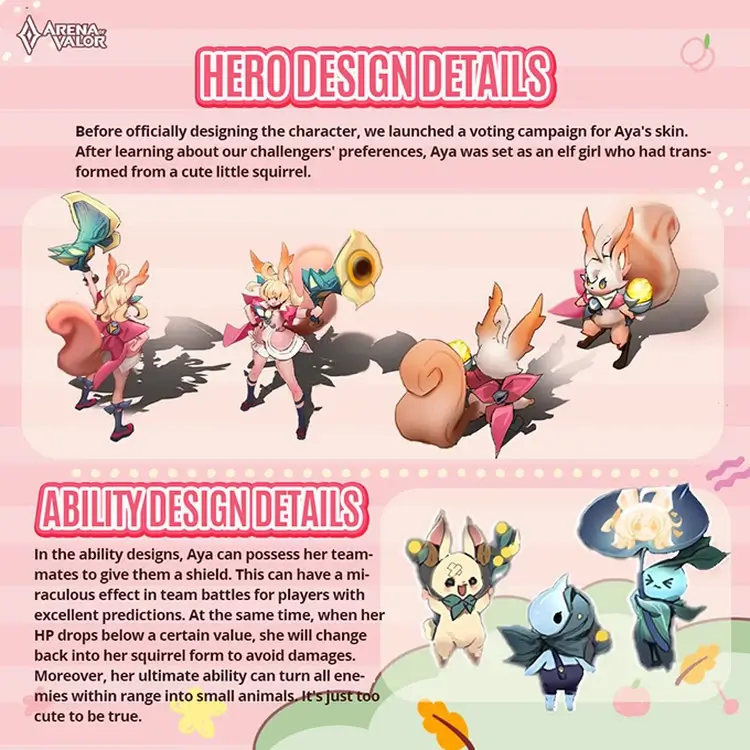 Skins
Original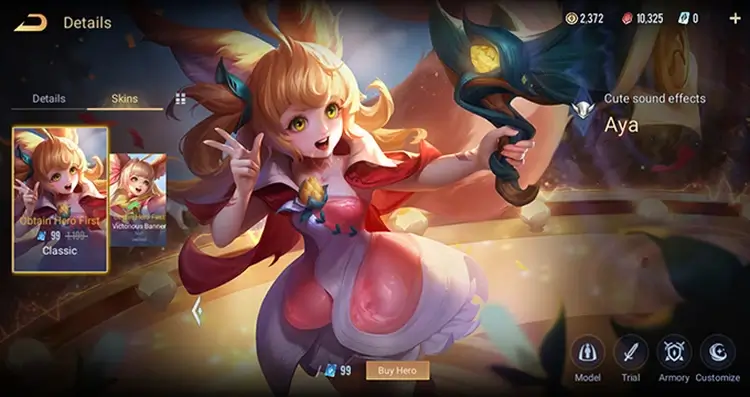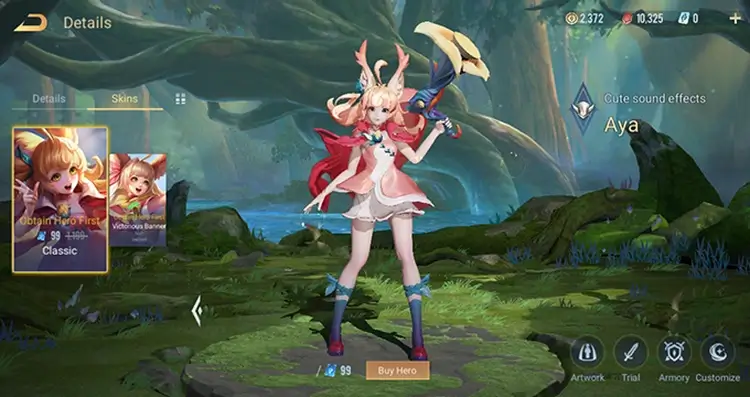 Victorious Banner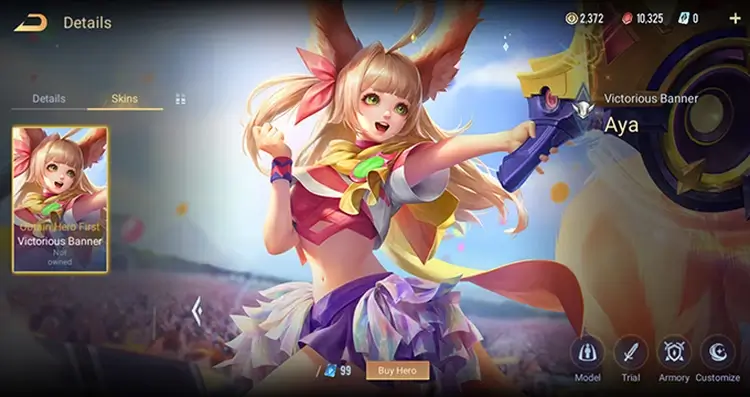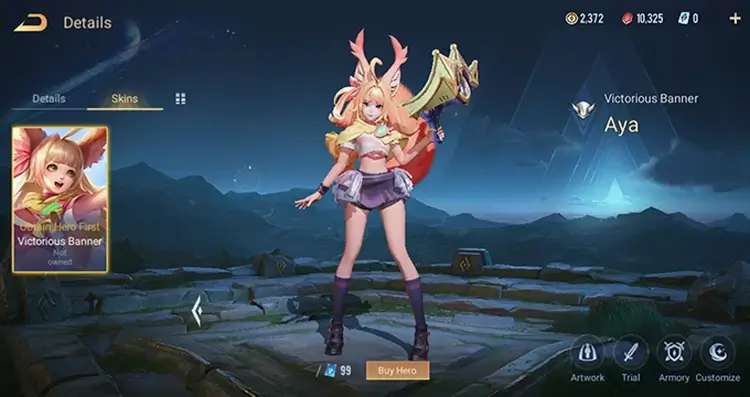 Builds
Equipment Suggested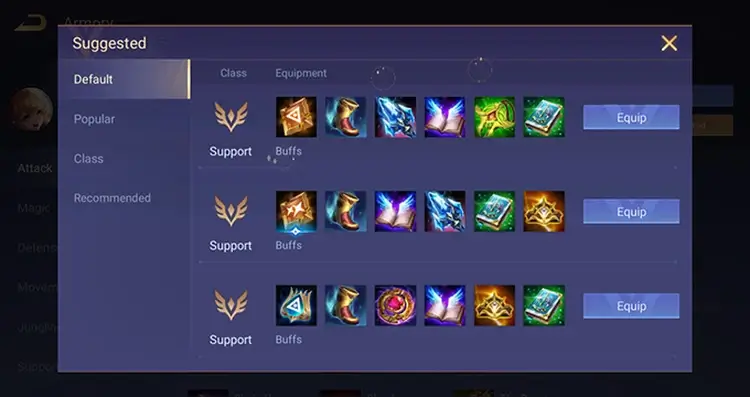 Arcana Recommended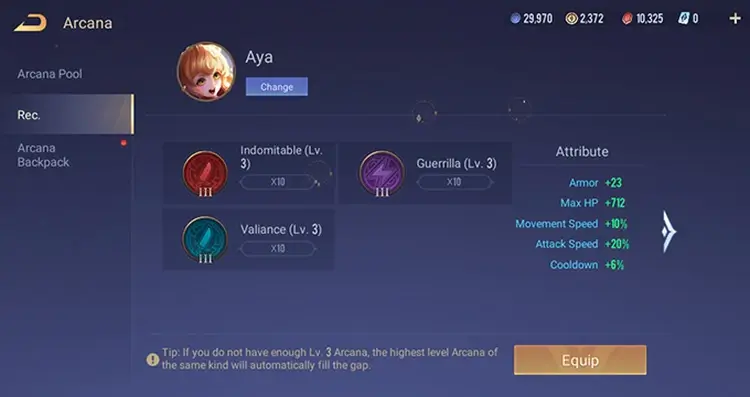 Enchantment Recommended