Welcome to AOV PRO Preview series! Today we introduce new Warrior/Assassin hero Yan, Brush of Wonder. She is available in Tencent Games and Garena servers.
Abilities
Flash of Inspiration (Passive)
Yan gains one stack of energy when he uses his skill 1 or skill 2. At two stacks of energy, his next normal attack is enhanced to trigger different additional effects based on the last skill used. When hitting an enemy, his attack speed is increased by 40%~68% (increases with level) for 4 seconds and he restores 6% (+1% for every 80 additional attack damage) of his max HP (effects are halved against non-hero targets).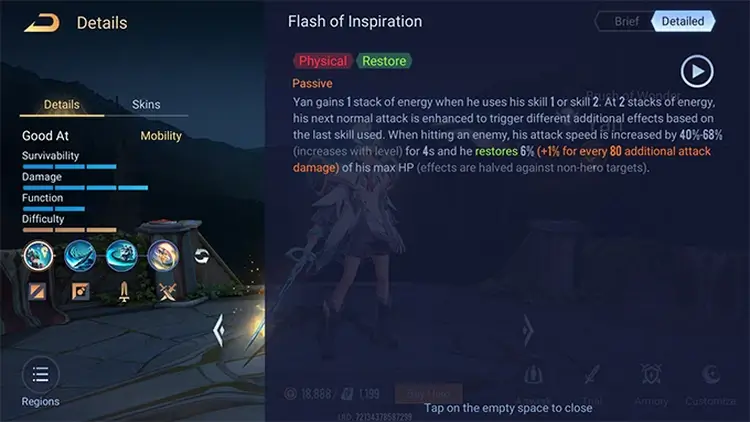 Splash Ink (1)
Deal 250 (+100% of AD) physical damage to enemies in a fan shaped area and slow them by 30% for 1.5 seconds.
Corresponding passive enhanced normal attack: After charging and leaping up, smash the area in front (can move during this time), dealing an additional 200 (+25% of AD) physical damage to enemies (damage increases by 100% against wildlings) and knocking up enemies for 0.5 seconds.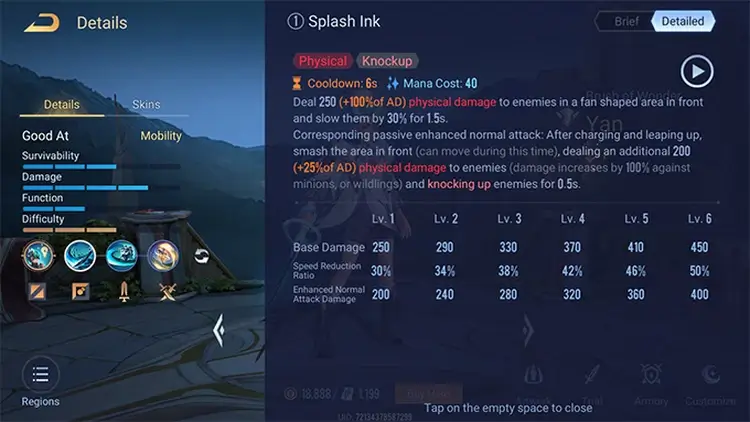 Coiling Dragon (2)
Yan moves forward in an arc (he is untargetable during this time) and deals 120 (+60% of AD) physical damage to enemies along his path.
Corresponding passive enhanced normal attack: He dashes towards enemies, dealing an additional 100 physical damage and triggering an extra phase of skill 2 (this has a separate cooldown and does not grant energy).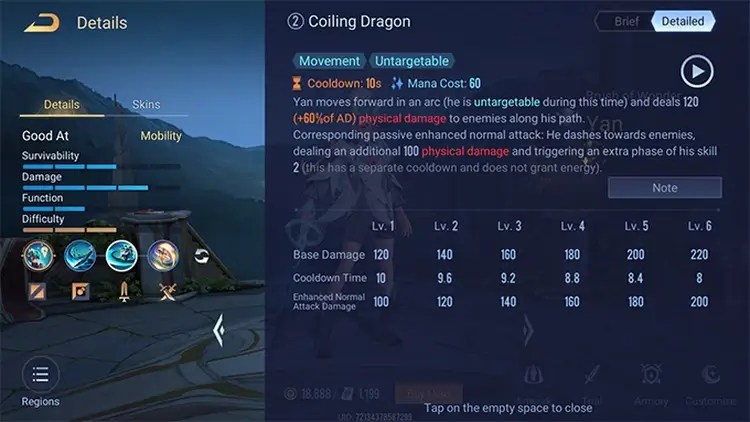 Crushing Mountain (Ultimate)
Yan removes his seal (gaining super armor and taking 50% less damage while casting). After 1s, he deals 200 (+80% of AD) to nearby enemies and unlocks the second stage of his ultimate, then he becomes enhanced (at each level, his ultimate inherits the effects of the previous levels of the ultimate) for 8s.
At Lv. 1, he gains 20% physical penetration and increases the damage of his skill 1 and skill 2 by 50%.
At Lv. 2, extends the duration of his enhanced state when the enhanced normal attacks of his passive hits enemies (enhances the duration by 2.5s when hitting heroes and 1s when hitting minions or wildlings), and allows him to use his ultimate multiple times at the second stage of the skill while enhanced (8s cooldown; cooldown reduction effects do not apply to this).
At Lv. 3, the enhanced normal attacks of his passive give him 1 stack of energy.
Re-cast: Yan dashes forward, dealing 400 (+120% of AD) physical damage to enemies in a large area in front of him) and knocking them up for 0.5s. This skill enters a 2s cooldown if the dash is interrupted without affecting the number of times it can be used.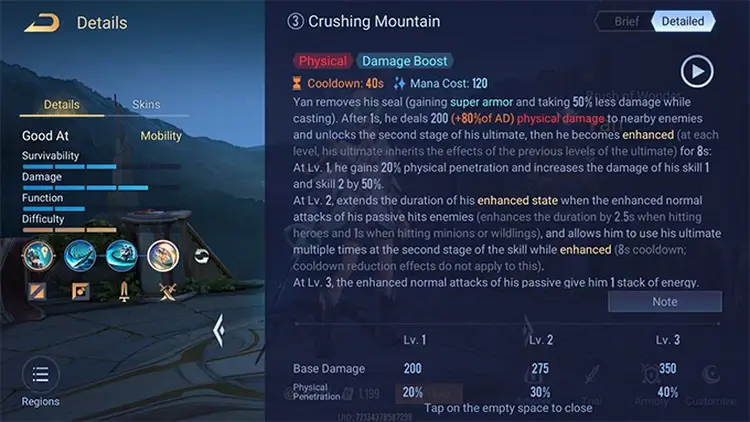 Story
Profile
The Blade of Mercy didn't choose me. I chose it.
Date of Birth:
Aug 25.
Height:
165 cm.
Birth Place:
Dragon Kingdom.
Status:
Artist, disciple of the Dreamount Academy of Arts.
Info:
Yan's hobby is re-creating famous works of art.

Yan does not like to be treated as a kid.

Secret:
Many publishers in the Dragon Kingdom have invited Yan to publish his work in their publications.

Yan once went to Lorn City's most popular art gallery to challenge their artists all by himself.

After leaving the mountain, Yan would send letters to check in with his parents every two months.
Yan was the last disciple of the Dreamount Academy of Arts' current master in the Dragon Kingdom.
Handpicked by the master at the break of dawn, he was named after a scholar's four jewels – "ink" and "inkstone". In the Dragon kigndom, "ink" was also known as "green pine nut", and this was how the name Yan came about.
Growing up among the older boys and girls in the Academy of Arts, Yan displayed a phenomenal talent for the arts. Hailed as a genius, he also gained ownership of the treasure – the Dream Scroll and the Blade of Mercy.
The Dream Scroll and the Blade of Mercy were highly prized by artists in the Dragon Kingdom. The Dream Scroll was akin to a flawless white wall. It was said that only when one truly understood the power of imagery and learnt to master the Blade of Mercy could one leave a rich and vibrant masterpiece on the Dream Scroll. However, the Blade of Mercy had been destroyed in the river of time. Only half of it remained, passed down in the form of a sword, and no one had been able to leave their mark on the Dream Scroll.
When Yan was young, he left a stroke on the Dream Scroll by chance, and his miraculous feat spread throughout the art world of the Dragon Kingdom.
However, Yan wasn't contented to bask in just one glorious but past achivement as his ultimate dream was to paint a masterpiece on the Dream Scroll. As he continued to hone his skills, he often suffered bouts of despair in his quest for perfection. However, in reality, the only person dissatisfied with his work was himself.
Aware of Yan's state of mind, the master decided to send him down the mountain with the Dream Scroll and the Blade of Mercy on the pretext of seeking to restore the brush. He hoped this would help Yan set aside his despair during the journey and return to the joy of creation. Though Yan undertook the task to restore the brush, the ultimate restoration goal was his heart, and it was with this well-meaning intention that the master hid the truth from him.
And so, the art prodigy of the Dragon Kingdom made his way down the mountain.
Trailers
Introduction Guide
Skins
Classic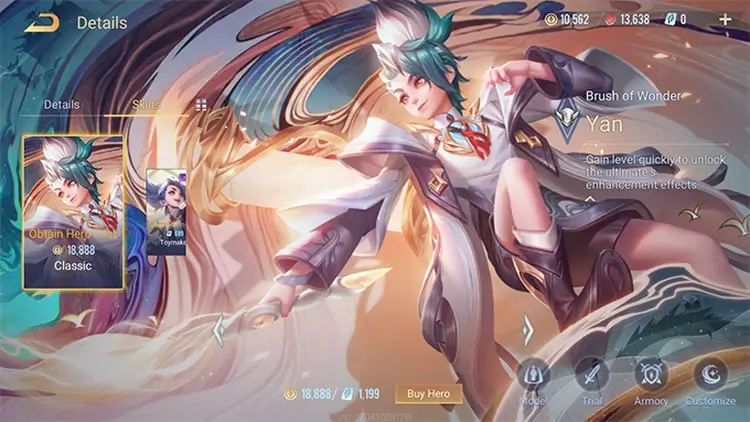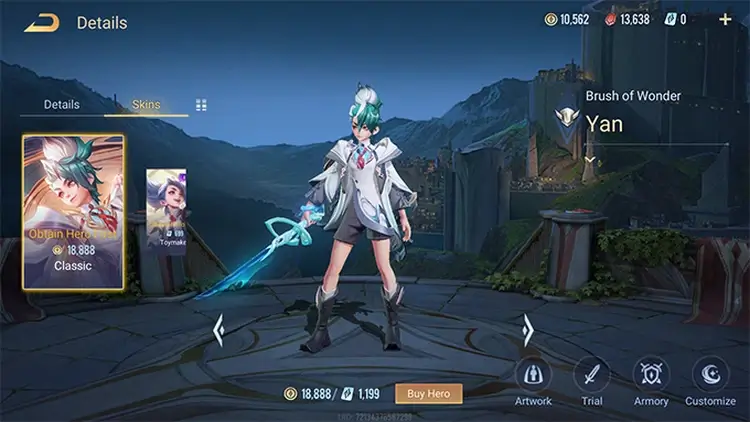 Toymaker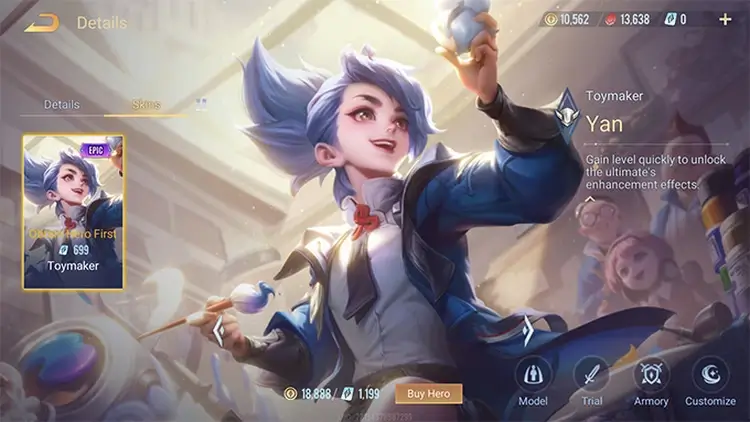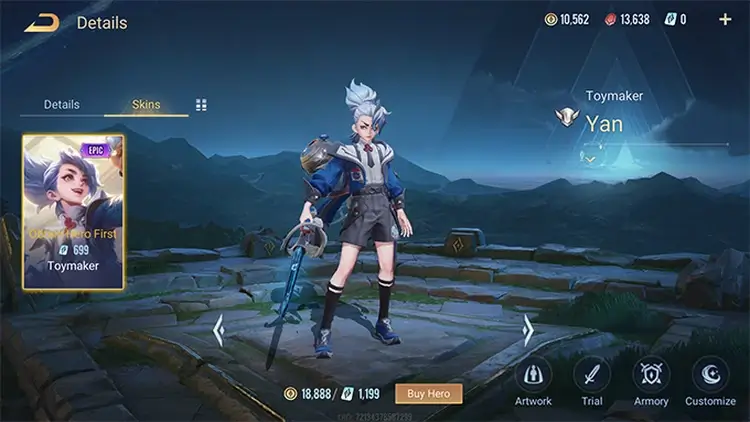 Builds
Equipment Suggested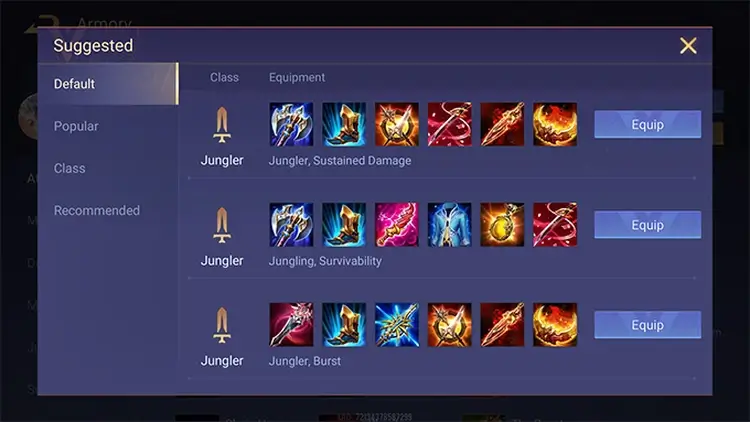 Arcana Recommended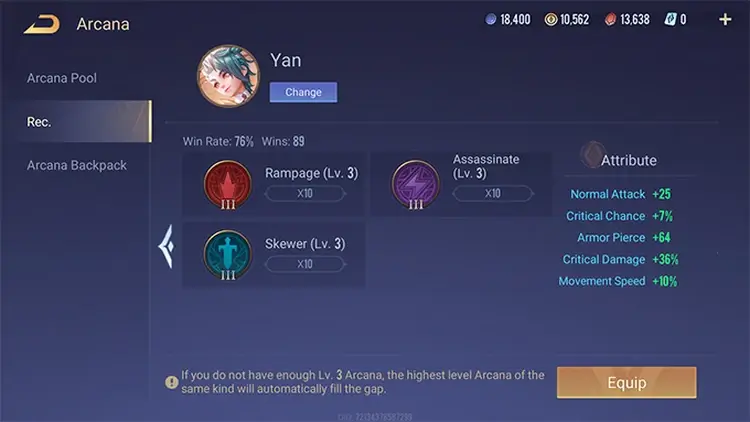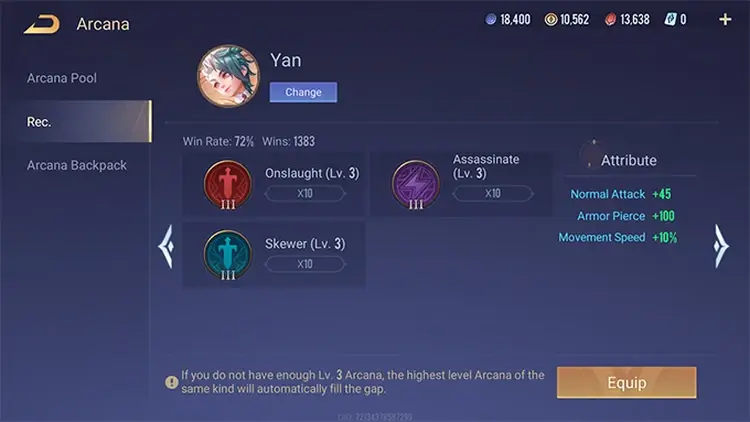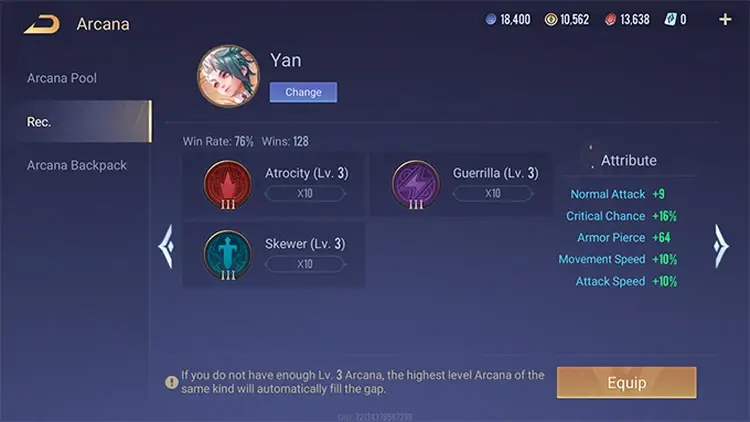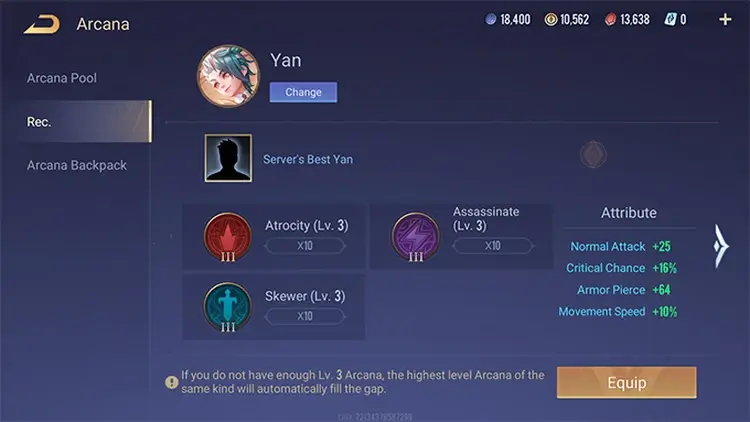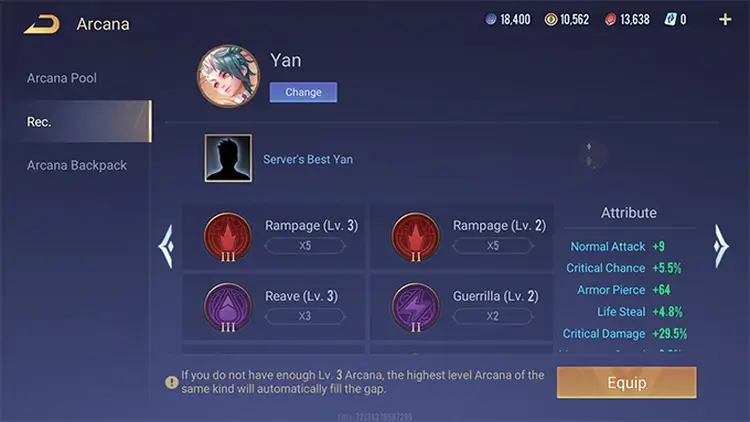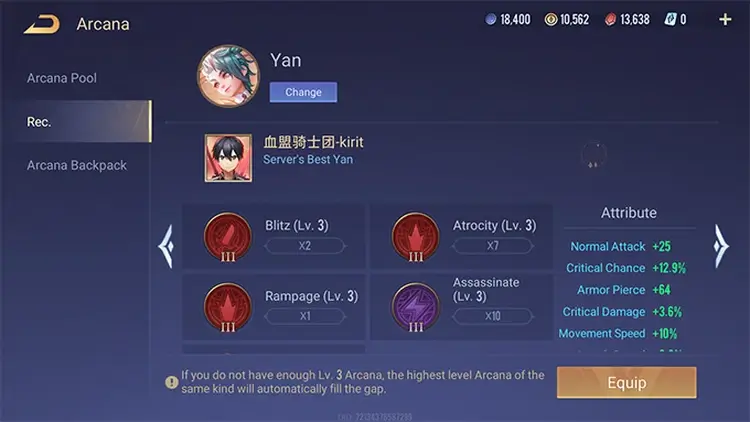 Enchantment Recommended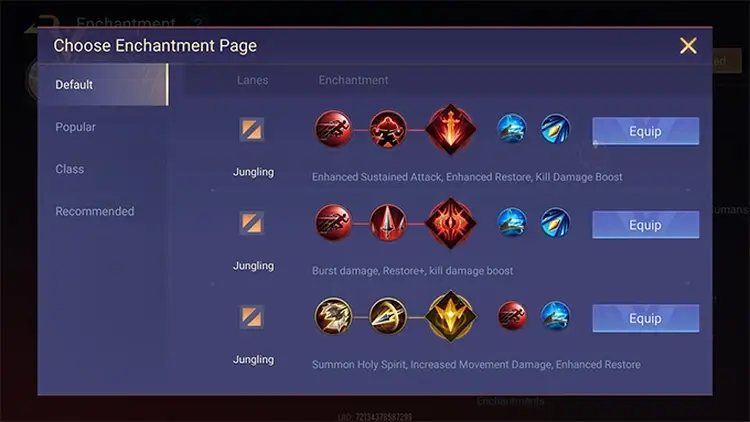 Warning
: Undefined array key "mts_social_button_layout" in
/home/xvps/sites/hthgamingcom/aov/wp-content/themes/AOVPRO2020/functions/theme-actions.php
on line
461