Welcome to AOV PRO Preview series! Today we introduce new Warrior hero Tachi, Sorrow's Edge. He is available in Tencent Games and Garena servers.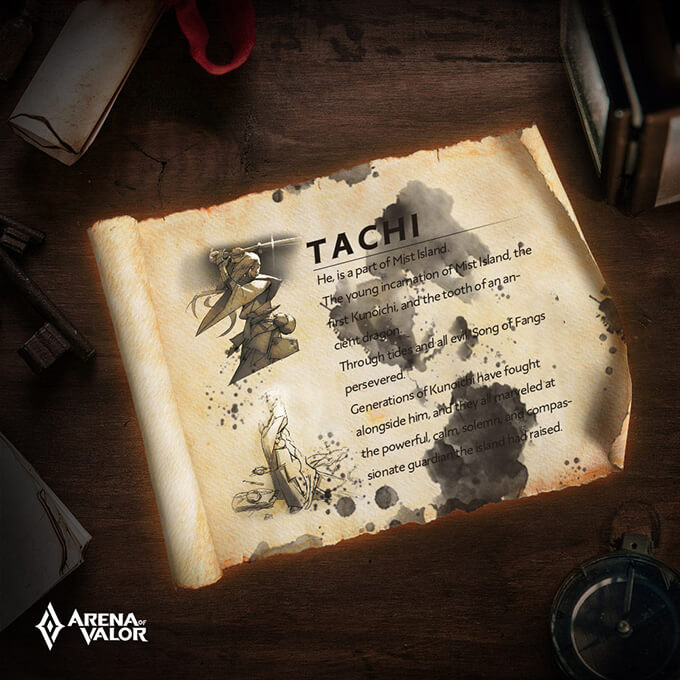 Abilities
Spellbound (Passive)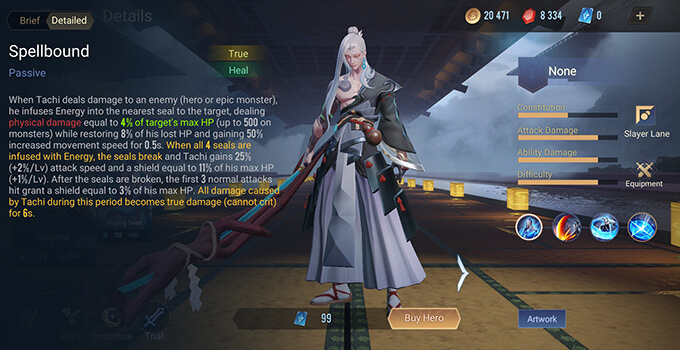 Tachi's weapon – Fang Blade, has been cursed by the sea beasts. Only by the breaking the seals can it reach its true potential.
When Tachi deals Physical Damage to an enemy (Hero or Epic Monster), ge gains HP Regen and Speed-Up. The 4 seals break once they are infused with Energy, and Tachi gains an Attack Speed bonus and a Shield. All Damage dealt by Tachi during this period becomes True Damage.
Moon Pierce (1)
Moon Pierce – Eclipse (unbroken seals): Tachi unleashed a sword wave, dealing Physical Damage and slowing enemies.
Moon Pierce – Full (broken seals): Tachi charges for 1s (gains Iron Body during this period) and unleashes a sword wave, dealing True Damage. Damage is increased with each attack under this state.
Browbeat (2)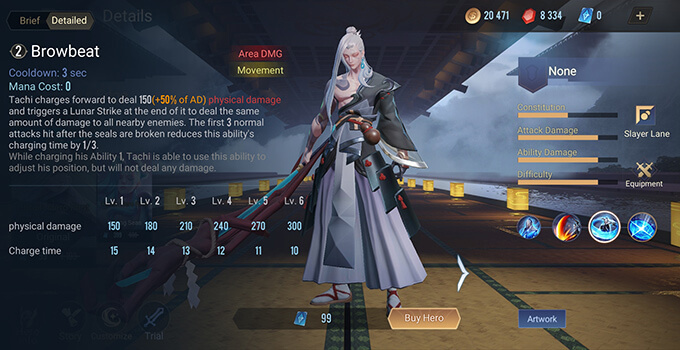 Tachi charges forward to deal Physical Damage and triggers a Lunar Strike at the end to deal equal damage to all nearby enemies.
Cliff Breaker (Ultimate)
Tachi appears above his target and performms a cross-shaped attack from the air. Each slash deals Physical Damage and slows enemies. He the performs a downward slash, dealing Physical Damage to all nearby enemies for 3s. The broken seal effect is triggered immediately upon Tachi's landing.
Tachi is Immune to all Damage and Control effects while in air.
Story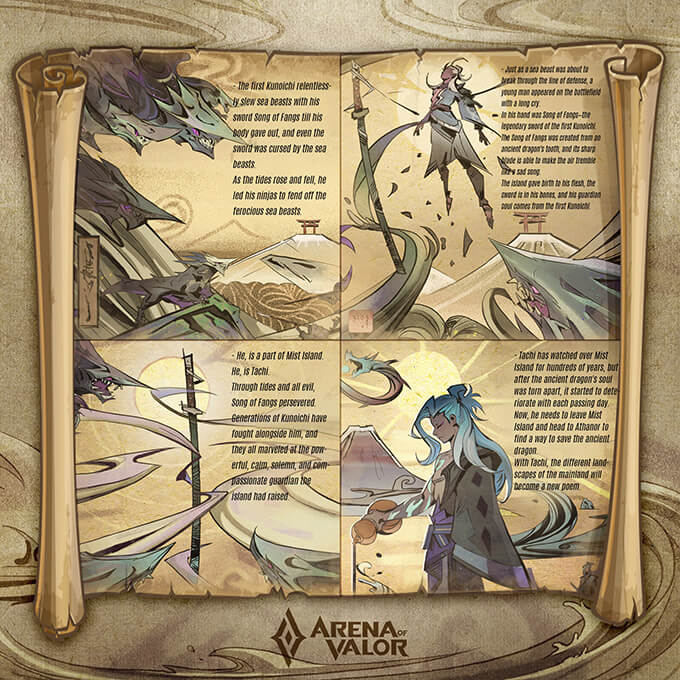 Tachi was the young incarnation of Mist Island, the first Kunoichi, and the tooth of an ancient dragon.
The first Kunoichi relentlessly slew sea beasts with his sword Song of Fangs till his body gave out, and even the sword was cursed by the sea beasts.
As the tides rose and fell, he led his ninjas to fend off the ferocious sea beasts.
Just as a sea beast was about to break through the line of defense, a young man appeared on the battlefield with a long cry.
In his hand was Song of Fangs – the legendary sword of the first Kunoichi. The Song of Fangs was created from an ancient dragon's tooth, and its sharp blade is able to make the air tremble like a sad song.
The island gave birth to his flesh, the sword is in his bones, and his guardian soul comes from the first Kunoichi.
He, is a part of Mist Island.
He, is Tachi.
Through tides and all evil, Song of Fangs persevered.
Generations of Kunoichi have fought alongside him, and they all marveled at the powerful, calm, solemn, and compassionate guardian the island had raised.
Tachi inherited the spirit of the first Kunoichi by taking responsibility for everything. With this unbending principle in mind, he's usually slow to act.
Perhaps because his body is his sword, this gave him a clearer insight into the nature of the battle. Between swords, there is no right or wrong, only the passage of life and dignity.
But some battles are unavoidable, and as Tachi draws his sword, tears of compassion flow down his face as he bids farewell to the lives lost in battle.
When the battle ends and the sword has been sheathed, Tachi will recite a poem in memory of his fallen opponent.
Tachi has watched over Mist Island for hundreds of years, but after the ancient dragon's soul was torn apart, it started to deteriorate with each passing day. Now, he needs to leave Mist Island and head to Athanor to find a way to save the ancient dragon.
With Tachi, the different landscapes of the mainland will become a new poem.
Trailers
CG Trailer
Story Trailer
Hero Spotlight
Design Concept
A mythical protector and the guardian of Mist Island is coming soon to Arena of Valor. Go behind the scenes and peer into the minds of our artists with Tachi's design concept!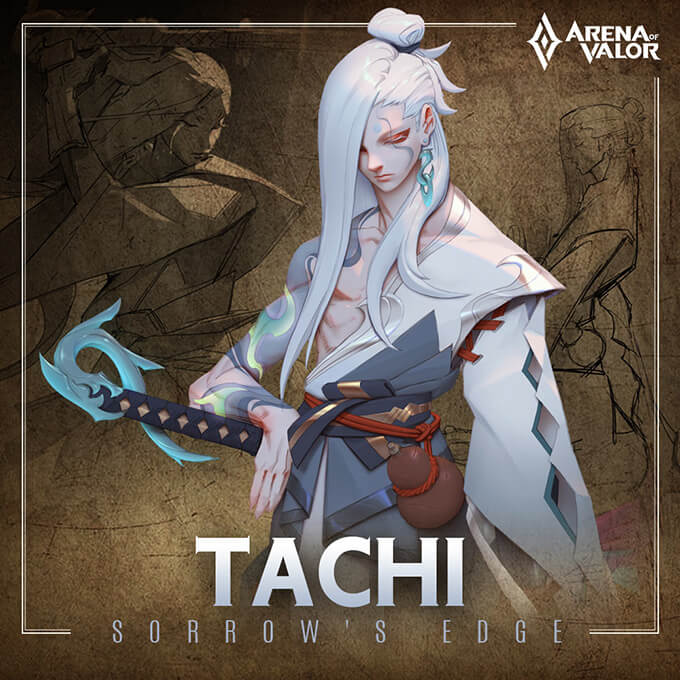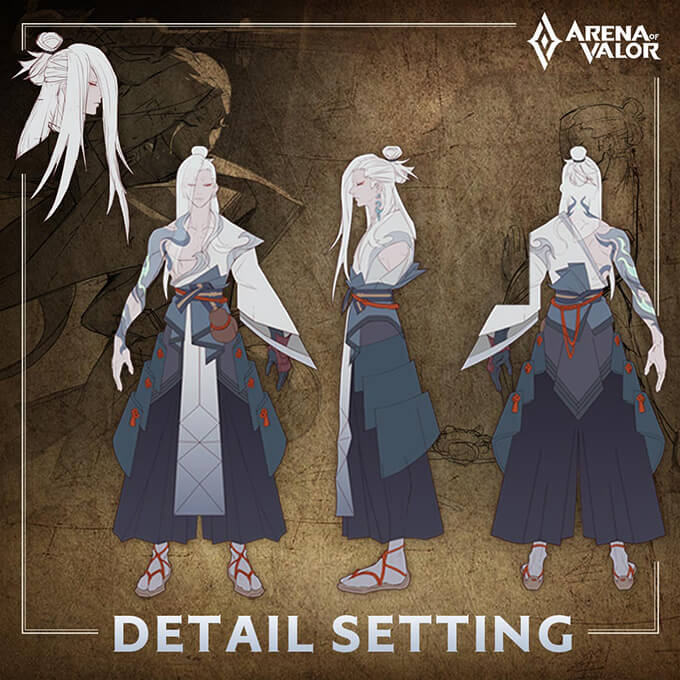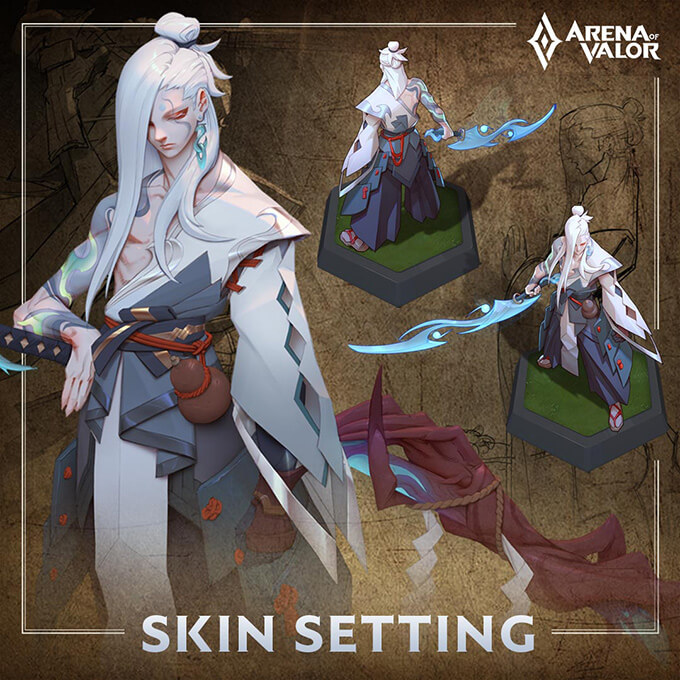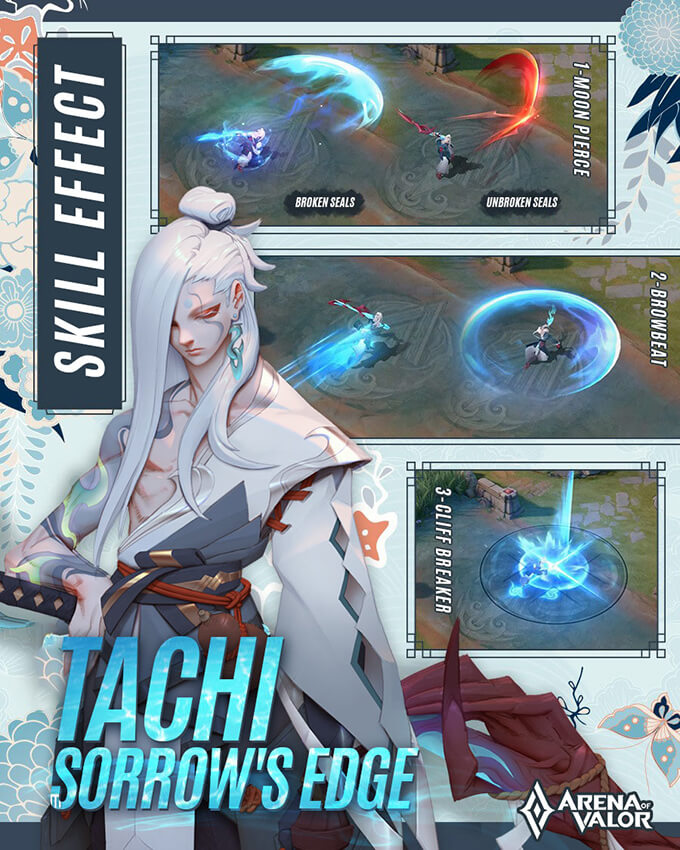 Skins
Original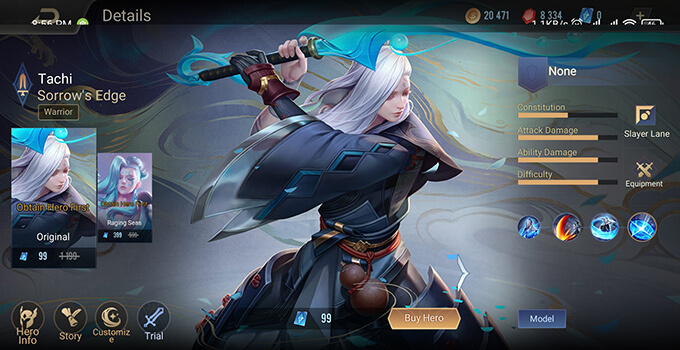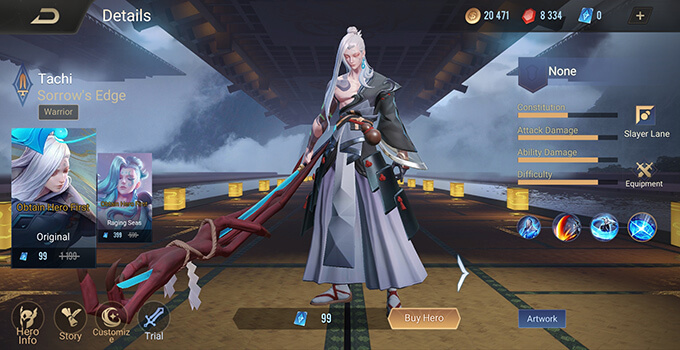 Raging Seas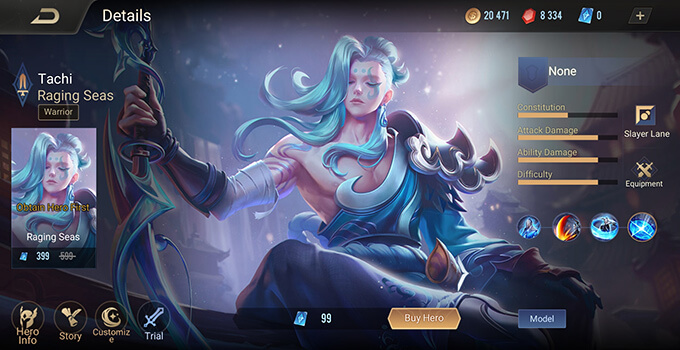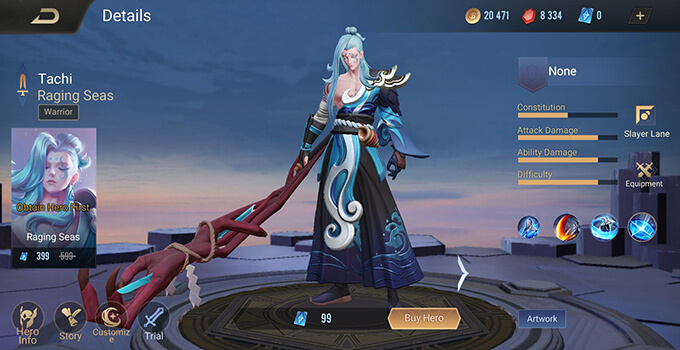 Builds
Equipment Suggested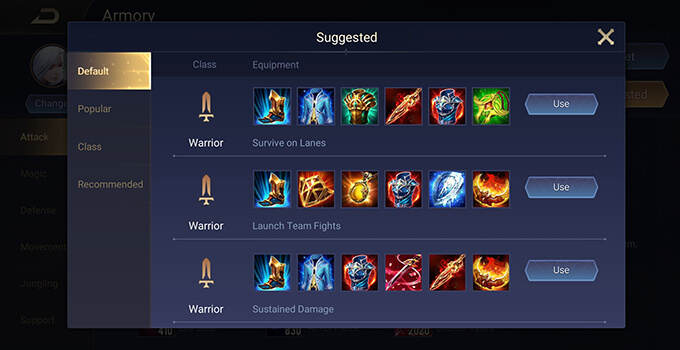 Arcana Recommended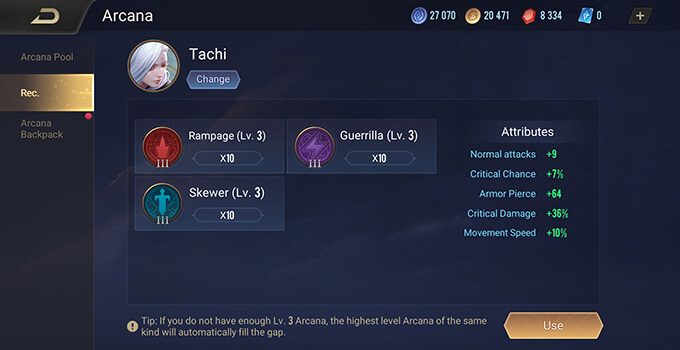 Enchantment Recommended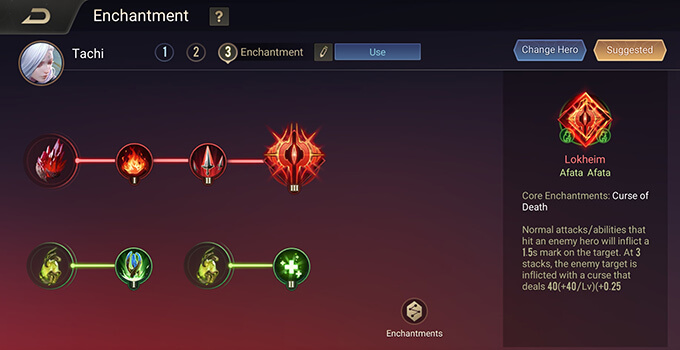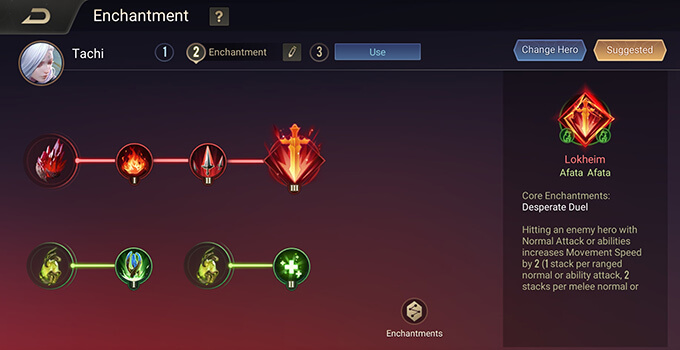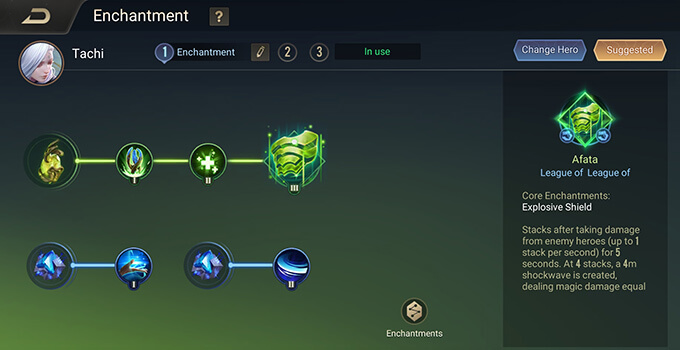 Warning
: Undefined array key "mts_social_button_layout" in
/home/xvps/sites/hthgamingcom/aov/wp-content/themes/AOVPRO2020/functions/theme-actions.php
on line
461