Bless Online Early Access Details Announced!
Neowiz has announced Bless Online Early Access on Steam will start on May 30th, 2018 (PDT). The Founder's Pack owners will get 2 days head-start with Advanced Access on May 28th, 2018.

WHAT IS BLESS EARLY ACCESS?
Bless is a MMORPG game based on western medieval fantasy, designed for players to experience it together in a seamless open world. Through engaging and diverse content such production and crafting, boss raids and dungeon exploration, a variety of different battlefields, field PvP, and RvR battles, players will be able to experience a sense of achievement in Bless..
However, in order to further improve upon this content in interesting and meaningful ways, Neowiz has decided to focus on Steam Early Access to allow many players to experience the game and share their ideas and opinions.
The Bless Online developer wrote: "We plan to provide monthly updates (both big and small) that will change certain systems and introduce new content. Our goal is to continuously improve the game before the official release, and we will now tell you about the specifics regarding Early Access".

EARLY ACCESS START DATE & TIME
May 30th at 10:00 a.m. (PDT)
Those who purchased a Founder's Pack will be able to enjoy the game two days in advance on May 28 at 10:00 a.m. (PDT).
Founder's Packs will be sold beginning May 28 at 10:00 a.m. (PDT) on the Bless Steam Store page.

FOUNDER'S PACK AND BASE GAME INFORMATION
Founder's Pack
Get a two day head start on the game on May 28 with the Founder's Pack! Each of the three Founder's Packs contains the base game and exclusive benefits. Details on what will be included in the Founder's Packs will be revealed on May 28.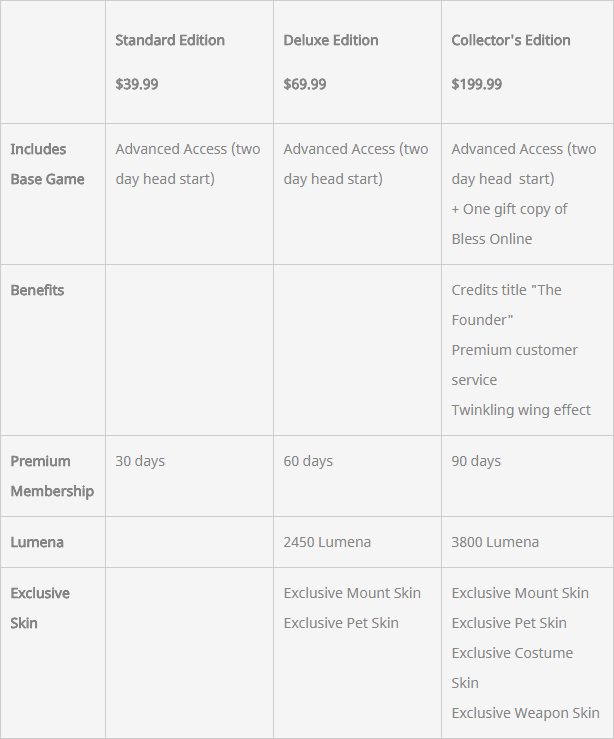 Base Game $29.99
Purchase available from Early Access (May 30th)

CONTENT AND GAMEPLAY
7 Races
– Habicht / Amistad
– Lupus / Pantera
– Sylvan Elf / Aqua Elf
– Mascu
5 Classes
– Guardian
– Berserker
– Paladin
– Mage
– Ranger
Level
– Max Level 45
9 Dungeons
– Guiscardo's Hideout
– Underground Prison of Balmont
– Mausoleum of the Wise Ones
– Sleeping Scale Remains
– Urutus Mine normal/elite
– Kobold Hideout, Patala Ruins
– Migra Turris normal/elite
There will be an additional detailed announcement on May 28 about playable game specifications (content).
For more information about Bless' races and classes please refer to the Bless wiki.

LOCALIZATION AND REGIONS
Players can choose to play the game in either English or German, but the voice over will be in English. The selectable server regions are North America (Virginia) and Europe (Frankfurt), with only China, Japan, Korea, Taiwan, Hong Kong, and Macao being region locked.

SYSTEM REQUIREMENTS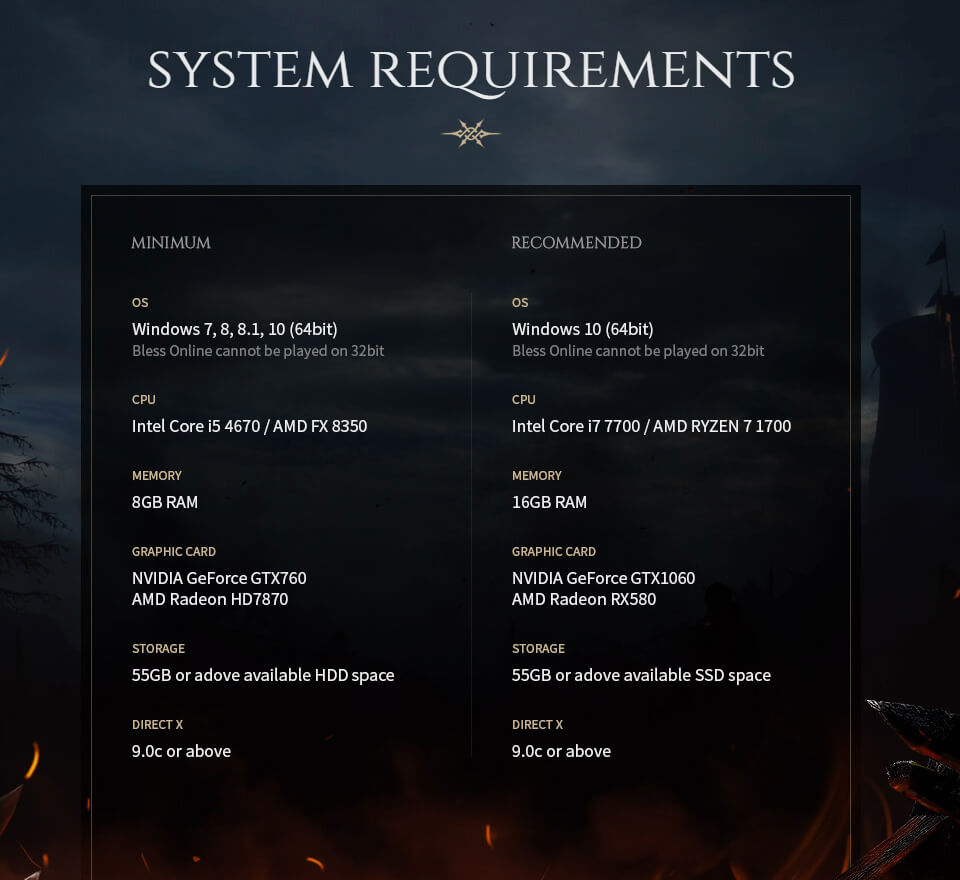 Source: Bless Online official site.