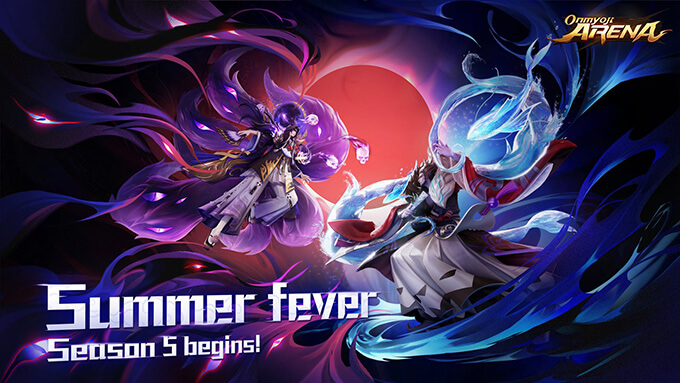 April 26th Update Patch Notes (Global)
Let's check out Onmyoji Arena update patch notes on April 26th, 2019 for global servers has announced by NetEase Games on Onmyoji Arena official homepage.
FREE SHIKIGAMI LINEUP ADJUSTMENTS
Onmyoji Arena will change the lineup of limited-time free shikigami on April 29th, 2019. The new free shikigami are Futakuchi, Umibozu, Hououga, Enenra, Momo, Aoandon, Mannendake, Kyonshi Ani and Yamakaze.
Of these shikigami, Mannendake, Kyonshi Ani and Yamakaze have a difficulty of Extreme. Onmyoji who have been in Heian-kyo for less than 7 days can't use them for free in battle.
NEW SEASON STARTS
Season 5 will start after the maintenance on April 26th. Please check the detailed info below:
1. Players' initial tier in Season 5 will be based on their final tier in Season 4 according to the season rules.
2. Players whose highest tier in Season 5 reached Gold or above will get the avatar frame for the corresponding tier. But the Onmyoji frame will only be granted to players who are still in Onmyoji tier at the end of Season 5.
3. After Season 5 starts, players who had won at least 10 Ranked Matches and reached Platinum tier during Season 4 will be granted a Season 4 exclusive skin for Kyonshi Ani, Art of War: Seeker. Froggy. Players who joined at least 60 5v5 battles and had an average punishment (punished matches/total matches) of less than 0.025/match during Season 4 will be granted a Season 4 exclusive skin for Ebisu, Art of War: Politesse.
Also, the onmyoji who meet the same requirements when Season 5 ends will be granted the new Season 5 exclusive rank skin, Art of War: General Lava and exclusive Art of War skin, Art of War: Travel Merchant.
4. After Season 5 Starts, the match data of Season 4 will be added to the Season Momento.
5. After Season 5 Starts, all players' shikigami Power will be reset a certain amount based on their Power in Season 1 and Season 4.
NEW SHIKIGAMI PREVIEW: LORD ARAKAWA
The fate of Arakawa will be influenced by me.
As the boss of Arakawa, Lord Arakawa can keep creating water balls in the battlefield and control the water balls with demon force to deal damage to enemies. Besides, he can also summon a fish strike from the water to deal damage and control enemies. Through his Ultimate Ability: Flowing Stream, Lord Arakawa can flow through the battlefield with ease to find a dominant position.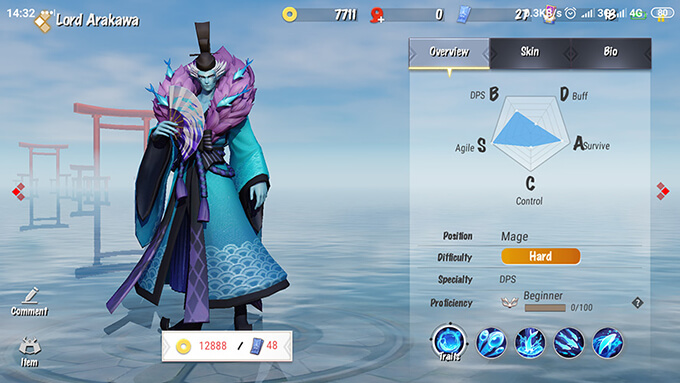 Natural Passive: Empowering Flow
Passive trigger: Every time after Lord Arakawa uses an ability, the range of his next basic attack will be increased and he will deal extra magic damage and form a water ball behind the target. If the basic attack hits an enemy shikigami, his Surge Power will be restored.
Ability 1: Passing Tide
Lord Arakawa releases 3 water balls in the specified direction, dealing magic damage to enemies in their path, any water balls touched will be pushed to the endpoint.
Ability 2: Flow Force
Lord Arakawa recovers all water balls. Water balls will deal magic damage to enemies in their path. Each water ball will restore HP for him. If waters ball hits enemy shikigami, HP restored will be increased.
Ability 3: Fish Strike
Lord Arakawa summons a Fish Strike to the specified position. The fish will deal magic damage and inflict a Slow effect to enemies within range when jumping out. Enemies hit by the fish will be dealt magic damage and inflicted with a Stun effect and the fish will form into a water ball.
Ultimate Ability: Flowing Stream
Lord Arakawa charges toward the specified position, dealing magic damage to enemies along the way while forming a water ball at both the start and end points.
Each Charge will use Surge Power. Surge Power will be gradually restored if he doesn't use this ability within a certain period of time.
Lord Arakawa will first be available during this week's Shikigami Brawl.
BATTLE PASS
S5 Battle Pass drops! We have raised the level limit up to Lv 80 and added more quest types, more ways to get EXP and also more rewards!
Join battles or complete Battle Pass quests to get EXP to level up your Battle Pass. Every time you level up your Battle Pass, you can claim corresponding rewards.
If you spend 680 jade, you can unlock all the Battle Pass content and instantly claim the corresponding Battle Pass rewards of your current level including new broadcast theme, permanent return effect, S5 Battle Pass Art of War skin and Shiro Mujou's ep skin, Astral Soul.
If you spend 1280 jade, besides unlocking the Battle Pass content, you will level up the Battle Pass by 20 levels directly and get S5 Battle Pass exclusive avatar frame and instantly claim Shiro Mujou's epic skin.
LATEST EVENTS
1. Demonic – Kyuubi
Event Period: April 26th after maintenance to May 2nd
Tamamonomae's legendary skin, Demonic·Kyuubi will be available. Enjoy a 12% discount during the event. Don't miss out!
2. Early Summer Party
Event Period: April 26th after maintenance to May 2nd
Complete event quests during the event to get coupons. Join us for fun and rewards!
3. Recharge Rebate
Event Period: April 26th after maintenance to May 9th
During the event, if your recharge meets the requirements, you can get rewards including Skin Tokens, Mystery Voucher, Evolution Amulet and rare avatar frame.
We have upgraded the Heian Festival avatar frame and added Top (Heian Festival).
ITEM ADJUSTMENTS
1. Support Item Adjustments
Item Special Effect: Fortune
Each shikigami can buy 1 item with a Fortune special effect.
8ft Magatama
Stats adjustments: HP +300, HP Regen +100%, Armor +40, Magic Resist +40
Fusion adjustment: Destiny's Tile + Hermit Kariginu + Straw Hat
Item special effect [Fine Jade]: Armor and Magic Resist of nearby ally shikigami will increase by 30 (+1.5*level), and HP Regen +100%
Astrolabe
Stats adjustments: HP +750, HP Regen +100%
Fusion adjustment: Destiny's Tile+Gold Bracer
Asakusa Glow
Stats adjustments: Ability Power +65, HP +150, Cooldown Reduction +10%, MP Regen +100%
Fusion adjustment: Destiny's Tile + Kojiki Scroll
Item special effect [Fluorescence]: Cooldown adjusted from 60 seconds to 50 seconds.
Fashionable Trinket
Item special effect [Fortune]: Magic damage dealt when attacking enemy shikigami adjusted from 10.5 (+1.5*level) to 20 (+10*level).
2. Magic Item Adjustments
Ama-no-Ohabari
Adjusted Ability Power from 120 to 100.
Item special effect [Drunken Dream]: The next basic attack within 5 seconds after using the ability will deal 50 (+8*level+30% Ability Power) magic damage. Cooldown: 1.5 seconds.
Shadow Fan
Adjusted Ability Power from 110 to 100.
New stat: CD Reduction +10% Removed stat: 10% Movement Speed bonus
Night Parasol
Item special effect [Night Parasol]: 1 charge will be restored every 15 seconds.
Shichimen Tennyo
Item special effect [Tennyo]: Adjusted stacked layers from 20 to 25.
NEW CONTENT
1. New item, Talisman
New item, Talisman has been added. You can tap to use it in your Inventory to exchange for Evolution Amulets.
2. Jungle Optimization
We have added different interactive actions for idle monsters in the jungle.
3. Talent Quest Memento Share function
You can now share data of the Talent Quest Memento.
4. Challenger Tier Activity Mail Prompt
Onmyoji of Challenger tier will receive a mail before their win points will be decreased for not meeting the Activity requirement.
OPTIMIZATIONS AND ADJUSTMENTS
1. Optimized the cast rules of the Ultimate Ability of Tamamonomae and Mannendake.
2. Optimized the tab display rules of dyed skins and support skins.
3. Optimized the font effect for the Rivalry theme style.
4. Optimized the rules of displaying status effects above shikigami. Currently multiple status icons won't be stacked together.
5. Optimized the display effect in the Spectate interface.
6. In order to unify the difficulty of unlocking evolution skins of all shikigami, we have adjusted the unlocking requirement to the proficiency of Mastery and 12,000 coins. We also adjusted the proficiency requirement of Mastery from 2,000 to 2,800, and Grand Master from 3,500 to 4,000.
NetEase Games said: "We are sorry for any inconvenience brought by the adjustment. A compensation gift will be sent to all onmyoji who have registered before the maintenance. Compensation gift will be determined according to your current evolution skins".
7. Optimized some rules of Ranked Match. Elite or higher tiers no need to distinguish between shroud and Non-shroud maps.
8. Optimized the matching speed for tiers of Elite or higher.