February 22th Update Patch Notes
Here's Onmyoji Arena update patch notes on February 22th, 2019 has announced by NetEase Games on the Onmyoji Arena official site.

Onmyoji Arena will change the lineup of the limited-time free shikigami on February 25th, 2019. The new free shikigami will be Youko, Umibozu, Jorogumo, Yumekui, Aoandon, Kusa, Maestro, Yamakaze and Komatsu.
Of these shikigami, Maestro, Yamakaze and Komatsu have a difficulty of Extreme. Onmyoji who have been in Heian-kyo for less than 7 days can't use them in battle.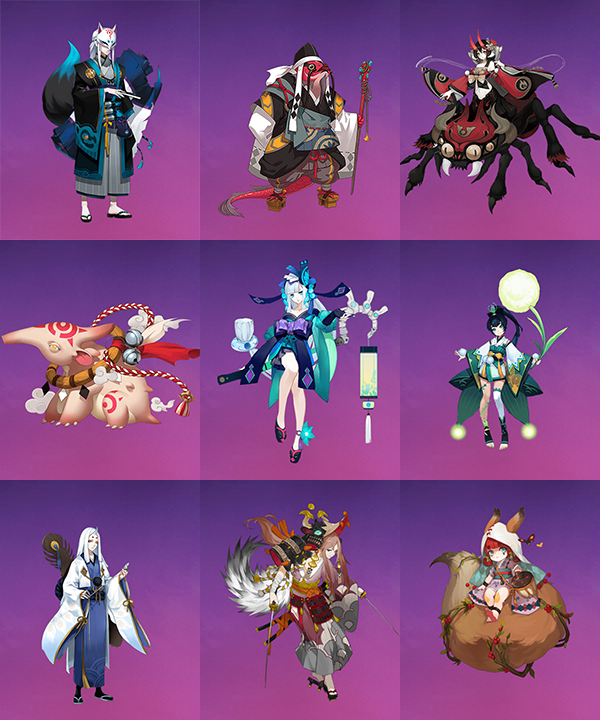 This week sees Kosodenote make her official debut on the Heian-kyo battlefield. Her dyed skin, Hazel Feather is also available in the Skin Shop.
Loving Threads Pack and Loving Threads Box will be available at a 22% discount in the General store. Buy the pack or box to summon Kosodenote and get the Favor items, Weeping Sakura x8 or Evolution Amulet x1. Exclusive pack and box will be available till 23:59:59 on February 28th. Don't miss out!

KOMATSU
Ability 1: Pine Cone Clap
Adjusted base damage from 40/50/60/70/80 to 30/40/50/60/70.
Ability 2: Pine Cone Bomb
Adjusted damage from 15% of target's lost HP to 8/9/10/11/12% (Every 100 extra Attack+2.5%)
YUKI
Ability 1: Snow Weaver
Adjusted Freeze duration time from 0.7/0.8/0.9/1/1.1 seconds to 0.9/1/1.1/1.2/1.3 seconds.
Ability 2: Icebreak
Adjusted dash distance from 500 yards to 575 yards.
KAMAITACHI
Ability 2: United
Adjusted damage from 12/14/16/18/20% of current HP to 9/10.75/12.5/14.25/16%.
Ultimate Ability: Brotherly Bond
Adjusted cooldown from 65/60/55 seconds to 75/70/65 seconds.
HANGAN
Ability 3: Death Writ
Adjusted cooldown from 10/9.5/9/8.5/8 seconds to 8.5/8/7.5/7/6.5 seconds.
Ultimate Ability: Death Penalty
Adjusted Ability Power bonus from 75% to 90%.
SHUTEN DOJI
Base Stat
Adjusted Base HP from 958 to 1025.
Ability 1: Lament
Adjusted base damage from 20/32.5/45/57.5/70 to 30/40/50/60/70.
Adjusted damage under [Rage] state from 30/40/50/60/70 to 40/50/60/70/80.
Ultimate Ability: New Boss in Town
Adjusted Base Damage from 90/155/220 to 80/135/190.
KURO MUJOU
Ability 1: Soul Eater
Adjusted Max HP Bonus of Shield from 8/10/12/14/16% to 8/11/14/17/20%.

MASTER TAILOR
Event Period: February 22th after maintenance to February 28th, 2019.
Kosodenote's new rare skin, Master Tailor, is now available in the Skin Shop. Don't miss out!

Added a dynamic loading effect for Menreiki's Operatic and Yoto Hime's Scarlet Saber.
Optimized the sound effect and visual effect of some interfaces for the Rivalry theme style.