August 4th, 2023 Update Patch Notes
The Onmyoji Arena August 4th, 2023 Update sees Dodomeki's brand new Epic Skin "Sacred Rituals" is now available.
New Skin
Sacred Ritual
The ritualist is one that colludes with divine forces. Seeking a blessing or a curse is an impossible task. As the supposed face of fate surfaces, will the ritualist abide by its mission?
Dodomeki's brand new Epic Skin "Sacred Rituals" will become available from August 4th, 2023 after maintenance with a 12% discount during the first week. Also, the Dodomeki "Sacred Rituals" Skin-exclusive "Custom Button: Sacred Ritual" will be available after maintenance in Shop – General for 148 Jades. Don't miss out!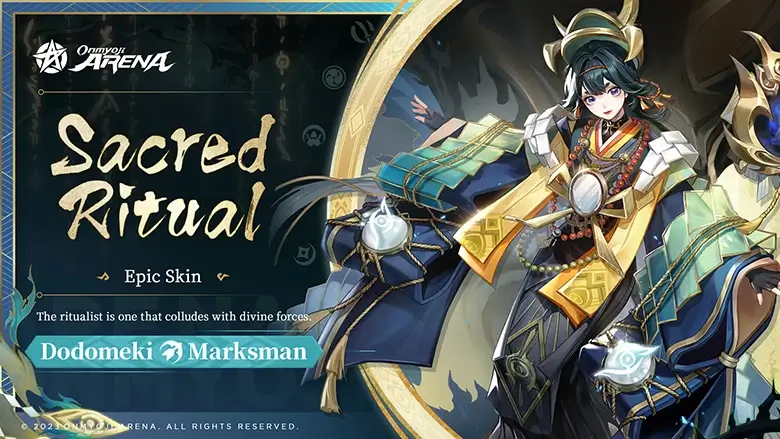 Latest Events
Limited-Time Benefits
Event Period: August 4th after maintenance to September 7th, 2023
Kyonshi Ani's brand new Rare Skin Bark Brigade Ambush is making it's debut. Participate in the Limited-Time Benefits event and complete quests to collect points and claim this awesome skin for free.
Veteran Gift
Prizes from Veteran Gift have been improved! For returning players that have not logged in for over 30 days, upon completing the first match after logging in, players will be able to obtain Skin Trial Card, Shikigami Selection Pack, and other awesome prizes. Log in for a total of 8 days to get an All Shikigami Selection Pack!
Optimizations and Adjustments
Fixed the misalignment of the glow in the hat's lens for the cutscene of Chin's "Steam: Creator". Optimized the clothing animation of the chest area for the cutscene of Shiranui's "Drifting Thoughts" to be aligned with the display on the Shikigami screen.
Fixed special effects display issues during in-game and preparations phase for "Cleanse Spell" and "Cleanse Effect: Paulownia Seed."
Optimized some of the UI experience for Ranked Match and Casual Match.
Optimized the display logic for the marks of some Shikigami abilities on the top of the HP bar. For example, now when Yokinshi's Ultimate Ability Phantom Zither and Hana's trait Nectar hit the same Shikigami, both marks will be displayed simultaneously instead of showing only one of them.
Free Shikigami Lineup Adjustments
Onmyoji Arena will change the lineup of the limited-time free Shikigami at 5:00 AM on Monday August 7th, 2023. The new free Shikigami will be Youko, Momo, Kuro, Yamawaro, Susabi, Ungaikyo, Kamaitachi, and Satori.
Onmyoji who own the God of Fortune Month Pact will have the additional free Shikigami, Enenra and Mushishi.
Of these shikigami, Kamaitachi and Satori have a difficulty of Hard and Extreme respectively. Onmyoji who have been in Heian-kyo for less than 7 days can't use them in battle for free.