February 18th 2022 Update Patch Notes
The Onmyoji Arena February 18th 2022 Update sees Nekomata, Kidomaru, and Izaya joins Demon Encounter and 2 Shadow Dreams skins returns.
Free Shikigami Lineup Adjustments
Onmyoji Arena will change the lineup of the limited-time free shikigami at 5:00 AM on February 21st, 2022. The new free shikigami will be Kubinashi, Yamausagi, Ibaraki Doji, Ungaikyo, Mannendake, Susabi, Dodomeki, and Yamakaze.
Onmyoji who own the God of Fortune Month Pact will have the additional free shikigami, Higanbana and Aobozu.
Of these shikigami, Dodomeki and Yamakaze have a difficulty of Hard and Extreme respectively. Onmyoji who have been in Heian-kyo for less than 7 days can't use them in battle for free.
New Events
Relit Lanterns
Event Period: February 18th after maintenance to March 3rd, 2022.
Lord Arakawa's Shadow Dreams series skin, Illusion Seeker and Enma's Shadow Dreams series skin, Underworld Flames will make their return to the Skin Shop for a limited time! Don't miss out!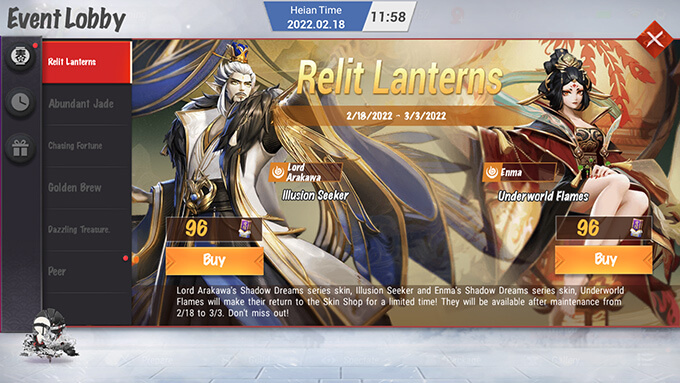 Shikigami Defense
We have added 7 new shikigami cards, Komatsu, Dodomeki, Suzuka Gozen, Kubinashi, Hana, Takiyasha Hime, and Shouzu. We hope that they will provide more opportunities for a perfect clear. Please try them out!
Demon Encounter
Nekomata, Kidomaru, and Izaya will join Demon Encounter!
Nekomata
Ability 3: Come in Kitties Strengthened
Kuronosuke: Kuronosuke's dash distance is greatly increased.
Chacha: Haste effect is greatly increased.
Yuki Hime: Yuki Hime will attack all enemies within range. After that, grants Shield that decreases over time.
Kidomaru
Ability 3: Raiment of the Waning Moon Strengthened
The cooldown of Ability 1: Killing Satisfaction is reset and immediately gains 4 imps when this ability is used.
Izaya
Ultimate Ability: Ceaseless Cycle Strengthened
Increases the range and damage of the ultimate ability.
Optimizations and Adjustments
Fixed the issue where the opacity of some parts of the model of Kaguya's royal skin, Panorama Dream, do not change when in the brush.