March 4th 2022 Update Patch Notes
The Onmyoji Arena March 4th 2022 Update sees Tamamonomae's Moon Peak series skin, Moon: Wheel of Fortune is now available.
Free Shikigami Lineup Adjustments
Onmyoji Arena will change the lineup of the limited-time free shikigami at 5:00 AM on 3/7/2022. The new free shikigami will be Futakuchi, Umibozu, Tanuki, Onikiri, Shishio, Enenra, Nekomata, and Kyonshi Ani.
Onmyoji who own the God of Fortune Month Pact will have the additional free shikigami, Hakuzosu and Ryomen.
Of these shikigami, Nekomata and Kyonshi Ani have a difficulty of Hard. Onmyoji who have been in Heian-kyo for less than 7 days can't use them in battle for free.
New Events
Moon: Wheel of Fortune
Event Period: March 4th after maintenance to March 10th, 2022.
Tamamonomae's Moon Peak series skin, Moon: Wheel of Fortune is now available! Get 12% off from March 4th after maintenance to March 10th, 2022. Don't miss out!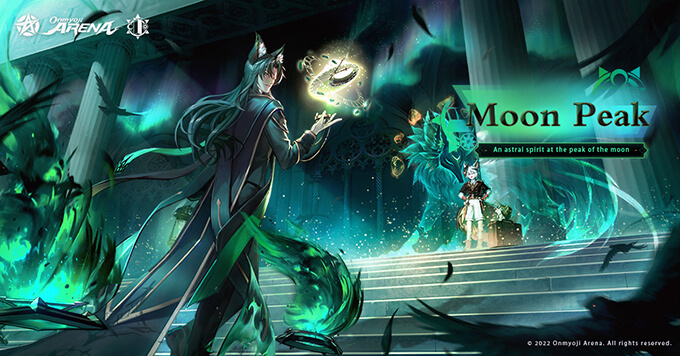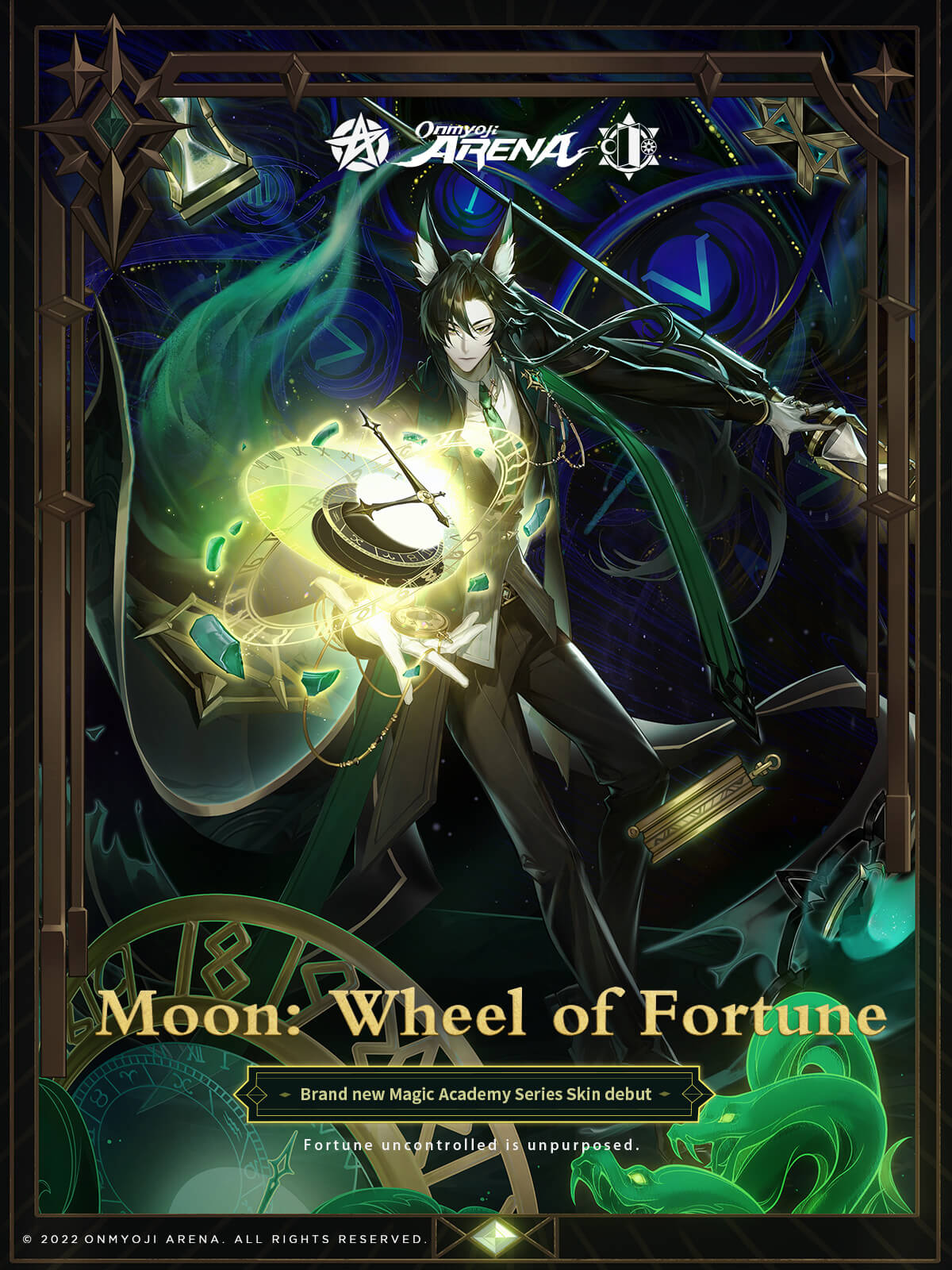 Dazzling Treasure
Event Period: March 4th after maintenance to April 14th, 2022.
During the event, if your recharge meets the requirements, you can get rewards including Skin Tokens, Skin Token Vouchers, Evolved Form Amulets and a rare avatar frame!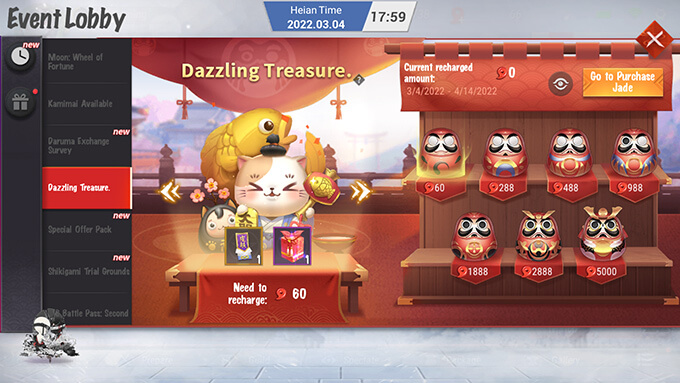 Daruma Exchange Survey
Event Period: March 4th after maintenance to April 6th, 2022.
Voting for the Daruma Exchange Survey event has begun. From April 8th, top 3 winning skins will be added to Daruma Blessing for exchange. Vote for your favorite skin now!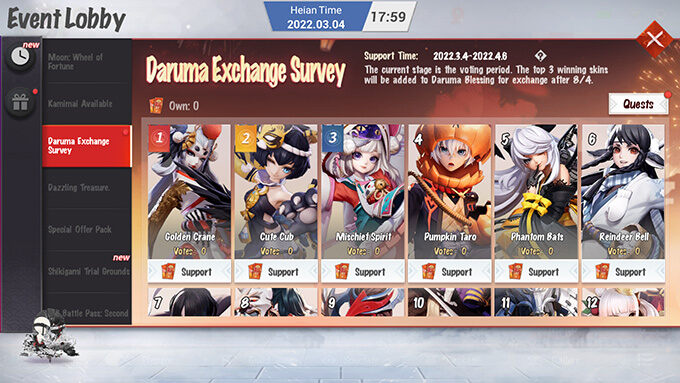 Special Offer Pack
Event Period: March 4th after maintenance to March 17th, 2022.
During the event, there will be Special Offer Skin Token Packs, Special Offer Daruma Packs, and Special Offer Coin Packs on sale for a limited time. Don't miss out!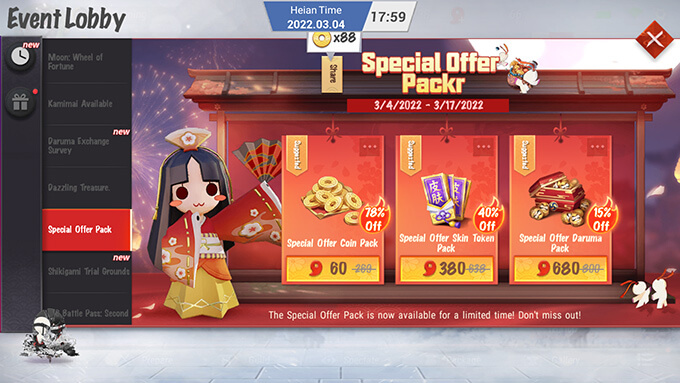 Hundred Battle Challenge
Event Period: March 4th after maintenance to March 10th, 2022.
During the event, use Tamamonomae's Moon Peak series skin, Moon: Wheel of Fortune, to complete designated quests to claim rewards including Coin Bags, Prayer Ema, and Return Cursed Seal Lucky Gift Boxes.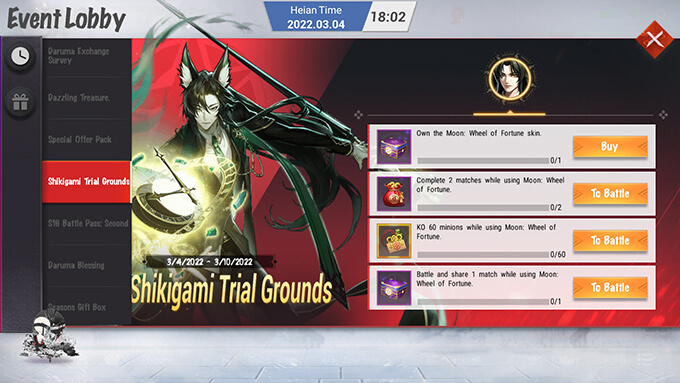 Shikigami Defense
We have adjusted some of the abilities of Yuki Onna, Kuro, Shiro Mujou, Yumekui, Samurai X, Ootengu, Tamamonomae, and Tanuki. We hope that this will maximize every turret-defending tile's role, hence better defining their positions. Players are welcome to log in and try out the new changes!
Shikigami Brawl
Keeping the base effects of Refresh Amulet, we will increase the speed of MP Regen. We hope that this will alleviate the issue of not having enough MP to cast abilities after casting Refresh Amulet.
Optimized the Okami Set in Shikigami Brawl. Jungle items has been removed from the recommended builds to make the item recommendations more logical.
Balance Adjustments
Oitsuki
Oitsuki's suppression in the early to mid game is relatively strong and her room for error is rather high, allowing her a strong performance in the middle lane. Therefore, we will suitably reduce the growth of her Ability 2 to restrict her strength in the mid game.
Ability 2: Crescent Moon
Adjusted Moon Arc Base Damage from 80/120/160/200/240 to 80/115/150/185/220.
Adjusted Light Chain Base Damage from 50/90/130/170/210 to 50/85/120/155/190.
Adjusted base Shield from 20/50/80/110/140 to 20/40/60/80/100.
Hakuzosu
We hope to suitably improve the melee control of Hakuzosu's Ability 1. We will be changing Stage 1 to deal damage to nearby units at the target location, and Stage 2 pursuit to require a basic attack to trigger. At the same time, we will also increase the growth of his ultimate ability to improve the burst and survivability of Hakuzosu in the melee form in the late game.
Ability 1: Mt. Dream: Red Flames
Adjusted Ability Power bonus from 80% to 85%.
Ability 1: White Fox: Recollect
Effect changed to: Hakuzosu rushes towards the designated location, dealing damage to nearby enemies. His next attack will pursue the target, dealing damage and inflicting 2 stacks of Bite.
Ultimate Ability: White Fox: Pledged Name
Adjusted the damage increase and damage reduction proportion against targets with the Burning Shadow Mark from 10% to 9/11/13/15%.
Kanko
Kanko's Natural Passive is relatively weaker and its characteristics are not prominent compared to other Resurrect-type passive effects. Therefore, we will improve it, allowing Kanko to cast abilities, spells, and item abilities from within the bamboo pipe. We hope to improve Kanko's capability to counter while in the passive state.
Natural Passive: Bamboo Shelter
New Effect: Can cast abilities but cannot perform basic attacks.
Aori
We will increase the casting frequency of Aori's Ability 1 in order to improve Aori's continuous DPS capability.
Ability 1: Galaxy Amulet
Adjusted cooldown from 6.5/6/5.5/5/4.5 seconds to 4.6/4.2/3.8/3.4/3 seconds.
Adjusted MP cost from 30/35/40/45/50 to 28/31/34/37/40.
Karasu Tengu
Karasu Tengu is too strong in the early to mid game. We will suitably reduce his early game Slow duration and ultimate ability damage.
Ability 2: Nightmare Crow
Adjusted Slow duration from 3 seconds to 2.2/2.4/2.6/2.8/3 seconds.
Ultimate Ability: Deadly Flock
Adjusted base damage from 30/45/60 to 20/40/60.
Item Adjustments
Ame-no-habaya
We have adjusted the full stack bonus damage of Ame-no-habaya to gradually increase according to the number of stacks applied, in hope that this will smoothen the bonus damage effect. At the same time, we have also increased the bonus damage dealt to non-shikigami units by Ame-no-habaya to reduce the issue of some shikigami not being able to effectively clear lanes after equipping Ame-no-habaya.
System Adjustments
Guild: The Guild has undergone some initial adjustments. With this, a new Guild Quest feature has been added. All Onmyoji can earn Activity by completing Battle Quests, Sign-in Quests, and Chat Quests, and earn extra Activity bonus by teaming up with guild members for battle. Onmyoji can then claim the Individual Activity Progress Reward and the Guild Overall Progress Reward. If players quit a guild, they can only join a guild after 24 hours. Other guild-related features are still undergoing adjustments.
Added a new feature to view Shikigami Battle Results in Shikigami Brawl, Demon Encounter, and Mix-up Fight in Hazama. Furthermore, when an Onmyoji requests for shikigami exchange, their excellent battle result data with the shikigami will be featured to the other party. We hope that this will increase the chances of a successful exchange between players.