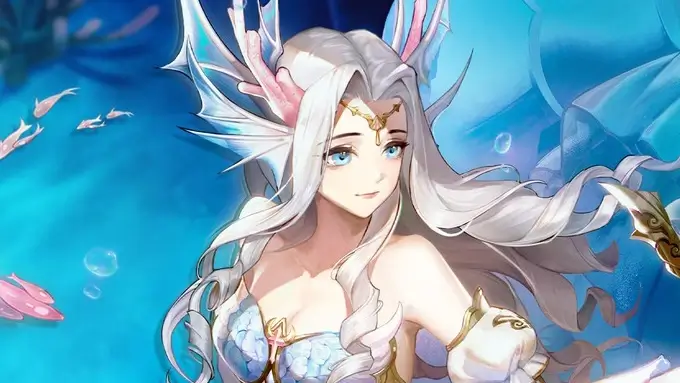 October 14th 2022 Update Patch Notes
The Onmyoji Arena October 14th, 2022 Update sees Season 19 and S19 Battle Pass: First Cycle arrives.
New Season Starts
Season 19 will start after the maintenance on October 14th. Please check the detailed info below:
Players' initial tier in Season 19 will be based on their final tier in Season 18 according to the season rules.
Players whose highest tier in Season 18 reached Gold or above will get the avatar frame for the corresponding tier. But the Superstar Avatar Frame will only be granted to players who are still in the Superstar tier at the end of Season 18.
After Season 19 starts, players who participated in at least 60 5v5 matches or 80 Fun Mode matches, and had an average punishment (punished matches / total matches) of less than 0.025/match in Season 18 will be granted a Season 18 exclusive skin for Kyonshi Ani, Art of War: Perilous Battlefield. During Season 19, players who meet the requirements for claiming a rank skin can claim the Season 19 exclusive rank skin for Kosodenote, Virtue of War: Sunlight Aria. When Season 20 starts, players who meet the requirements will be able to claim the Season 19 exclusive skin for Ittan-momen, Art of War: Blossoming Frost.
After Season 19 starts, the match data of Season 19 will be added to the Season Momento.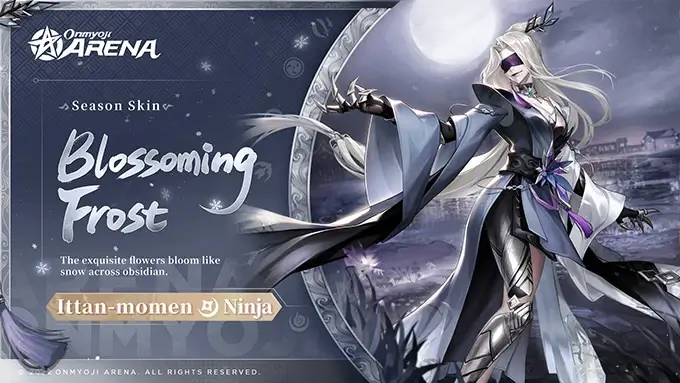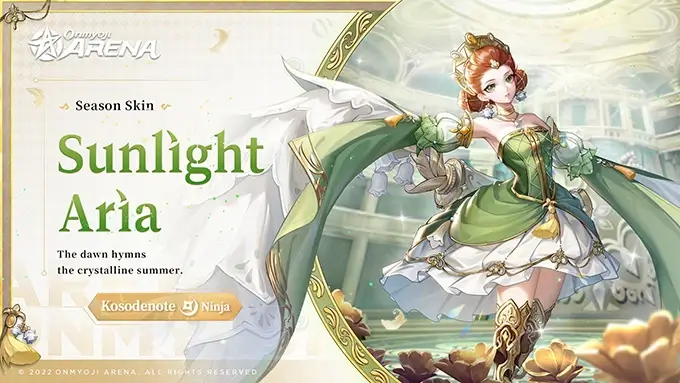 S19 Battle Pass: First Cycle
S19 Battle Pass: First Cycle is on! The First Cycle will end on 11/24/2022. For this cycle, new Battle Pass exclusive skins, Season Skin: Superior, Return Effects, Broadcast Themes, Sakurako skin, as well as other rewards have been added. Skin Exchange in the Battle Pass Shop has also been updated! Attractive skins from S10 and earlier are now available for redemption. The redemption pool will be continuously updated.
If you spend 380 Jade, you can unlock all the content of Battle Pass and instantly claim all Battle Pass rewards of your current pass level. The rewards for this season include Return Cursed Seal: Good Deeds, Broadcast Theme: Taishakuten, Sakurako: Mermaid's Song, S19 Rank Skin: Superior – Soiree Ode, and Shouzu's new skin, Sea-washed Moon. If you spend 660 Jade, you can unlock Battle Pass and get the S19 Battle Pass: Open (Precious) avatar frame, level up your Battle Pass by 15 levels and claim Shouzu's new skin.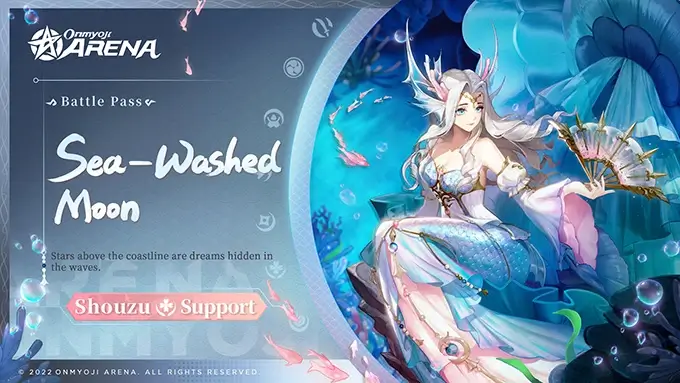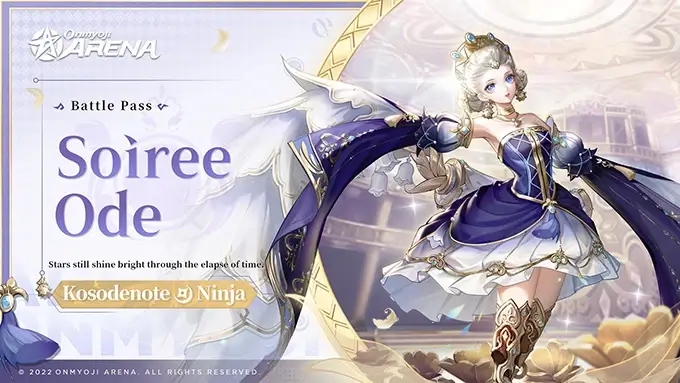 Latest Events
Special Offer Packs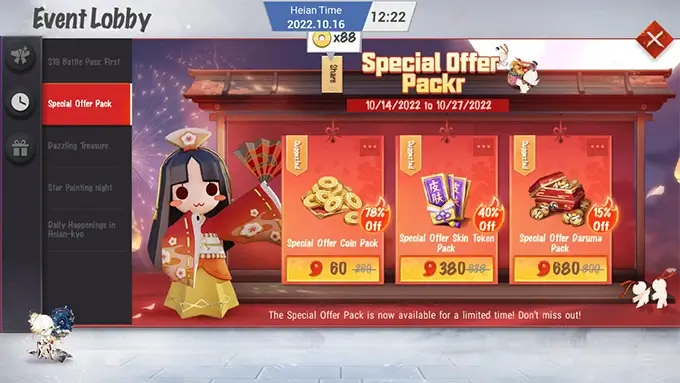 Event Period: October 14th after maintenance to October 27th, 2022.
During the event, Special Offer Daruma Packs, Special Offer Skin Token Packs, and Special Offer Coin Packs will be available for a limited time. Don't miss out!
Dazzling Treasure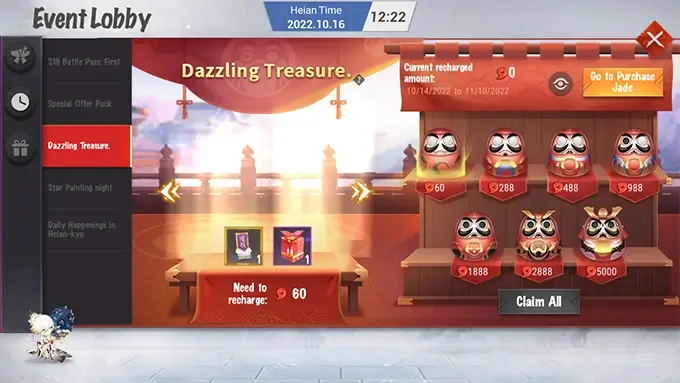 Event Period: October 14th after maintenance to November 10th, 2022.
Meet the recharge requirements during the event to get rewards including Skin Tokens, Skin Token Vouchers, Evolved Form Amulets, and a Rare Avatar Frame!
Treasure Chest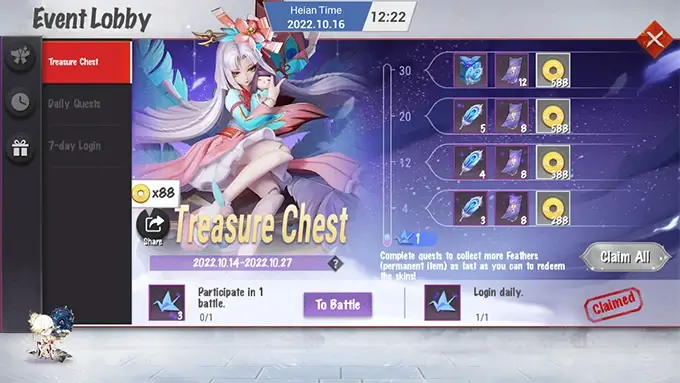 Event Period: October 14th after maintenance to October 27th, 2022.
Complete quests to obtain Feathers (item does not expire), which can be exchanged for rare and epic skins! Multiple new skins have been added to the Treasure Chest. The skin prize pool will also be updated constantly.
Balance Adjustments
Tesso
As Tesso is rather weak in the late game, we have slightly enhanced his late-game performance.
Ability 2: Plentiful Fortunes
Increased Break growth from 5%/10%/15%/20%/25% to 5%/11.25%/17.5%/23.75%/30%.
Ultimate Ability: Insurance Policy
Increased damage per coin from 35/45/55 (+50% of Attack) to 35/50/65 (+50% of Attack).
Increased the number of coins released from 5 to 5/6/7 and coin limit from 12 to 12/13/14. Also increased Attack Speed bonus from 2 to 4 to 2.5 to 4.
Senhime
We have slightly reduced Senhime's laning strength and fixed the issue where the effective range of her Ability 1 is larger than the one indicated by its special effect.
Ability 1: Thousand Tides
Fixed the issue where the actual damage range is larger than the one indicated by the special effect.
Reduced base damage from 70/105/140/175/210 to 60/90/120/150/180.
Ability 3: Tide of Eternity
Adjusted Speed Reduction from 35% to 20%/22.5%/25%/27.5%/30%.
Shiranui
As Shiranui currently has rather poor survivability, we have slightly increased her Armor growth and damage reduction.
Stats
Increased Armor growth from 6.5 to 7.8.
Increased HP growth from 172 to 176.
Ability 3: Midnight Flutter
Increased damage reduction during flight from 20%/24%/28%/32%/36% to 20%/26%/32%/38%/44%.
Taishakuten
Natural Passive: King's Feast
Reduced Ability Power bonus from 90% to 80%.
Reduced damage to surrounding targets from 50% to 35%.
Ability 1: Celestial Judgment
Reduced damage from 120/175/230/285/340 (+60% Ability Power) to 100/150/200/250/300 (+55% Ability Power).
Ability 3: Ten Great Virtues
Increased cooldown from 16/15.5/15/14.5/14 seconds to 18/17.5/17/16.5/16 seconds.
Optimizations and Adjustments
Updated the style of in-match indicators.
Highlight Battle Results Display
Lowered the requirements for triggering Highlight Battle Results and optimized interaction between players.
Added a function for players to post their Province Ranking at the shikigami selection screen.
The Highlight Battle Results Display function is currently only available in banning mode in Ranked Matches, but it will be progressively implemented in other modes in the future.
Adjustments to Ranked Match
We will make some adjustments to the ban rules in Ranked Matches. Instead of taking turns banning two shikigami, both parties will now simultaneously ban three shikigami. We hope that by adjusting the ban rules, we can increase the diversity of shikigami that are banned. After the adjustments, more players will have the opportunity to ban shikigami.
The timing for pre-selection mode in Ranked Matches will also be adjusted to 12:00 PM to 12:00 AM daily.
(Overseas only) As a result of the rule changes, the requirements for Ranked Matches for tiers Elite or higher will increase from 14 to 16 shikigami. We will also add a Ranked Match Assistance Pact Pack to this season's Elite rewards to help you adapt to the Ranked Match Ban rules more readily. Those who have reached Elite in the Tier History for this season will be sent their rewards via mail.
Mechanics Adjustments
Jorogumo
As Jorogumo is currently seldom played and has a poor win rate, we have made her stronger. We have also optimized her current mechanics and usage issues so that she can perform better in teamfights and when she pursues enemies.
Trait: Spider Queen
Increased damage dealt by tarantula servants.
Ability 2: Web Coil
Jorogumo shoots 4 Spider Webs one by one in the designated direction. Ability 2 will not build up anymore.
Ability 3: Spider Symbol
Using Venom Claw on marked targets increases displacement distance and deals bonus damage. Basic attacks will increase the mark's duration. Spider Symbol enters cooldown after the mark disappears.
Ultimate Ability: Arachnid Swarm
Tarantulas will deal more damage after this ability is used. When they participate in kills, Jorogumo will gain 3 poisonous tarantulas immediately.
Higanbana
Although multiple seas of flowers are currently allowed to coexist, the space is not only underutilized but also obstructs vision on the battlefield for both teams. Thus, we have limited the number of seas of flowers that can coexist at any time. As compensation, we have reduced the regeneration cooldown for each layer of Blood-soaked Flowers and enhanced Higanbana's ultimate ability.
Ability 3: Blood-soaked Flowers
Only 1 sea of flowers can exist on the current battlefield. Cooldown for each layer of Blood-soaked Flowers is reduced.
Ultimate Ability: Underworld Flowers
The field of flowers will inflict Slow on shikigami that enter and mark them with Flower Seals.
Free Shikigami Lineup Bulletin
We will change the lineup of the limited-time free shikigami at 5:00 AM on 10/17. The new free shikigami will be Komatsu, Enmusubi, Vampira, Kuro Mujou, Jorogumo, Onikiri, Tamamonomae, and Kyonshi Ani.
Onmyoji who own the God of Fortune Month Pact will have the additional free shikigami, Hangan and Yoto Hime.
Of these shikigami, Kyonshi Ani has a difficulty of Hard. Onmyoji who have been in Heian-kyo for less than 7 days can't use him in battle for free.