It's that time of year – love is in the air and sparks are flying between Arena of Valor's very own power couple – Arthur and Tel'Annas, the classic swordsman and marksman pairing.

Beginning today until March 4, embark on a Valentine's Quest and collect Vows of Love to obtain this new skin.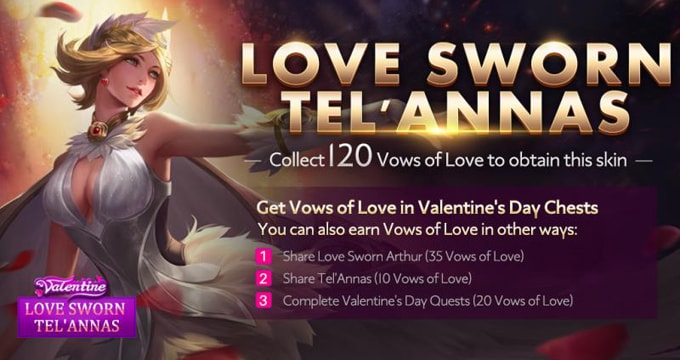 Vows of Love are contained within Valentine's Day Chests, with even more able to be earned in a number of ways.
– Login for a total of 4 days during the event to earn up to 11 Vows of Love.
– Win up to 5 Standard or Ranked PvP matches to earn up to 9 Vows of Love.
– Share the arrival of Tel'Annas on social media for 10 Vows of Love.
– Share Arthur's Love Sworn skin on social media for 35 Vows of Love.
Completing each of these will put you at 65 Vows of Love – already halfway to the skin! Valentine's Day Chests also have the chance to contain Arthur's Love Sworn skin and Tel'Annas hero unlock.
Both skins come complete with custom ability and recall effects. Check out our behind the scenes concept album to learn more about the design of these skins.
Source: Arena of Valor official forum.