January 31st Update Patch Notes
Here's Onmyoji Arena update patch notes on January 31st, 2019 has announced by NetEase Games on the Onmyoji Arena official site.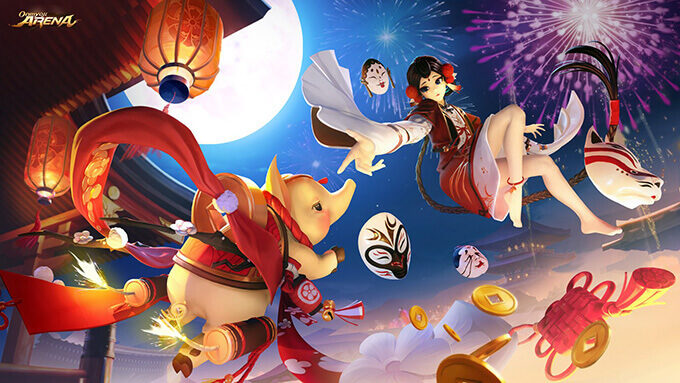 Onmyoji Arena will change the lineup of limited-time free shikigami on 2/4, 2019. The new free shikigami are Youko, Umibozu, Karasu Tengu, Jorogumo, Kingyo, Kyuumei Neko, Kubinashi, Mouba and Inugami.
Of these shikigami, Kubinashi, Mouba and Inugami have a difficulty of Extreme. Onmyoji who have been in Heian-kyo for less than 7 days can't use them in battle.

DIVINATION SIGIL
Adjusted attached magic damage from 4% of Max HP to 30 (+6% of extra HP).
Adjusted shield from 3% of Max HP to 30 (+6% of extra HP).

SUSABI
Natural Passive: Celestial Body
Adjusted shield level bonus from 15/level to 20/level.
Adjusted shield ability power bonus from 20% to 30%.
Ability 1: Falling Star
Adjusted ability power bonus from 30% to 35%.
KUBINASHI
Base Stat
Adjusted base HP Regen from 9 to 13.
Ability 1: Powerful Lash
Adjusted cooldown from 6 seconds to 4.5 seconds.
Ultimate Ability: Driven
Adjusted the HP percentage of magic damage from 34/42/50% to 31/38/45% (Every 100 Attack grants a 3% bonus).
KIKYO
Ability 1: Soul Collector
Adjusted Attack Speed from 20% to 20/22.5/25/27.5/30%.
Adjusted Armor Penetration from 12% to 15%.
Ability 2: Sacred Arrow
Adjusted the Ability Power bonus from 80% to 87.5%.
Adjusted cooldown reduction of enhancing from 2.25 seconds to 2.5 seconds.
KOMATSU
Ability 2: Pine Cone Bomb
Can deal up to 500 damage to monsters.
HAKURO
Ability 1: Swift
Adjusted Crit Rate from 15% to 6/7/8/9/10%.
Ability 3: Mind's Eye
Adjusted Max HP bonus from 3/4/5/6/7% to 3/3.75/4.5/5.25/6%.

DOUBLE HAPPINESS
Event Period: January 31st after maintenance to February 14th, 2019.
Yumekui's lunar new year skin, Fortune will be available. Enjoy a 12% discount from 2/1 to 2/7! Menreiki's new skin, Operatic will be added for a limited time during 2/1 – 2/14. Enjoy a 12% discount during the first week! 2 new skins will be added! Don't miss out!
DIVINE GATHERING
Event Period: February 1st, 2019 to February 14th, 2019 23:59
The lunar new year is coming! Join the Divine Gathering event to get points and open chests for generous rewards!
LNY GIFT
Event Period: February 4th – February 19th, 2019.
Happy lunar new year! From February 4th, you can log in to the game daily to get generous rewards!
For the last 4 days of the event, (February 16th – February 19th), rewards will be upgraded. Celebration Gift will be added in daily rewards. You can upgrade the gift if your total logins meet the requirement. You can select one from Kanko's new skins, Crafty Monk or Dense Smoke if you open the Lv 4 gift.
LNY CARNIVAL
Event Period: February 4th – February 10th, 2019.
In order to celebrate the lunar new year, all shikigami will be available in Casual Match and Co-op vs. AI from February 4th to 2/10. Fight and show off your power!
SHIKIGAMI BLESSINGS
Event Period: February 4th – February 8th, 2019.
Lunar new year has come. Five shikigami have sent their blessings. During the event, you can receive blessings from 1 shikigami daily. Share the blessings to get rewards!

Shikigami Defense updated!
New shikigami
Eight shikigami, Ibaraki Doji, Tanuki, Shuten Doji, Satori, Komatsu, Shiro Mujou, Yumekui and Tamamonomae will join Shikigami Defense.
Difficulty of Nightmare Defense raised.
Wave limit of Nightmare Defense has been raised up to 45 waves. Mobs of the newly added waves will be immune to Control after a certain time period. It will be harder for players clear.
Grade Daruma upgraded
Original star level of Grade Daruma has been raised to 3 Stars.
Added 2 new sorting methods, ascending and descending orders of level.
Added a function of dragging shikigami on the battlefield. You can tap the shikigami on the battlefield to drag to replace them or drag them back to the card pool.

We have added festival decorations for the lunar new year and also change the clothes of Sakurako. Wish you a happy lunar new year!
Optimized part of the visual effect, sound effect and dynamic performance of Rivalry.
Adjusted the display of bond. Other players won't be able to see your notes on the bone.