March 20th 2020 Update Patch Notes
Let's check out Onmyoji Arena March 20th 2020 Update Patch Notes. This update sees Hiyoribou join Demon Encounter and Aoandon Night Lights is back for a limited time!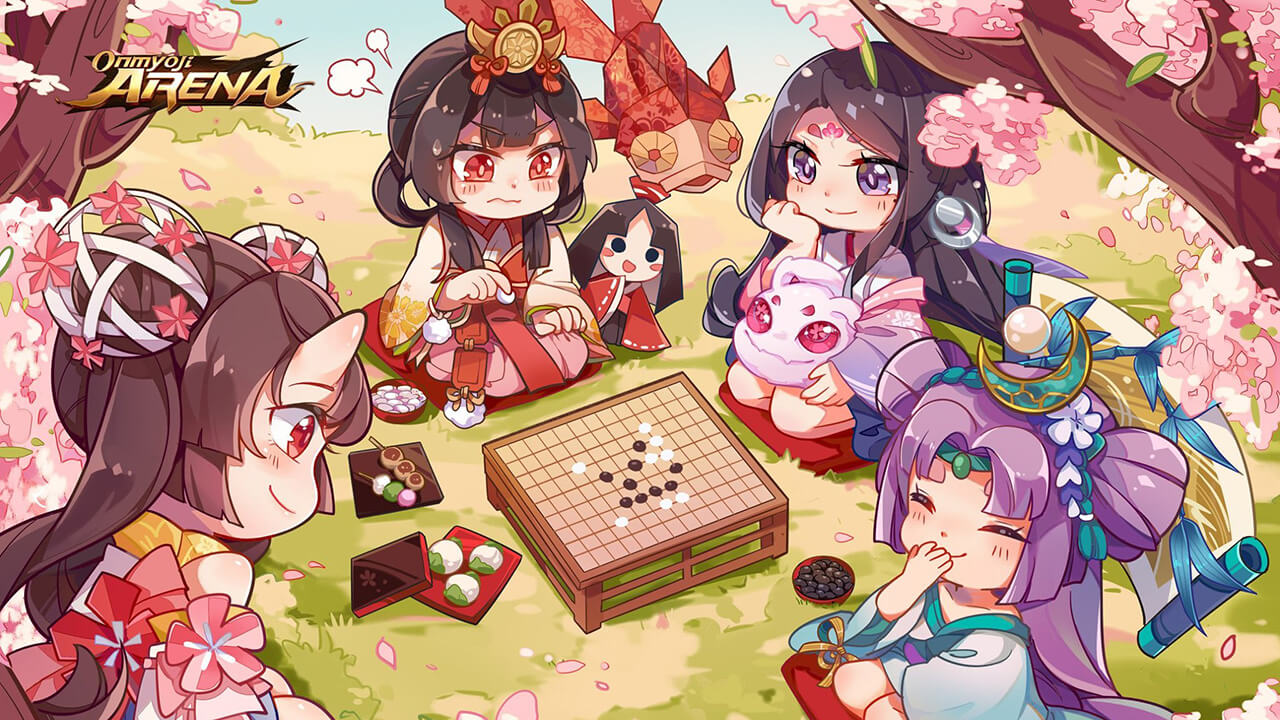 FREE SHIKIGAMI LINEUP ADJUSTMENTS
Onmyoji Arena will change the lineup of limited-time free shikigami on March 23rd, 2020. The new free shikigami will be Jikikaeru, Momo, Jorogumo, Yuki, Shiro Mujou, Tamamonomae, Yamakaze, and Maestro.
Of these shikigami, Yamakaze and Maestro have a difficulty of Extreme. Onmyoji who have been in Heian-kyo for less than 7 days can't use them in battle for free.
SHIKIGAMI ADJUSTMENTS
1. Kubinashi
Kubinashi's range is relatively short compared to other Marksman shikigami, which often leads to him only being able to attack front row enemy shikigami during teamfights, though Kubinashi's ability to damage front row shikigami is a bit low. We have added a certain Max HP damage ratio to Ability 2 to strengthen his damage dealing capability against front row shikigami.
Thrash (Ability 1)
Adjusted damage from 40/70/100/130/160 (+120/125/130/135/140% Attack) to 40/70/100/130/160 (+120/122.5/125/127.5/130% Attack).
Swift Strike (Ability 2)
Adjusted bonus damage from 50/60/70/80/90% Attack to 20% Attack (+5/6/7/8/9% of target's Max HP).
2. Ittan-momen
If Ittan-momen uses Ability 3 while her ultimate is activated, her ultimate ability's flames will still be retrieved even if her Ability 3 doesn't hit a target, causing chaining her ability with her ultimate to be quite risky. We have adjusted the judgment method of her ultimate ability to retrieve the flames only after Ability 3 hits a target in hopes of reducing losses from an ability missing. We have also increased the damage and healing capabilities of her Ability 1.
Tangle Strike (Ability 1)
Increased heal ratio when a shikigami is hit from 250% to 300%.
Adjusted damage from 100/145/190/235/280 (+65% Ability Power) to 120/170/220/270/320 (+60% Ability Power).
Scattering in the Night (Ultimate Ability)
Increased max duration from 3 seconds to 4 seconds. When Ability 3 is used during this time, only when Ability 3 hits a target will an attack be deemed to have happened, and then the flames will be retrieved.
3. Umibozu
Umibozu is relatively weak in both a support position and during solo laning. We have adjusted Umibozu's MP to enhance his survivability, and we have also added a Slow effect to Ability 2 and increased Ability 3's base damage, making it so that after Umibozu's Ability 2 hits, he can rely on the Slow effect to more easily approach enemies.
Base Stats
Max MP has been increased from 300 to 360.
Adjusted MP level growth from 40 to 50.
Waterspout (Ability 2)
New: Inflicts targets hit with an additional 50/55/60/65/70% Slow effect for 2 seconds.
Deadly Surge (Ability 3)
Adjusted base damage from 80/125/170/215/260 to 90/140/190/240/290.
4. Tanuki
Tanuki is relatively weak when laning with mainstream top solo shikigami, and he has no obvious advantage in teamfights. We have suitably increased the HP regen capability of Ability 3 and the control strength of Ability 1.
Drunken Stupor (Ability 1)
Adjusted Stun duration from 1.3/1.4/1.5/1.6/1.7 seconds to 1.5/1.6/1.7/1.8/1.9 seconds.
Adjusted Movement Speed boost from 30% to 35%.
Century Brew (Ability 3)
Adjusted HP regen from 1.6/1.7/1.8/1.9/2% of Max HP to 1.8/1.95/2.1/2.25/2.4% of Max HP.
5. Miketsu
Miketsu's moving basic attack's specialty and Ability 2 have relatively high Movement Speed bonuses, making it easy for Miketsu to get a greater advantage. In teamfights, her performance is also quite stable. We have slightly decreased her passive damage and Movement Speed bonus to control her strength.
Grain Spike (Trait)
Adjusted damage dealt to target from 20% of target's lost HP to 17.5%.
Fox Realm (Ability 2)
Adjusted Movement Speed bonus from 38/41/44/47/50% to 25/30/35/40/45%.
MIX-UP FIGHT IN HAZAMA
The all-new mode, Mix-up Fight in Hazama, is officially online!
Available Time: Every day from Heian Time 12:00 AM to 12:00 PM, after the maintenance on 3/20.
Mix-up Fight in Hazama is a 5v5, single-lane Fun mode that lets you experience a faster-paced 5v5 battle and enjoy the fun of combat! Participate in this new mode during the event to claim fabulous rewards! Heroes don't fear confrontation—clash head-on, and may the victor take the crown! Onmyoji, are you ready to join this thrilling, life-or-death battle in Hazama?
DEMON ENCOUNTER
Hiyoribou will join Demon Encounter!
Warm Day Strengthened (Ability 1)
Hiyoribou will cast 3 Warm Days simultaneously.
LATEST EVENTS
Night Lights is back for a limited time!
Aoandon – Night Lights was the Popularity Champion in the Returning Survey and will be back in the Skin Shop for a limited time from March 20th after maintenance to April 2nd, 2020.
HEIAN-KYO MAHJONG FIGHT
Mahjong Fight Artistic Effects Adjustments:
1. Added drag effect.
2. Added a new pedestal model.
3. Added a new turn results screen.
4. Added a new start animation.
5. Optimized the information display bar.
OPTIMIZATIONS AND ADJUSTMENTS
Opening time adjustment to Fun modes:
After the update and maintenance on March 20th, opening times for Mirage Realm and Chaos Realm will be changed to all day on Saturday and Sunday.